We use affiliate links. If you buy something through the links on this page, we may earn a commission at no cost to you. Learn more.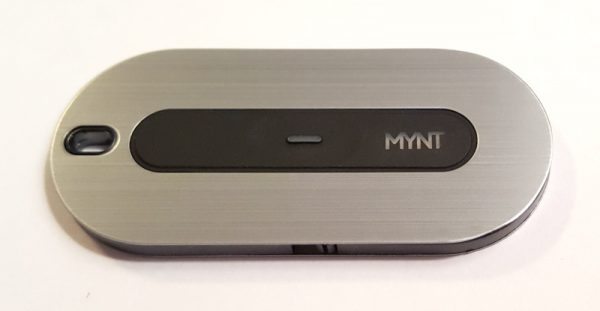 I have watched with great interest the Bluetooth tracker segment of the gadget market for some time.  I have tried to figure out how I would use such gadgets in my own life, and have wondered just how well they work.  So I got my hands on the $19.99 MYNT Bluetooth tracker and put it through the paces. Let's see how it turned out.
First of all, let's talk about the specs from the manufacturer:
Dimensions:  2.2 in long x 1 in wide x 3.5mm thin
Battery life:  Up to 12 months
Battery:  CR2020 Coin battery, removable
Water proof:  IP43
Connectivity:  Bluetooth 4.0 (Bluetooth LE)
Work range:  50m (150 ft) – depending on conditions
Supported platforms: – Android 4.3 and above with BLE
iOS 8 and above: iPhone5C, iPhone5, iPhone5S, iPhone6, iPhone6 Plus and newer devices
Mac OS X 10.9 and above with BLE supported (MacBook, iMac, Mac Pro which manufactured after 2012)
Included in package:  1 MYNT, 2 batteries, easy-attach string, and 2 adhesive pads.
The MYNT is all metal and its IP43 rating means that you can accidentally drop it in the sink full of water, as long as you grab it out quickly.  You may also go scuba diving with the MYNT if you get the waterproof sleeve (pics below) that I got with my MYNT.  It encases the MYNT in a plastic sleeve that enhances the IP43 rating to completely waterproof.  I didn't go scuba diving with my MYNT, so I can't really confirm that.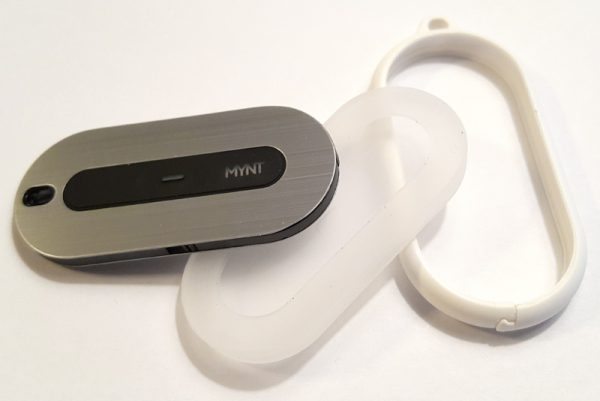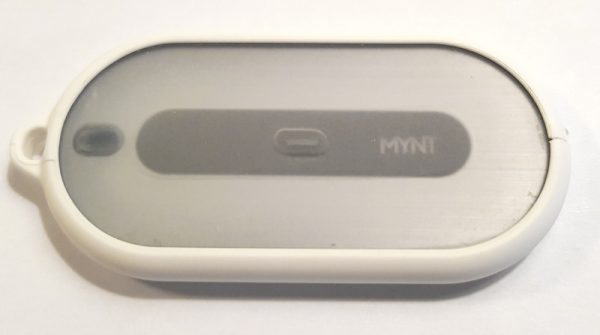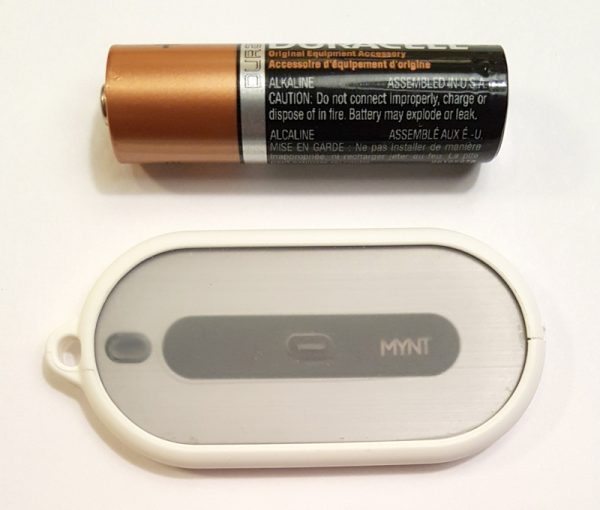 As you can see, it is small enough to fit just about anywhere… your purse, bag, wallet (sortof), backpack, stroller, child's clothing, etc.  But that also means it is pretty easy to misplace as well.  Thankfully, it comes with a small lanyard/string that you can use to attach it to your bag, purse, stroller, etc.
MYNT as a tracker
The main function of the MYNT is its strong suit, which is a tracker.  I have always chuckled at the term 'tracker' though.  To me that conjures up a scene from old movies where they watch a blinking light on a screen as the tracker the cops attached to the bad guy's van moves down the road.  But that isn't exactly how it works.  I would more accurately call it a 'locater', but I suppose that is being a bit picky.
To use the MYNT as a tracker you have to first install the free app on your phone.  Then you connect the MYNT to your phone using Bluetooth. The Bluetooth version is BLE, which stands for Low Energy.  So that means the MYNT doesn't use nearly as much Bluetooth power as a standard Bluetooth device.  So the battery last about 6 months under normal use.   With heavy use, of course the battery wouldn't last that long.  But at least you can replace it, using a small button switch on the side that slides open the battery compartment, unlike the Tile product that has a non-removable battery.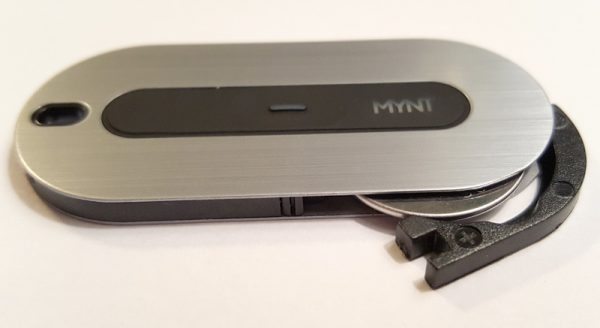 As a tracker, it is pretty simple.  You set the app to use the MYNT as a tracker, then you attach the MYNT to (or place it inside) whatever you want to keep track of.  Then if the MYNT and your phone get beyond the range of the Bluetooth connection, both your phone and the MYNT start sounding an alarm.  That way, you know that you are walking away from the MYNT.  And it works pretty good.  In the app you can choose how long the alarm sounds on both devices and what distance sensitivity will trigger it.  I imagine if I still had small children, the MYNT would be an awesome thing to have to keep track of your child in numerous situations.
A neat use of MYNT that I have used a few times can enable you to find your phone in the house if you have misplaced it.  You simply hold down the button on the MYNT and your phone will start making the alarm sound.  Then you follow the sound to find your phone.  Pretty cool.
Finally, I should mention that you can set 'safe zones'.  These are wifi locations that can serve as your 'home' and 'work'.  When you set these 'safe zones' your MYNT won't sound an alarm unless you are disconnected from Bluetooth AND disconnected from wifi.  That way, you can walk around your house and disconnect from the MYNT and the alarm won't go off until you actually leave the house wifi area.
The other MYNT features
The other features of the MYNT are 'ok', and I find myself using them occasionally, but not all the time.  There is only 1 button on the front of the MYNT but that one button performs many functions.  For example, you can single-click it, double-click it, triple-click it, hold it, and click and hold it.  And each of those functions can be programmed to different operations on the MYNT, depending on what you are trying to accomplish.
You can use the MYNT as a remote to control the music on your phone.  I used this feature at a party one night.  I connected my phone to a Bluetooth speaker in my living room, started Pandora on my phone, and then used the MYNT in my pocket to skip tracks in Pandora.  It worked great, so I can see me using this feature again.
I have a tripod for my phone, and I can use the MYNT as a remote to take a picture.  That was useful during Christmas when I needed to take a family picture.  I set my phone up for the picture, then instead of setting the timer on my phone and running to stand in place, I used the MYNT to snap the picture.
If you connect the MYNT to your laptop using Bluetooth, you can use the MYNT as a remote to control a PowerPoint presentation.  I tried 3 Windows laptops in my house, but I could never get the MYNT to connect to any of them.  I know that it works for some people, but it just wouldn't work for me.
Finally, I should mention that if you walk away from your MYNT and someone picks it up and runs off with it, you are basically out of luck.  Like I mentioned, MYNT isn't really a tracker per se that you can pull up on a screen and watch it move.  So one of the features touted by the manufacturer is that if you walk away from your MYNT and someone does walk away with it, if anyone else who has the MYNT app on their phone happens to connect to it when they get close to it, then your MYNT app will notify you where it was located.
Problems
When I first got the MYNT, it wouldn't do many of the things I have described in this review.  It wouldn't make a notification sound when outside of Bluetooth range.  It wouldn't control the volume when using it as a remote to control my music.  And several other features.  I tried and tried to uninstall, re-install, uninstall, re-install.  So it finally occurred to me to update the firmware, and it started to work.  So I recommend updating the firmware (using the instructions that come with it) when you first get it.
I also discovered that you can't turn the MYNT off.  There is no off button.  You literally have to remove the battery, using a small button switch on the side, which is a pain.  So every time I turned off my Bluetooth the MYNT would sound the alarm.  This really makes no sense to me because there are numerous ways they could have built into the device to turn it off.
There is a button in the app for "map", where you can pull up a map to show the location of where the MYNT was last connected to the app.   That way, if you don't hear the notification when you initially walk away from the MYNT, you can pull up a map later that shows the last place you had it.  For me, the map didn't work half of the time because the map would never load.  I tried using the Google Map option, as well as the Gaode map.  Neither one was consistent. The good news is that you can press on the icon in the middle of the map that represents your MYNT and it can load up your Google Maps app to navigate to it.
Bottom line
If you are willing to keep your GPS signal on all the time, then MYNT works as designed because the app has to know the location of where it is.  The price is right in my opinion at $19.99, for what you get, so no complaints there.  As a tracker, it just works, so its main feature is worth the price that you pay, and you can actually connect up to 8 MYNT devices to keep track of multiple items at the same time.  The other features are in my opinion simply window dressing.  If you want to control your music, or your PowerPoint, or take a picture, then the MYNT will probably work for you.  But I wouldn't buy this device just to get those features.  Buy the MYNT if you want it for a tracker.  That way, those other features are just icing on your cake.
Source: The sample for this review was provided by Slightech. Please visit their site for more info and Amazon to order.