We use affiliate links. If you buy something through the links on this page, we may earn a commission at no cost to you. Learn more.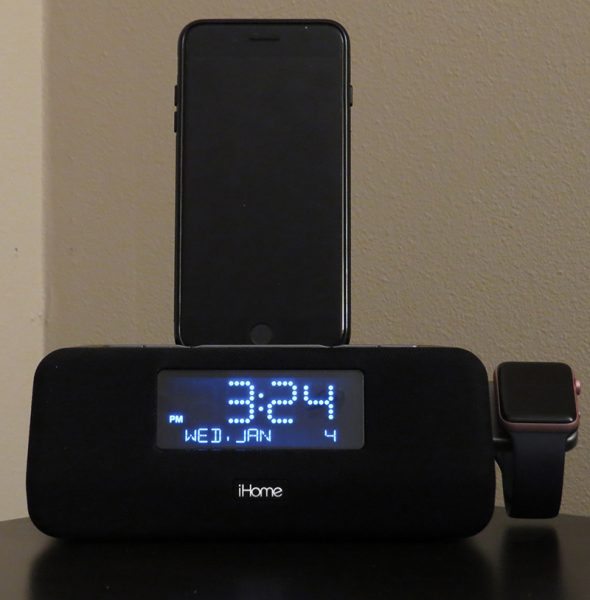 One of the most used review items I have is an iHome alarm clock. Not only do I use it for waking up and checking the time, but I also use it to charge my phone overnight. Just a few months ago, I picked up an Apple Watch and had been looking at charging stations when iHome came out with another alarm clock, the iPLWBT5 Bluetooth docking alarm clock with an Apple Watch charger built in. Since I loved my previous alarm clock, I had to give this a try!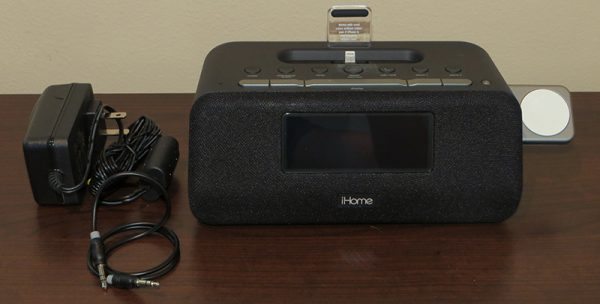 In the box, you'll find the alarm clock, AC power adapter, 3.5 mm auxiliary cable, and an instruction manual. I thought it was a nice touch to add in the auxiliary cable.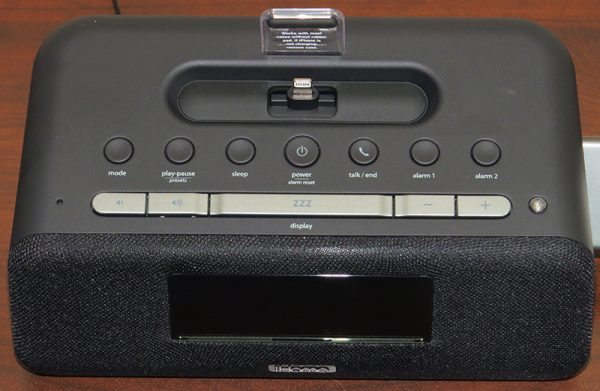 On the top of the clock, you'll find all the buttons for day to day use. You can set two separate alarms and can wake to a buzzer, Bluetooth audio, dock, or the FM radio. If needed, you can use this as a speakerphone and answer calls with a touch of a button, not needing your phone at all. The sleep button will play your music for a set amount of time (adjustable) before turning the music off. When your music is playing, the volume buttons change the volume on your device, and of course, the plus and minus buttons change your tracks. The mode button is used to choose which device to play music from, and when you have a Bluetooth device already paired with the clock, will automatically connect to your device when choosing the Bluetooth setting.
You'll also find the Lightning dock on the top of the alarm clock, which I was able to use without taking the case off of my phone. My husband's Speck brand case could dock as well, where on the previous alarm clock he could not. Docking was easy and charged right away. Since the Lightning dock is recessed, I could not use my iPad Air on it like my previous alarm clock.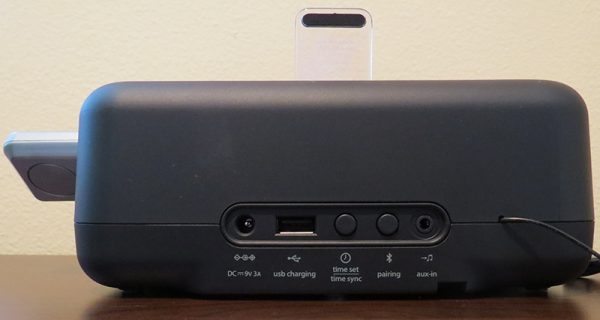 There are even more buttons and ports on the backside of the unit, with a USB port, auxiliary port, and an AC charging port. You'll also find the time set/sync button, that I never used due to my phone setting the time on the clock for me. Lastly, there is the Bluetooth pairing button, which paired very easily with my iPhone 7 Plus. One comment I will make about the USB port is that it is solely for charging. You cannot listen to music via the USB port. That's one thing I miss from the old alarm clock, as sometimes I will lay in bed charging my phone and watch music videos. Now I have to connect it to Bluetooth, which is a few extra steps. Not a deal breaker by any means, but something to note.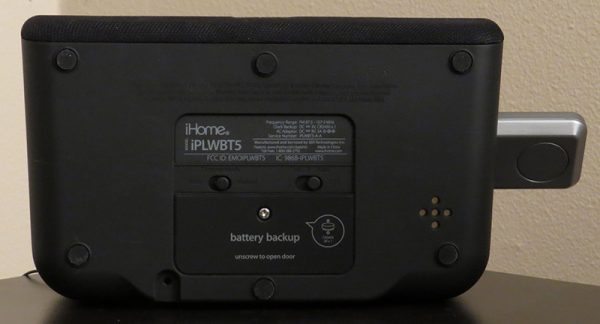 Lastly, on the bottom, you'll find switches for daylight savings time (on, off, auto) and auto dimming of the display. I tried automatically dimming the display, but I noticed at night it would randomly brighten for two seconds, then drop back to a low brightness. There seemed to be no trigger causing it. When on the manual setting, you can choose between 6 different brightness levels by pressing the snooze button.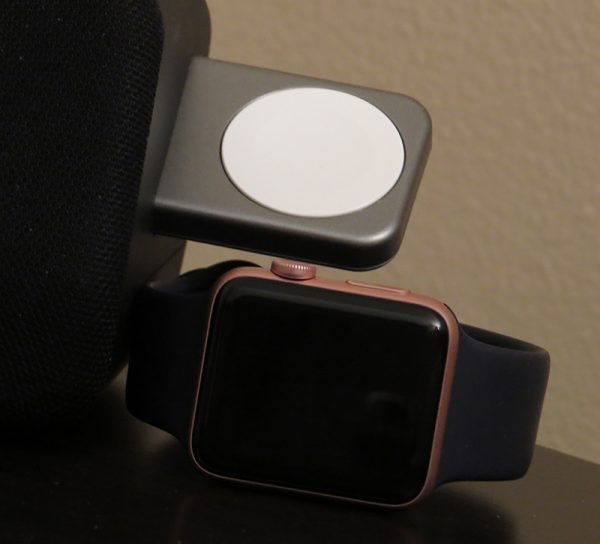 The Apple Watch dock was super easy to use. I was prepared to have to plug in my previous charging cord and insert it into the dock, but I was thrilled to find the dock had a built in charging pad! It is magnetic, holds the watch well, and I have yet to have the watch fall off. I love being able to just toss it on the charger when I shower or head to the dojo, and it charges the watch very quickly.
The sound quality of the speakers was pretty average. I don't expect too much from an alarm clock, so this was on par with my expectations. There is very little bass, but the music comes out cleanly. There wasn't much of a difference between the dock, Bluetooth, or auxiliary ports in terms of sound, and the radio sounded pretty good and connected easily enough to the stations I listen to without having to rig the antenna in any way.
The ability to have different alarm settings for weekdays, weekends and all seven days make setting the alarm something you can set and forget, which I love. I always used that feature on my iPhone, and it is nice to be able to have a different setup for the weekday and weekends.
Compared to my previous alarm clock, this one is actually a bit smaller, though with the watch charger on the side, it comes out to roughly the same width. Between the two, the look of this alarm clock is much nicer than the old. It is sturdy, well made, and doesn't slide around at all on my night stand. Just like the old, the display is easy to read.
Overall, I loved the iHome Bluetooth stereo FM clock radio with both the Lightning and Apple Watch docks. It is just so easy to use, and if you are someone in the Apple ecosystem with both phone and watch, it may work great for you if you are planning to upgrade your alarm clock anytime soon.
Source: The sample for this review was provided by iHome. Please visit their website for more information and Amazon to order.