The Gadgeteer is supported by readers like you! If you buy something through links on our site, we may earn an affiliate commission. Thank you! Learn more.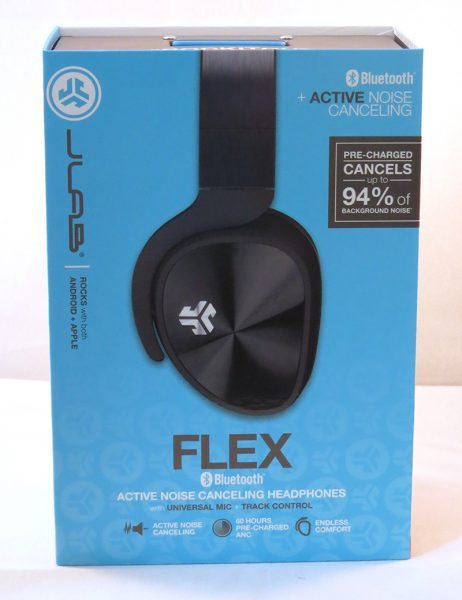 In midst of my last headphone review, I upgraded to the iPhone 7, which removed the 3.5 mm port. Sure, they sent an adapter to use and it worked great for finishing the review, but I realized pretty quickly that I needed to start looking into the wireless direction. Thankfully, JLab must have heard my thoughts, as I was able to try out their JLab Flex Bluetooth active noise canceling headphones with a solid battery life and endless comfort. Let's see if they lived up to their claims.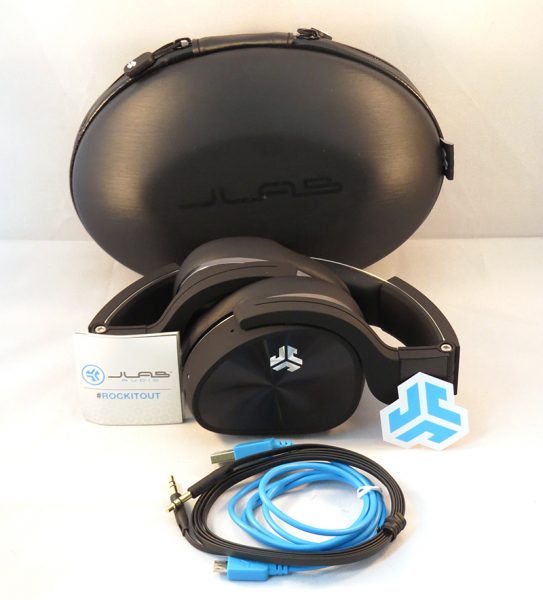 In the box, you'll find the Flex headphones, travel case, instructions, Micro-USB charging cable, and an auxiliary cable. The last thrilled me, as this meant if my batteries ran out, I could still use the headphones.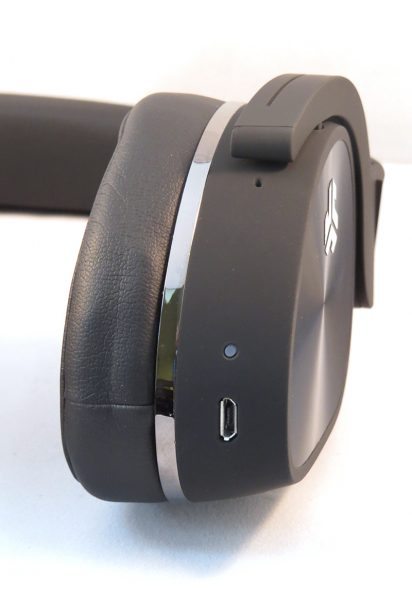 On the right ear-cup you'll find the charging port, while the left ear-cup hosts everything else. There is an indicator light on the right ear-cup that is red when it is charging and turns off when it is finished.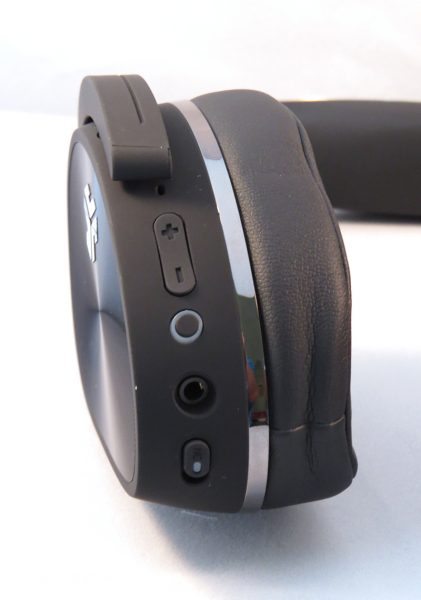 I will start from the bottom to describe the left ear-cup. There is a switch that turns on and off the active noise cancelling, and when it is in the on position, it will light up red. Next, there is the auxiliary port, which you can plug in your 3.5 mm cable to use these without Bluetooth.
The power button is above that, which when held down for a few seconds, will light up blue with the headphones saying 'Hello.' This of course means the headphones have turned on. Holding it down for longer will initiate the pairing mode, which is indicated by the light blinking quickly and the headphones saying 'Ready to Pair.' When you want to disconnect them from the Bluetooth, you just hold down the button again and they will say 'Goodbye'. Once paired, if you press the power button once, it will play/pause the music or answer/hang up a call.
Lastly, there are the volume buttons, which changes the volume up or down on your device. They also control the track forward/backward buttons, by holding the corresponding button (up for forward, down for backward) for two seconds. All the buttons were easy to use and I had no problem at all using the headphones for controlling my music.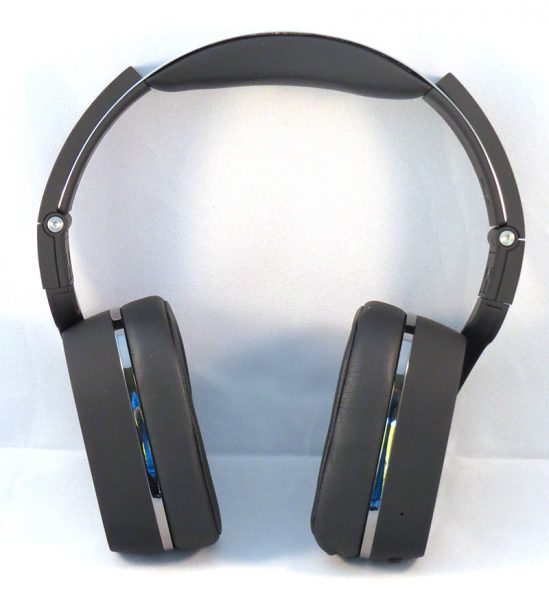 Setting the headphones up was a breeze. They come pre-charged, so I was able to easily pair and use them right out of the box. I really liked the look of these headphones. They were a little larger than the previous headphones I had, and my roommate did notice that right away, but they have a well built, aesthetic look about them that deters from their size, in my opinion.
The ear-cups are so soft and comfortable, that I could (and have) worn them for quite some time without my ears getting sore. The difference between the comfort level of these and most of the other over the ear headphones I've tried over the years was quite significant. They are also versatile enough to fit on my small head along with my roommate's larger head.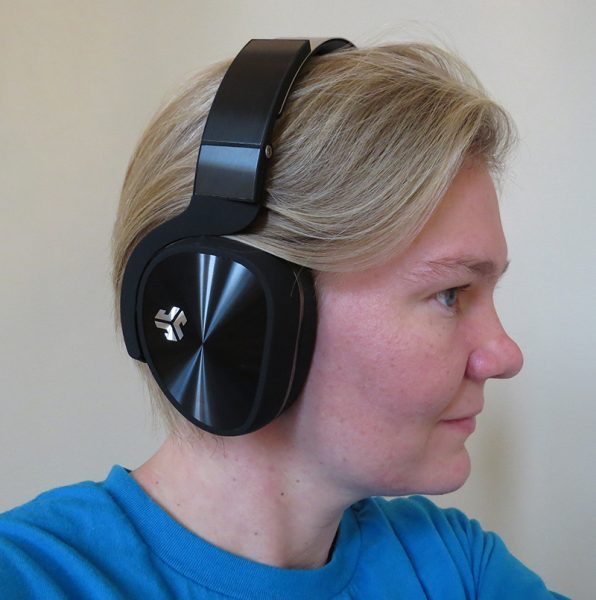 The only part about them that annoyed me was that they were perpetually loose on the head. I had my roommate try them, and he agreed that they really liked to slide back on your head if you are moving around. Thankfully, I use these type of headphones when sitting around, so it didn't bother me terribly. However, I could not clean the house while wearing these, as I would constantly have to adjust them to keep them on my head every time I leaned over to pick something up. It's something to keep in mind.
Using a car ride and my husband's loud computer fans, I tested out the active noise canceling abilities and they were very good. Nearly all of the background noise was canceled out, and with music going, I could drown out the entire household or (in the car) the road noise and radio. These would be excellent on a bus or airplane, and I definitely plan to bring them along on my next flight.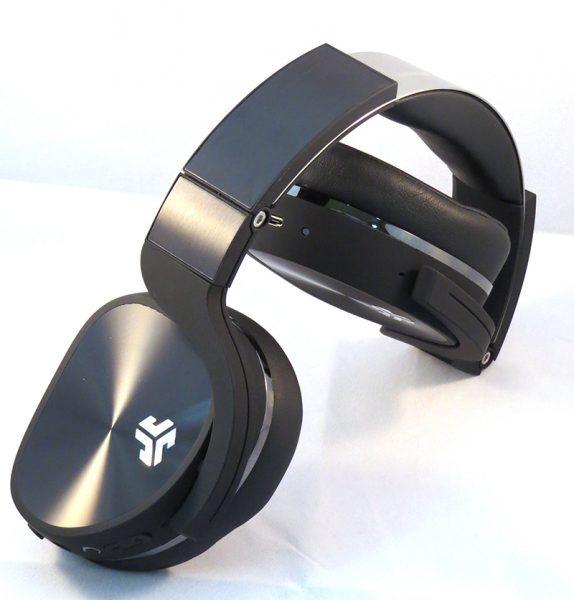 Since there is a speaker built into the headphones, you can use them to make/answer calls. I tested this with my husband and it sounded like any other time I've used headphones to listen to a phone conversation. Not amazing quality, but good enough. My husband said I sounded a little tinny, but overall pretty good on his end.
I was impressed with the sound quality. They don't produce a bunch of 'boom' in bass heavy songs, but it is more than adequate, and the mid and high ranges were very good. I would consider the sound quality to be above average, possibly a 7/10, depending on your need for booming bass. This is, of course, with the ANC on. When the ANC was turned off, the sound felt muffled. Happily, the ANC does not take much battery power at all, so I used it at all times when listening to music. The instructions recommended using their JLab audio app/burn-in tool for 40 hours for optimal sound, so I tested the sound quality before, used their burn-in tool, and tested it after, and I found really no difference in quality. They sounded good before and after burning them in.
Speaking of battery life, if you used just the noise canceling with no Bluetooth, you should get around 60 hours of battery life. Adding Bluetooth to the noise canceling will drop the battery life to around 10 hours, and Bluetooth without the noise canceling is around 30 hours. After accidentally leaving the noise canceling on for a day and a half, and still having half a battery left, I definitely believe the battery life is on par with what JLab advertises. I actively tested out the Bluetooth + noise canceling battery life, and it was right near 10 hours, give or take 20 minutes or so.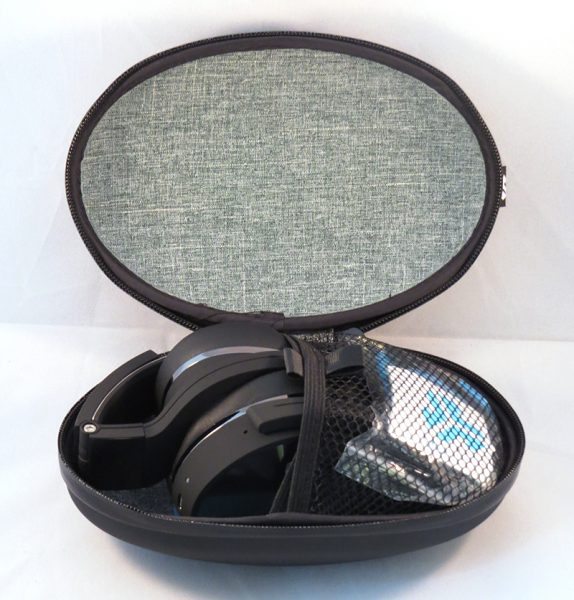 Overall, I really liked these headphones. While they could be a little tighter on my head, I plan to use them when stationary, so that won't be a problem. The audio quality was better than expected, the battery life was very good, the noise cancellation was stellar, and they were easy to use. Unless you are someone who has to have thumping bass in your ears, these are a good mid-priced set of headphones, and if they are in your price range, I would highly recommend taking a look.
Source: The sample for this review was provided by JLab Audio. Visit their website for more information and Amazon to order.
Support The Gadgeteer
:
The Gadgeteer is supported by readers like you! If you buy something through the links on our site, we may earn a small affiliate commission. Thank you! Learn more.