We use affiliate links. If you buy something through the links on this page, we may earn a commission at no cost to you. Learn more.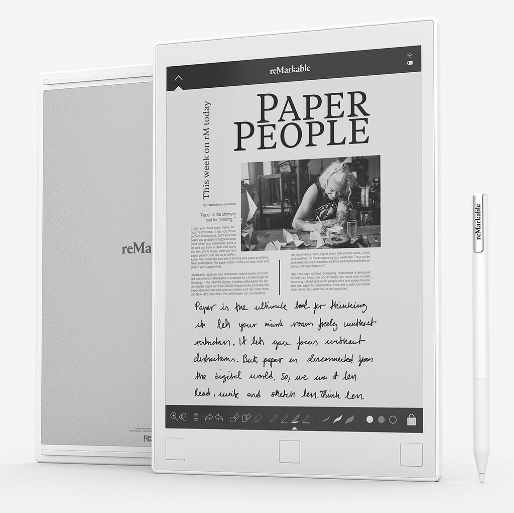 The picture above might look like a Kindle or another eReader device, but it's not. It's the reMarkable, a tablet that has been designed especially for reading, writing and sketching. You might say "Julie, we already have tablets that can do that, they are called an iPad". You would be right… partially. You can read, write and sketch on an iPad, Android tablet or even a Windows tablet, but the reMarkable uses CANVAS technology to create a 10.3" E Ink display that has an ultra-low-latency, pen-on-paper feel without all the digital distractions of a tablet.
The tablet has a 7×10 inch 1872×1404 resolution CANVAS display, 8GB of RAM to store 100,000 pages, can be read outdoors in full sunlight with no glare and runs for days at a time per charge. The stylus can recognize 2048 levels of pressure sensitivity to provide a real pen on paper writing and sketching experience.
Unlike traditional paper, reMarkable connects to the digital world when you need it to. Your thoughts, whether they're words or sketches, are instantly synced to reMarkable's cloud service and made available on all your devices. Documents and e-books are easily transferred for reading and reviewing with pen in hand. reMarkable connects to the internet for easy sharing and collaboration across devices. You can even take notes on one device and have it appear on a second device, in real time.
The reMarkable tablet will begin shipping next summer, but it's available for pre-order now for $379. Visit getremarkable.com for all the details.