We use affiliate links. If you buy something through the links on this page, we may earn a commission at no cost to you. Learn more.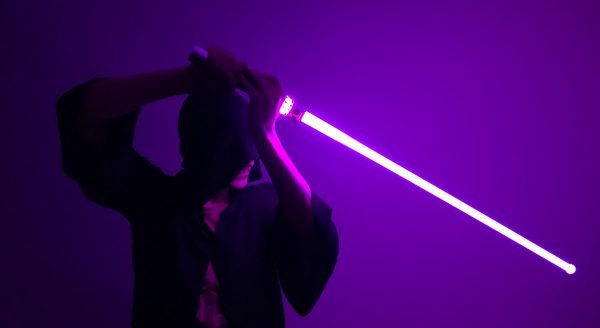 I have been a writer for the-Gadgeteer a very long time and over the years I have developed a systematic process for doing reviews. I am pretty AR about order and method but occasionally an item gets left on my doorstep that causes me to throw out my rules and tear into the package like it's Christmas morning. Well, that happened to me today…in this case, the Ultra Sabers folks sent me one of their custom made battle blades (aka fancy high tech lightsaber) to give a try. I've back burnered everything so we can give it a look 😀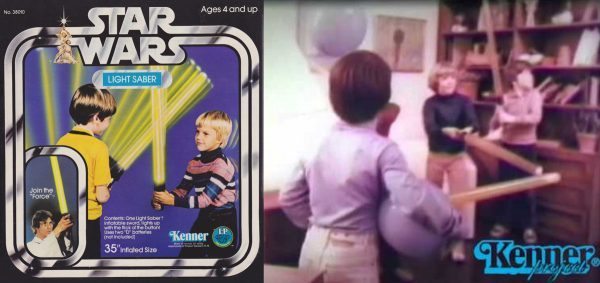 With the Holiday Season and the premiere of Rogue One right around the corner, it is the perfect time to geek out Star Wars style. 37 years ago we obviously did not have the technology we have today and sadly as a kid, my lightsaber consisted of a plastic flashlight and long yellow balloon (akin to walking miles to school barefoot thru the snow uphill both ways). But thankfully today those Star Wars fans (old and young alike) that want a lightsaber worthy of the Vision have more choices than ever before.

The Ultra Saber folks are self-proclaimed "combat lightsaber specialist". They create FX-like lightsabers that are better, smarter, stronger than the originals, engineered to withstand the punishment of hardcore battle. Their website enables you choose from dozens of gorgeous hilt designs from one-handed, two-handed, bent (Count Dooku), double blade (Darth Maul), cross guard (Kylo Ren), and even Thunder Cats styling.

After that major decision, you then have to decide blade color and LED technology…a task more complicated (and in some cases more personal) than it sounds. There are eight "basic" colors and multi-LEDs that allow for even more. Add in their new "Emerald" driver technology and the color possibilities are nearly endless. Their Emerald Sabers enable you to change the color of your blade with just a few mouse clicks.

The Ultra Saber website will continue to lead you through the process of engineering the guts of your blade: sound card, battery, charging port, on/off switch, blade type, pommel, belt clip, etc…the list of decisions is quite long. Once you have finalized your design and pulled the trigger, Ultra Sabers promises that they are the quickest on the market to get your creation to you.

After consulting with the Gadgeteer Kid, I ultimately went with the Manticore with Obsidian Premium Sound and violet amethyst battle blade with silver flash on clash. Once ordered, it took about 10 days for the Ultra Saber folks to create and get me my lightsaber. The lightsaber comes very well packaged in a long narrow box completely encased in bubble wrap.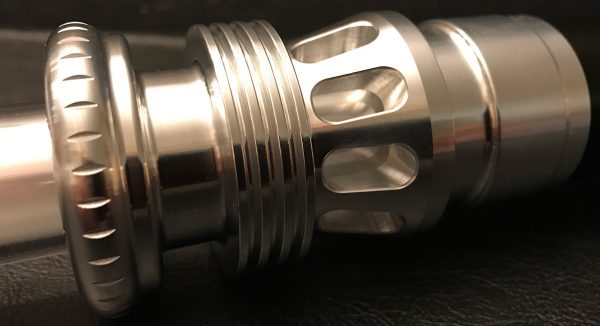 The hilt is nicely machined from high-quality polished T6 aircraft grade aluminum. The hilt is very solid with no wiggling of the blade or rattling from within. The Manticore emitter has a well done groove pattern only enhanced by the 10 windows that look extremely cool when the blade is activated.

The overall hilt quality and detail are excellent. The saber body is anodized black and has a subtle groove pattern machined into the main grip of the hilt. I went with the low profile pommel and white illuminated black AV switch. There are a multitude of switch options from the most basic to six (6) color choices in the black or white illuminated switch.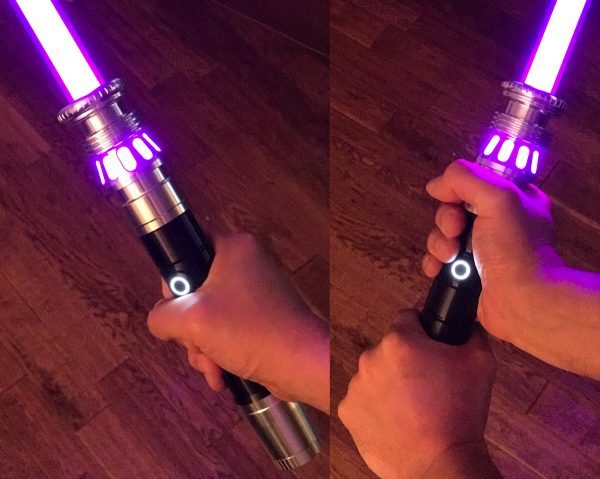 The Ultra Saber Manticore has a great weight and feel to it. I have medium-large hands and I'm able to wield the 11″ long, 1.5″ wide hilt of the Manticore both one- and two-handed. That said, I am glad I did not go for the Covertec wheel for hanging the hilt from your belt. In my case, I do not plan on wearing it and believe it would have been in my way when dueling two-handed.
As you can see, the LED is very bright and illuminates the blade nicely. The flash on clash option is worth the cost. In daylight, it looks OK but definitely makes a big difference in low light/dark conditions.

There are 4 types of blades you can choose from: mid-grade, UltraEdge mid-grade, heavy-grade & UltraEdge heavy-grade. The UltraEdge blades provide a thick, bright blade due to the white polycarbonate tube. The white polycarbonate creates a FULLER blade look but isn't as bright as non-UltraEdge blades. The heavy-grade blades weigh twice as much and are thicker/stronger than the mid-grade blades. But be aware: "the heavy-grade do sacrifice brightness in exchange for brutal strength". I chose the UltraEdge heavy-grade cause what is the point of a lightsaber you can't do battle with it…but that's just me. Though you could get both, one for display and one for dueling.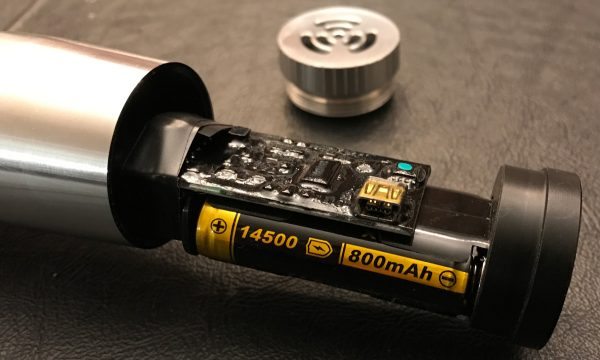 The Obsidian premium soundboard comes in two versions: V3 and V4. The Obsidian V4 is a $10 upgrade and well worth the money for the added features. The V4 can hold up to 8 sound fonts (best new feature) that can be changed on the fly via the sabers power switch. My lightsaber had the following sound fonts preinstalled: Obsidian (default), Blackstar, Sith, Ancient Saber, Episode 1/2/6, and Silent/mute. The V4 is both Windows and Mac compatible allowing for the firmware to be upgraded and fonts changed via the microUSB port. The soundboard assembly is relatively sturdy and includes the board, rechargeable batteries and speaker. The pommel can be unscrewed allowing access to the assembly. To charge the batteries, the assembly has to be gently pulled from the hilt so that they can be removed.
Here are the Gadgeteer Kid and I doing battle in our field. I wish the sound and flash on clash came thru better in the video. In the mists of battle you are very aware of both. This lightsaber dual was supposes to be between my son and a good friend of his. They worked up this pretty elaborate skit for this review but it did not work out during the Thanksgiving holiday. I may have them give it another try during Christmas break and replace the video you see here.
After using my Ultra Saber for a few weeks, I would change my design in several ways:
I would add the optional charging port which would allow for an easier and more polished charging solution. Taking the battery/sound board/speaker assembly in & out only increases the potential of damaging the guts of your saber.
I would choose the high profile pommel over the low profile one you see here. This is a personal choice but I think it would add a bit more personality to the hilt. It is my plan to order a replacement.
Lastly, I am going to add a leather wrap around the black grip section of the hilt…once again adding a bit more of my personal touch to the hilt.
A few minor teaks aside, not only is the Ultra Saber Manticore lightsaber cool (and when I say cool I mean awesome) from a look and feel point of view but operationally the blade is very bright and the flash on clash is pretty sweet as well. Add in the loud, clear sound it produces as you swing it around or while you are doing battle this is about as close as you can get to the real thing. Ultra Sabers are not cheap (from several to many hundreds of dollars) but would without a doubt make a great addition to any Star Wars fan's lightsaber collection.
Source:  The sample for this review was provided by Ultra Sabers. If you have any questions or would like to research Ultra Sabers more, they have a YouTube channel that does a great job of detailing many of their lightsabers and the technology that goes into them. Please visit their website for more information and to order.
Source: The sample for this review was provided by Ultra Sabers. Please visit their site for more info.

Product Information
Price:
$349.00 (As built)
Manufacturer:
Ultra Sabers
Pros:

Very well made/precision machined parts
Extremely customizeable
Great weight and feel
Very bright LED
Programmable, multi-font sound board
Can strike blades with great force
Quick manufacturing and delivery

Cons: