We use affiliate links. If you buy something through the links on this page, we may earn a commission at no cost to you. Learn more.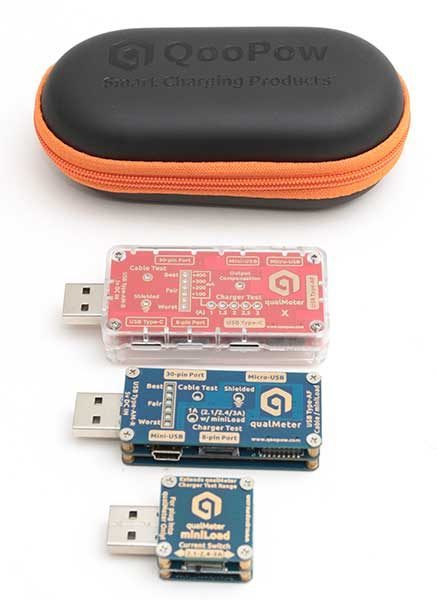 If you're like me, you probably have a drawer full of USB cables and USB adapters. Do you ever pull out a USB cable and a charger and wonder why it takes so much longer for your device to charge compared with another USB cable and charger? The reasons why have to do with the quality of the cable and the USB charging adapter, but quality isn't always something that you can see with your eyes. There are tools available like multimeters that can be used to measure voltage, amps and more, but the average person doesn't know how to use these tools. Wouldn't be great if there was an easy way to test USB cables and chargers that required no special training or instructions? QooPow qualMeter USB cable/charger testers are those tools. Let's see what they can do.

What is it?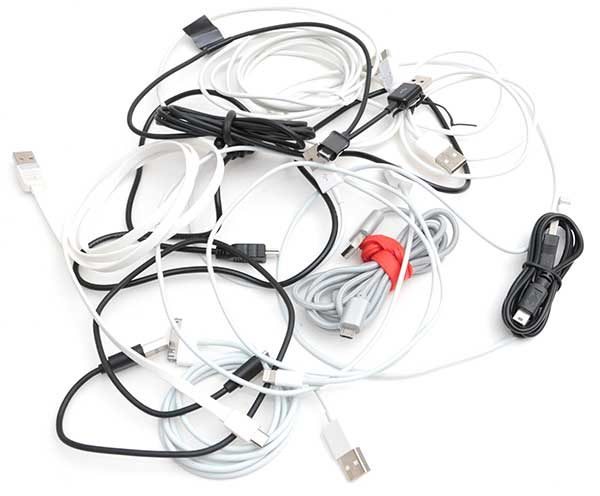 qualMeter measure the quality of your USB cables and chargers at a glance without any electronics or technical background. These small testers handle a wide range of USB charging cables and can test the loading capability of 5v chargers to roughly define their quality.
Wondering why is your charging so slow? A non-qualified charging cable could have a dramatic voltage drop. For example, if your charging cable's impedance is 500mΩ, which many low quality cables do. It will have 0.5v drop @1A charging current, that means you will only get 4.5v at the phone end when your charger provides 5v for charging. Most of smart phones won't even charge in this case. That explains a lot of charging issues we have.
Design and features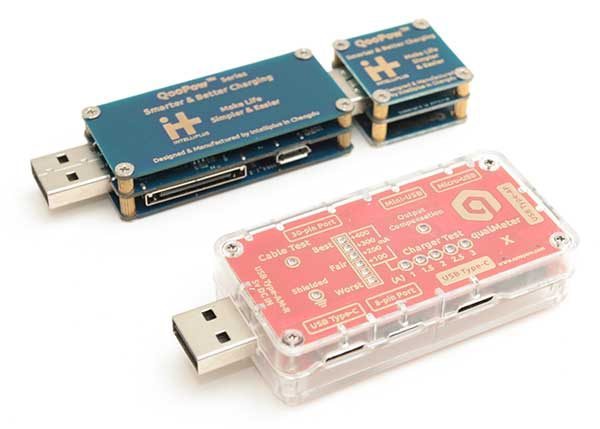 QooPow offers two different qualMeter testers. There's the qualMeter Basic (blue adapter) and the qualMeter X (red adapter). There's also the miniLoad module which only works with the qualMeter Basic, but more on that in a bit. Both qualMeters have two test modes:
Cable Test Mode – Simply connect both ends of your USB charging cable with qualMeter and plug it into any 5v USB charging port. You can read the LED indicators to have an idea about the quality of your charging cable.
Charger Test Mode – Simply plug qualMeter into any 5v USB charging port. You can read the LED indicators to have an idea about the quality of your USB Charger.
The following chart outlines the difference between the two qualMeter testers.
Never miss one of our posts again. Sent MON, WED, and FRI with the latest gadget reviews and news!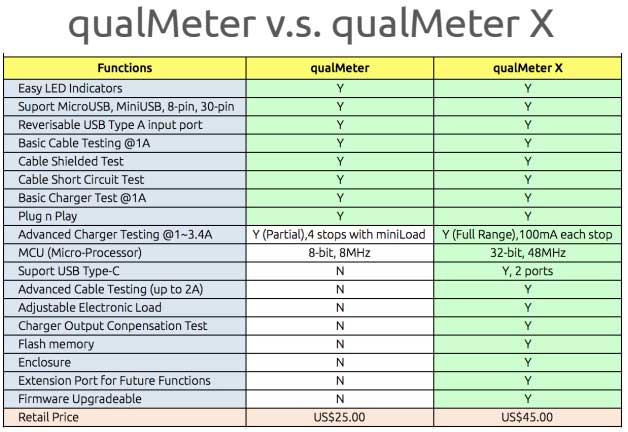 qualMeter Basic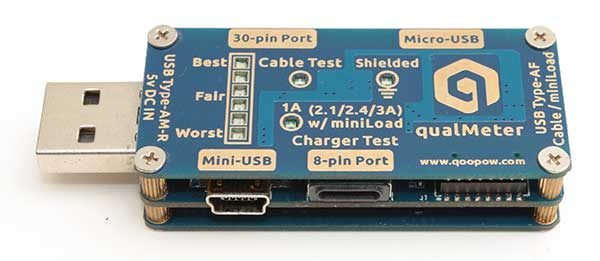 The qualMeter Basic can test USB mini, micro, Apple 30-pin and Apple Lightning cables. It's a large thumb drive sized adapter with a full-sized reversible USB connector on one end, a full sized USB female connector on the opposite end. There four USB female connectors where you plug in the cable that you wish to test.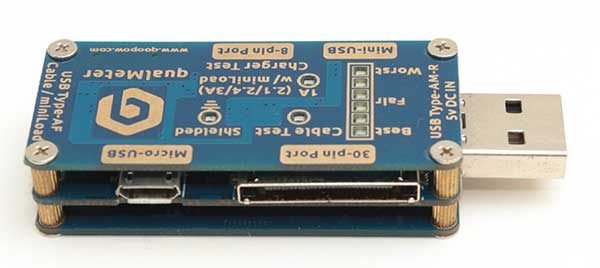 All the connectors have easy to read labels so there is no question on how to connect the cable.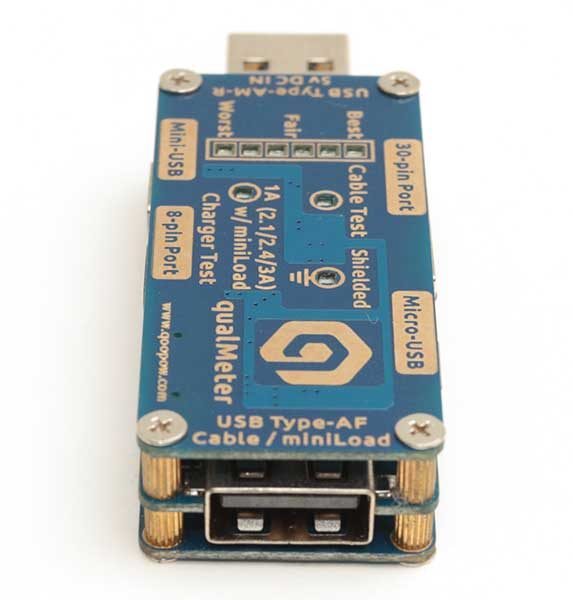 There is also a collection of labeled LEDs that light up when you apply power to the tester.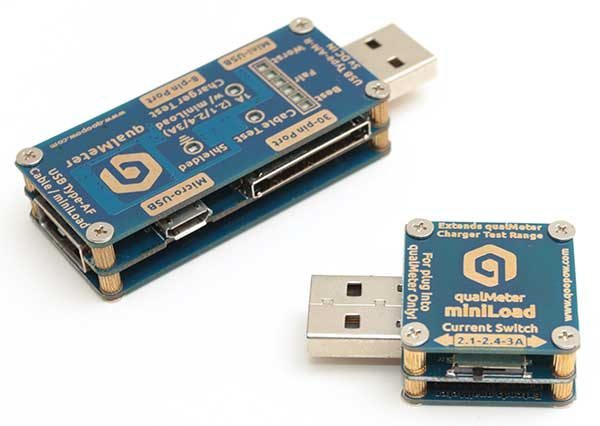 The smaller miniLoad module has to be purchased separately for the qualMeter Basic tester.

It attaches to the end of the tester and extends the tester's charger output testing range from 1A, to 1A-2.1-2.4-3A.
qualMeter X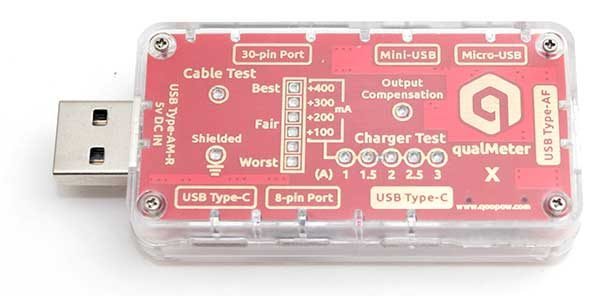 The qualMeter X tester has all the features of the qualMeter Basic and more. In addition to being able to test USB mini, micro, Apple 30-pin and Apple Lightning cables, the qualMeter X can also test USB Type-C cables. Even the USB Type-C cables that have a Type-C connector on both ends.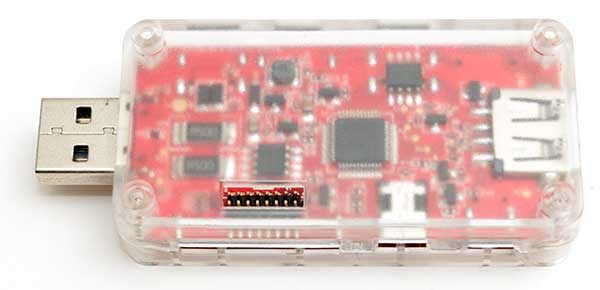 The qualMeter X tester can also test USB chargers that are 1A, 1.5A, 2A, 2.5A and 3A.
On the back of the tester is a connector that ca be used for a future extension module.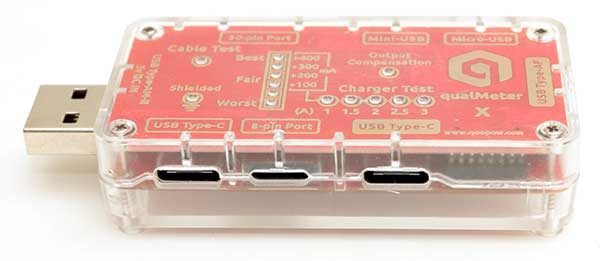 Just like the qualMeter Basic, the X version of the tester has all the ports clearly labeled.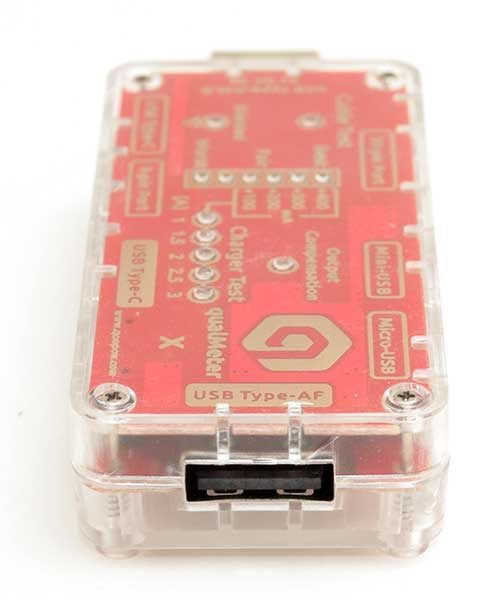 As well as easy to view status LEDs so that you can easily read the test results.
How does it work?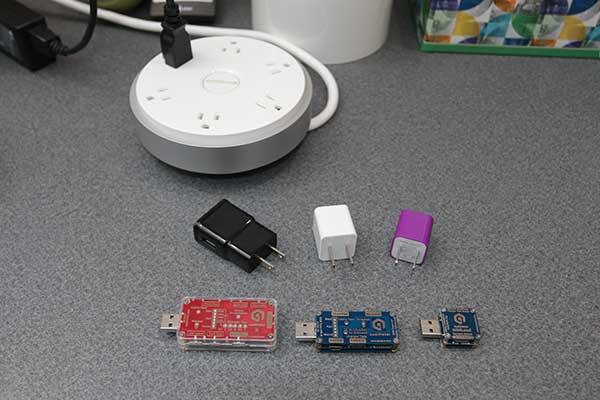 Using the qualMeters is very easy. Just grab a handful of USB cables or USB chargers, a computer with an open USB port or a power strip and you're ready to go.
To test a cable, you plug the cable's USB 2.0 or 3.0 connector into the end of the qualMeter cable and then the other end into the designated connector such as micro USB, Lightning, Type-C etc. Then plug the qualMeter's connector into a 5V power port on a computer or into a USB charging adapter that is plugged into a wall outlet or power strip. When power is applied, the tester will cycle through some basic tests which include a short circuit test. As it is testing, the LEDs on the qualMeter will light up for a couple of seconds and will then stop to display the final test results which rates the cable or charger from Best to Worst / Green to Red.
To test a USB charger it just requires that you plug the qualMeter into the charger and then the charger plugs into a power source like the Coalesse PowerPod shown above. The test result is one of the 6 LEDs that rates the charger from Best to Worst and Green as the best, Yellow is medium quality and Red is the  worst quality.
Testing a USB cable isn't much different and will also show a test result from Best to Worst as well as well as showing if the cable is shielded or not.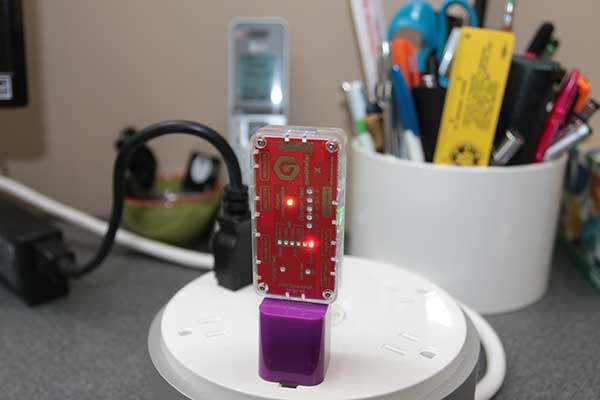 I tested a bunch of different cables and chargers and found several that failed the test including a couple of cables that showed as having a short (blinking Red LED). I was surprised that one of my OEM Samsung cables failed the qualMeter test but I wasn't surprised when one of my cheapo USB chargers failed (shown above). Any failed cables or chargers went straight to the trash.
Final thoughts
The QooPow qualMeter USB cable and charger testers are very easy to use without needing to know anything about electronics. Just plug in the cable or charger you wish to test, wait a second or two and you'll be shown the result. The qualMeter tester is a good tool to keep in your geek toolbox so you'll know if  your USB cables and chargers will be able to charge devices quickly and safely.
Source: The sample for this review was provided by QooPow. Please visit their site for more info and you can order through Amazon.