We use affiliate links. If you buy something through the links on this page, we may earn a commission at no cost to you. Learn more.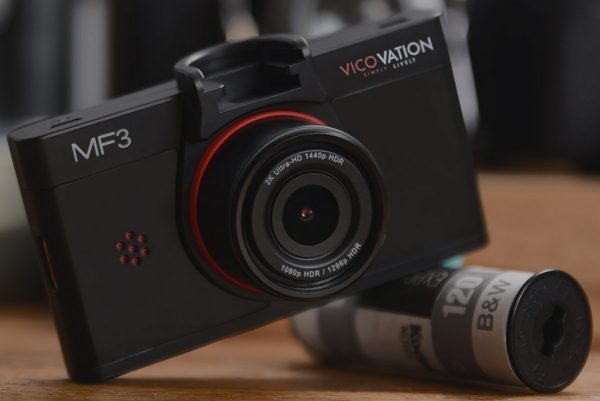 This year I have reviewed my fair share of dashcams. They seem to have finally made their way to the mainstream US market and I believe that is a good thing. Cause a picture (or video in this case) is definitely worth a thousand words especially in an accident. Several of these dashcams were from VicoVation including their Vico-MF2 GPS and OPIA 2…both very nice devices. Recently they sent me one of their latest and greatest flagship cameras, the Vico-MF3 to give it a try.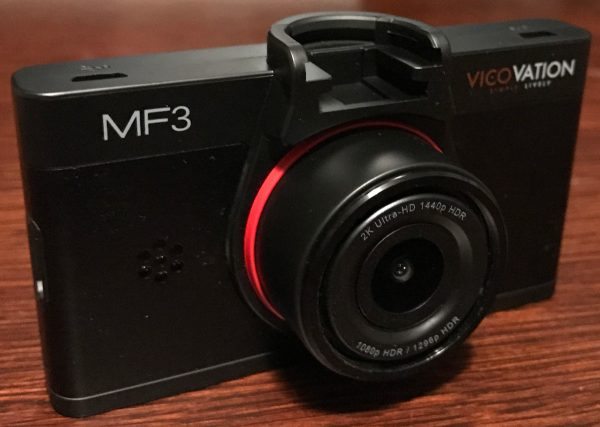 The Vico-MF3's design was inspired by the Leica M8 giving it a compact, minimalistic form factor. Impressively tiny considering this dashcam sports a 3″ LCD screen. It looks and feels like a high-end micro point and shoot camera from back in the day. The MF3 is very well constructed with an aluminum front housing that allows for better heat dissipation compared to older all-plastic models.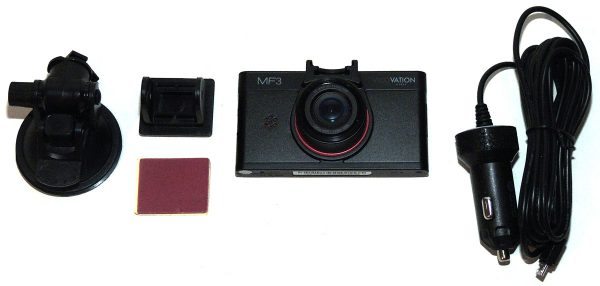 Package Contents:
Vico-MF3 UHD Dashcam
4 Meters microUSB Power Cable
Suction Cup Mount
3M Adhesive Windscreen Mount
Specifications:
Image Processor
Ambarella A12
Sensor
4 Megapixels CMOS Image Sensors
Lens
f/1.8, 6G Lens
View Angle
150° Diagonal Viewing Angle
Resolution
2560 x 1440 @ 30fps HDR (2K Ultra HD 1440p HDR)

2304 x 1296 @ 30fps (Extreme HD 1296p)

1920 x 1080 @ 60fps (High Speed Full HD 1080p)

1920 x 1080 @ 45fps (Full HD 1080p)

1920 x 1080 @ 30fps HDR (Full HD 1080p HDR)

1280 x 720 @ 60fps (HD 720p)

1280 x 720 @ 30fps (HD 720p)

LCD Display
3.0 Inches
G-Sensor
3-Axis Sensors
U-HDR
High Dynamic Range / 3-Dimensional Noise Reduction
Output interface
HD-Out / USB 2.0
Audio
Record / Mute
Certificate
CCC/CE / FCC / BSMI (D33i02) / RoHS
Video
H.264 @ .MP4 file
Storage
micro SDXC / SDHC (Class 10 only, up to 128GB)
Language
English / Traditional Chinese / Simplified Chinese
Power
micro USB Cigar Car Charger (Input:DC12~24V, Output:DC5V/1A)
Operation Temp.
0℃~75℃
Storage Temp.
-20℃~85℃
Dimension
57mm(L) x 97mm(W) x 35mm(H)
Human Tech.
Loop/Seamless Recording

Screen Saver (15s, 1/3/5 Mins)

Emergency Recording Automatically & Manually

Time/Date/Custom User Text Stamp

Parking Mode (Requires Vico-Power PLUS)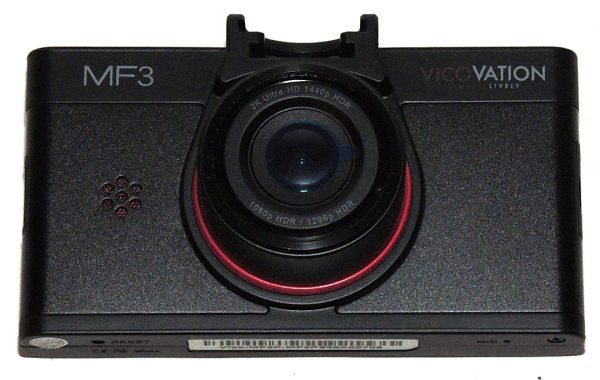 The sleek and slim Vico-MF3 is impressive in its feature-rich minimalistic design. It is equipped with VicoVation's latest AMBARELLA A12 processor and a 4 mega-pixel sensor with a f/1.8, 6G lens. The MF3 is capable of recording in "ULTRA HD" 2K resolution (2560 x 1440 @ 30fps) with Ultra High Dynamic Range just like the OPIA2.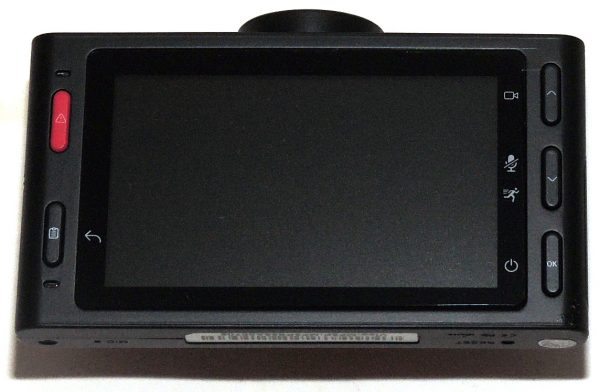 The 3″ TFT LCD display takes up a majority of the back of the MF3. The screen is bright and can be seen well in normal daylight conditions. The device is controlled by 5 buttons. The two on the left are the emergency record and back buttons and the right has the up/record, down/mic mute, and return/power buttons. Also on the left are LED indicators for GPS connection (top) and power (bottom).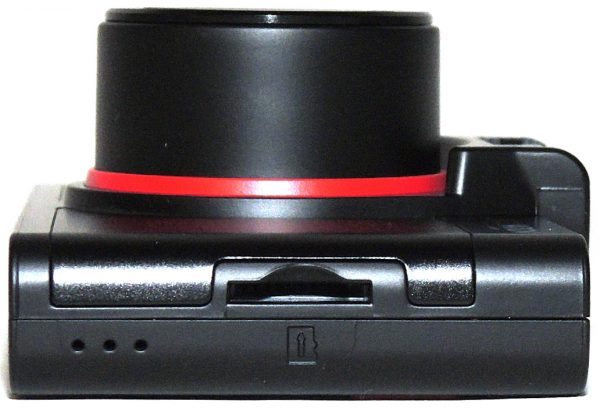 The left side of the dashcam has the microSD card slot. The Vico-MF3 is compatible with up to 128gb class 10 microSD cards.

In addition to the mounting point in the center, the top of the MF3 has the microUSB power port on one side and external GPS mouse (miniUSB) port on the other.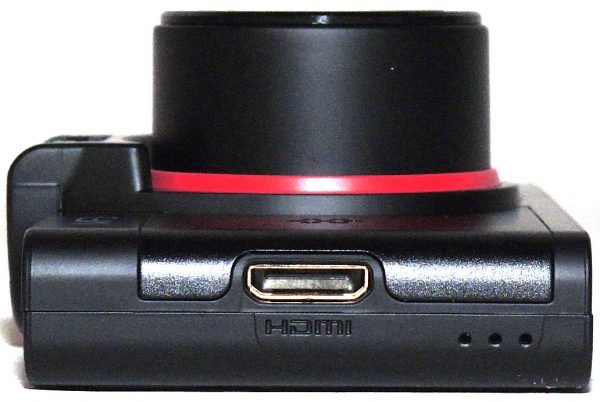 The right side of the MF3 has a full-sized HDMI port for easy/convenient playback of your video on a monitor or TV.

The base of the dashcam has the model and serial number plus the reset button and mic.

The optional external Vico-GPS mouse adds the following features:
Lane departure warning system
Forward collision warning system
GPS tracking
Over-speed warning system
Automatic time/date correction
Speed overlay
For this review, VicoVation included the Vico-GPS mouse and 30mm CPL filter (optional accessories) to better test drive all the features of the MF3.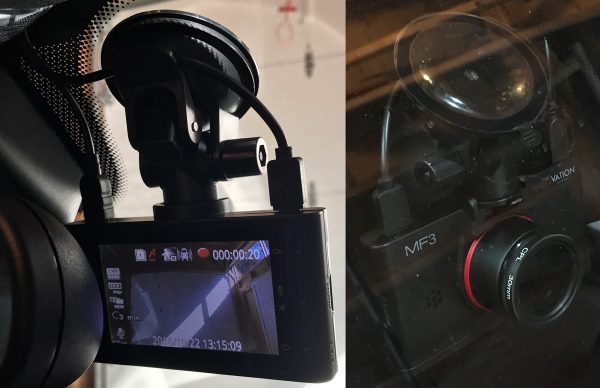 The suction cup windshield mount installed easily in less than a minute (it took much longer running the power and GPS mouse cables, getting 2 wires tucked away was definitely more difficult than 1). The mounting bracket is well made and holds the Vico-MF3 solidly in place. There is little to no movement or shaking/vibration in the video when driving on a smooth roadway. VicoVation also includes a 3M adhesive mount for a more permanent installation.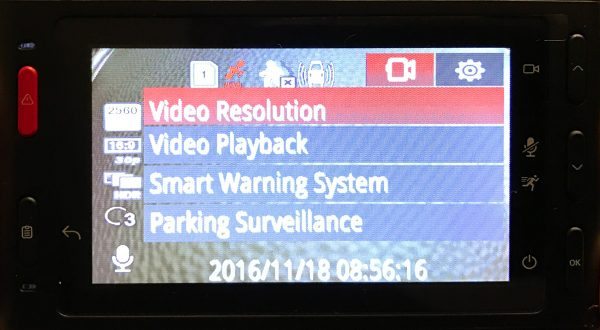 Being my third VicoVation dashcam, configuring the Vico-MF3 was easy at this point, taking less than a few minutes.

The MF3 records video in H.264 / .mp4 format in 1, 3, 0r 5 minute segments. When the microSD card is full, the dashcam continuously overwrites the oldest video with new. Each 3-minute (default setting) video recorded in 2K Ultra HD 1440p HDR weighs in at a relatively large 600mb per segment. Though you can tweak the video resolution and frame rate via the MF3's firmware/user interface.
Daytime Video:
Like the OPIA2, the Vico-MF3's "Ultra-HD" 2K 1440p HDR video is very clear with more detail than the standard 1080p that a majority of dashcam record at. The MF3's 150-degree viewing angle does not have much of a fish-eye effect towards the edges. The MF3 is equipped with the same "double exposure merging technology" that the MF2 & OPIA 2 do, that merges 60 fps into clearer more defined 30 fps video.
Nighttime Video:
The Vico-MF3 has great night video that is made even better with the VicoVation 30mm CPL filter. There is little to no glare from lights as you travel.
The 3 axis G-sensor detects when the car hard brakes or there is an impact and begins emergency record mode automatically. I like the addition of the GPS mouse in that it provides speed and location to the information the MF3 documents. Though a few times the dashcam grrrr'd me and I had no idea why. I guessed it was one of the added features warning me I was about to do something bad, like lane departure or over-speed etc.
The VicoVation Vico-MF3 is the best dashcam I have tried thus far. It's form factor, metal construction, Ultra HD video quality, and feature set are excellent. Though I do recommend both the GPS-mouse and CPL filter to get the best video and potential out of the MF3. It is a shame VicoVation does not have a dedicated viewer that can show map position and G-forces like some other manufacturers but rumor is they're working on a solution. At over $220 plus $35 for GPS mouse, the Vico-MF3 is not the cheapest dash cam on the market but it does have one of the best build and video quality around.
Source:  The sample for this review was provided by VicoVation. Please visit their site for more information and Amazon to order.
Product Information
Price:
$279.99 (currently on sale @Amazon for $225)
Manufacturer:
VicoVation
Retailer:
Amazon
Pros:

Excellent 1440p HDR video quality
Compact design
3" color screen
Well made with aluminum housing
Multiple mounting options included

Cons:

Expensive
No built-in GPS
Needs a worthy viewer
Optional accessories needed to use all features