We use affiliate links. If you buy something through the links on this page, we may earn a commission at no cost to you. Learn more.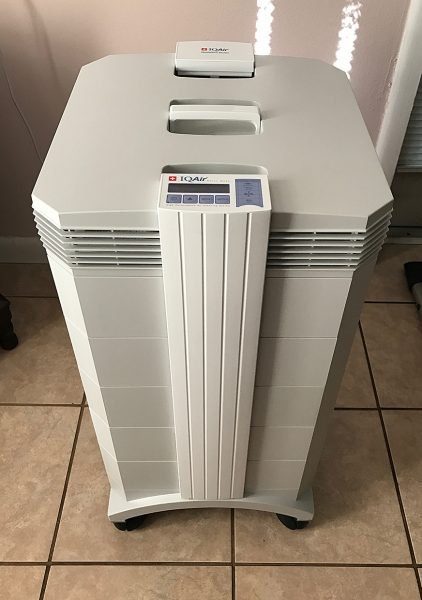 Before I begin my review of the IQAir HealthPro Plus air purifier, I must disclose a few things. First, I am asthmatic. Most of the time I'm fine, but my symptoms can go from 0 to 60 at warp speed. Second, we live in Florida, home of perpetual pollen. Third, we have two large dogs and a bunny in our house.
So the IQAir HealthPro Plus had a lot to prove.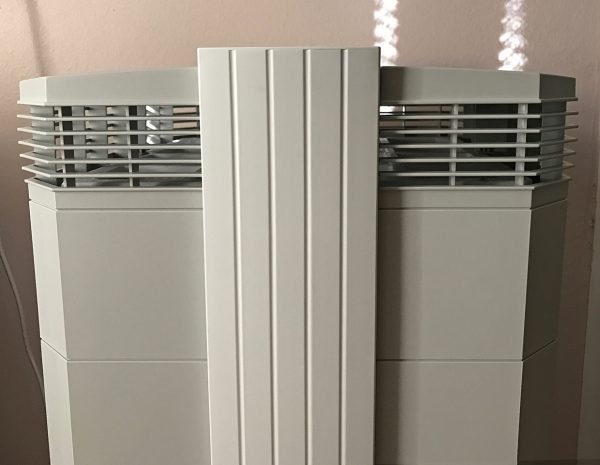 But, again, in full disclosure, we have no carpet, I keep the house clean and swept, and I keep the doors and windows closed. These are points in my favor.
Because of my respiratory issues, we put the unit in our bedroom just a few feet from our bed. I gave the unit several months knowing it would take a while to make a difference in our home. This took me through two allergy seasons and one hurricane season, during which we lost power for a couple of days.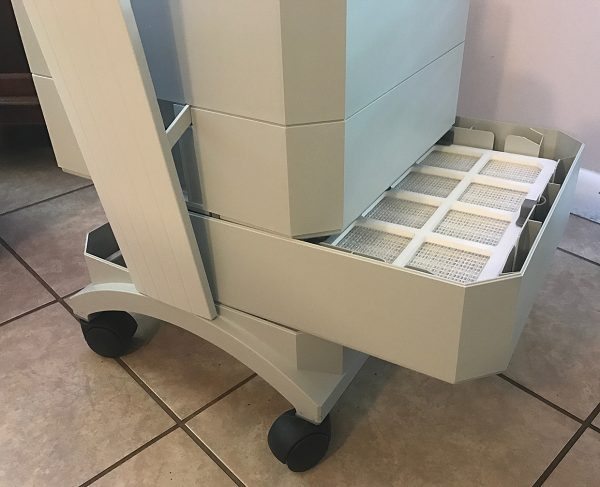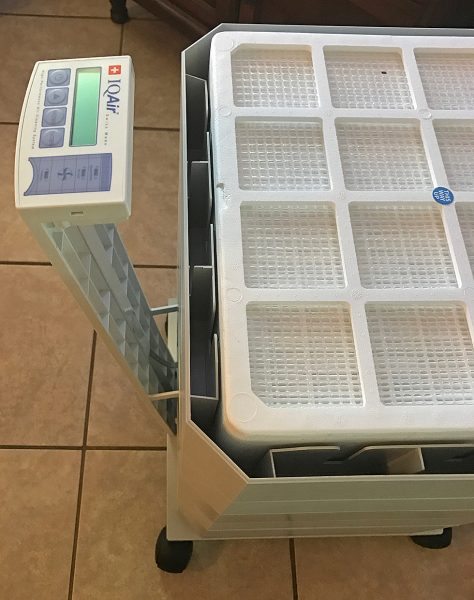 The Swiss-made IQAir HealthPro Plus, which offers a five-year parts-and-labor warranty, removes 99.97 percent of pollutants including VOCs, particulate matter and ultra-fine particles. These bad boys can be breathed into your lungs and go directly into your bloodstream. I don't even like to think of what that looks like on the microscopic level, let alone what it does to your immune system. Pollen, pet dander, dust, viruses and mold spores are theoretically gone. In fact, it's supposed to provide 25 percent more clean air than its competitors. The unit creates a soothing white noise, which I appreciate at night, and is supposed to be 32 percent quieter than comparable brands.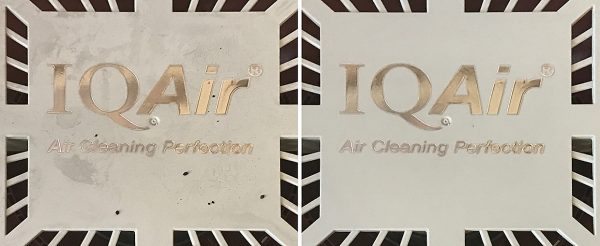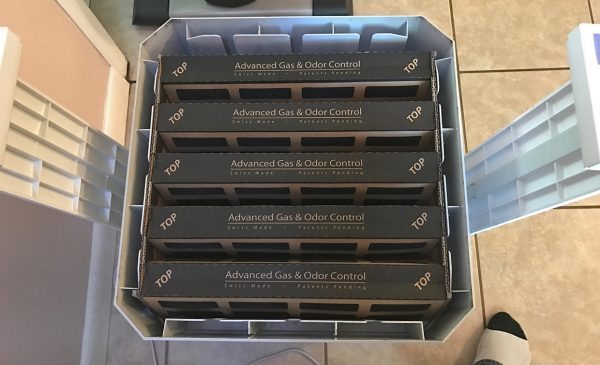 The HealthPro Plus evenly distributes medical-grade air without creating ozone or ions, which I used to think were good but can actually aggravate asthma. The modular tower design allows for easy replacement of each of the four filters. The filtration system also boasts of gas and odor removal that is the equivalent of 50 gas masks in the V-5 Cell Filter MG series. The filters make quick work of dog smells, human smells (yes, those) and the smell of the smoker right outside our bedroom's French doors. The filters are designed to last up to 38 percent longer than conventional filters, which is helpful in light of the pricey replacements. According to the manual, the PreMax filter has a 16-month lifespan and costs $69 to replace for my unit, and the HyperHEPA filter has a four-year lifespan with a replacement cost of $199. The V5-Cell has a two-year lifespan and costs $99 to replace. Budget accordingly.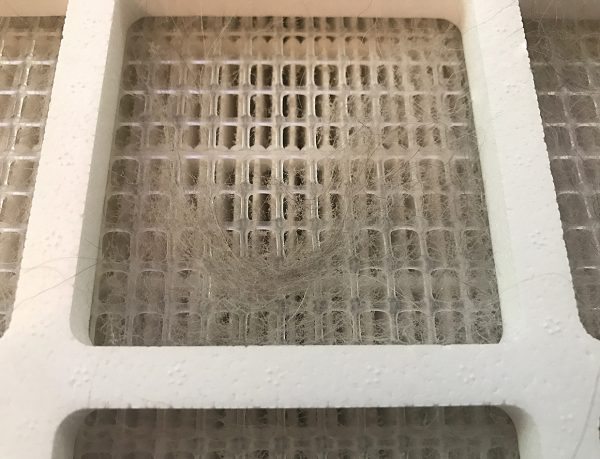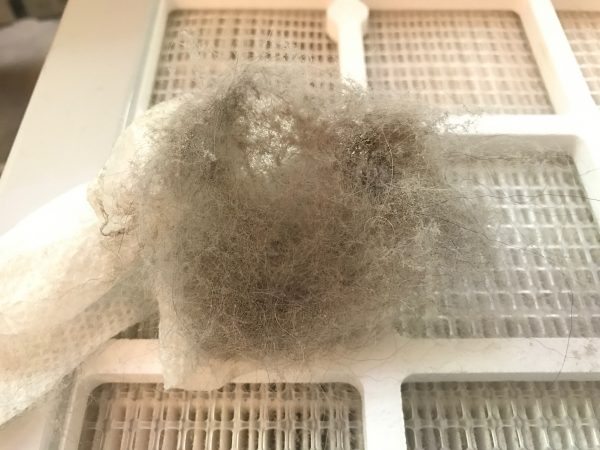 After several months of use, we were happy to find the filters in good condition. We easily cleaned them of pet hair and quickly wiped them clean of all dust and black debris, which I suspect came from carbon spewing from my nearby malfunctioning elliptical.
The filter system results in returned air that is at least 99.5 percent clean, providing fast relief to allergy and asthma sufferers like me, though with minimal energy use. In fact, advertised as energy-efficient, the unit has not affected our electric bill despite constant use except during our two-day power blackout.
Though energy consumption is minimal, the cost is not cheap but can be well worth it. The HealthPro Plus runs $899, with a compact model is available for $799. For the most discerning customers, the hand-made, wood-encased art deco Klaus Series Limited Edition model sells for $2,500. As an art deco fan and a person who values form as well as function, I wish I could have sprung for the Klaus Series, which would have looked amazing next to my antique furniture. But oh well.
This is to say that the HealthPro Plus, on its own, is by no means an accent piece for your home. If you're a Wrinkle in Time fan, think of it as a functional, helpful, very gray and bland-looking appliance that Aunt Beast would use to provide comfort and healing.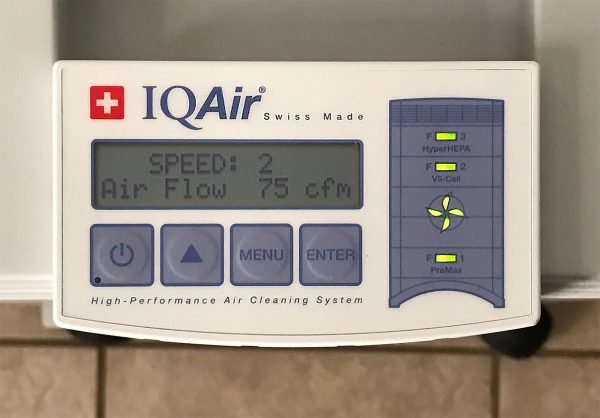 We set the speed on 2 of 6. At that speed, the unit provides a clean air delivery rate of 75 cubic feet of air per minute (cfm). At the top of the scale at Speed 6, the delivery rate increases to 300 cfm. The speed can be adjusted from the panel at the top of the machine or by using a handy remote. The unit's maximum coverage area is 1,125 square feet, or slightly more than half of our home's square footage. Those who want a whole-house system should consider the IQAir Perfect 16, which ranges from $2,695 to $3,195 with installation.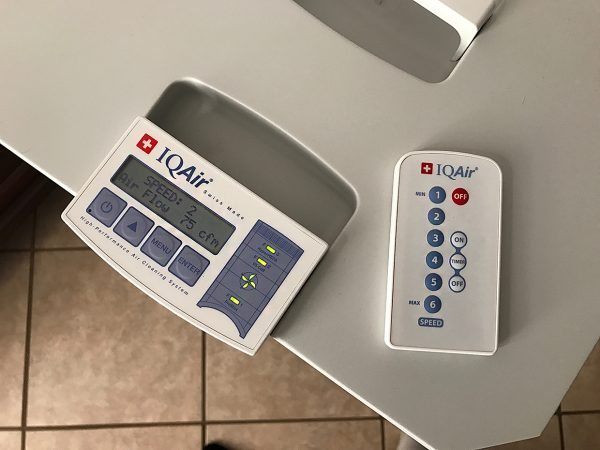 Because I don't have the ability to test air quality in my home, I must base my review upon anecdotal experience. The first thing I noticed was, strangely, that my nose would get stuffy at night. Perhaps this is from drier air, but the experience was consistent. However, over time, I noticed I used the inhaler next to our bed less and less, and I awoke in the morning to asthma symptoms less often.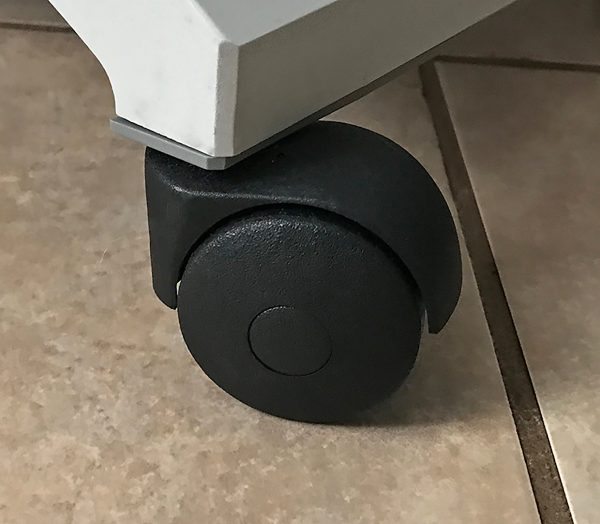 Hurricane Matthew proved a good opportunity to test how quickly the HealthPro Plus could restore good air quality after a 2 1/2-day power blackout. The moisture, heat and humidity conspired to make the house musty by the time power was restored, but the musty smell was gone by bedtime.
The use of our smoker has put the odor filtration system to the test several times. As I mentioned, the smoker is right outside the French doors leading from our bedroom outside, so the smell permeates the bedroom every time we get a smoked meat fix. By the next morning, no smell remains in the bedroom or even in the rest of the house – not that the smell of smoked meat is necessarily a bad thing.
One other anecdote to note: With the exception of norovirus, which I contracted last summer on a plane, I have not had any viruses, even with the change of seasons. This has been an unusually long streak of good health for me, one for which I choose to give the HealthPro Plus credit.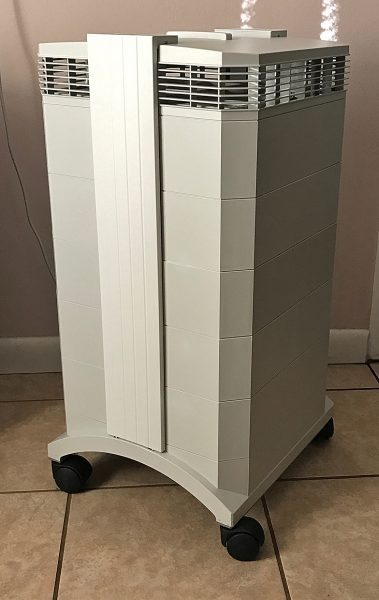 All in all, I'm happy with the IQAir HealthPro Plus despite its Aunt Beastness and pricey filter replacement costs, though the latter consideration will prove significant as the calendar pages continue to flip forward. Maybe the unit will continue to justify its existence by saving me the cost of visits to the pulmonologist and the pharmacy. Besides, I would much rather take a holistic approach to controlling my allergies and asthma than having to resort to inhaled or oral steroids, especially as I insist upon living in my subtropical forest with my furry friends.
The IQAir HealthPro Series air purifier is available from IQAir and Amazon sells for $899 US.
Source: The sample for this review was provided by IQAir. Please visit their site for more information and Amazon to order.