We use affiliate links. If you buy something through the links on this page, we may earn a commission at no cost to you. Learn more.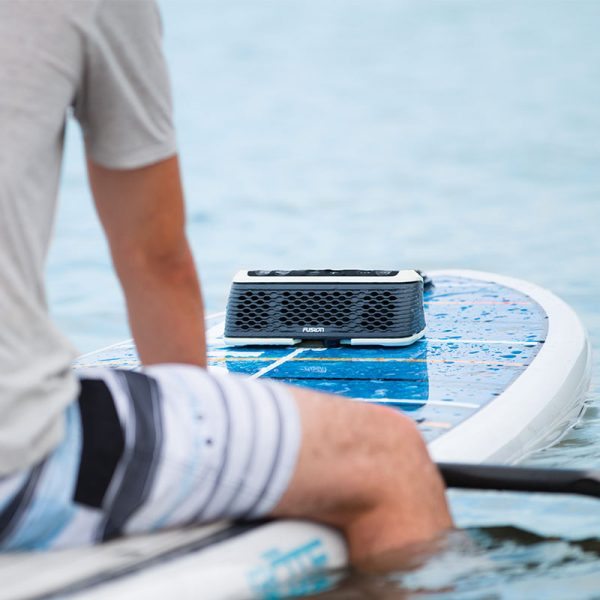 After watching others make waterproof portable speakers, a company known for making speakers and electronics for boats and other extreme outdoor uses has decided to make their own portable stereo speaker themselves—that also streams Bluetooth. New Zealand company Fusion (a Garmin company) has developed and released the StereoActive speaker, the world's first purpose-built watersport stereo. The StereoActive features a unique Puck mount system that lets you attach the stereo to any paddle board, kayak, canoe, dinghy, boat or even a jacuzzi.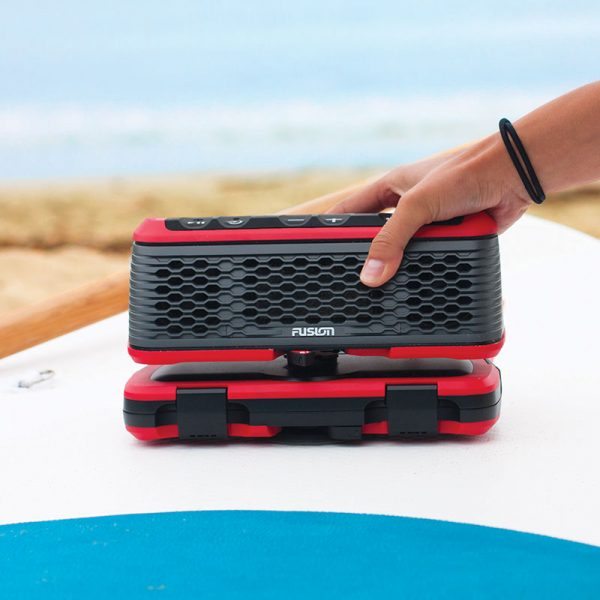 The rugged construction and the extensive array of available music sources make the StereoActive ideal for any water—or dry—outing this season. Once the StereoActive is attached (pucked) in place, you're free to do whatever you want in fresh or salt water without fear of damage. If you capsize a paddleboard or kayak, the StereoActive will stay pucked in place. The high grade rubber overmolded key pad is engineered to take abuse and scallop-shaped control buttons are designed so they can be easily adjusted with the tap of a paddle.
Listen to AM/FM, Weather Band, music stored on an optional USB flash drive or even streaming Bluetooth—your choice. Music can be controlled with the FUSION-Link app, available for download from Garmin Connect, the Apple App store or Google Play store.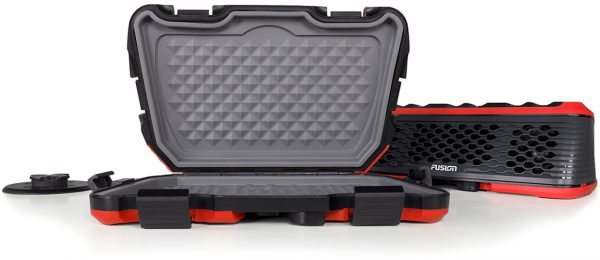 The quality of the music is just as important as the durability of the StereoActive. FUSION's sound engineers worked on the internal mechanics, including the passive radiator, neodymium magnet system and long excursion speaker design, resulting in musical clarity. The dual 2.5" 40 Watt custom-designed directional speaker system combined with an off-axis correction of the polycarbonate grille work to direct the audio signal without disturbing others on the water. A lithium ion battery will keep the music playing for up to 20 hours between quick three-hour charging times.

While using the StereoActive, any smartphone, credit cards, keys and loose change can be locked inside the optional ActiveSafe, which is engineered to connect (via puck) perfectly onto the StereoActive. The ActiveSafe is also completely watertight and rated IPx7 waterproof. Both the StereoActive and ActiveSafe are designed to float in the unlikely event that they fall into the water.
The Fusion StereoActive speaker sells for $299.99 US. The ActiveSafe is $99.99. Both are available November, 2016 in time for holiday shopping from Crutchfield. Visit www.fusionentertainment.com/watersports for more information.