We use affiliate links. If you buy something through the links on this page, we may earn a commission at no cost to you. Learn more.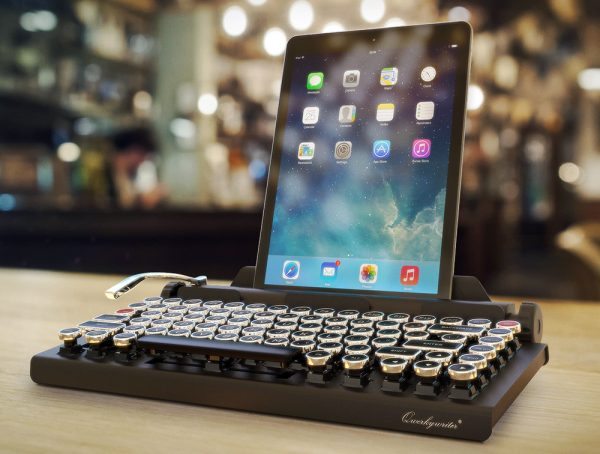 Back in July 2014, Julie wrote about the Qwerkywriter, a retro-styled Bluetooth keyboard that looked like the keyboard from a 1930's typewriter.  At the time the funding campaign was launched, the keyboard had a decorative return bar and paper platen, as well as vintage-style keys with mechanical switches for that clickety-clackety sound.  In the time since then, the Qwerkywriter has completed funding and development, and it is available for purchase from the Qwerkytoys website.
The Qwerkywriter connects via Bluetooth to computers, tablets (Android, iPads, and Surface), and phones.  It has a built-in stand that can support tablets of most every size, including the Surface Pro 12 and the iPad Pro 12.  It's made of an aluminum-metal alloy for an authentic look and feel.  The beautiful patent-pending, ergonomic, vintage typewriter-inspired keys have a concave surface and touch-type support.  And the mechanical switches are industrial strength and provide tactile and audible feedback.  Best of all, the return bar isn't just a decoration now.  It defaults to sending a return when pushed, but the macro return bar is programmable with up to five characters.
The Qwerkywriter is now available for $329 (normally $399).  It's a beautiful addition to your steampunk-styled office or to your antique typewriter collection.