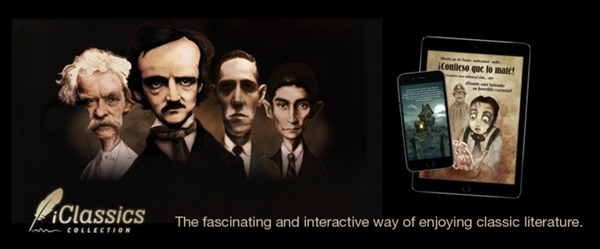 Back in my day, we didn't have fancy schmancy tablets to read books, we had actual books with pages, that we had to turn! And we liked it! That was me channeling Dana Carvey's Grumpy Old Man character from Saturday Night Live. It's true though. When I was a kid, I loved Saturdays because my mom would drop my sister and me off at the library while she did the grocery shopping and other errands. We would each come home with a stack of books that we could barely carry and would then spend all weekend reading them. I loved all the classics back then. Robinson Crusoe, Tom Sawyer, Huckleberry Finn, Man in the Iron Mask, Swiss Family Robinson, Treasure Island and many more.
iClassics Collections have been designed for today's younger readers who use tablets. The apps for iOS and Android bring classic literature illustrations, sound effects, animations, interactivity and soundtracks to hook kids into wanting to read these great stories. The first iClassics Collection was 10 Edgar Allan Poe short stories which did so well that they are now offering additional apps with iDickens, iLovecraft, iWilde and iDoyle stories which are available in English, Spanish, French and Portuguese for iTunes' platforms (AppStore), Google Play and Amazon (AppStore) for $2.99 each. For more info visit iclassicscollection.com
Support The Gadgeteer
:
We may earn a small affiliate commission from purchases made from buying through links on our site. As an Amazon Associate I earn from qualifying purchases. Learn more.