We use affiliate links. If you buy something through the links on this page, we may earn a commission at no cost to you. Learn more.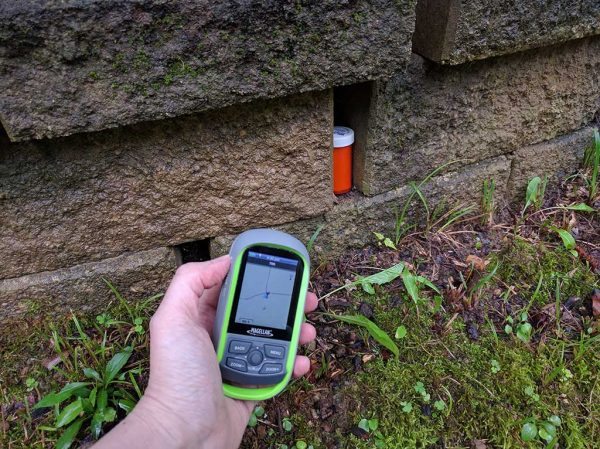 If capturing virtual creatures around your town with the Pokémon Go app isn't your idea of a fun time, consider geocaching which is another outdoor hunting game. To play you'll need to use your smartphone or a GPS unit like the Magellan eXplorist GC which I'm going to tell you about today.

What is it?
The Magellan eXplorist GC is a dedicated handheld GPS unit that has been designed especially for geocachers. If you don't know what geocaching is, it's treasure hunting for the digital age.  Using latitude and longitude coordinates, you navigate to a location and search for a cache which can contain trinkets or a logbook that you sign.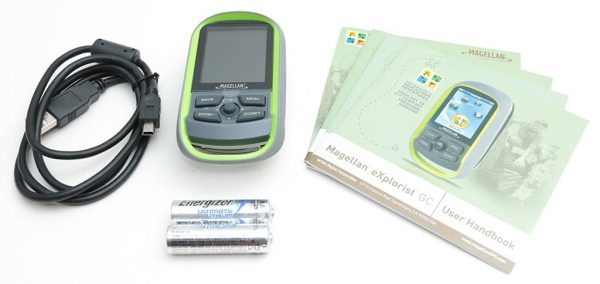 What's in the box?
Magellan eXplorist GC
micro USB cable
2 AA batteries
User handbook
Design and features
The Magellan eXplorist GC has a rounded back with a rubber covering that fits comfortably in your hand. The unit has a built-in hook at the bottom, a 2.2-inch LCD display that can be read in sunlight and a joystick with four buttons to navigate through on-screen menus.
One the back side is a slot for mounting the device on a belt, handle bars, car dash, etc. Note that mounting hardware is not included with the unit. At the bottom of the eXplorist GC is a weather sealed USB port that is used to sync cache data to and from the eXplorist GC to your geocaching.com account.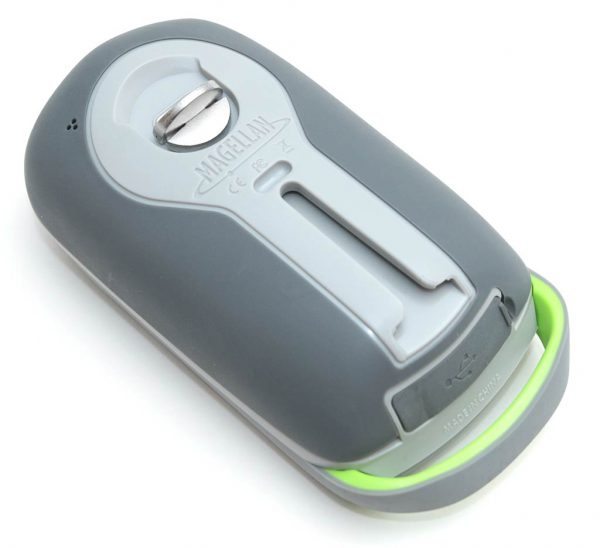 The eXplorist GC runs on two AA batteries. It has a water resistant (IPX-7 standard) sealed battery cover that is accessed by turning the metal locking latch on the back of the unit.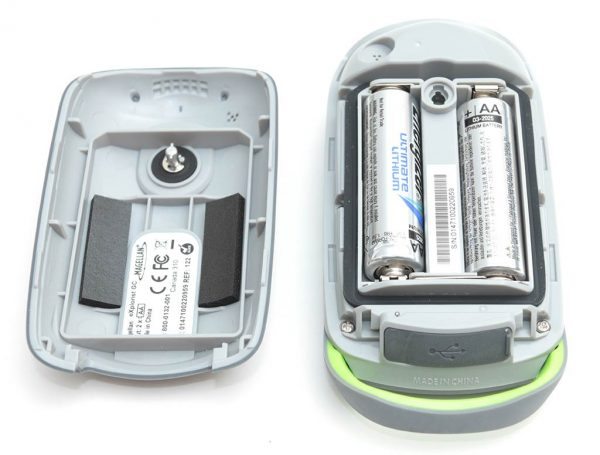 One set of fresh batteries will provide up to 18 hours geocache hunting time.
Using the Magellan eXplorist GC to find caches
Until now, I've been using my smartphone for geocaching but have wondered if a dedicated unit would be easier to use and more accurate. The eXplorist GC has a highly sensitive SiRFstarIII GPS chipset that provides 3-5 meter accuracy compared to smartphones which only have around 20 meter GPS accuracy. For those who are metrically challenged (me included), 3-5 meters is about 10 – 16 feet. So don't expect that this unit will put you directly on top of the geocache. You still have to use your eyes and hunting skills to find things – and that's not a bad thing. Geocaching wouldn't be any fun if you could just walk up to a cache and find it with no effort.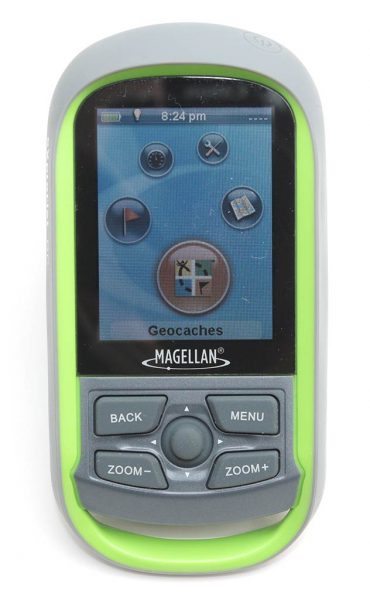 One of the main reasons why I have been looking forward to trying the eXplorist GC, is the 2.2 inch color transflective screen. Smartphone screens are almost impossible to see in direct sunlight. The eXplorist GC's screen is like some of the very first color displays from the days of the Palm PDAs. You can actually read the display in full sunlight as long as you have the backlight on and you have good eyes. The display is small (240 x 320 resolution). So is the text. If you are vision challenged, you may have problems reading the small print on the cache info screens.
The eXplorist GC's user interface is very basic, so it's easy enough to understand and navigate with the built-in joystick. That's right, the eXplorist does NOT have a touchscreen. But as long as you don't accidentally press the top of the joystick to select something when you really meant to move to another line or icon, it's fine. I had this issue a LOT when I first started using the eXplorist which made navigating menus a little frustrating until I got the hang of using it.
Whenever you turn on the unit, you're presented with the main menu which gives you a choice of five modes: Geocaches, waypoints, dashboard, tools, and map.
The tools menu lets you see trip summaries, stats on your hunts, info about the unit itself,  geocaching FAQs, a glossary of geocaching terms and more.
The geocaches menu is where you'll spend a lot of time. This is the list of caches that are near your location. The eXplorist comes preloaded with 1000 caches but you can add up to 9000 more by logging into the geocaching.com site, creating your free 30-day premium account and searching the database for caches based on your zip code or desired location. Then you just select the caches in the browser window that you want to store on the GC unit and send them to the unit using the included USB cable. There is a caveat with transfers though. As far as I've been able to figure out, you can't transfer them in bulk to the GC. You have to do them one at a time.
Each cache listing shows the cache name, location, description, cache owner, size, difficulty, terrain, hint, spoilers, the last 20 user logs and  other details.
Searching for caches on the device is easy by setting your search preferences: by nearest, by name, by type, by date, or by geocache ID. You can also customize your cache list. For example, show all regular size, traditional type caches that have not been found.
The GC comes with street maps for the entire United States and Canada and base maps (major highways) for the rest of the world. In the US and Canada, you can navigate (it does NOT auto-navigate like Google Maps) yourself to a geocache by watching the mapping screen and choosing a route. The screen will show a compass pointing in the direction you need to walk and the distance you are from the cache. When you are within 20 feet of the cache, the unit will beep.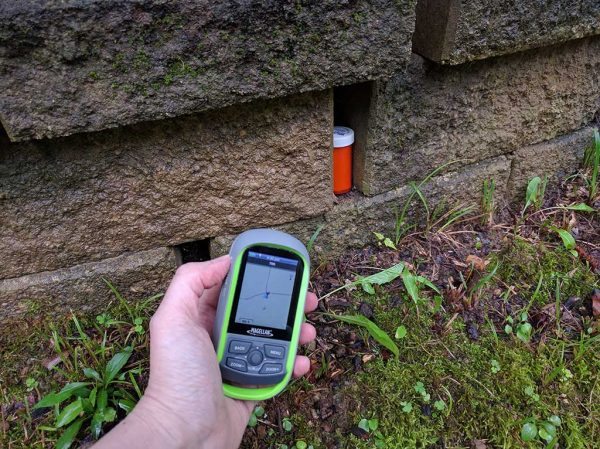 Will the Magellan eXplorist GC help you find geocaches easier than a smartphone? That's the question I came into the review wanting to answer and the answer is yes and no.
There are things about this dedicated device that are better than using a smartphone, like the fact that I can see the screen when it's a bright sunny day. I also like that the unit is small, has a long battery life and is water / weather resistant. It also seems to hold a GPS signal under tree cover a lot better than my Nexus 6P smartphone. But, the eXplorist felt a little slow locking on to a GPS signal when first powering it up.
But the fact that the eXplorist GC does not offer turn by turn navigation like the geocaching.com app for Android and iOS, is a bummer. That means I need to use my phone to nagivate to the location and then use the Magellan when I get out of the car to search for the cache. Also, since the Magellan is not connected to the internet, you have to manually load cache info using a USB cable. With my smartphone, all that info is there – as long as I have a signal.
Final thoughts
The Magellan eXplorist GC is a well made dedicated GPS device with long battery life. It is rugged, waterproof, has an easy to understand user interface that offers paperless geocaching and comes with 30 days of free premium access to geocaching.com (1 yr costs $29.99). If you don't already own a smartphone, this unit would be good starter device for people wanting to dip their toe in the geocaching hobby. But if you already own a smartphone, my advice is to head over to geocaching.com and download the free app. Use your phone and the app for awhile before deciding if you want to drop some $'s for a dedicated geocaching device.
Source: The sample for this review was provided by Magellan. Please visit their site for more info and Amazon to price check / order.