We use affiliate links. If you buy something through the links on this page, we may earn a commission at no cost to you. Learn more.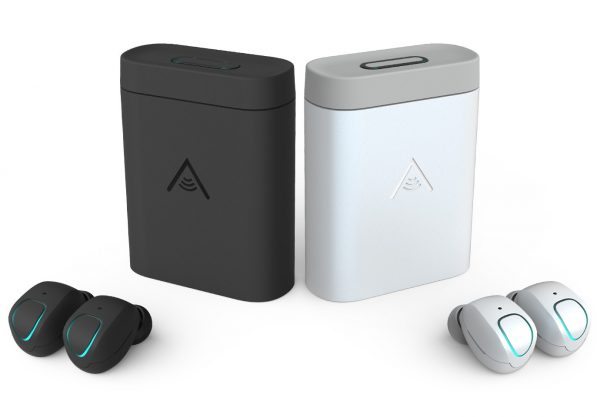 The notion of only having small earbuds in each ear, without cords of any kind, should make many activities where cord management and cord noise are problematic, such as running or exercising, more enjoyable and immersive.  There are a few players in this relatively new field of gadget, notably: Bragi, Earin, Motorola, and BÖHM. Skybuds, manufactured by Alpha Audiotronics, Inc., are now available for pre-sale ordering. So what makes this product stand out? 
First of all, all of the wireless (or untethered) earbuds are highly sophisticated devices; the speaker, electronics, battery, and antenna must all occupy a very small area. In addition, the signal to each ear must remain synchronized for a proper stereo effect. Skybuds have expanded the technological envelope of these types of devices by incorporating Near Field Magnetic Induction (NFMI) into the design.  Their successfully funded Kickstarter page from last year describes the design by stating,
"The earbuds communicate to one another through NFMI. The "leader" earbud connects to the phone via Bluetooth."
NFMI has distinct advantages over FM when transmitting through water-containing objects (like your head). And don't worry about the dangers of installing these under your tin-foil hat, because focused magnetic fields are used in MRI's and hearing aids. So, the promise of a lower-power, higher-fidelity signal than Bluetooth make these earbuds ones to watch. You can pre-order a set of Skybuds for $249.99. There are no details about when they will ship.