We use affiliate links. If you buy something through the links on this page, we may earn a commission at no cost to you. Learn more.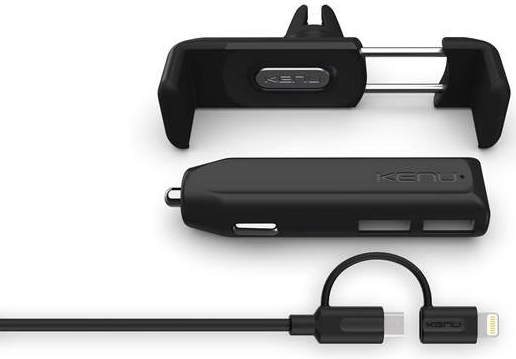 If you're still looking for gift ideas for Mother's and Father's Day, here's another. It's the new Car Kit Deluxe from Kenu. Kenu are the makers of the popular Airframe car mounts that we've reviewed here on The Gadgeteer. Their new Car Kit Deluxe includes an Airframe+, a DualTrip car charging adapter that has two 2.4A USB ports, and a Tripline USB cable that can be used with either iOS or micro USB devices.
The Airframe+ is a universal device holder that conveniently attaches to your vehicle's air vent, so it mounts quickly and easily without a complex or messy installation. It can accommodate devices with up to six-inch screens, and is compatible with most vent types.
The Kenu Car Kit Deluxe has an MSRP of $59.95. For more info visit kenu.com or Amazon for the lowest price.