We use affiliate links. If you buy something through the links on this page, we may earn a commission at no cost to you. Learn more.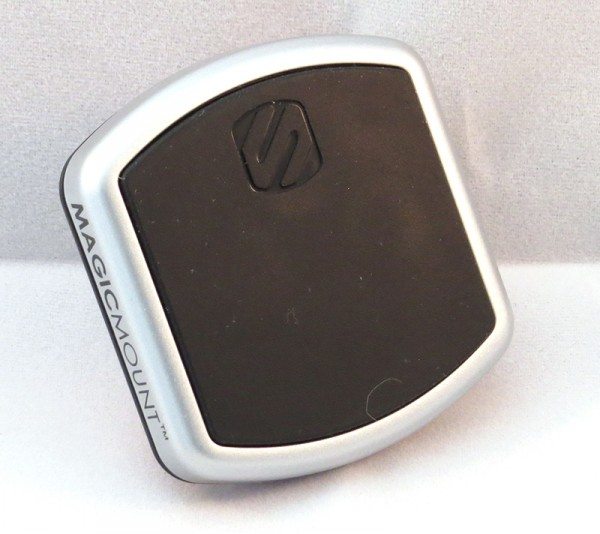 For a while now, I've been looking at finding a good holder for my iPhone for when I am driving in the car. Mainly, I needed it for GPS, so I tried out one of those dash holders, which failed, and I promptly returned. My next option was trying a vent mount, and when the Scosche MagicMount Pro vent mount was offered to review, I jumped at the chance to try it out. Let's see how well it performed.


Inside of the box, you'll find two metal plates, the MagicMount, and an interchangeable black trim ring. The instructions are on the box, though a secondary set of instructions is on the back of the unit as well. I chose to use the larger of the two plates and placed it between my phone and the case. I have Apple's silicone case for my phone, and it fit just fine. The hardest part was keeping the plate in place while I placed the phone in the case, and frankly, it wasn't that hard. I can't see myself using the smaller plate, but I can see how it can be more appealing to the eye if you had a small plate on your case or phone versus the larger. These plates should also be compatible with Scosche's other mount systems, just in case your significant other doesn't want to use the vent mount.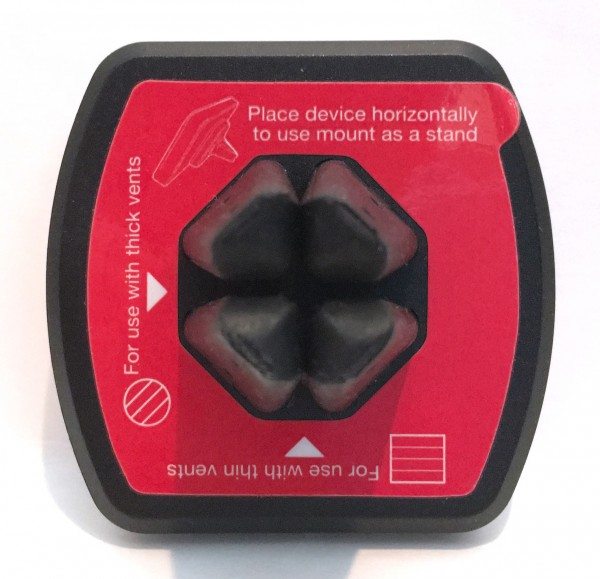 Once you have the plate in place, head out to the car and turn the MagicMount around. Depending on the thickness of the vent, you'll have it turned one way or the other. My car vent seemed pretty standard for cars nowadays, and using the 'thick' vent direction, I pushed it in. It took quite a bit of pressure, but once it was stuck on the vent, I realized it wasn't going to go anywhere.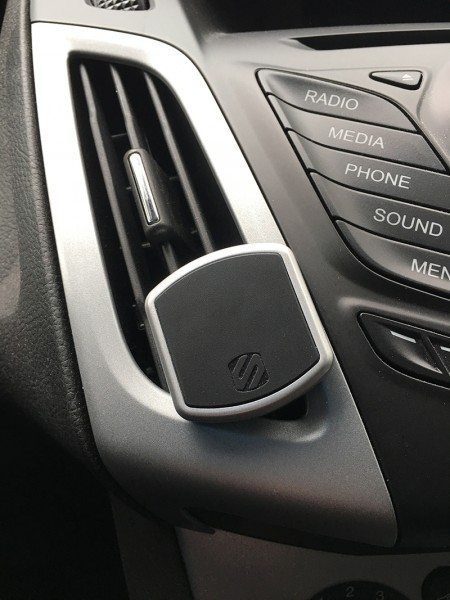 Of course, I had to test it by putting my phone on and taking it off several times, in several different ways, including tossing it against the mount. Each time, as long as the metal plate hit the mount, it worked flawlessly. Only after daily use for a few weeks did it pull out slightly, and once I noticed, I pushed it back into place and it has stayed put since. The positioning of my vent made looking at the phone while in the car so easy. Don't worry, I only look at the phone when I am confirming directions while using the GPS!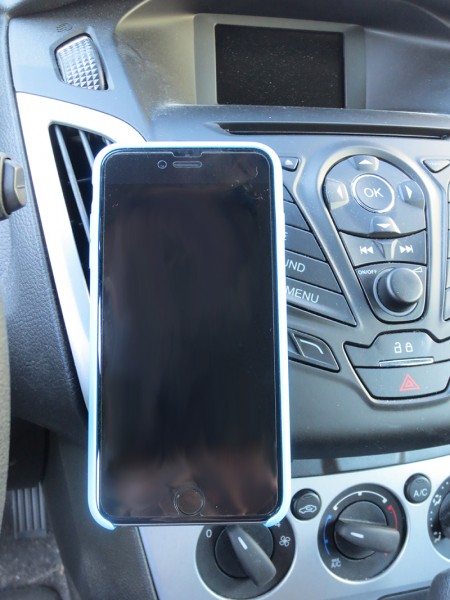 With the vent mount in, I was unable to change the outside direction of my vent, so the airflow was restricted to whatever direction the vent mount chooses for you. I tend to use the defrost/feet setting in my car, so this wasn't a problem. However, I can see it bugging people. It did not heat up my phone when the heat came out of my vent, which relieved me. That was one worry that I had, as my husband often uses the vent.
I really liked using this mount because it was so easy, but I also liked that there is an option to have interchangeable trim rings and different colors of plates to purchase. If you have a rose gold iPhone, you can buy an optional kit ($14.99) and get a matching trim ring and rose gold colored plate, and if you choose to stick it to your phone, it won't be so glaringly noticeable as the black metal plates. I stuck with the silver trim since it matched the trim in my car, but I like simply having these options available to me.
Overall, I feel the Scosche MagicMount Pro vent mount is a great device that does exactly what it is supposed to do. It is very simple to use, and it helps me keep my eyes on the road when navigating with my GPS. If someone was looking for a solid vent mount, I would definitely recommend this product to them, since I know it works, and works well.
Source: The sample for this review was provided by Scosche. Visit their site for more information and check prices at Amazon.