We use affiliate links. If you buy something through the links on this page, we may earn a commission at no cost to you. Learn more.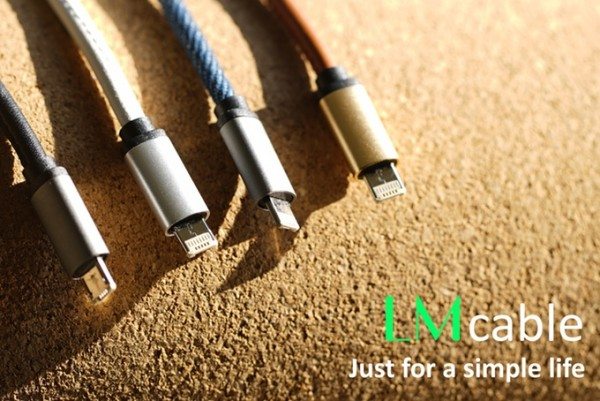 "It is the middle ground between light and shadow, between science and superstition, and it lies between the pit of man's fears and the summit of his knowledge." It's the worst part of the Twilight Zone, the part that even Rod Serling feared – it's the need to carry an Android and iPhone. Maybe one device is a dedicated work device, or maybe there's an app in each device that you need but can't install on both. Whatever the reason is for being in this predicament one thing is for sure: both Androids and iPhones need to be charged.
That's why LMcable has started a kickstarter campaign to produce the LMcable. The unique design of the connector on this cable features lightning contacts on one side and micro USB contacts on the other. The connectors, on each side of a leather wrapped 1-meter long cable, feature real metal enclosures.  The cable, built for durability and portability, includes tin plated conductors inside and a leather and brass cable tie to keep the whole thing organized. The manufacturers claim that it supports both fast data transfer and 2.4 Amp fast charging, although the cable is not MFI approved at the time of writing. Also, because the lightning connector is no longer symmetrical, it will only work when inserted in one direction.
So this device may be for you if:
you live in the alternate universe of carrying two devices that charge differently (it seems that a good percentage of the population does).
you much rather have one fashionable single cable than two cables or one cable and an MFI certified converter.
you have no aspirations of buying an USB type-C device.
You can find out more at the LMcable kickstarter page. Note that this campaign is fully funded.