We use affiliate links. If you buy something through the links on this page, we may earn a commission at no cost to you. Learn more.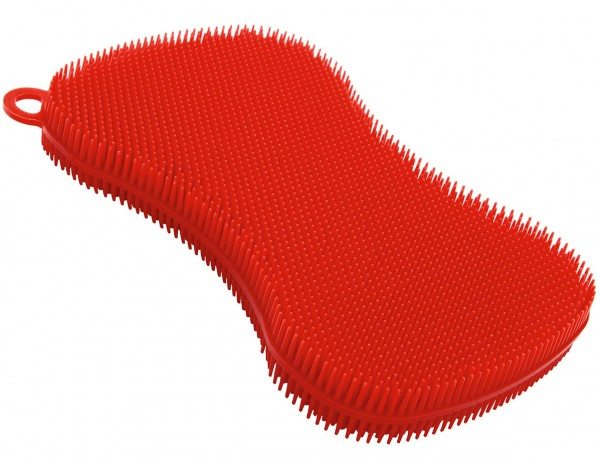 It is nearly impossible to rid kitchen sponges of food particles and contaminants once they are soiled by unclean surfaces. The moist, porous, nutrient-rich environment of a dirty sponge may harbor microbiological organisms, many of which may be pathogenic. So after you've read the previous sentence and thrown out your old sponge, replace it with the Kuhn Rikon Stay Clean Scrubber. Unlike a typical kitchen sponge, this kitchen gadget is made of non-porous food-safe silicone, which dries quickly.  It cleans with over 5,000 silicone bristles that contact dirty kitchen surfaces (including Teflon coated cookware) to scrub debris away. When it gets dirty it can be cleaned in the dishwasher. It's heat resistant to 500°F and BPA free. Also, when dry it can be used to remove lint and hair from fabric – try that with your stinky O-Cel-O sponge!
The Kuhn Rikon Stay Clean Scrubber is available from Kuhn Rikon and Amazon. It is available in multiple colors with an MSRP of $8.00. For more info visit Kuhn Rikon.