We use affiliate links. If you buy something through the links on this page, we may earn a commission at no cost to you. Learn more.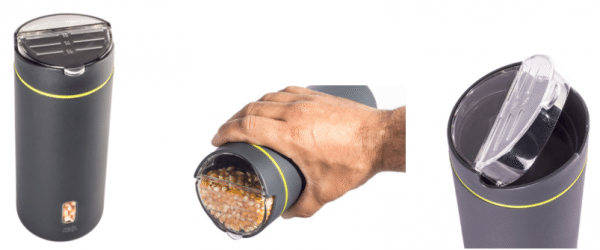 We eat a lot of steel cut oats and other dry cereal at my house. The oats come in bags that we transfer to another container or ziplock bag and the cereal comes in a standard cereal box. When it comes time to fix cereal, I measure it out in a bowl with a measuring cup that then has to be washed. Jeanne tends to buy extra boxes of cereal when it goes on sale, so we have a cabinet full of boxes or multiple Ziploc bags of steel cut oats. I've thought about buying some Rubbermaid containers to hold things, but recently came across Made containers that have a built-in measuring cup in the lid. 
Made containers, which are made with a non-BPA material, hold dry goods while sealing out air (although they are not 100% airtight). When you're ready to eat, you rotate the measuring and dispensing cap and shake out the right amount into the lid which can hold approximately 1/2 a cup. For smaller portions, there are graduation lines on the cap so you can pour out 1/4 or 1/8 of a cup. Then just lift the lid and pour out the contents. Don't worry, only the amount you selected will pour out. The rest of the contents will stay in the container.
The Made storage container works best with bulk food items like cereal, rice, beans, lentils, granola and similar granular foods. It will not work well with fine items like flour and powered sugar. Each Made cylinder can hold up to 4.5 cups of dry goods, which means it probably won't be able to hold a full box of cereal. But I think the concept is pretty cool and I look forward to them making larger sizes available at some point. Made containers are priced at $44.95 for a set of 4 or $11.95 individually. For more info visit madetosimply.com or Grommet to order.