We use affiliate links. If you buy something through the links on this page, we may earn a commission at no cost to you. Learn more.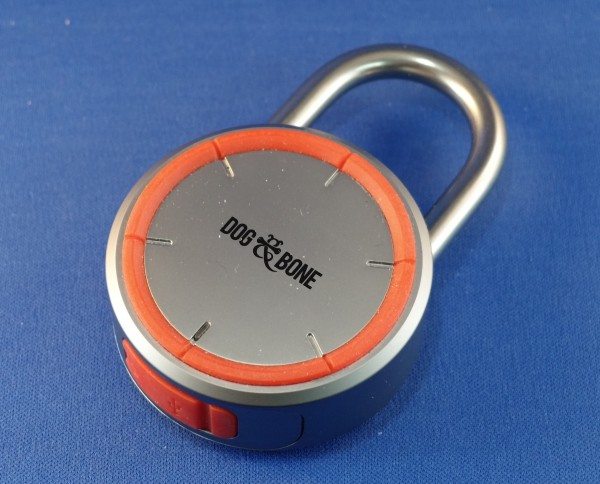 Wouldn't it be nice if people didn't steal our stuff? You could just leave things on your table, backyard deck, or car seat, walk up to the counter for coffee or whatever, and not have to keep watch on your stuff. OK, Leave it to Beaver moment is over. Fact is, everybody is trying to grab your stuff. Everyday. All. The. Time. Deal with it. But, like any good gadget technodream, there is a solution: the Dog & Bone LockSmart. It's a heavy-duty padlock that can be used to protect your property, yet allow you to give others access. I was sent one for review, and was quite impressed.
Note: Photos may be tapped or clicked for a larger image.
DON'T MISS: Master Lock Bluetooth Smart Padlock review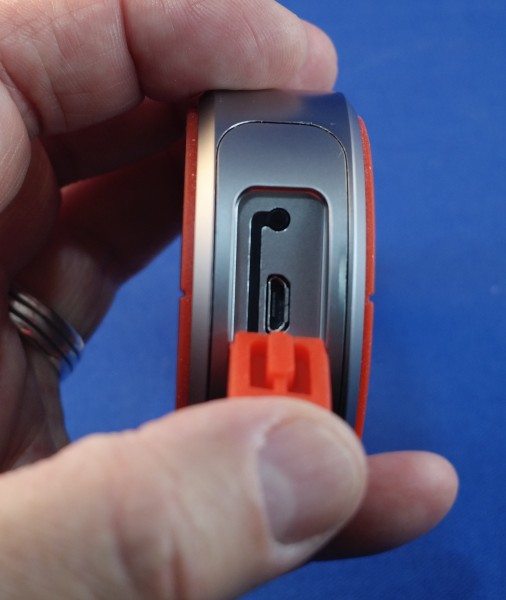 At first glance, it is just a heavy-duty-looking padlock with a silicone circle bumper on the back and front. There's also a weather seal on the bottom, which looks like it may cover a keyhole. The thing is, there's only a microUSB port and some strange circuit-like button that doesn't press under that cover. The only way to open this lock is to pull out your paired device and launch the app, choose the lock, and authenticate. Sounds like a big hassle, but it's really not. Let's back up to see how this magic can be enabled.
The LockSmart itself is a 14 ounce hardened steel padlock. The shackle is .25″ diameter hardened steel as well, so it's gonna take a while to hacksaw through it. The enclosure is solid, except for the shackle sockets and that USB connector, but that is fully sealed. The shackle will not close in any but the proper orientation, so there are no accidental "locking it open" problems. Everything on the inside sounds and feels like there is quite a lot of meshed gear-age inside. It springs open and clicks closed with a firm electro-mechanical "Chunk!" that let's you know you're not going to open this without the proper authority.
To activate the lock, you download the app (iOS and Android), press the button on the weatherproof port (without having to open it, so gloves are ok), and you'll be able to find it via Bluetooth 4.0 on your device. Once paired, you can name it and share access to anyone else who wants to set up their own Dog and Bones account. When anyone else other than the owner logs in, the event is logged. The owner can grant, restrict (certain hours or days only) and revoke access at any time from any internet location.
Other features from the website:
up to two years power or as many as 3,000 'opens' before re-charging
app warns when battery needs charging
manage all your LockSmart padlocks and users in one app
constructed from high quality materials including:

a stainless steel shackle
durable die-cast Zamak-3 zinc alloy body
protected electronics

operational in temperatures from -20 to +70 degrees Celsius
weatherproof from rain, hail, snow, or bright sunshine
Choose to unlock by Touch ID, tapping the icon or with a passcode
I showed the LockSmart to several friends at a club meeting to get their opinions, and their reaction was almost universal "It sure is heavy! And at $90, I'll just keep up with my key ring." While I feel that way due to my current needs, I started thinking about possible use cases. My daughter works for a non-profit that gets a lot of "in kind" donations – kids' toys, clothes, etc. These are placed in a storage unit, and different volunteers and staff need to access it from time to time. This would be a perfect solution for her – secure, managed, and, due to everyone now carrying a smartphone everywhere, easily shareable. She would also have a log of everyone who accessed it and when.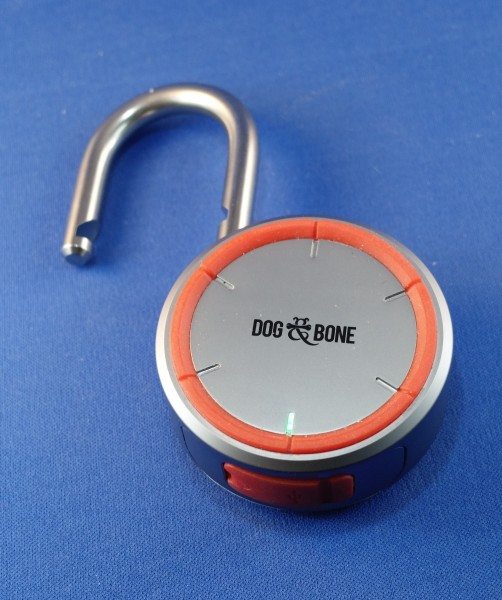 If you have a similar use case, this unit might easily fit in with your security plans. If you're using it for your back yard gate, you can give access to a yard crew, pool cleaner or similar. If you locked your basement or crawl space with it, you could unlock it from the porch or inside, without having to hand the keys over to a stranger. ("Just press that red button on the bottom and tell me when it's green.") If you have an off season property that you let people use, this would prevent them from losing the key, having to return it, or having to hide one under a rock near the gate. Once you start to think of them, the possible applications start to really pile up.
In testing, I found the most foolproof way to use it is to launch the app, choose the lock, and then press the activation button on the lock. Then you'll be asked to authenticate. If the lock is activated first and, like me, you also have two cars, an Apple Watch, three sets of speakers, your blood pressure cuff, your bathroom scale, and two keyboards paired with your phone, launching the app may not immediately connect. If the app is opened and the device chosen first, I never had a problem.
What else could go wrong? Well, there's the battery dying. I used it for over a month and never saw the battery go below 100%. Dog & Bone says it's good for 3000 unlocks or two years before it needs recharging. I can live with that. What about hacking? The LockSmart has 128-bit encryption. Physical defeat is something that any padlock faces, and I'm sure from the materials and the fit and finish of the lock itself that this is not going to surrender to the first sledge hammer blow.
Source: The sample for this review was provided by Dog & Bone. Please visit for more info.

Product Information
Price:
$90
Manufacturer:
Dog & Bone, Inc.
Requirements:

iOS or Android device with Bluetooth 4.0

Pros:

Extremely heavy-duty enclosure and internals
Nicely designed and weatherproofed
Great user management and logging
Access can be shared and controlled without having to go to the lock, once it is set up

Cons:

Occasionally looses connection through bluetooth
Device is expensive