We use affiliate links. If you buy something through the links on this page, we may earn a commission at no cost to you. Learn more.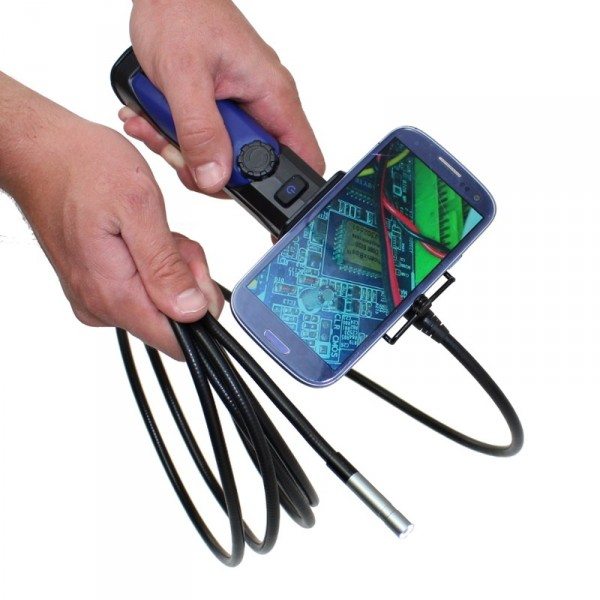 Our sewer line needed replacing recently.  The plumbers used a really long "snake" with a camera at the end to see where they were going.  I have no plans to repair toilets or examine indoor plumbing, but the Aardvark HD3M waterproof wireless inspection camera might take me places I never thought possible.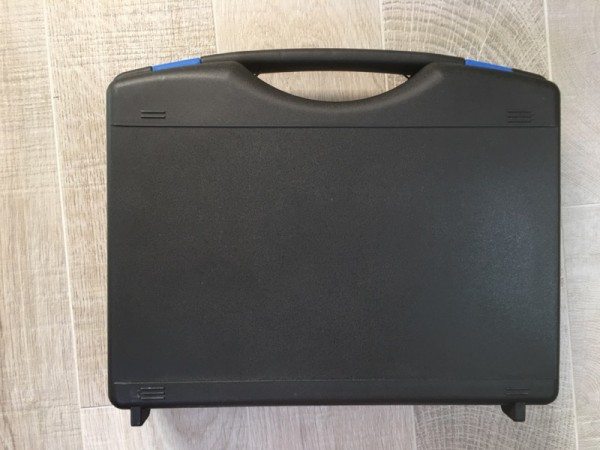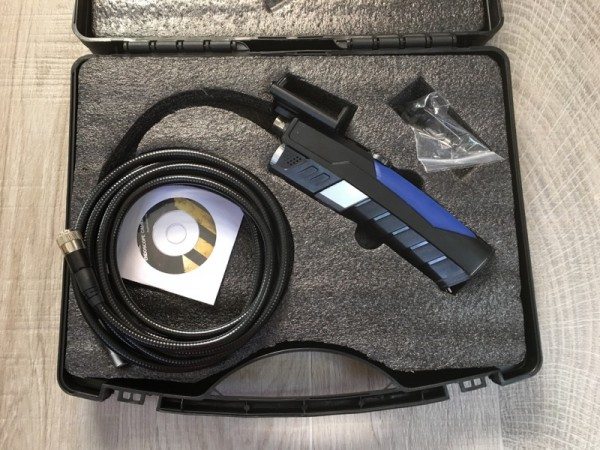 The camera comes in a nicely padded hard shell carry case.  Inside is the handle, 3 meter long flexible camera and accessory tips.
Features
View on your mobile devices via WiFi (phone not included)
You do not have to be in a WiFi accessible area to use this device. It is self contained and will work anywhere.
Will connect Simultaneously to more than one receiving device.
Free apps for iPhone and Android systems
See dark and hard-to-reach areas
Built-in one-watt CREE LED flashlight
Six adjustable high-intensity LEDs at the camera tip
Send 1280×720 HD images directly to your mobile device
2 megapixel CMOS camera
60° viewable angle
30fps frame rate in video mode
Capture video in AVI and images in JPEG formats
IP67 waterproof probe and camera head
8.5mm (0.31″) waterproof camera head and probe shaft
Three-meter (9.9′) flexible camera shaft
Hook, magnet, and mirror tip attachments included
Includes PC software CD
Specifications
Network standard: IEEE 802.11 b/g/n
Antenna: Built-in IPEX antenna
Operating frequency: 2.4 GHz
Data rate: 802.11a/b/g/n & up to 150Mbps
Camera head diameter (outer): 8.5mm (0.31″)
Flexible shaft diameter: 7.0mm (0.3″)
Image sensor: CMOS  2 megapixel
Video resolution: 800 x 600, 1024 x 768, or 1280 x 720
Viewable angle: 60°
Depth of field: 2.3in~3.9in (60mm~100mm)
Camera light source: 6 adjustable high-intensity white LEDs
IP code: IP67
LED flashlight: 1W CREE LED
Operating temperature: 32° to 113°F (0° to 45°C)
Power source: 4xAA batteries
Battery life: 2-3 hours
Video framerate: 30 fps (adjustable)
Camera shaft length: 3m (9.9′)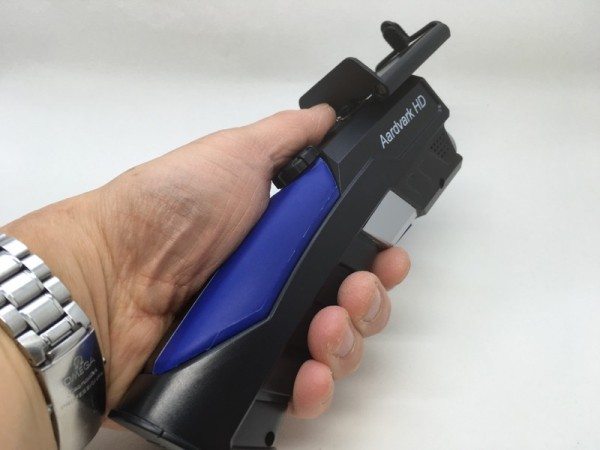 Here's the handle itself.  I can't help but think it looks like a lightsaber.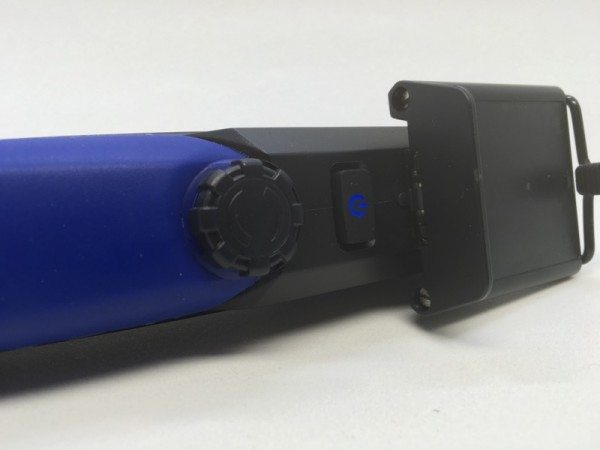 The round knob adjusts the camera LED brightness.  Also note the blue backlit power button.  On the right is the smartphone clip.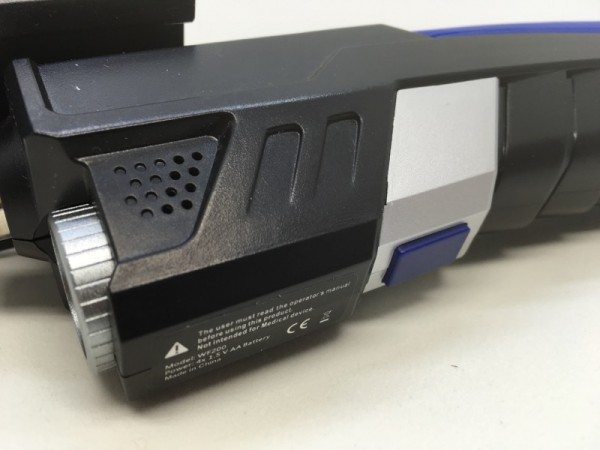 That square blue button turns the built-in flashlight on and off.
The built-in flashlight is actually pretty bright.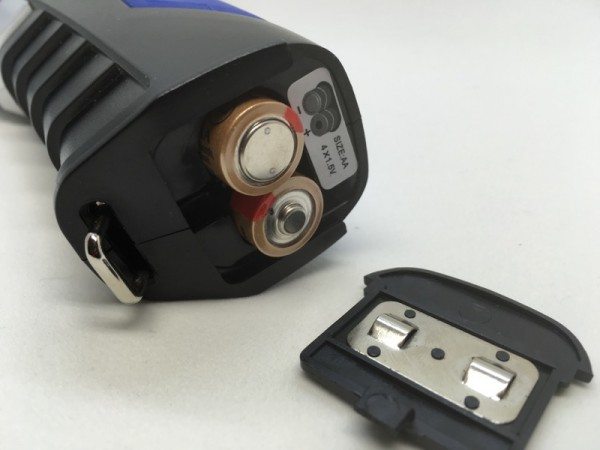 Feeding time!  This thing takes 4 AA sized batteries, not included.
The flexible camera cable has a threaded 5-pin connector on one end, and the camera on the other.  The camera tip is IP67 rated for use underwater.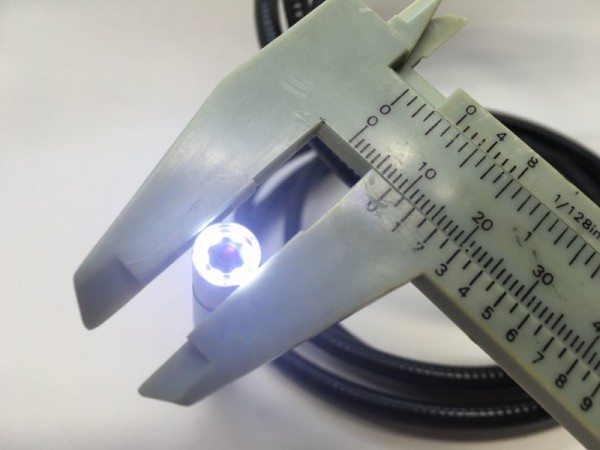 The LED-lit camera end measures about 8.5mm in diameter (official spec).  The flexible shaft is 7mm.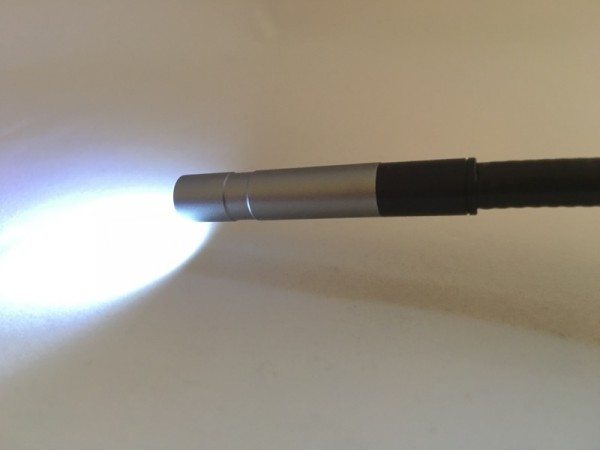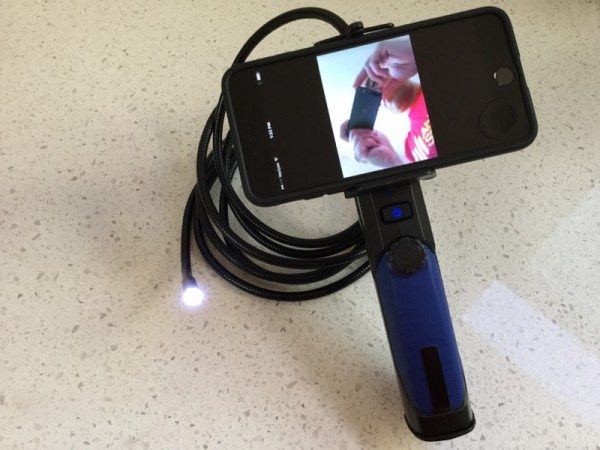 The smartphone clamp holds my iPhone 6S Plus without an issue.  The image on the screen is actually from the flexible camera looking back at me.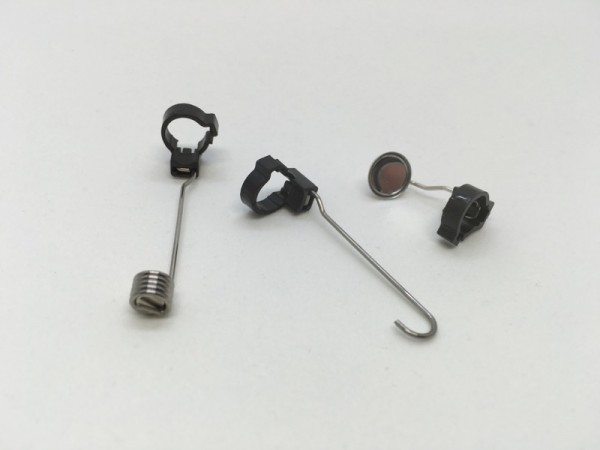 The kit also includes three attachments:  A magnetic tip, a hook tip, and a mirror tip.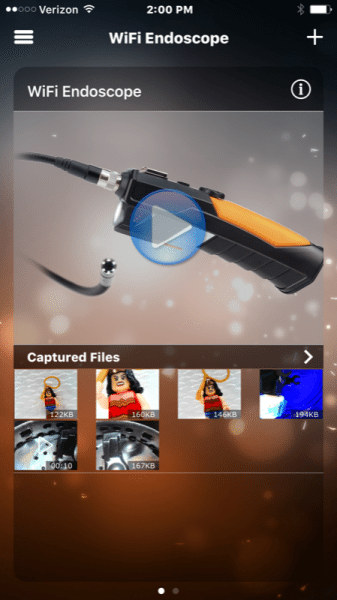 The camera connects to your smartphone via wifi, directly.  The app allows you to view live images, as well as take snapshots or even video clips.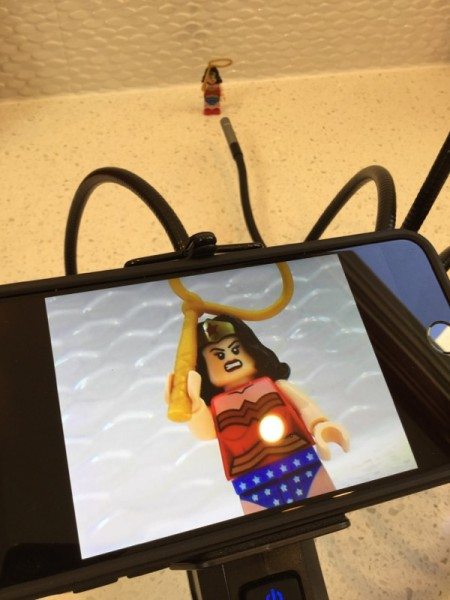 Since this is a fixed focus camera, I checked to see how images looked at different distances.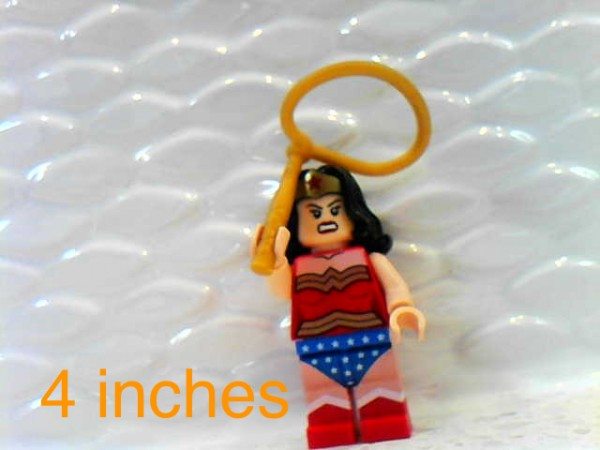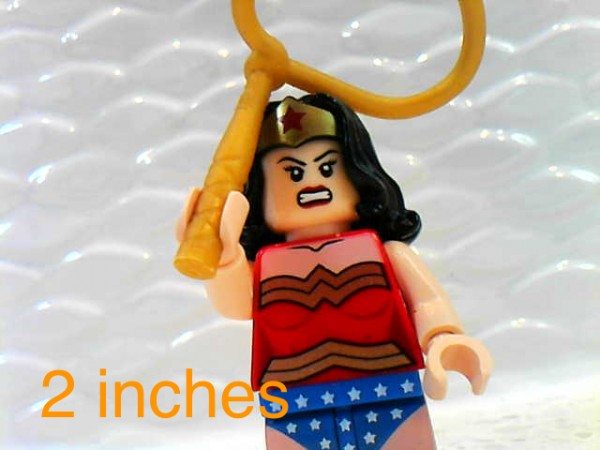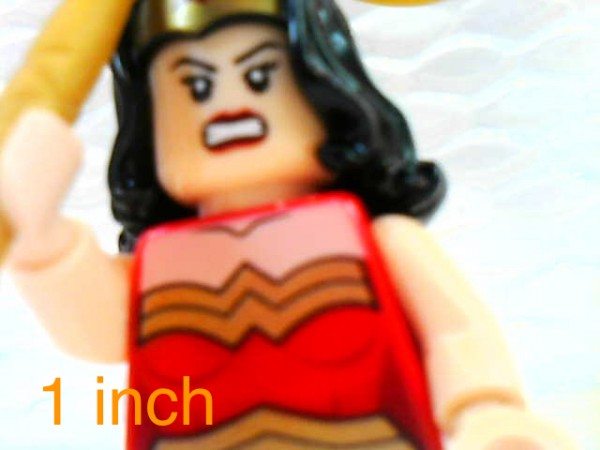 Wonder Woman appears to be in focus at about the 2 inch mark.  Anything closer or further gets a little blurry.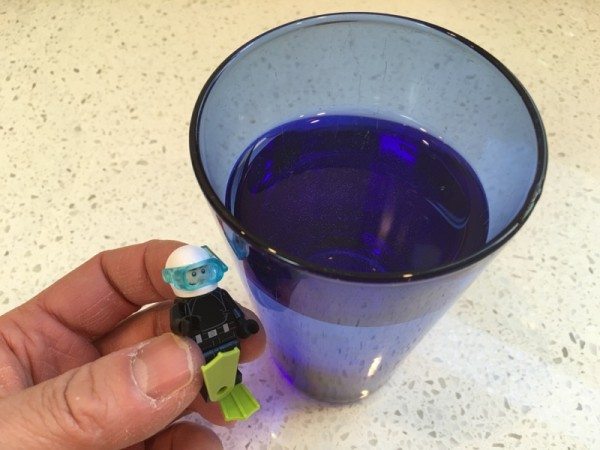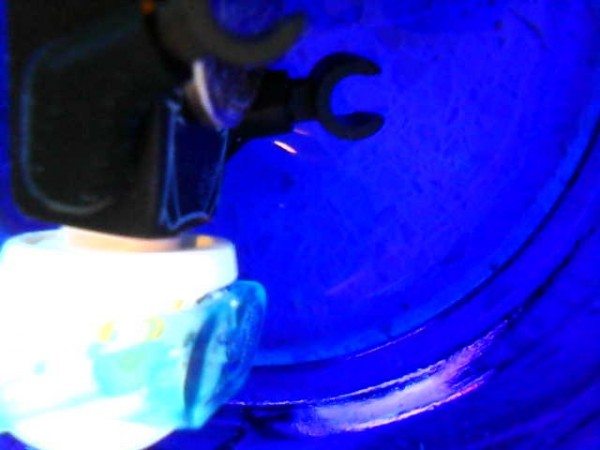 To test underwater operation, I took this little diver for a swim.  Yup, works underwater.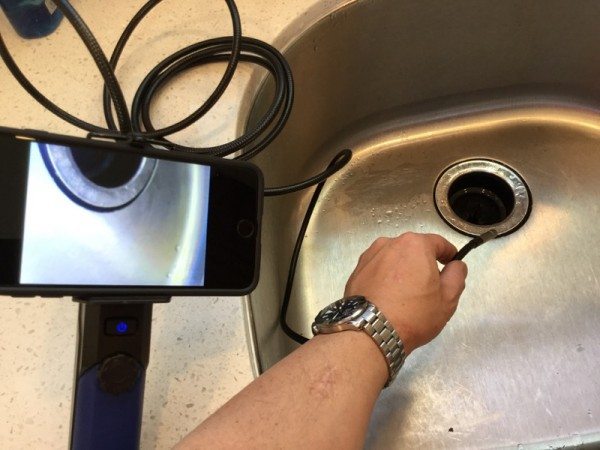 Next I found a somewhat practical test:  Looking down the sink.  (Do not try this with the disposal powered on!)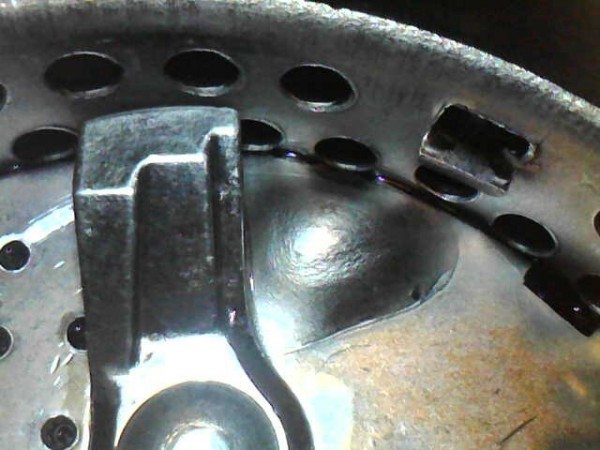 With help from the built-in LED, the camera showed a pretty darn clear image.  I'd never seen the business end of a garbage disposal before.
The app allows you capture video as well.  I've uploaded it to this YouTube link.
What isn't obvious is that you do NOT need to attach your smartphone to the camera handle.  Something to remember if you're in a particularly dirty area and you want to keep your phone out of harm's way.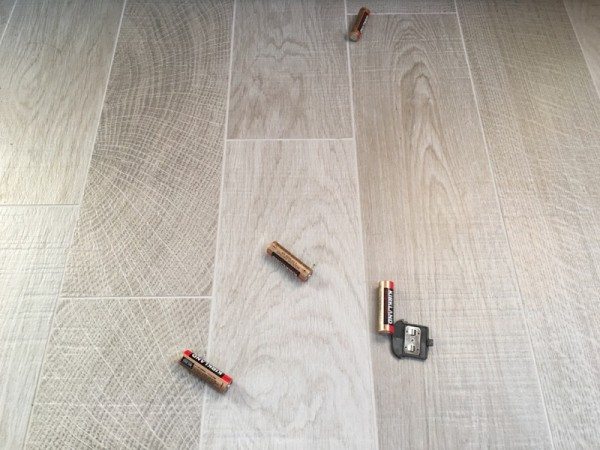 If there's one flaw, it's the battery door.  Somehow, it's not very secure.  A few times, a small nudge would send the batteries spilling out onto the floor.
In all, a pretty tidy package.  Water-resistance, long 3 meter length, adjustable LED illumination and wifi connection to your smartphone are all great, but the ability to take snapshots and video clips on the app make the Aardvark HD3M waterproof wireless inspection camera a hit.  Just watch that battery door.
Source: The sample for this review was provided by Circuit Specialists. Please visit http://www.circuitspecialists.com for more info.

Product Information
| | |
| --- | --- |
| Price: | $99 |
| Retailer: | Circuit Specialists |
| Requirements: | 4 AA batteries. Computer with wifi, or iOS/Android with wifi. |
| Pros: | Brightly lit 8.5mm camera head. Can record snapshots or video clips in color. Comes with a handy carrying case. |
| Cons: | Battery door has a tendency to pop open. |