We use affiliate links. If you buy something through the links on this page, we may earn a commission at no cost to you. Learn more.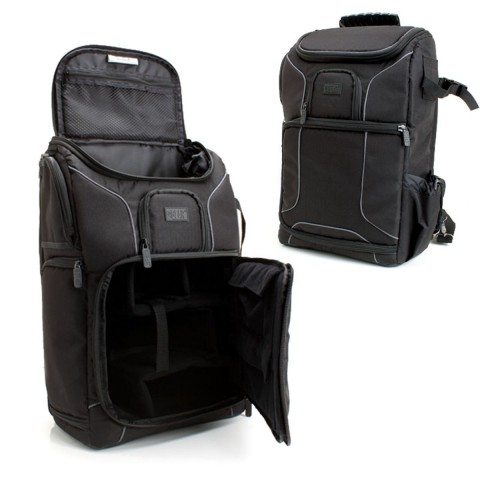 After my first child was born I went out and purchased a DSLR camera. My wife and I weren't impressed with the pictures our pocket camera was taking and wanted to properly document the childhood of Earth's future ruler.
After my second child was born, we purchased extra batteries and memory cards. We needed the extra power and storage to ensure future history books would have enough photographs to document the rise of the Moore dynasty.
Also, assuming future generations would want video of Earth's saviors, my parents gave me a HD video camera just prior to my second child's birth. This of course led to the purchase of more memory cards, more batteries, and a tripod.
We had small bags for each camera, but they weren't large enough to contain all the accessories. Eventually, my wife and I found we were misplacing cords, batteries, and memory cards. When it came time to use the cameras, we often found ourselves searching closets and drawers for the proper charging cord.
It became apparent I needed a larger bag to contain all my cameras and accessories. Fortunately, I'm part of team Gadgeteer and was given the chance to review the USA Gear S17 DSLR backpack.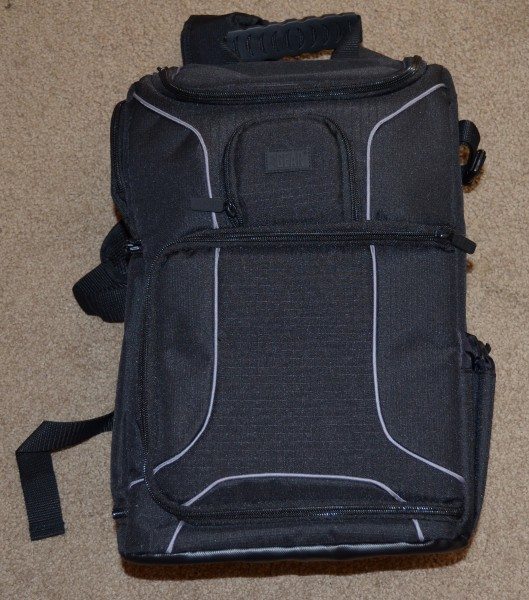 The S17 is made from weather resistant Ripstop Nylon; it looks and feels sturdy. It's zippers are metallic with plastic grips. Unfortunately, each compartment only has one zipper, so it will be difficulty to secure the compartments with a lock.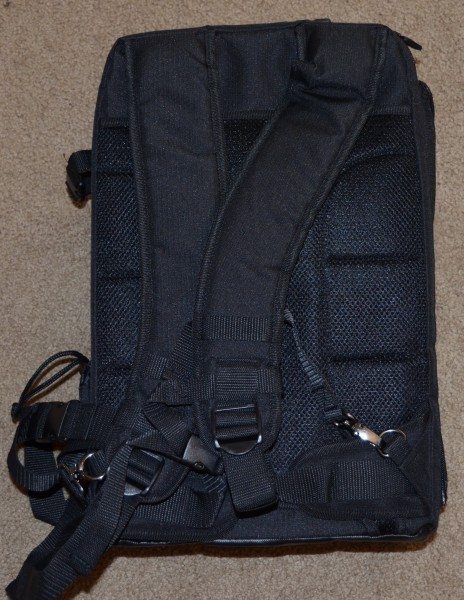 The rear of the backpack has two shoulder straps, a chest strap, and a waist strap. The shoulder straps and the rear of the backpack are both padded for comfort.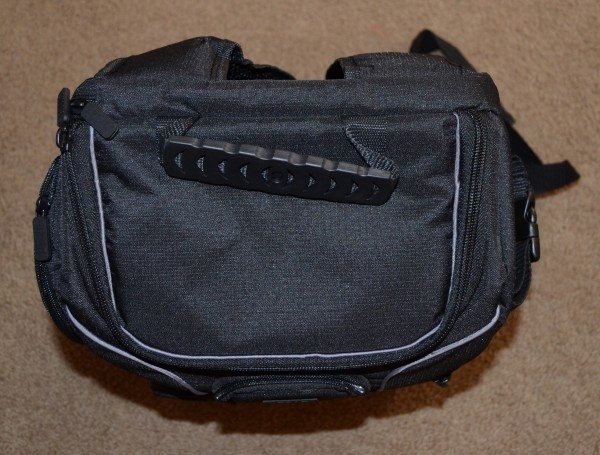 The top of the backpack has a handle for easy carrying.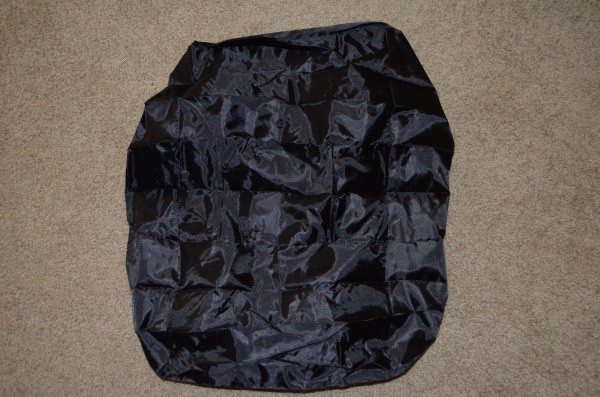 The S17 also includes a rain cover for inclement weather.
For storage, the S17 contains a large compartment at the top. This compartment contains a mesh, zippered pocket on the flap and two mesh, elastic pockets on either side.
I used this compartment to store my DSLR, the rain cover, and some video cables.
The body of the S17 contains the main compartment with several movable, semi-sturdy dividers. The door to this compartment contains two Velcro storage pockets.
Directly above this compartment is a small pocket with four mesh, elastic pouches and a mesh, zippered pocket.
I was able to store my video camera, extra lenses, and 3 different chargers in the main compartment. I used the Velcro pockets to store all my spare batteries. My memory cards and cases easily fit into the elastic pouches in the small front pocket.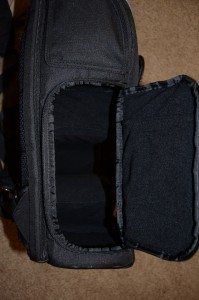 One side of the S17 contains side access to the main compartment and a small zippered pocket.
The side access is very convenient. Although, I didn't choose to store my camera in the main compartment, the dividers are actually set up to allow it to be stored with a large lens still attached. If you choose to store your camera there, you would be able to quickly access it from the side pocket without exposing your other accessories.
The other side of the S17 contains a small pouch and strap for holding a tripod.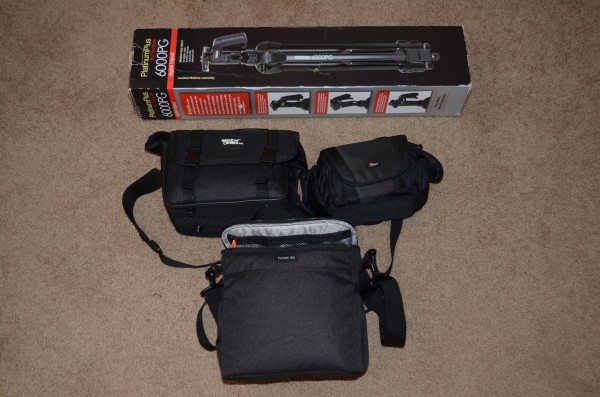 I was very happy with the amount of storage the S17 provided, I was able to place almost the entire contents of the items pictured above into the S17. The only item I didn't place into the backpack was a second DSLR camera I was using to take the photos for this review. Because I was using the camera I didn't try to pack it, but I'm confident I could have fit it in there as well. I still had a lot of room for additional equipment in the bag.
After I loaded up the backpack I decided to see how it felt to wear. You have two options when wearing the backpack. You can wear it as you would a normal backpack or as a "sling" backpack.
I first tried wearing the S17 as a normal backpack. I attached both the chest and waist straps and walked around my house for a bit.
Thanks to the chest and the waist straps, the S17 feels very secure; they prevent the backpack from flopping around while you walk. This helps keep the items inside from jostling around and getting damaged, plus it keeps your back from getting bumped and beaten from all your equipment.
The chest and waist straps also help protect your equipment from being stolen. Even the cheapest DSLR equipment is going to be worth a few hundred dollars, an investment you want to protect. Although, it doesn't guarantee against theft, it's going to be extremely difficult to remove two shoulder straps, a chest strap, and a waist strap.
I do wish the shoulder straps had a bit more padding on them. I wasn't in pain when wearing the S17, but I was aware of all the weight I was carrying. I can imagine wearing the S17 for an extended period of time would be uncomfortable.
Next, I tried wearing the S17 as a sling. This did not go well.
First, it's pretty difficult to put the backpack on this way. When the bag is full of camera gear it's pretty heavy, making it difficult to loop around your head.
Second, it was painful. I said before, when wearing it with both straps, I was aware of the weight I was carrying. When worn as a sling, all that weight is now focused on a single strap; it's very uncomfortable and became painful after a few minutes. In my opinion, the S17 should not be worn this way.
Overall, I was very pleased with the S17. It was able to store all my equipment and there was even some space left over for additional equipment. Plus, the interior compartment can be reconfigured to fit your storage needs with ease.
If I could change anything about the S17, I would add a bit more padding to the straps and place two zippers on the larger compartments so they can be secured with a lock. Aside from those small issues, the S17 is definitely a DSLR bag I would recommend. At $49.99, it's both affordable and functional.
Source: The sample for this review was provided by USA Gear. For more information please visit their site for more info and Amazon to order.