We use affiliate links. If you buy something through the links on this page, we may earn a commission at no cost to you. Learn more.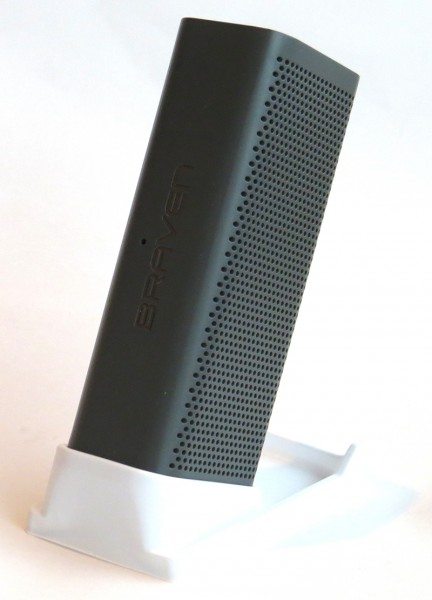 There are so many speakers entering the portable speaker market, that I have bought my previous two based on a slick deal, aka price, and that's about it. That means I've stayed in the sub-50 dollar range of speakers. I was given the opportunity to review a speaker that seemed twice as nice as my current ones, so I thought, 'Why not?' and was pleased to find extra features that I didn't think a speaker of this price had. So, let's see how good it is, features and all!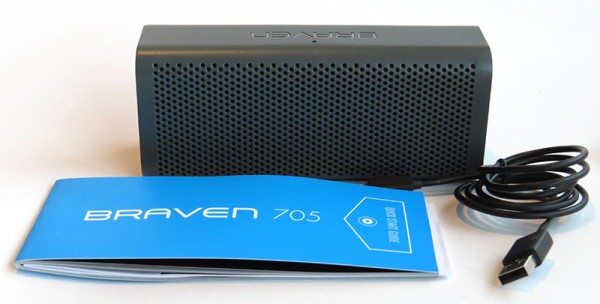 Inside of the box, you get the speaker, Micro-USB charging cable, and the instruction manual.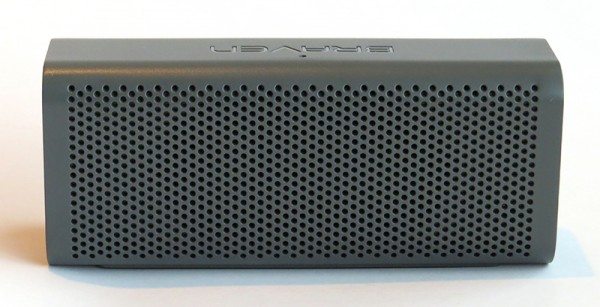 So, first impressions? It looks like a speaker, and it fits nicely in my hand. It is definitely the right size for portability. I think I would choose a colored version next time, but the dark grey/black actually doesn't look too bad. It also seems well built and able to handle some bumps and drops.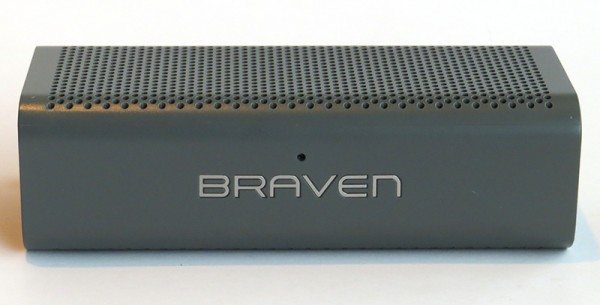 The logo stands out nicely on top of the speaker, along with a hole that is the microphone. The microphone is quite sensitive, as it noticed my "Hey Siri" without me even realizing it would pick it up while talking with my sister. We both got a chuckle out of that.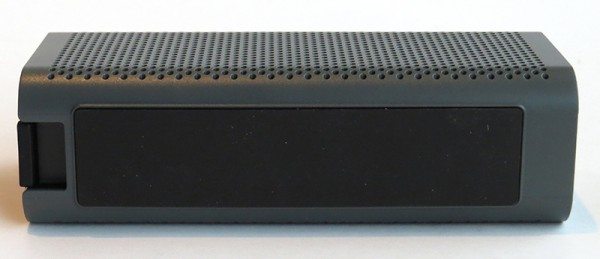 The bottom of the speaker has a silicone like material that keeps it from sliding around on surfaces. It can collect dirt and dust pretty easily, but it's washable.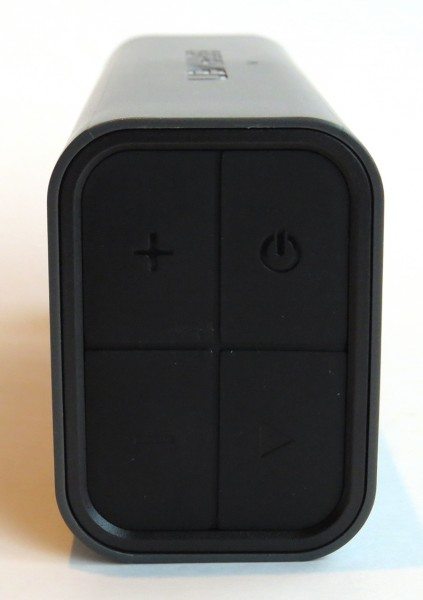 Although the sides are made of the same silicone material as the bottom, the sides did not get dirty near as fast. On one side of the speaker you'll find four buttons; volume up, volume down, power, and play/talk. Holding down the power button will of course, turn on and off the device and the speaker will make a different sound to let you know if you turned it on or off. You also pair it to your device by holding the power button until a sound plays and it is discovered on your device. The play button also doubles as a talk button for answering an incoming call. All of the buttons feel nice under my fingers and make a slightly audible click when pressed.
You can also pair this with another Braven wireless speaker using the power button as well. To do so, make sure your speaker is not paired to your phone, hold down the power buttons on both speakers, and then pair one of the speakers with your phone. I only had one speaker, so I was unable to test this.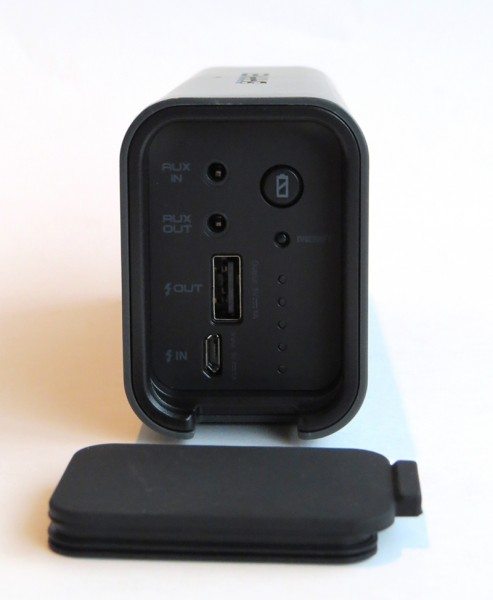 On the other side of the speaker, you'll find a panel that can be removed to show a variety of things. Nothing connects the panel to the speaker, so I hope I don't lose it. There is a power level button on the top right which can be pressed. Doing so will light up the five dots on the bottom right to indicate the battery level. There is a Micro-USB port for charging the speaker itself, and a USB port for charging a device from the speaker, which houses a 1400 mAh battery. A huge note: It will not charge smartphones nor tablets (it says so in the manual), or more precisely, if you try to charge them, it will drain the battery down in less than 10 minutes with very little charge on your phone. The battery life is pretty good, and easily lasted me through the day of on and off testing. Right now, I have a little over 2 hours of use today and have only dropped down to four dots. It has been right on par with the advertised 12 hours of what I deem average use, with it being at a medium volume and streaming music. The battery also charges up nice and quick.
The aux in port can be used for plugging in devices without Bluetooth. One of my favorite things about the speaker was the aux out port, which means that you can use this as a Bluetooth receiver. You can choose to keep the sound from the speaker on or press down both volume buttons to turn it off and use only the speakers you connected to it. I would sit the speaker in the middle and leave the sound on when using it in this way.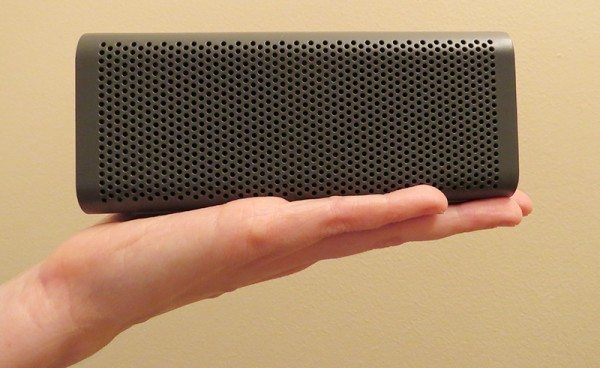 So I've talked enough about the speaker hardware, let's get to the sound quality! Well, it is a pretty decent mid-range speaker. The bass is lacking, though it does have a little, and the treble, when the volume is high, starts to get a little crackly. I listened to a good deal of Christmas and Pop/R&B music through this speaker, and the Christmas music sounded superb. I could hear the bells and different instruments and harmonies very well. When it came to Pop and R&B music, it was not as good and more treble heavy, since the bass was sub-par. Don't get me wrong, for background music, it worked just fine with Pop/R&B. Rock music sounded better, since, at least the rock I listened to, seemed to have more mid-range sound.
Overall, I think for the price, it is a decent portable speaker. I wouldn't pay much more for it, but with the ability to be used as a Bluetooth receiver, I can deal with the medium quality sound. Would I recommend this to others? For someone who enjoys Pop music and bass, probably not. But, for someone who is needing a sturdy portable speaker to take around, I think this could be a good option, depending on how much you prefer bass.
Source: The sample for this review was provided by Braven. Please visit for more information and Amazon to order.
Product Information
Price:
$99.99
Manufacturer:
Braven
Retailer:
Amazon
Pros:

- Long lasting and quick charging battery
- Can be used as a Bluetooth receiver
- Very simple to use

Cons:

- Cannot charge phones or tablets from the 'power bank'
- End cap may get lost if not careful
- Sound crackles some at higher volumes