We use affiliate links. If you buy something through the links on this page, we may earn a commission at no cost to you. Learn more.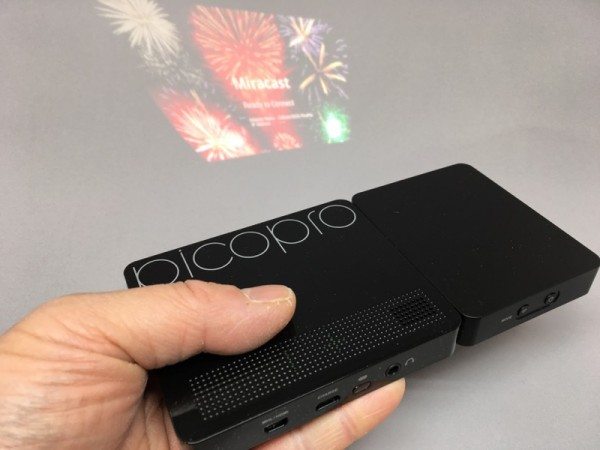 For years, I thought all video projectors were gigantic behemoths with giant fans and stone-age resolutions.  I guess a lot has changed from the 80's, and there's no better example of this than this smartphone-sized Celluon PicoPro projector.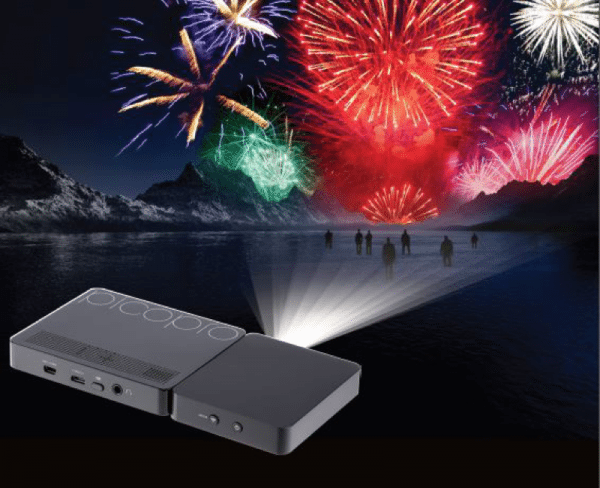 From the Celluon website specs:
1/2" Thickness
Infinite Focus: No need for manual focus adjustment
HD Resolution: 1920 X 720p at 16:9 wide screen, offering amazing clarity by digitally upscaling 1280x720p input
1.3 Throw Ratio: Large screen size from a short distance
HDMI / Miracast / DLNA: Easy wired & wireless solution (All in one)
Built-in Battery: 2+ hours for on the go, 3+ hours for HDMI connection
Noise Free: Fanless for ultra quiet operation
80,000:1 Contrast Ratio: Bright & vivid colors
Celluon.com's Retail Contents: PicoPro, American power adapter, travel pouch, Holding Mount, instructions, MHL Cable, HDMI A-to-D cable(exclusive to www.celluon.com purchase)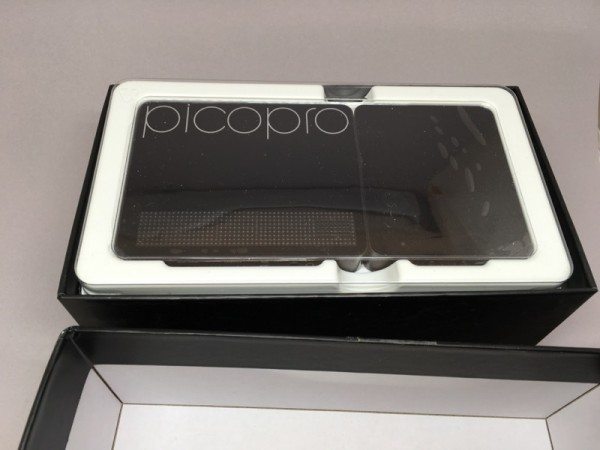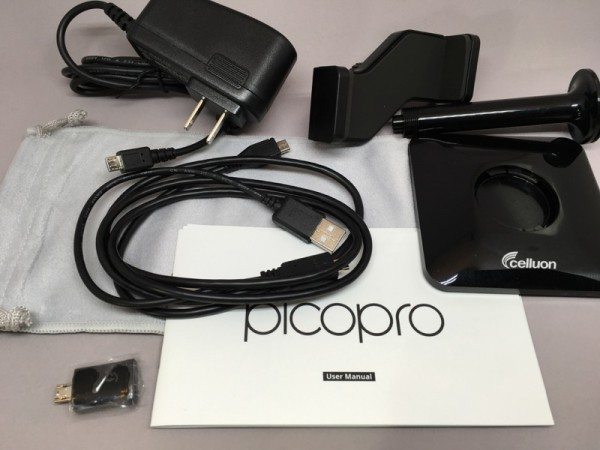 I was sent the PicoPro projector, an assortment of cables and adapters, charger, carry sack, and an odd-looking stand.
It took me a moment but I figured it out.  The funny "z" shaped is offset to avoid the projector's lens and rear controls.  The holder expands a bit to hug the projector.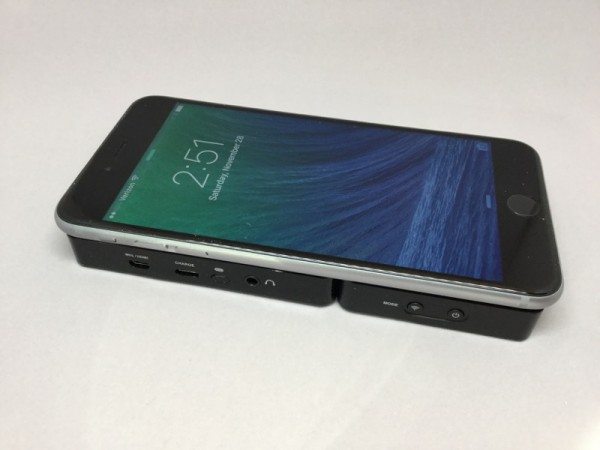 Can you see the projector?  The size is nearly the same as an iPhone 6s Plus.  The projector is slightly thicker.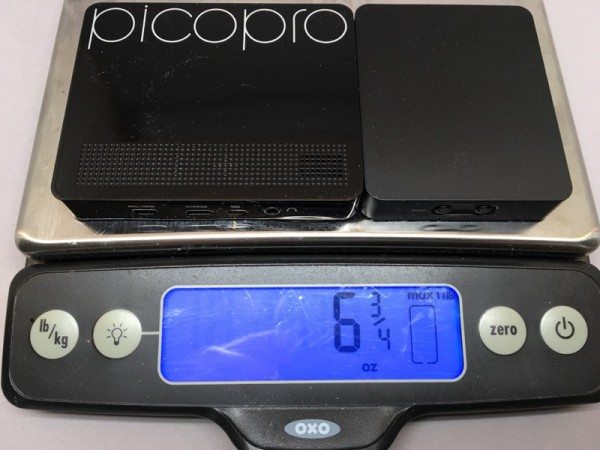 It's also quite light, tipping the scales at just over 6 ounces.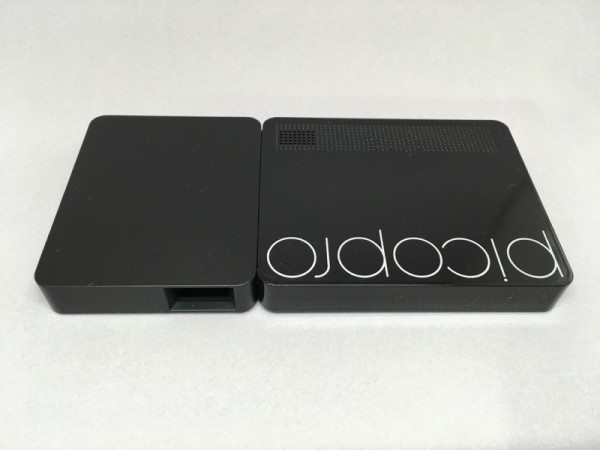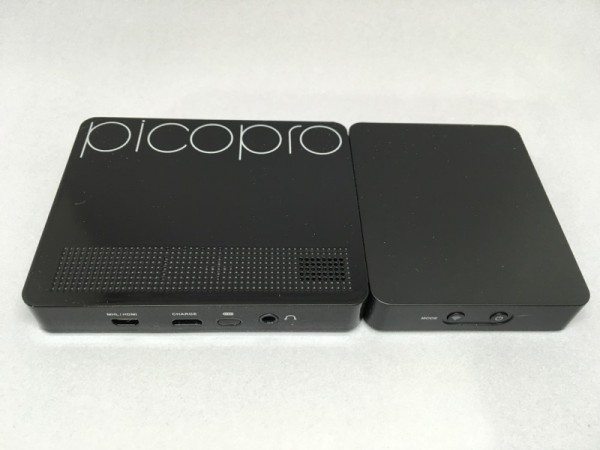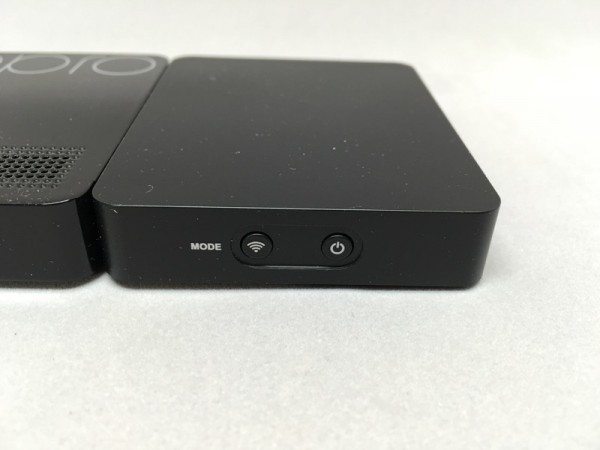 The lens is on one side, and the controls are on the other.  Not a whole lot going on:  on the right you'll find a mode and power button.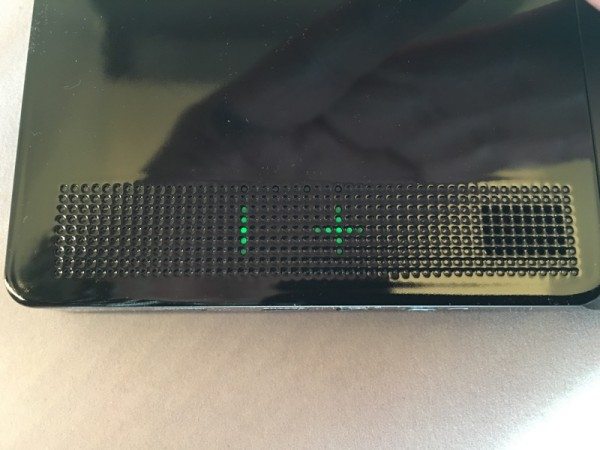 When powered on, the dotted area at the top reveals an illuminated touch-sensitive volume up/down control.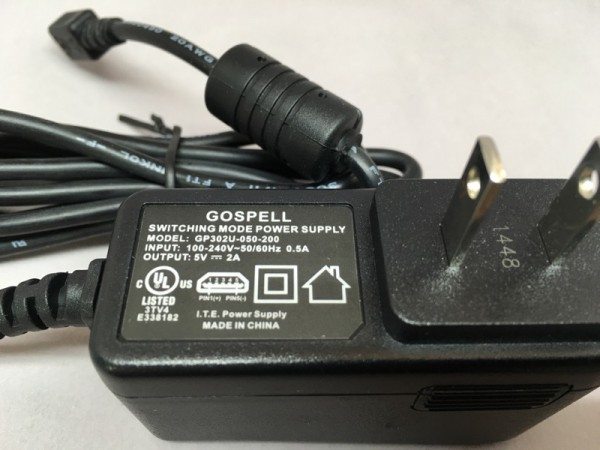 The charger uses a microUSB connector.  Bear in mind the charger is rather beefy:  It provides up to 2A.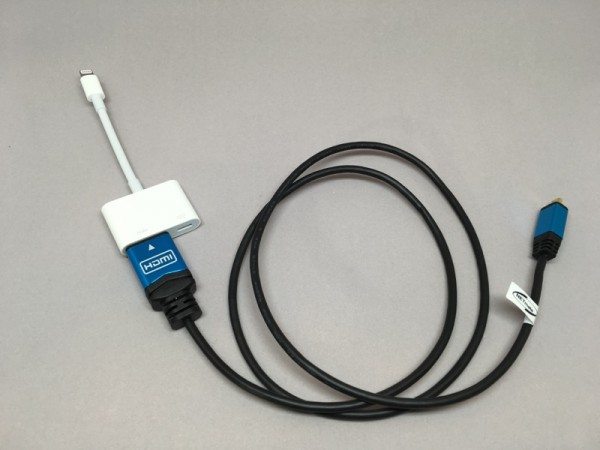 In my evaluation kit, I was sent an Apple Lighting-HDMI adapter and an HDMI to "small HDMI" cable.    I believe it's technically called a Type A to Type D cable.  I am not certain the retail version will come with this Apple adapter.  But why would I need an Apple adapter?  Read on…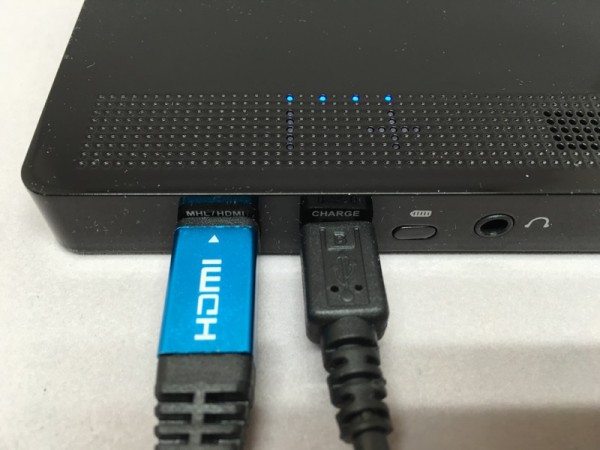 Here's the small HDMI cable and microUSB cable plugged in.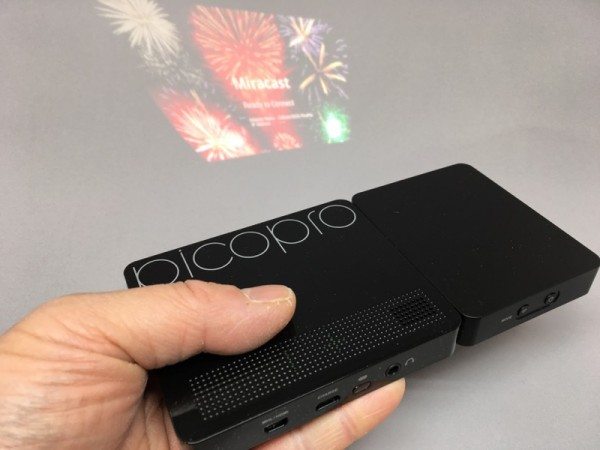 Even without a cable plugged in, the PicoPro is capable of wireless video streaming reception via Miracast and DLNA.  I'm not familiar with either of those, so I stuck with HDMI.  The PicoPro defaults to Miracast streaming, so you'll need to press the MODE button to toggle HDMI.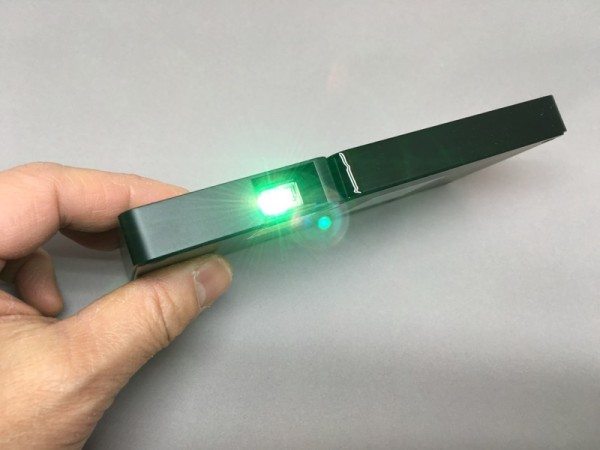 Do NOT look into the projector light!  Don't do it!  It's wicked crazy bright.
I did not expect the PicoPro to rival a big-screen monitor for brightness and clarity, so I tested it under three fixed distances to a blank wall, with and without lights on.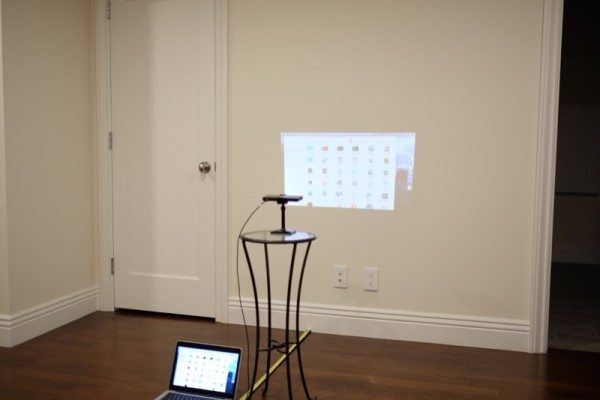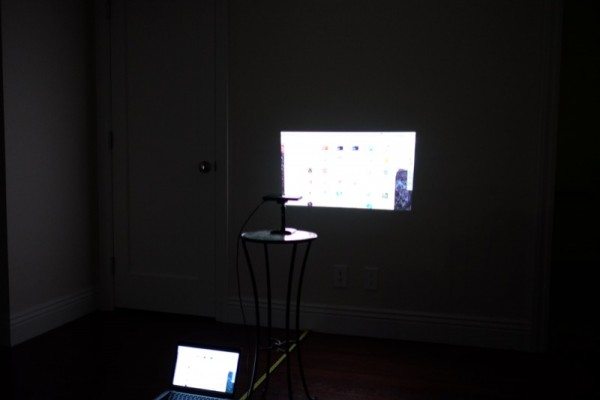 Distance:  3 feet.  Here, I've got a laptop connected via HDMI to the PicoPro.  The projected image measures 32″ diagonally.  The top photo is in normal overhead room lighting.  It's pretty washed out.  The image looks better in darkness (bottom photo).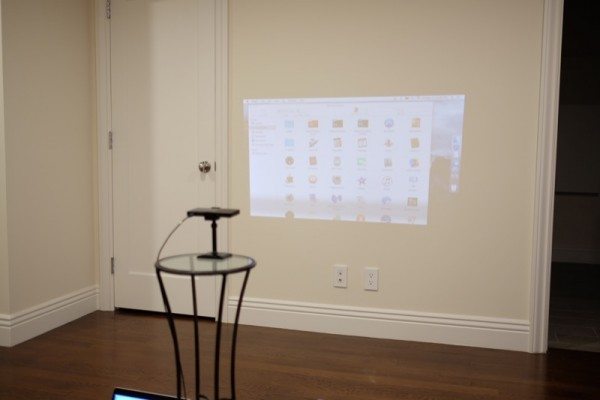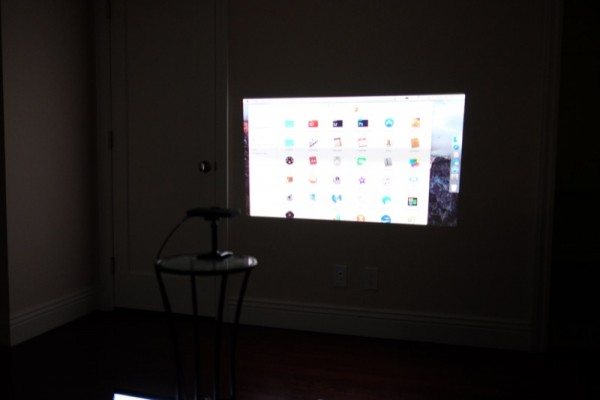 Distance: 5 feet.  Image size measures 54″ diagonally.  My camera had a tricky time capturing this.  You can see a rolling band of dark across the projected image.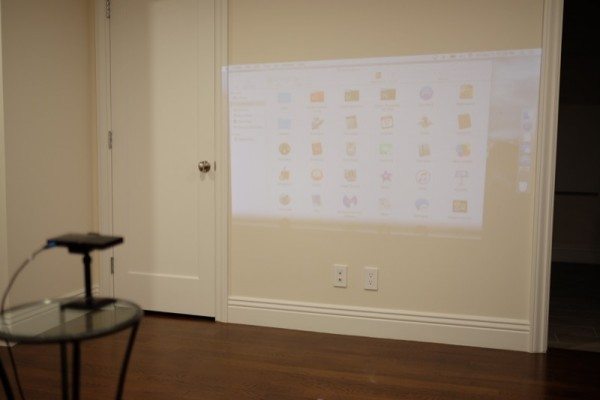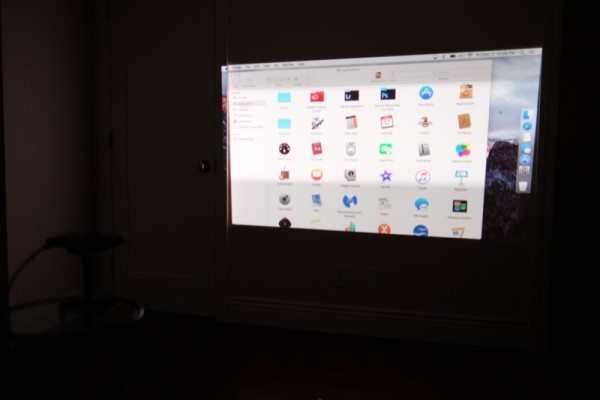 Distance:  7 feet.  Image size measures 75″ diagonally.  Again, the light and dark areas on the image flickering artifacts captures by my camera.  You won't see this banding in real life.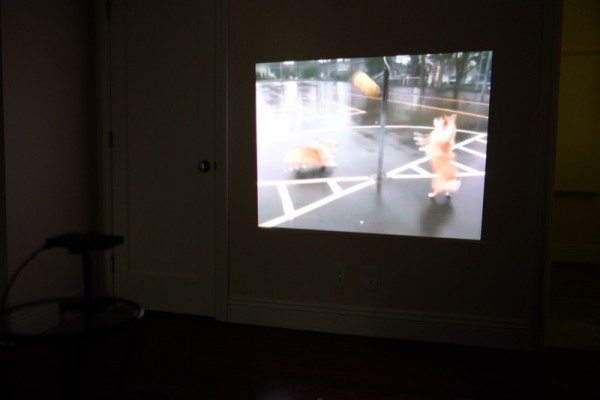 Videos work a little better than text, since you don't have to focus on tiny lettering.  Worked fine in the dark for essential Corgi tetherball videos.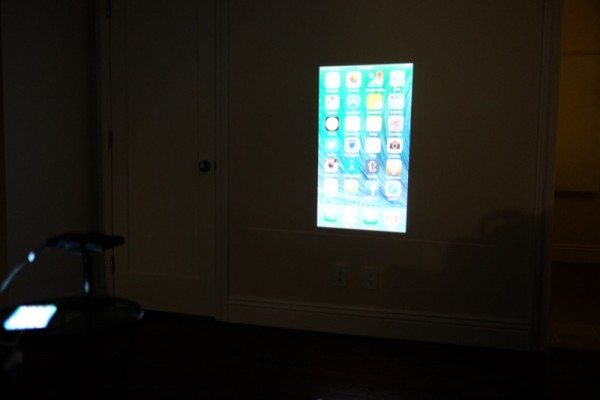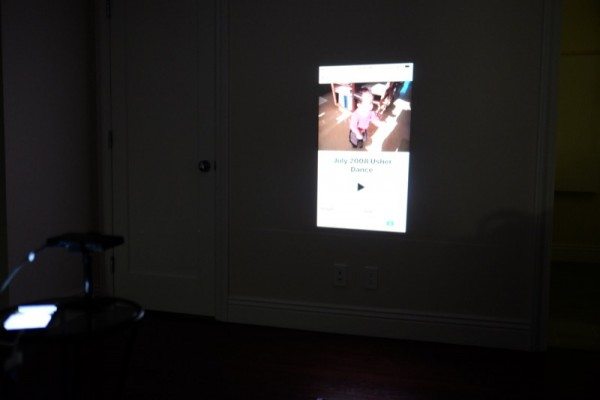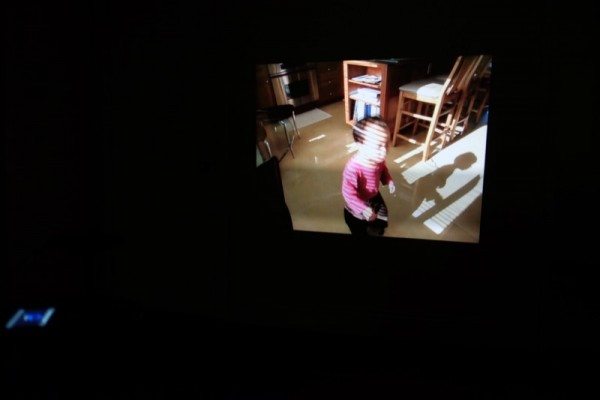 Remember that Apple Lighting adapter cable?  I was able to attach my iPhone to the PicoPro projector.  Images show up in portrait mode until you start a video.  I can see how the PicoPro could be quite handy paired up with an iPhone as an ultraportable presentation system.
I was pretty impressed with the ease of setup of the PicoPro projector.  No focusing, no complex optics, no excessive heat.  The internal battery makes this projector a great road warrior tool, but only if you can live with the 720p resolution and the need for a dark room.  I'm going to have to think of some clever use of this for next Halloween!
Source: The sample for this review was provided by Celluon. Please visit their site for more info and Amazon to order.

Product Information
| | |
| --- | --- |
| Price: | $359.99 |
| Manufacturer: | Celluon |
| Retailer: | Amazon |
| Requirements: | HDMI or streaming via Miracast/DLNA, microUSB charging. (iOS connection as shown requires optional Lightning adapter) |
| Pros: | Tiny, no focusing required, fanless, silent operation. Built in speaker and rechargeable battery (up to 3hrs via HDMI) |
| Cons: | You're not going to get anything close to the brightness and clarity of a TV/monitor or traditional projector. Resolution up to 720p. |