We use affiliate links. If you buy something through the links on this page, we may earn a commission at no cost to you. Learn more.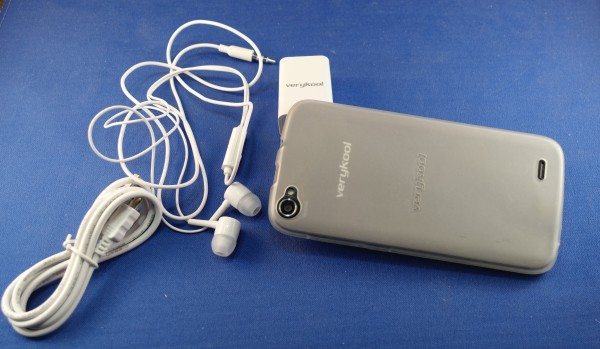 Recently a curious thing happened – I was given the opportunity to use an Android phone with a 5″ screen, and I didn't hate it. We know Julie has a love/hate relationship with iOS, as do several others here at The Gadgeteer. I've been a bit deeper into iOS than some, having used iPhones exclusively since 2007. But, times change, and I love Lollipops, so I thought I'd give it a try. The phone in question is the VeryKool Jet SL5009 running Android 5.1. I put the SIM from my iPhone in it, and I was on T-Mobile's network with nary a hitch. Let's take a deeper dive.
Note: Photos may be tapped or clicked for a larger image.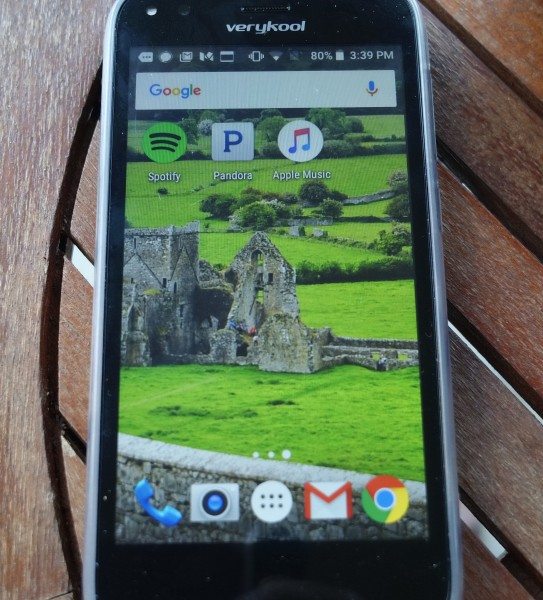 The Jet is a smooth plastic phone with a smooth glass screen on the front, volume and on/off buttons on the top right edge. It's available in blue and black plastic – I was sent the black model. There are ports for AUX audio out and microUSB charging on the top edge. There is a small pinhole for the mic on the bottom edge, and a second speaker on the rear enclosure. Included in the box is a nice translucent gel case with a verykool logo embossed in the center, (Nice touch for such a smooth device!) as well as a charging cable, a wall charger, and a pair of silicone-tipped earbuds. (The photo below is from the rear camera on the Jet. It's taken with the same lighting as the lede photo for this article.)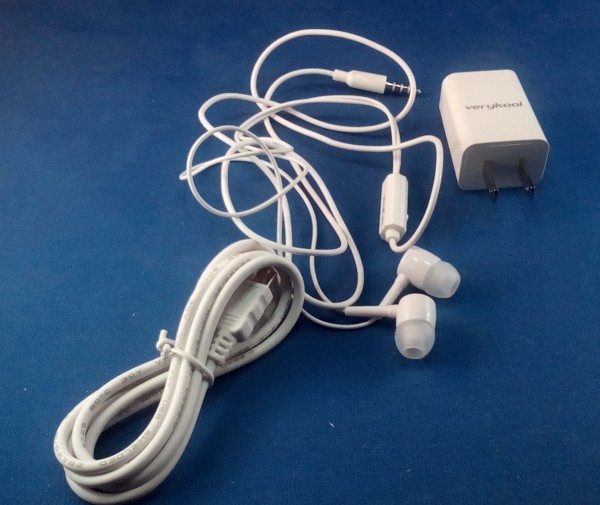 On the top of the screen is a silver logo for verykool, and a receiver speaker, a selfie camera, and an LED flash. (The Selfie Flash is a big selling point for the brand, judging by their marketing.)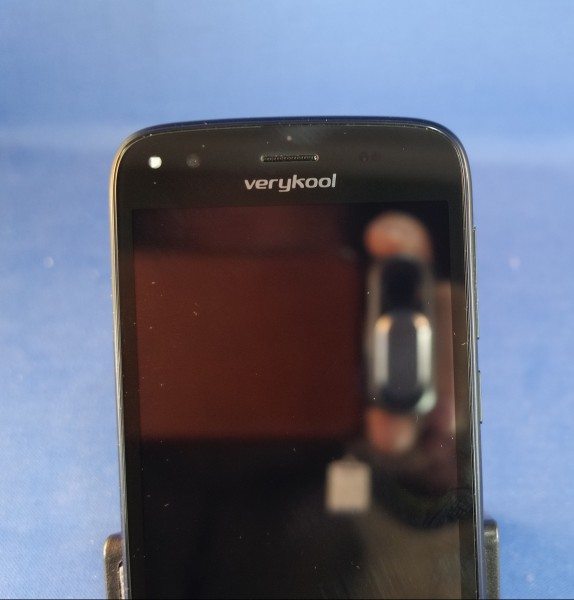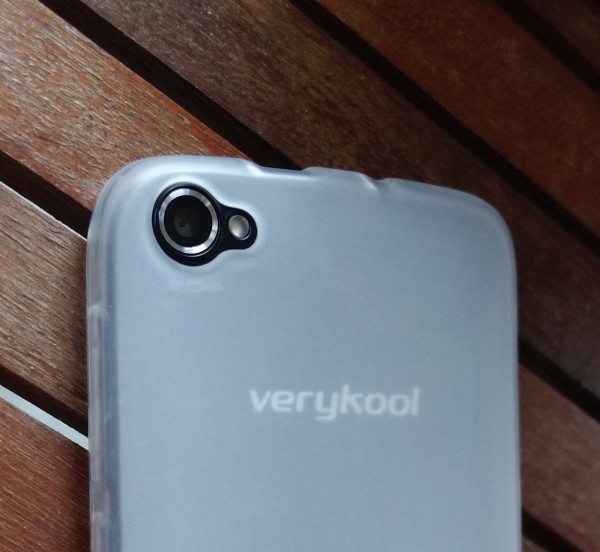 There is a much larger camera on the rear, along with a second flash and another piece of branding across the top third. For video recording, I was unable to find another mic besides the one on the bottom edge.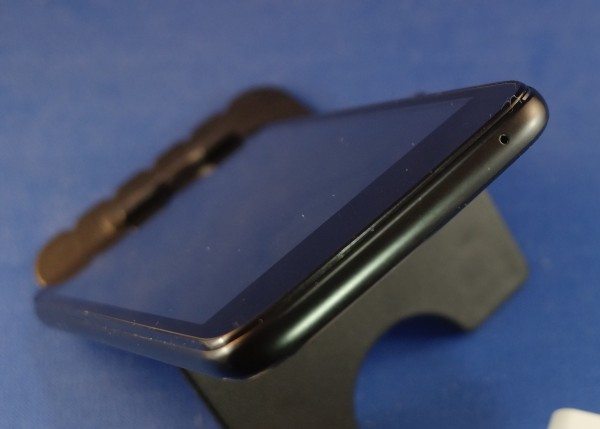 The device is powered on by the button on the right, just under the two-part volume toggle. This was probably the most aggravating thing about the phone – I could never, without looking (and sometimes, not even then!), turn the device on without first hitting the down volume button!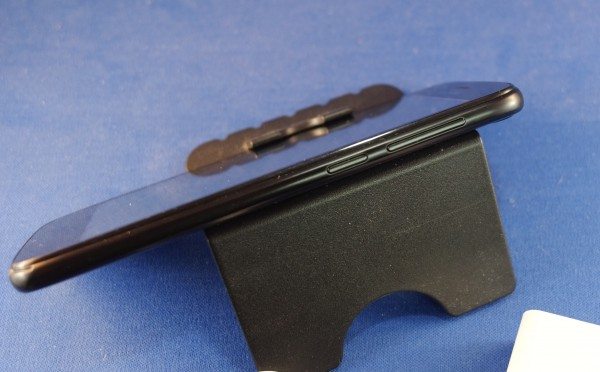 Even consciously thinking that it's lower than I think, I would still hit the wrong button. Unless I slid my thumb up from the center of that edge, and pressed the first button I came to, I was always hitting a button, waiting, then looking and hitting a button again. There's a whole edge over on the left there that could be used for something else, folks! Why put all the buttons jammed up together?
The Jet itself has 4.89 GB of storage, but has a microSD slot where you can store up to 32 GB of data for immediate use by the system. This slot, like the dual SIM slots, is located inside the back body of the phone. To put in a SIM, you have to remove the battery (which, of course, reboots the phone), but the microSD slot is just inside the back cover. You can easily set this outboard memory to be used as primary camera storage, erase the SD card, or otherwise manage the card, but you still have to take off the silicone cover, pry off the semi-hard plastic back, and insert/remove the card from the slot. And then reassemble it.
The cameras on the Jet are OK, but you're not going to win any photography shows with it. Without really good lighting, pictures from either camera are a bit fuzzy. They look fine on the screen, better on a computer but when you zoom in to the pictures, they are blurry. The screen is bright with good color saturation and balance. Photos look great in apps like Google Photos or Flickr, and background pictures were bright and clear. The screen felt very responsive across the entire device, with very few missed taps.
Pairing my BlueTooth keyboard (a Logitech K811) was a snap. Typing in the apps I used was quick, and using the external keyboard gave me more of that screen real estate we all crave. Pairing with various speakers and headphones was similarly fast, and the sound through Bluetooth was rich and full. Video playback through Netflix was great over wifi. I didn't try it over LTE, despite it now being free on T-Mobile. Despite only having the one speaker, the sound was pretty good, but being on the back, there were times when the sound would get blocked. It's easy enough to lean it or prop it up when listening or using speakerphone.
"Typing" using voice was flawless. That little mic did an amazing job of finding my voice despite various background noises. Likewise, the earbuds that came with it had a great mic inline on the cord. No volume control, but the button on the mic allowed control of answering the phone or pausing music, as expected.
I've been using iPhones for the past 8 years, so had forgotten how irritating it is to have to reboot your phone, just to change networks. My old Ericson used to be like that. With an iPhone, you pop out the card, put in another, and – boom – you're on the other network. There's a SIM card drawer that you access with something as simple as a paper clip, and your phone never powers off. Placing a SIM in the Jet is a tedious task. It's very easy to get it in at an angle, so that after reinserting the battery, waiting for it to power on, and checking your signal, there is a "No SIM available" message. Getting it out takes tweezers and a small knife blade or screw driver. This is not a device you're going to want to switch between with other phones very often.
While using the device with T-Mobile in my area, I found coverage to be comparable to other phones on my same plan. Wifi use was as expected, as well.
This was my third long-time exposure to Android, and the first time with a phone, rather than a tablet. Other than the general hassle that always follows moving between platforms, I was very comfortable with the phone. I could make and answer calls and texts without problem. Most of my familiar apps were available, even if some of them worked a bit differently. I'm really not a fan of keeping a lot of my personal information within Google's system, however, so it's tough to make a move into Android without that commitment. If you're OK with it, or have already made such deep dive, this phone may be the one for you. At $130 retail, it's quite inexpensive for the power it gives.
Source: The sample for this review was provided by VeryKool. Please their site for more info and Amazon to order one.