We use affiliate links. If you buy something through the links on this page, we may earn a commission at no cost to you. Learn more.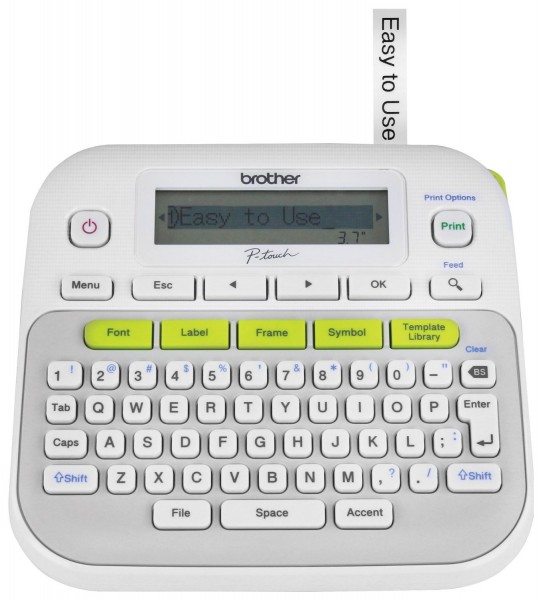 Being part of the Gadgeteer team has been absolutely awesome. Having the opportunity to test cool, new gadgets has been the experience of a lifetime. However, as great as it is being part of the team, it does come with one big problem….clutter.
I was never a terribly organized person before, but now it looks like a tech hurricane hit my house. I have gadgets, boxes, cords, manuals, etc., scattered all over. I was in desperate need of help when the Brother P-Touch PT-D210 label maker landed on my very unorganized desk.
In the box
Brother PT-D210 label maker
One 12mm x 4mm black on white laminated "TZe" starter tape
User manual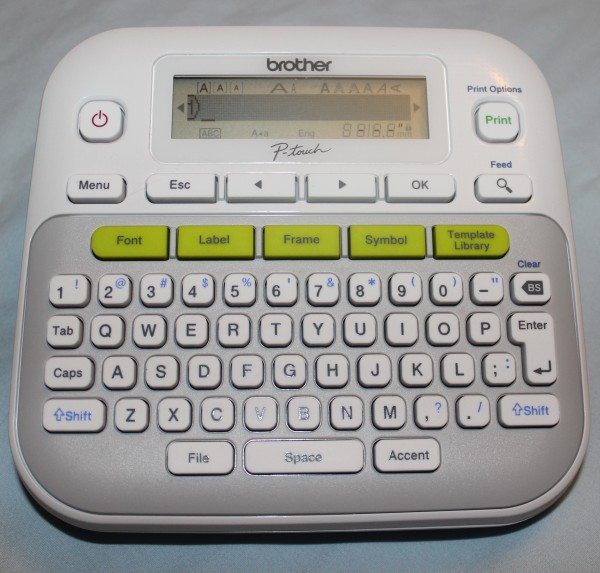 The label maker itself is pretty standard. The top contains the display, power button, function buttons, and keyboard.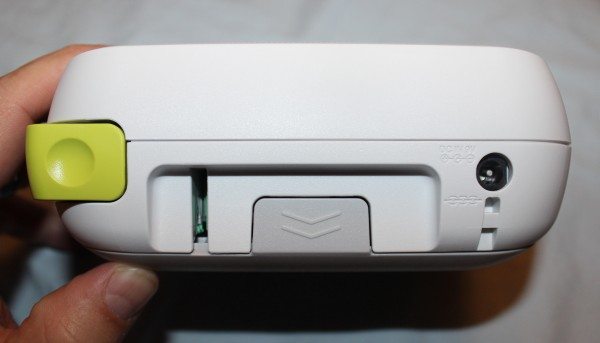 The back contains the tape cutter, an A/C power port, and the area you press to open the bottom.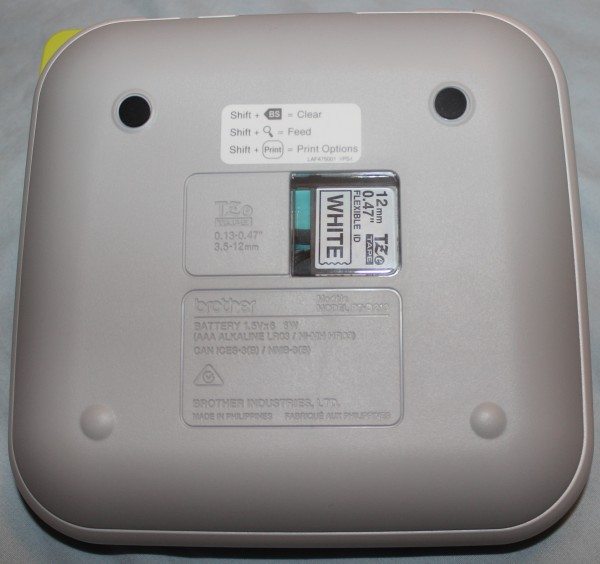 The bottom contains a clear window which displays what type of tape is installed, a sticker listing shortcuts, and the model information.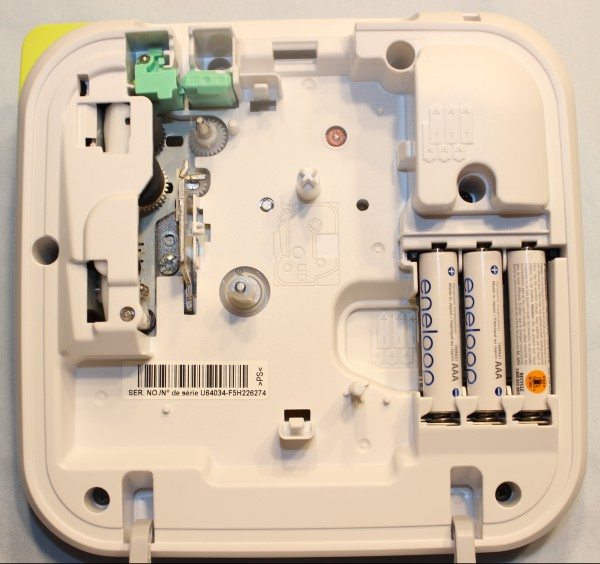 Before being able to use the label maker, you open the bottom and insert six AAA batteries.
The label maker can also be used with an A/C adapter, but that wasn't included with the sample I was sent.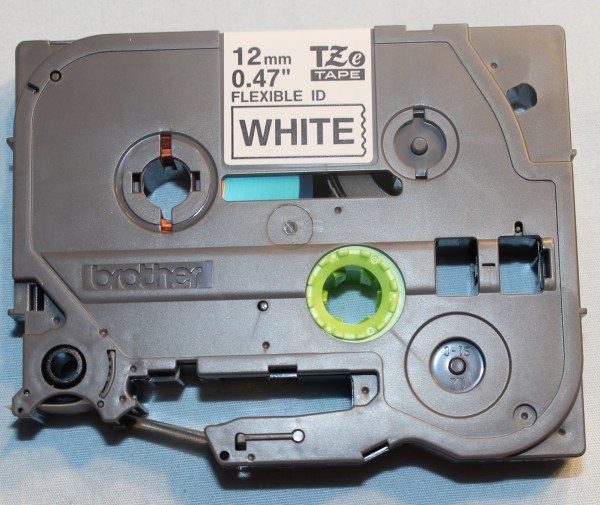 Once the label maker has power, you take the tape cartridge and place it into the label maker. This was a painless process. Although I'm dating myself, it's reminiscent of putting a cassette into a stereo.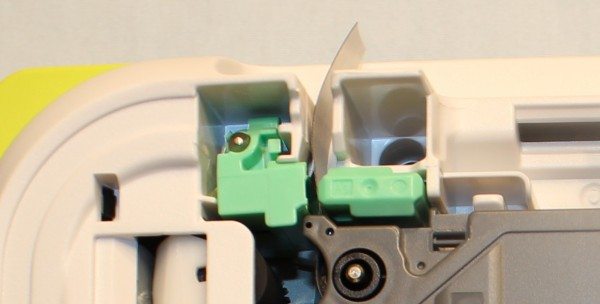 Keep in mind, when inserting the cartridge that you have to make sure the tape feeds through the green guides.
After the tape is installed you are ready to make labels.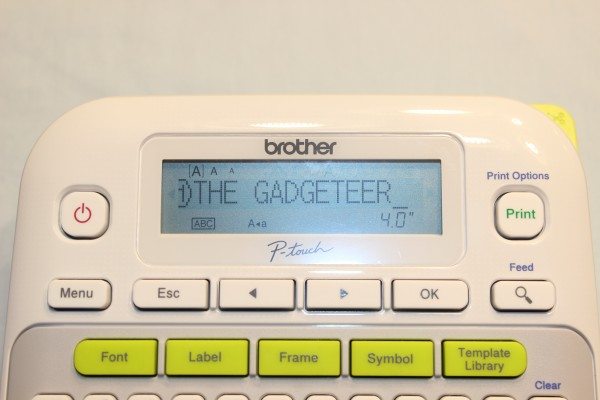 Making a label is simple, you just type what you want the label to say and hit print.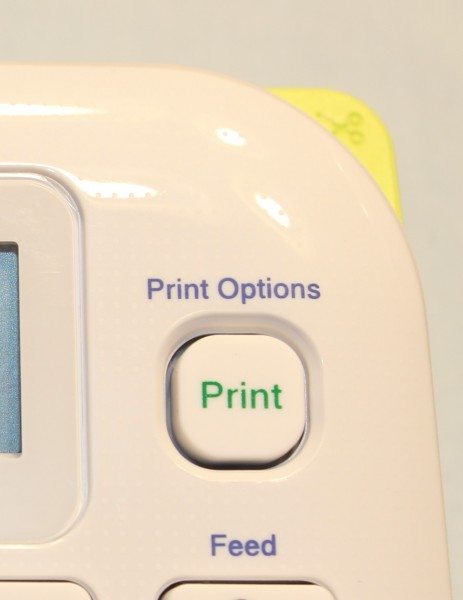 After the label prints out, you cut it by pressing the yellow scissor button in the right corner.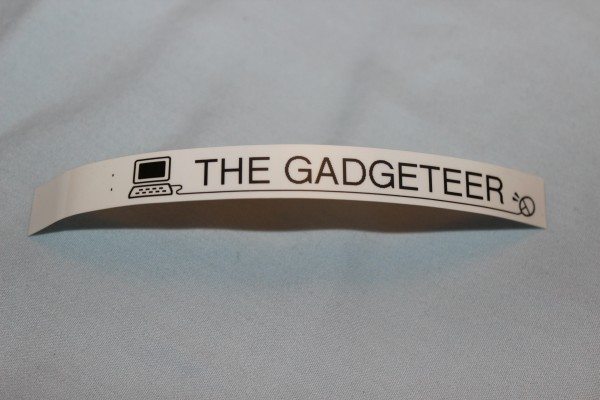 The two dots on the left of the label indicate where to cut to ensure both margins are the same size.
The first thing I did after receiving the label maker was create a Gadgeteer file folder. I use it to hold all the instruction manuals for the gadgets I'm currently reviewing.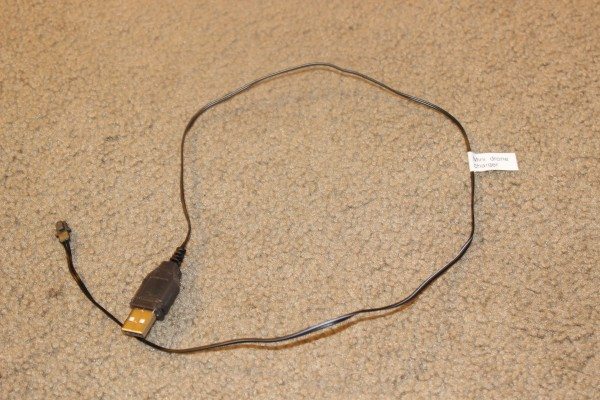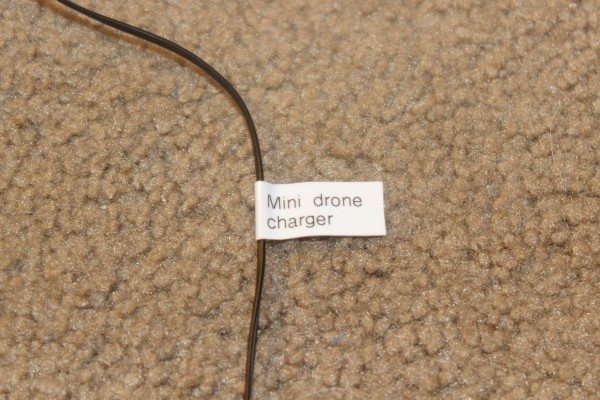 Most things I review use a microUSB power cord, but occasionally I get a cord with a distinct plug. To make it easier to distinguish the cords, I placed a label on them.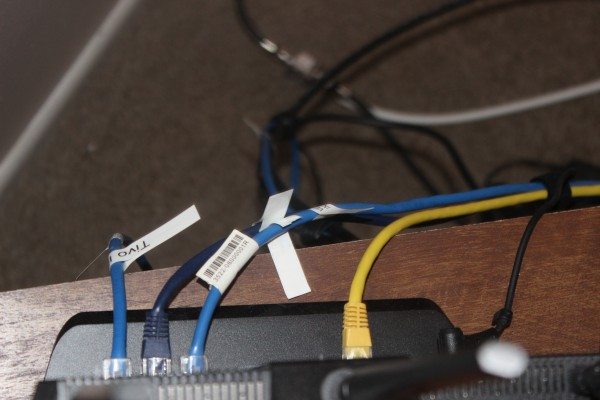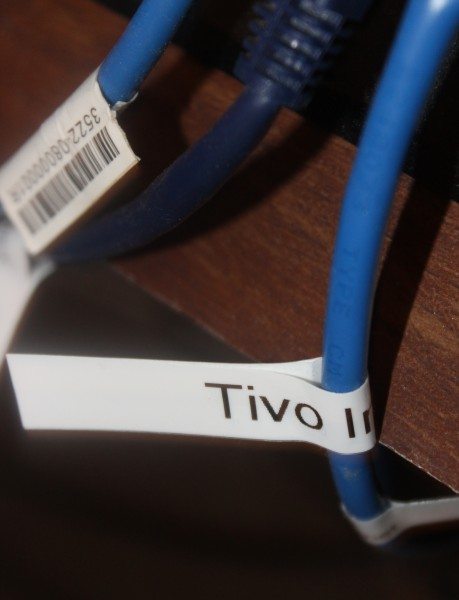 The back of my entertainment center is a jungle of cords. I often have to swap one cord out for another, but have to guess which cord belongs to which device. To try and make things a little easier in the future, I labeled all the Ethernet, HDMI, and power cords behind my entertainment center.
Aside from printing plain text, the label maker has several formatting and text options for you to choose from.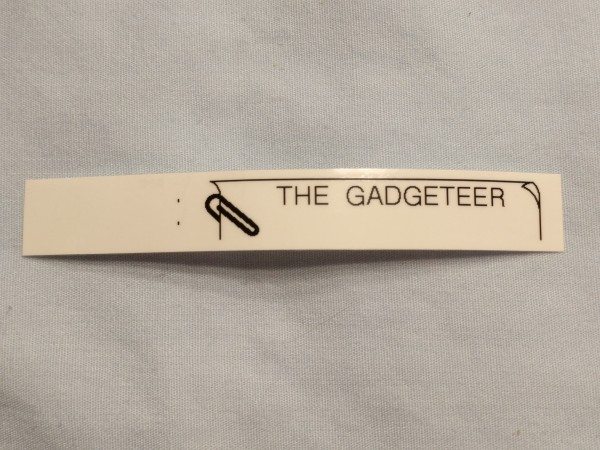 You can select from 99 different frames to surround the text.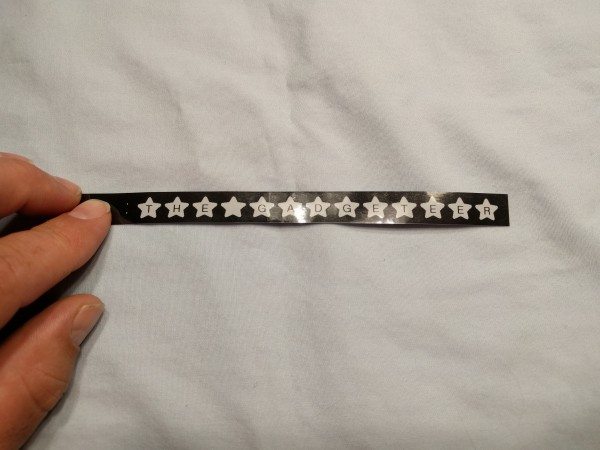 You can also choose from 17 text templates that display the fonts in various symbols or in special designs.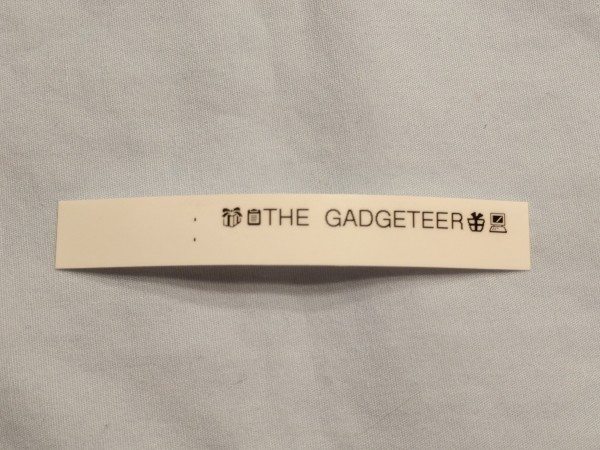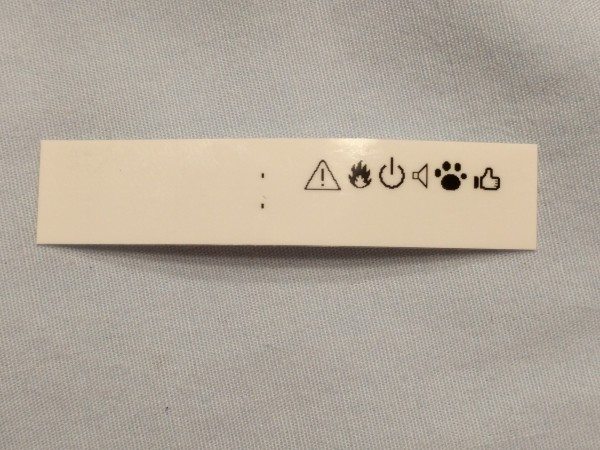 There are also dozens of symbols that can be used in conjunction with text or alone.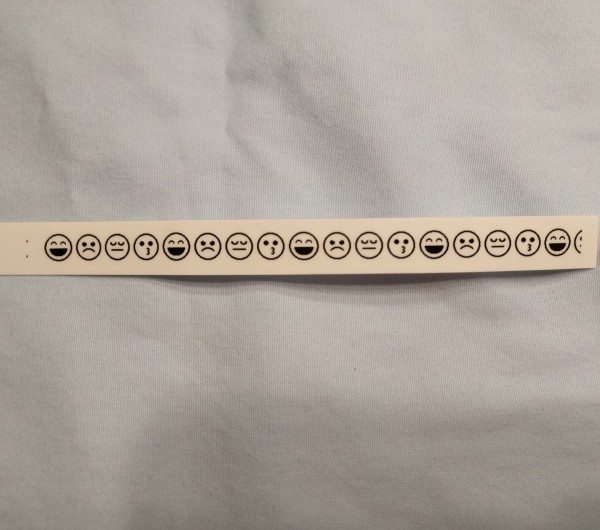 Additionally, there are 10 different repeating pattern templates for you to use.
Along with the above features, you can choose different fonts, sizes, and accented characters. You can also save 30 different labels for repeated use. There is also a plethora of tape cartridges available in different colors and types, including iron-on tape and extra strength adhesive.
While it's pretty easy to get excited over playing with a new drone or rocking out with a new set of headphones, most people don't scream woo-hoo at the thought of using a label maker to get organized. However, with the various frames, templates, and symbols at your disposal, the Brother PT-D210 can make organizing a bit more fun. It's a relatively simple device that only does one thing, but it does that one thing really well.
The Brother P-Touch PT-D210 label maker is a really great label maker with a lot of great features. At $39.99, the PT-D210 falls between the cheapest models and the high end models. It is definitely something worth investing in if you need a bit of assistance organizing your life. Personally, I plan to label everything in my house that has a suitable surface.
Source: The sample for this review was provided by Brother. Please visit their site for more information and Amazon to order one.