We use affiliate links. If you buy something through the links on this page, we may earn a commission at no cost to you. Learn more.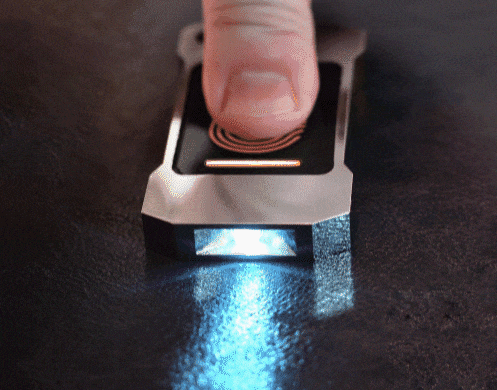 The Lumen flashlight is a unique flashlight – it doesn't need an external power source to use it. All it needs is your body heat. How does it work? According to the Kickstarter page,
you touch TEG (Thermoelectric Generator) – small ceramic bar that can produce electric current when we provide temperature difference between upper and lower parts of TEG…[the] difference between temperature of your body (about 98 °F) and environment (at least 82 °F) is enough to generate power for single LED. [The] Metal body of Lumen serves as a radiator.
With a temperature difference of at least 16 degrees, it will produce 15 mA at 3v. If there is a greater temperature difference, the additional energy is stored in a capacitor for later use. There are two versions of this flashlight: a titanium version and an aluminum one. They are both about 40 mm x 13 mm x 80 mm or 1.6″ x 0.5″ x 3.2″ and have a 5mm ultra bright CREE LED which gives off about the same amount of light that your phone screen does. The aluminum flashlight weighs 45 grams (1.6 ounces) while the titanium one weighs 60 grams (2.1 ounces). You also have the option of adding a tritium vial to your Lumen (the glowing bar located just above the fingerprint area in the photo above). Apparently, the vial will glow in the dark for over a decade and will make finding the flashlight easier. 
This project has been fully funded, but hopefully, the flashlights will be for sale to the general public after the first devices are delivered to the backers (February 2016). The prices at the time of the fundraising were about $35 for the aluminum version and $45 for the titanium version. Adding the optional tritium vial increased the price by $15. For more information, please visit the Lumen Kickstarter page.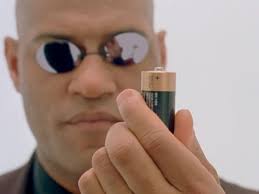 It would appear that Morpheus was correct – human beings have been reduced to batteries!