We use affiliate links. If you buy something through the links on this page, we may earn a commission at no cost to you. Learn more.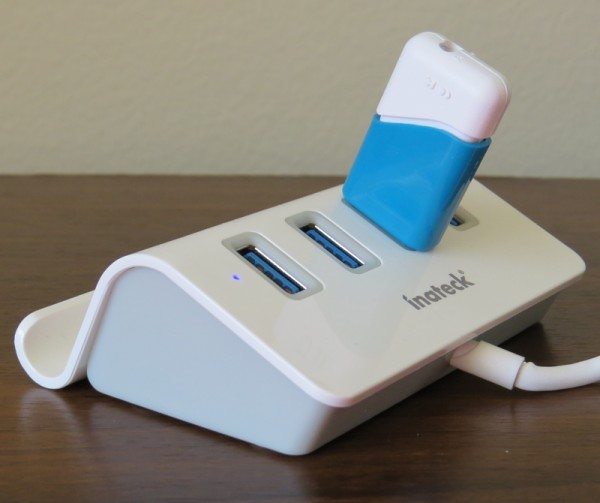 So many gadgets nowadays use a USB port. I even have an IP Camera that can be plugged in via USB! With the need for ports, comes the need for hubs. There are so many of them on the market that it's difficult to find which one works well and which one doesn't. I was given a chance to review the value priced, Inateck 4 port USB 3.0 hub recently, so let's see how well it worked.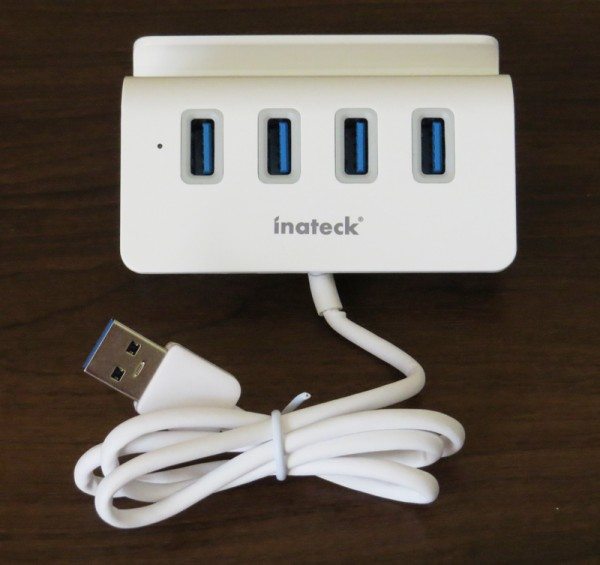 In the box you get the hub, and that is all. You simply plug it in and it's ready to use; no drivers necessary.
Upon unpacking the hub, I noticed a big flaw in the device. The cord length! It is approximately 22 inches long from the base of the hub itself to the plug. I planned to use this with my desktop PC, but it won't reach from the back of my computer to my desk. So if you are a desktop user looking at this hub, I can tell you now, unless your PC is on your desk, this won't work for you. However, it did work fine on PC and Mac laptops, since length did not matter there.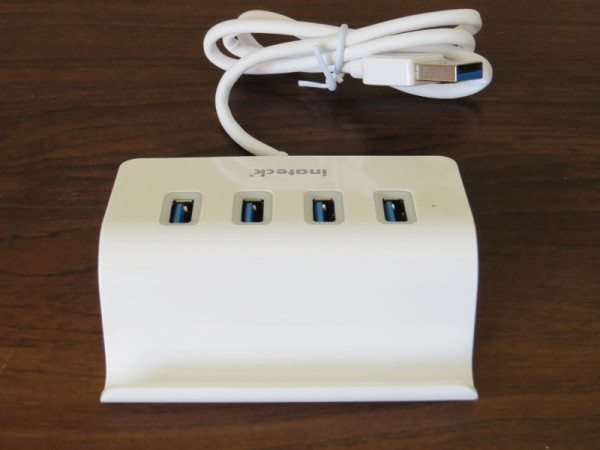 The thing about this hub that caught my eye was the ability to use it as a stand with my phone. With a case, it held my iPhone 6 both vertically and horizontally, while with the iPhone 6 Plus, it held it with case only horizontally. Without the case, it held both of them just fine. It did hold my iPad Air horizontally, but vertically, it kept falling backward.
It's very lightweight, but it doesn't seem as though it would break too easily. I also thought the hub was visually appealing, if it were to be able to sit on a desk.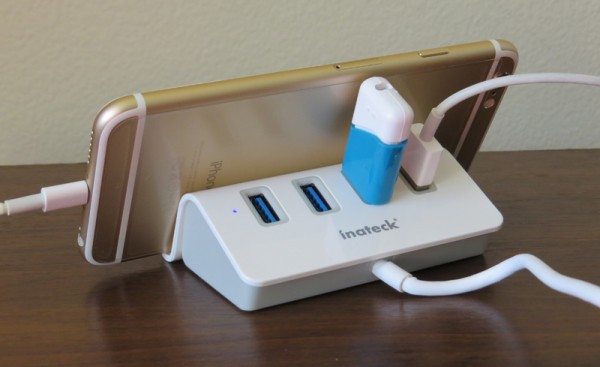 When a device is plugged into a port, the port itself lights up to let you know it's working, and when transferring files, speeds were standard 3.0 speeds on both my Mac and PC. It was also easy to plug in multiple devices, since the ports were well spaced. On the outside, other than cord length, it's a nice device.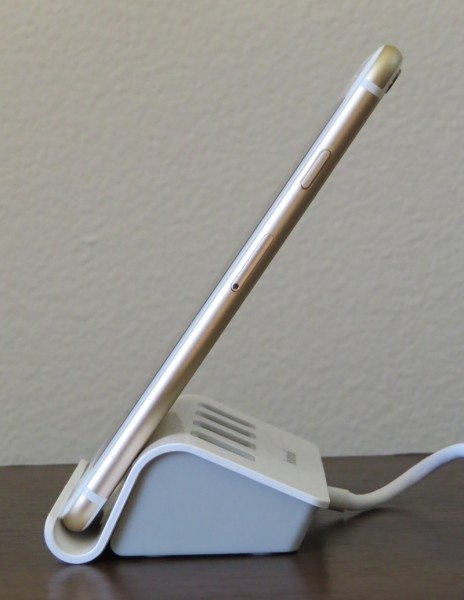 Sometimes, they saying "you get what you pay for" is true and sometimes it is false. Unfortunately in this case, you get what you pay for. The length of the cord is a deal breaker for most desktop usage, but the quality of the device itself is sub-par. First, I noticed that my USB 3.0 portable hard drive did not work on my PC when plugged in to the hub. The drive would turn on as if it had power, but it would not be recognized on my PC. My guess is that it cannot draw enough power to get it to be noticed. Next, I tried a few USB 2.0 and 3.0 flash drives. Both worked initially, but about half the time after that, it would not be recognized on the PC and I would need to unplug it and plug it back in to get it to work. The last thing I tried was charging a pair of Bluetooth headphones via the hub, and that failed, even though the light turned on to show it was charging. Funny enough, my iPhone charged and was noticed by iTunes with no problem.
So, when the hub worked, it worked fine. Speeds were good, and my iPhone would charge. However, the hub only worked about half of the time. That, along with the cord length, makes it so I am unable to recommend this product. Like the saying goes, you get what you pay for, and while this hub is cheap, the quality is lacking.
Source: The sample for this review was provided by Inateck. Please visit their site for more information and Amazon to order one.
Product Information
Price:
$13.99
Manufacturer:
Inateck
Retailer:
Amazon
Pros:

- Works really well to hold and charge your phone
- Ports are spread out enough to plug in multiple USB drives
- Can be used with Mac or PC

Cons:

- Wouldn't work with a portable 3.0 hard drive on PC
- Would stop working intermittently on PC
- USB cord is far too short to be useful