We use affiliate links. If you buy something through the links on this page, we may earn a commission at no cost to you. Learn more.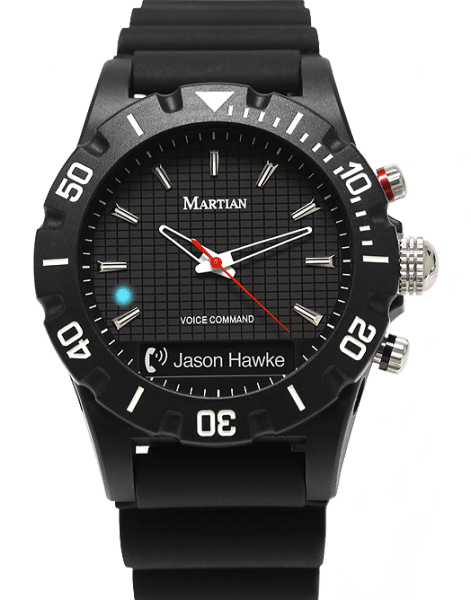 We have reached a tipping point; smartwatches are no longer something worn only by early adopters and gadget geeks. Smartwatches are a common sight in most big box stores and it's not hard to walk down the street and find cool tech affixed to someone's wrist.
Early smartwatches were bland devices that stood out from a mile. Fortunately, we've arrived at a time where manufacturers are focusing on style along with function. It's becoming increasingly difficult to tell a smartwatch from a traditional watch. One such device is the Martian Envoy G10.
In the box
Martian Envoy G10 watch
MicroUSB charging cable
Quick start guide
Specifications
Analog quartz watch
Bluetooth 4.0
96 x 16 OLED display
RGB LED light
3 – Axis Accelerometer
Anti-scratch glass
Dimensions – 42mm x 15mm x 265mm
MicroUSB charging port
Speaker
Microphone
5 day of smartwatch feature use with rechargeable battery
2 years of analog watch use
Android/iOS compatible
Design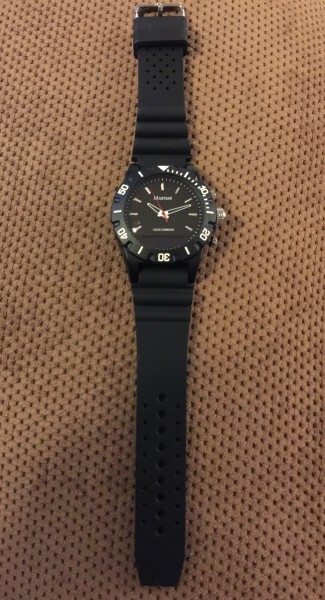 The G10 is modeled after a traditional sport watch. It has an analog watch face with a faux diver's bezel surrounding it, and a silicone band with a metal clasp to secure the watch.
Along with the clock and bezel, the watch face contains a LED indicator and a small OLED screen. The OLED screen serves several different functions. It displays the time, status bar, date, and weather after pushing the lower button once, while displaying the watch's system menu after pushing the lower button twice. Additionally, the display is where you get all of your notifications, but more on that later.
One side of the G10 contains the time adjustment dial, two function buttons, and a microphone. The other side contains a covered microUSB port and a speaker.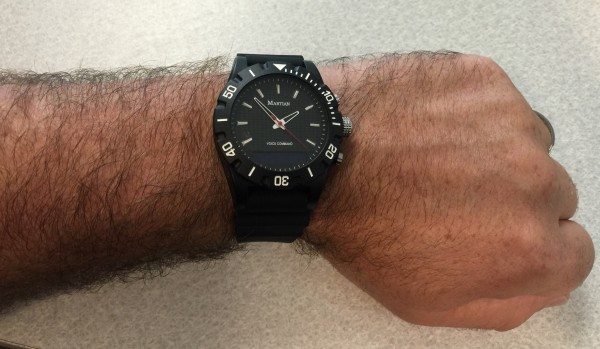 I'm far from a fashion expert, but I really loved the way the G10 looked. Personally, I don't think you can tell the difference between the G10 and a traditional watch without a close examination; it doesn't appear awkward or bulky on my wrist.
Additionally, I found the watch was very comfortable to wear. The silicone strap easily adapted to the contours of my wrist and I didn't have any issue with the watch digging into my wrist.
Setup
The clock component of the G10 is an entity separate from the smartwatch and is powered by its own battery. With that in mind, the first thing you are going to want to do is set the time. This is done exactly like you would do on a traditional watch, pull the stem out and rotate it until the time is correct.
The smartwatch portion of setup was just as simple, the first thing you are going to do is download the Martian App for Android or iOS. Next you power up your watch and hold down the top function button until the LED flashes blue. Next you go into your phone's Bluetooth menu and pair with "Martian Smart".
Once you've paired the G10 with your device, you can open the app and adjust the settings to fit your needs. From here you can connect/disconnect the G10, adjust vibration strength, disable/enable notifications, adjust vibration patterns, etc. The app is well designed and everything is rather self-explanatory; however, just in case there is something you don't understand, the app contains a help section with access to the user manual.
Notifications
Properly displaying notifications is one of the primary purposes of a smartwatch. The ability to know what is going on without having to constantly remove your phone from your pocket, purse, or backpack is a huge plus – especially when doing something like driving or working around the house.
The G10 vibrates to get your attention and uses the OLED display to show notifications and messages. The system works very well; although, depending on your vision, it may be difficult to read. The scroll speed and display times can all be adjusted from the settings menu within the app.
The notification system isn't without issue. I was disappointed to see that once a notification passes, there is no way to recall it. For example, if you are driving and receive a text message, but don't feel it's safe to look at your watch, there is no way to bring that message back up when it's safe. In the same vein, if for some reason you don't realize you received a message, there is no persistent notification or blinking LED alerting you that one awaits on your phone.
*UPDATE 10/21/15*
I have recently been informed by Martian that you can recall notifications after all.
To recall your most recent message, you simply tap the G10's watch face. It will immediately display the last notification you received; however, this method is only able to recall a notification that was received within the last five minutes .
To recall notifications that are older than five minutes, simultaneously press both the top and bottom function buttons for a second. You can then navigate through notifications using the function buttons; the bottom button navigates to older notifications, while the top button navigates to newer ones.
Both functions work really well and make an already excellent device even better.
Speakerphone function
Along with displaying notifications, the G10 can also act as a speakerphone. When you receive a call, the G10 displays the name of the caller on the OLED screen. If you want to answer the call, you can press the top function button. Pressing the bottom function button rejects the call. If you do accept the call, you can press the top function again to end it when the conversation is complete.
The G10 does an okay job functioning as a speakerphone. I had no difficulty understanding people when I was speaking with them, but people occasionally complained that it was difficult to understand me. I found it worked best when I held my wrist up to my face; unfortunately, holding my arm in that position became tiresome during long conversations.
Voice command
For me, the best feature of a smartwatch is the ability to use voice commands. At this point, I won't even consider using a smartwatch if it doesn't have a voice command function. Martian handles voice commands a little differently than other smartwatches. Unlike Android Wear or the Apple Watch, Martian doesn't have its own dedicated system for recognizing voice commands; instead, it uses your phone's built-in voice command app.
To activate voice command, you press the top function button. Your phone's voice command app launches and listens to your voice through the G10. It's a very simple system and the execution worked very well; however, the fact that Martian doesn't have its own voice command system can cause problems.
I started testing the G10 using my LG G4. Unfortunately, the G4's voice command system was absolutely useless. At first, I thought the issue was the G10, but after experimenting using the G4 alone, I realized it was the phone.
Fortunately, I was able to replace the G4's native voice command with other apps available through the Play Store. After much experimentation, I settled on Dragon by Nuance. I made this choice because of their excellent voice recognition abilities. Additionally, they had an audio prompt that played through the watch, letting you know when to begin speaking. It also played audio cues asking if it should execute your requested commands.
I also had the chance to test the G10 on an iPhone. Siri is used to handle all voice functions and works very well. Like the Dragon app on Android, it uses voice prompts and cues that play through the watch to assist you.
I should mention, Martian does give the option to use Google Now for voice commands on Android phones; however, it was in Beta when I was using my G4. While testing it, there were no voice prompts and I had difficulty knowing when to speak into the watch.
Ultimately, the voice command feature works as well as the app you are using to power it. Both Dragon and Siri did an excellent job working with the G10.
Additional features
The G10 also has several additional features that have become common on smartwatches. It has a music mode that can be used to pause, play, and skip songs, but it only works on iOS. It also has a "do not disturb" mode to disable notifications, a camera mode to remotely take pictures, a find your phone function, and a leash mode to let you know when your phone is out of range.
All of the features worked well, but I can't imagine using them too often. They aren't hard to use, but having to click the function buttons on the watch multiple times isn't any easier or quicker than taking out your phone to perform the same task.
Battery life
Martian says the smartwatch functions will work for 5 days on a single charge; that really depends on how often you use the G10. I used it to make calls and send text messages frequently; I'd estimate I could get about 3.5 to 4 days of use from a single charge. I don't like to let my smartwatch die, so I never ran it all the way down to get an exact number though.
Conclusion
I really, really, really liked the G10. I currently wear a Moto 360 and have become reliant on it; and although the G10 won't be knocking the 360 off my wrist, it came closer than any other smartwatch has. I love the way the G10 looks, preferring it to the look of my 360. If it wasn't for the fact that I need a full-screen smartwatch for certain apps I frequently use, this could easily become my everyday watch.
I think this would be an excellent smartwatch for those who want the convenience of a smartwatch but aren't ready to sacrifice the look and longevity of a traditional watch. Martian does an excellent job of combining the best of both worlds while sacrificing very little.
If you are considering purchasing a smartwatch, you should definitely consider the G10 or one of Martian's many other watches.
Source: The sample for this review was provided by Martian. Please visit their site for more information.