We use affiliate links. If you buy something through the links on this page, we may earn a commission at no cost to you. Learn more.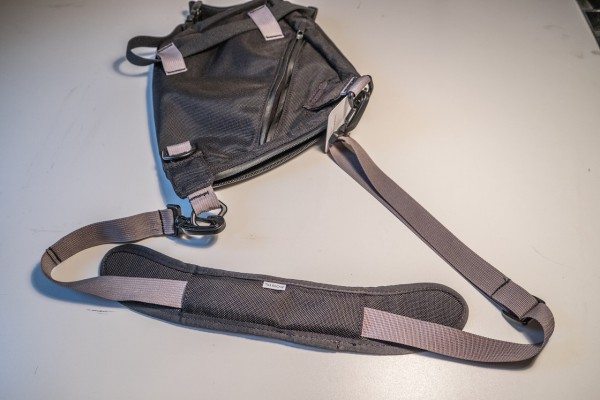 I am a bagoholic.  I have two closets filled with bags from waist packs, day bags, shoulder bags to camera backpacks.  Some of them date back a ways…I still have and use both a Roadwired Pod and Podzilla!  I am always on the lookout for that next bag that will hold what I need when I go out for the day.  The opportunity came to review the Koyono Bolstr Small Carry EDC bag, thanks to Koyono, so I pounced on it! 
Koyono bags are designed in Cleveland and manufactured in the United States.  The bag is made of a ballistic nylon and is not padded in any way but has a nice lining on the inside.  It has a shoulder strap with swivel clips and an oversized shoulder pad.  As a bonus, it has two loops on the back through which a leg strap is threaded.  The leg strap is an adjustable elastic band which will even fit around one of my elephantine thighs.  This is to secure the bag so it doesn't flap around as you walk but I don't find them particularly comfortable so your mileage may vary.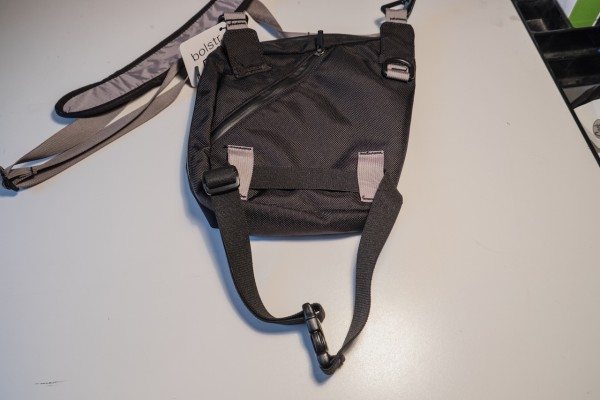 The outside of the bag measures approximately six inches wide by nine inches tall.  It's two inches deep at the bottom but if you overstuff it can exceed that width in the middle.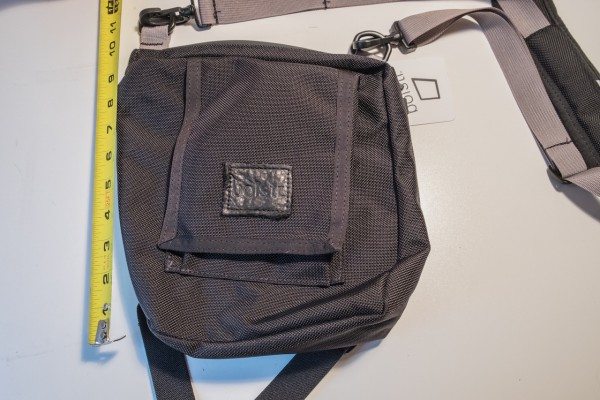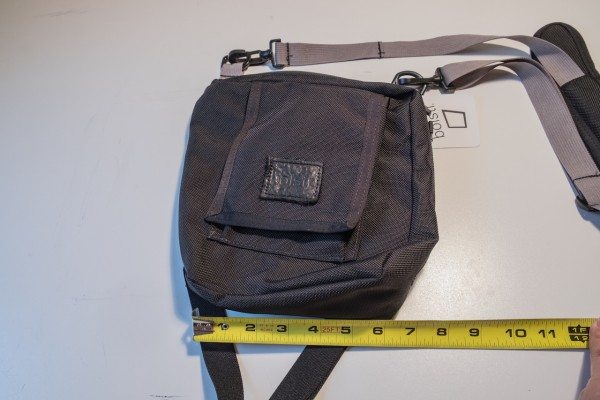 The front of the bag has a fairly flat velcro pocket that's 7 inches tall by five inches wide.  It's not padded or lined in any way, but the velcro patch in the front makes it so you can put something taller than 7 inches into it and it will still close.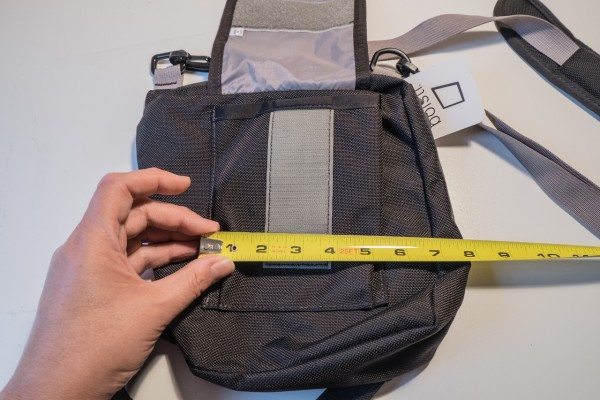 The main compartment fills the entire inside of the bag and has a rear slash pocket where you can fit a small tablet.  Something like a Kindle would fit in here but I don't think an iPad Mini with a case would.  I don't have an iPad Mini to test this with.  The web site has a photo of an iPad Mini in it and it says it's designed for an iPad Mini but it doesn't show it with a case.  Since the bag is not padded I would not want to risk it without a case.  There is a key loop made of plastic inside the zipper, which is taped and runs the length of the top of the bag.  There is that bit of fabric that juts into this compartment, you can see it on the right side in the photo below.  That's for the side-access pocket and it's not a great design.  It takes away from room in the main compartment and makes it harder to access items at the bottom.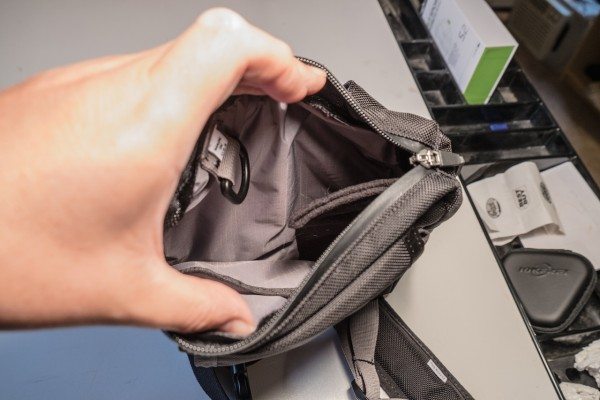 Next comes that aggravating side pocket.  It's made of a soft fabric and is supposed to hold your smartphone.  My iPhone 6 Plus in an Otterbox Defender case does not fit in here.  Smaller phones like the Samsung Galaxy S6 or the iPhone 6 should fit in here with a case that's not too bulky.  The zipper for this pocket is taped, too, for water resistance.  A bolster branded cleaning cloth comes with the bag and is found in this pocket.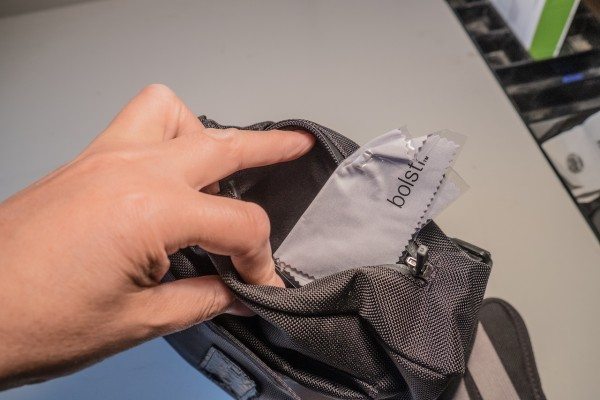 The back pocket is also made of the thicker soft material on the inside but it does not cover the entire back of the bag…the triangle on the upper left side is inaccessible.  I am not a fan of this kind of slash pocket as you lose storage space this way and I am not sure why they made this design choice.  This pocket will hold my phone in its case but I'd never use it this way.  I'm not sure exactly what is supposed to go back here.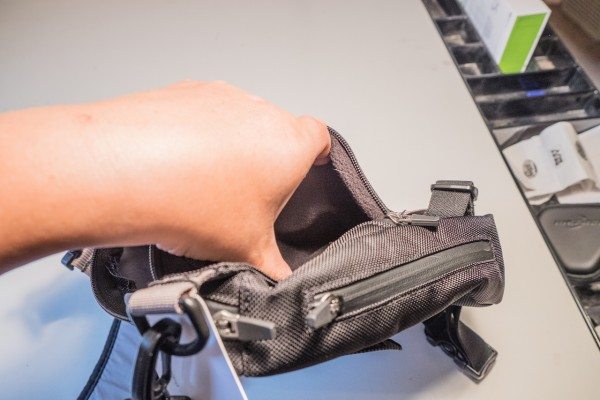 So, it's a well-built bag, solid and weather resistant, small enough to take anywhere and it even has the option of a leg strap if you're into that kind of thing.  The problem is, I found that there was no situation where I would want to bring this bag instead of literally any other bag I own.  The layout is strange, the interior is not large enough to carry anything but a small tablet and maybe a pocket camera, cables, a USB backup battery, small papers or maybe a field guide and some binoculars.  I used it to tote $50 in change to the bank to cash it in and that's about all I did with it.  Everyone has a different need for a bag, heck, I have two closets full of them.  I find I use the Tom Bihn Ristretto most often, followed by a nice leather Fossil bag for my iPad on the odd occasion I bring that around.  You might find this bag to be extremely useful.  You can find it at Koyono's web site for $79.  It comes in a host of different colors and you can select "righty" or "lefty" configurations.  There are different accessories you can get with it to make it the bag you need it to be.
I have to say, if I had an iPad Mini and knew for sure it would fit with a case on it, I would probably get the new iPad Mini 4 and use this bag with it.  Heck, the new Mini 4 finally fixes the poor screen issues that plagued the previous versions and I might sell my iPad Air LTE to get the Mini 4 LTE and if I do, this bag will be waiting.  It would be a perfect bag for that if you can figure out what to do with the other odd pockets in this bag.
Source: The sample for this review was provided by Koyono.Visit their site for more info.

Product Information
Price:
$79
Manufacturer:
Koyono
Retailer:
Koyono
Pros:

Made for an iPad Mini
Many pockets to choose from
Removable elastic adjustable leg strap
Tough ballistic nylon construction
Nicely lined interior
Taped zippers for weather resistance

Cons:

Outside pockets a little strange
No padding for iPad Mini compartment