We use affiliate links. If you buy something through the links on this page, we may earn a commission at no cost to you. Learn more.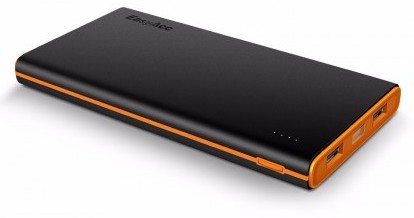 I've become quite fond of power banks. I consider myself a tech power user and have no difficulty draining a device's battery. As a result, I'm in constant need of a power source and have found power banks to be an excellent solution. I was given the opportunity to test the EasyAcc 10,000 mAh power bank and determine whether it will be a permanent fixture in my geek toolbox.
The EasyAcc power bank is available in 6 different colors: purple/black,  green/black, orange/black, gray/black, green/white, and gray/white; I was sent the orange and black power bank.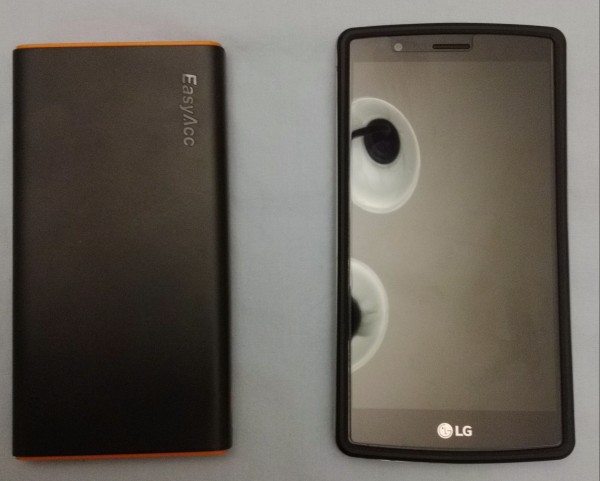 The EasyAcc power bank weighs 226g and measures 5.67″ x 2.95″ x .58″. It falls into the portable power bank category, but it's a bit bigger and heavier than I would like. When I'm on the go, I like to keep my belongings in my cargo pockets; I feel like the EasyAcc would eventually bruise my knee if I walked around with it in there.
The EasyAcc has a 10,000 mAh battery capacity. Considering most modern phones have about a 3000 mAh battery capacity, you should get around three complete recharges out of the battery pack.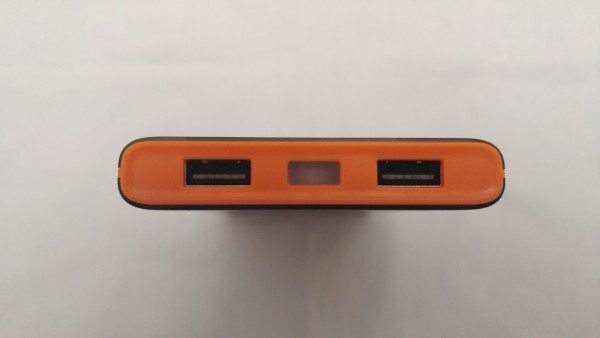 One end of the power bank contains two USB ports and a small LED flashlight. Each USB port is labeled a Smart port. EasyACC says the Smart ports will adjust the power output based on the needs of the device being charged with the maximum output being 2.4A.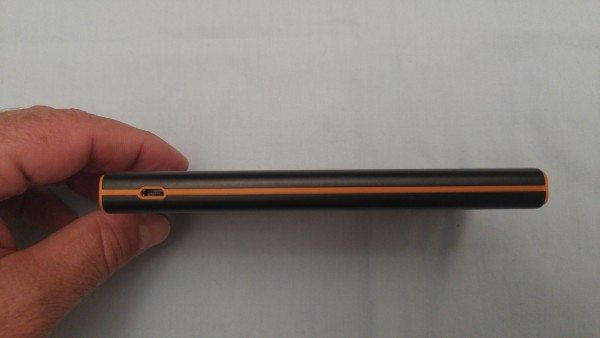 A microUSB port for charging the power bank is located on one side of the device.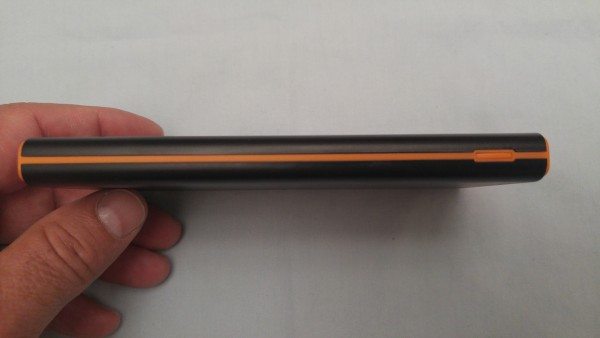 The opposite side of the power banks contains a power button. Pressing the button once illuminates the LED indicators and provides the current charge level. Pressing the button twice turns the flashlight on and off.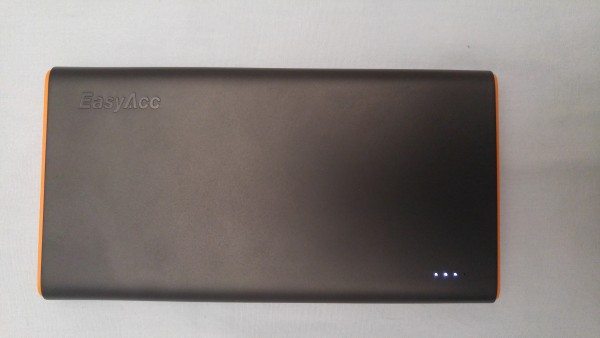 The top of the device contains the four LED charging indicators. Each LED represents about 25% battery life. I had been using the power bank prior to taking that picture which is why only 3 LEDs are illuminated.
When the EasyAcc power bank arrived, it was already charged. Additionally, it included a USB charging cord, so the device was able to be used right away.
To charge your device, you only need to plug the charging cord into your phone and into the power bank's Smart port. The power bank automatically turns on and begins to charge you device. The Smart ports allow your devices to be recharged at a reasonable speed; although, not nearly as fast as the newer Quick Charge 2.0 devices. I was also able to charge multiple devices at once without a problem.
At one point, I was using my LG G4 as a hotspot to stream football games on my tablet. The power bank was able to keep up with the demands of tethering while still recharging my phone from 40% to full. I then attached the power bank to my tablet and it recharged it from 15% to about 25% while streaming football. Once I was done watching the games, I disconnected the EasyAcc and found it still had an LED lit.
Once the EasyAcc is empty, you plug the charging cord into a power source and the power bank's microUSB port. It took just under 8 hours to charge the power bank. Although it seems like a long time, it's about average compared to other power banks I've used.
Finally, the EasyAcc includes a small LED flashlight between its two ports. It's an interesting feature and one I've never seen on a power bank before. I'm not sure it's a necessary feature; most smartphones include an option to use the camera flash as a flashlight now. That being said, it could be useful if you find yourself in a jam; although it's not particularly bright.
The EasyAcc is a great device. It can charge multiple devices and once, and does so at a reasonable speed. While I wouldn't recommend keeping it in your pocket, it would be a great power bank to keep in a backpack or purse. The flashlight is an interesting, but perhaps unnecessary feature. At $17.59, I would definitely recommend this power bank to anyone needing backup power.
Source: The sample for this review was provided by EasyAcc. Please visit their site for more information and Amazon to buy one.