We use affiliate links. If you buy something through the links on this page, we may earn a commission at no cost to you. Learn more.

Love them or hate them, crowdfunding campaigns are here to stay. Although Kickstarter was not the first crowdfunding site to appear on the web, it's the one I always think of first. If you're a gadget freak who lives on the bleeding edge, Kickstarter is where you can go to  find some of the newest and most exciting tech products on the planet. Whether you're a Kickstarter newbie or a Kickstarter Jedi, here are five quick tips that will help you find new projects and save money buying them. 
Tip #1: Searching for projects directly on the Kickstarter site
This tip is for those of you who are looking for the quickest and most simple way to find new projects. It's also the most obvious what to search but it might help newbies. First go to kickstarter.com

Then you can use the search field to search on different keywords like "watch", "wallet", etc. This will then show you a few thumbnails for projects that match that keyboard. The problem with using Kickstarter's built in search tool is that if you click on a project to see more details and then click the back button on your browser, you'll be taken back to the main Kickstarter page and you'll have to start over with your search. Blah!
I suggest that instead of using search, click on the Discover link to the right of the Kickstarter logo.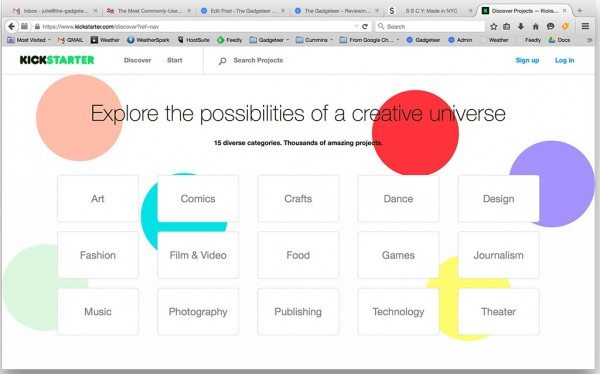 Click choose a category that you're interested in like "Crafts".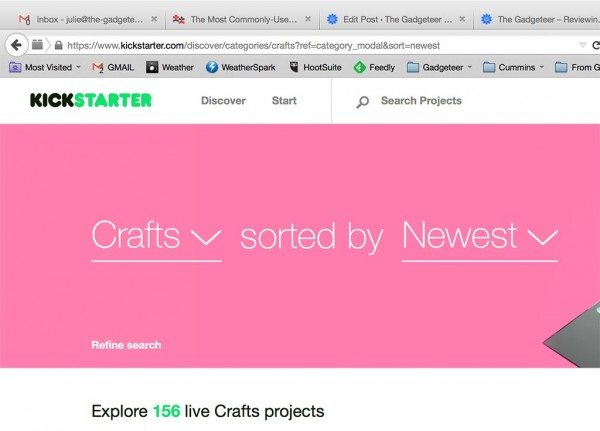 First of all change sorted by to Newest and then click the drop down menu next to the category title.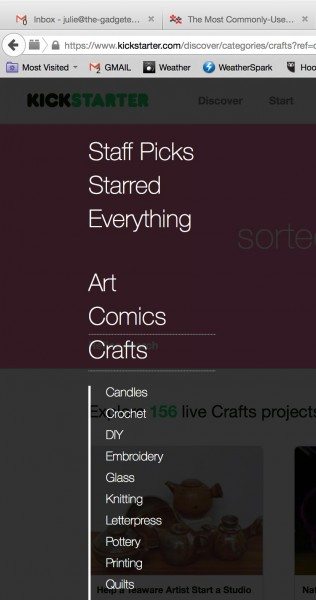 This will let you filter your search even farther by choosing another category under the main category. You can then bookmark the URL so you can easily go back to it so you can find the newest projects in that category.
If you don't want to constantly press refresh on your browser to find new Kickstarter projects (I'm looking at you Anson Chui), then there are a couple ways to automate things.
Tip #2: Using RSS to find the latest projects
Although Kickstarter offers a couple notification features that will send emails a couple times a week with a selection of projects that they want to promote, there's no way to customize it to only show projects that would be interesting to you. One way to get around that limitation is with  CrowdFunding RSS. This is an easy to use site that will let you create your own personalized daily or weekly email notifications or an RSS feed based on the crowdfunding sites and topics that you are interested in.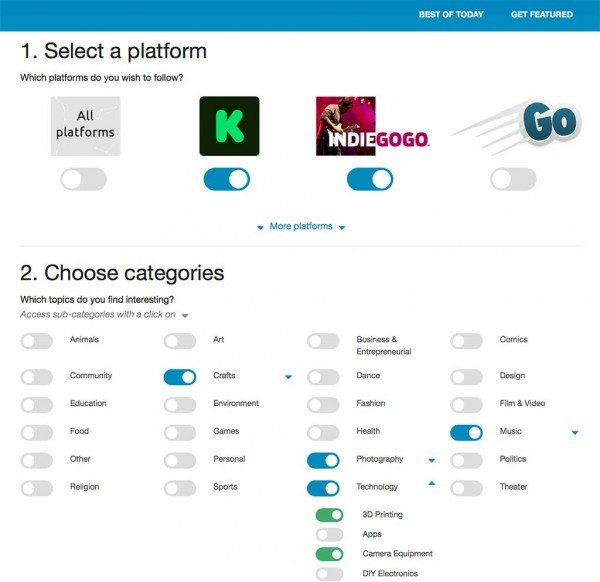 It does require you to tweet to unlock the sub-categories, but that's a small price to pay to be able to make an RSS feed that is constantly updating. I use the feed with the Feedly browser based RSS feed reader to check for projects several times a day.
Tip #3: Use Kicktraq to view trends and other project info
http://www.kicktraq.com/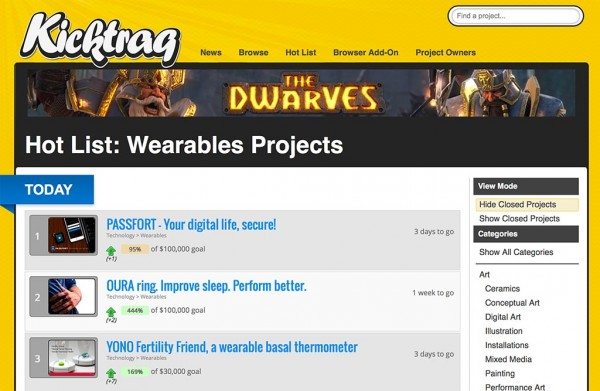 This site offers a lot of great info that can help you to easily find projects that suit your tastes in the categories that you're interested in and keep track of those projects during the life of the project. The lists show how the projects are doing on their funding goals, how many days are left on the project, news associated with the project and more.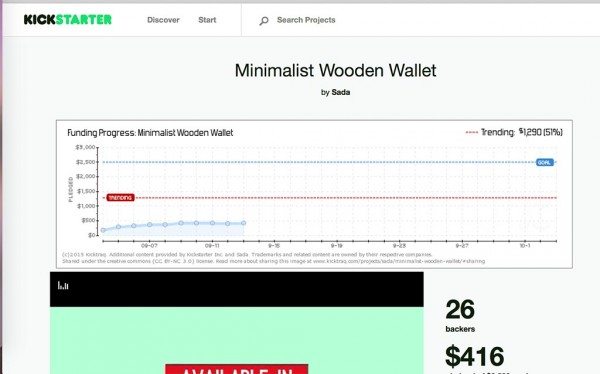 Kicktraq also has browser plug-in that will overlay a graph that lets you see trends for the project when you're on the Kickstarter campaign page.
Tip #4: Use Twitter to find new projects
Another way to find new projects as they are launched is by using Twitter. Most new projects will be announced on Twitter because it's a free and easy way to get the word out about a new campaign. To find them, use your favorite Twitter client to do searches with the hashtag #kickstarter
Tip #5: The early bird gets the worm and saves money!
Most Kickstarter projects offer some type of early bird special that will either let you save money on your pledge or give you extra goodies not offered with the other pledge points. Early bird specials are usually limited to just a very small handful of backers, so being able to find a project that you're interested in as soon as it is launched is really important.
Bonus tip: You can cancel if things don't look good
Kickstarter won't charge your credit card until a project is fully funded, but did you know that if you change your mind, you can cancel your pledge? It's true, as long as the campaign has not yet ended and is not in its final 24 hours, you can cancel and your credit card will not be charged. This way you take advantage of early bird specials in order to save money and still have time to truly decide if you want to go ahead with the pledge.
I hope these tips are helpful. If you have other tips for using Kickstarter, please share them in the comment section below.