We use affiliate links. If you buy something through the links on this page, we may earn a commission at no cost to you. Learn more.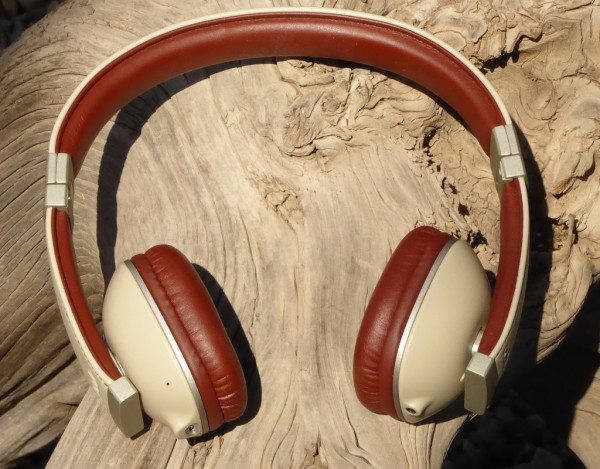 Being a writer for The Gadgeteer has given me the opportunity to try new and interesting things. Having said that, I find myself often volunteering to review headphones, more precisely Bluetooth headphones. Now to this point, I have previously reviewed two sets of Bluetooth headphones, so when Polk offered us a chance to review their new offering, the Hinge Wireless on-ear Bluetooth headphones, I again requested the assignment.
Note: Images can be clicked to view a larger size.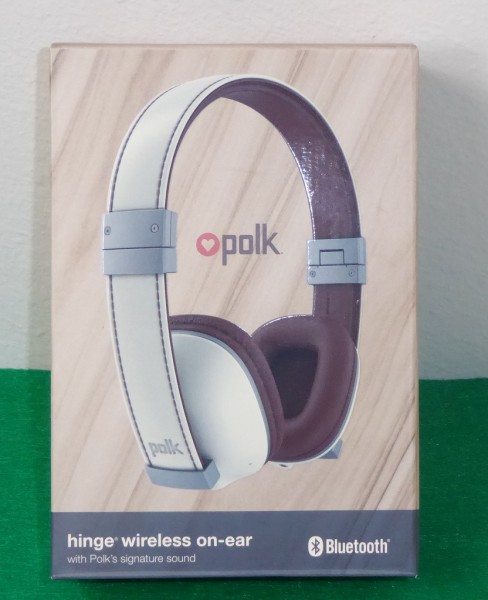 Polk may not be a household name for you, but they have been in the audio business since 1972. I really became aware of Polk in the 80s when I had the disposable income to afford high-end speakers. I lost track of Polk's progress in the audio business when everything became digital and small, but with my renewed interest in listening to music, especially when traveling, I am happy to try out this new offering from Polk.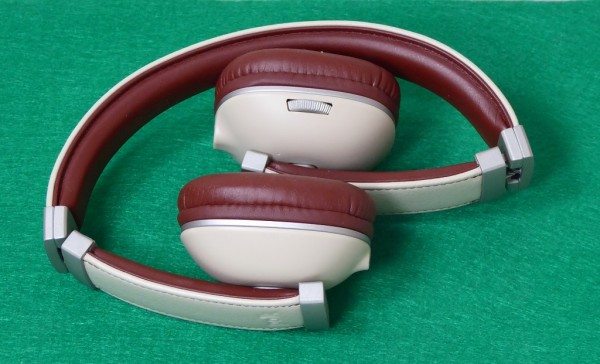 I am guessing that the name of these headphones comes from the fact that the are foldable and wireless, Hinge Wireless. The Hinge Wireless headphones have the following features listed on the Polk website:
Dynamic Balance plus POET system design
12-hour rechargeable Lithium-ion battery
Polk Optimized Electro-acoustic Tuning improves overall performance audio balance, depth, and quality
Bluetooth with aptx and Near Field Communication touch to pair
SoundClear® Technology emphasizes voice quality during a phone call whether you're in a quiet room or a noisy vehicle
Detachable 3.5 mm cable for passive mode use with inline mic
Polk, world-renowned for its sound quality since 1972, chose a 40 mm driver made of lightweight, durable PET material, housed in a vented enclosure. These drivers were developed using our Dynamic Balance design process that uses the variables of materials technology and diaphragm geometry to discover the right balance for the drivers' performance goals. With the Hinge Wireless, Polk has taken a new approach to headphone system design called POET, Polk Optimized Electro-acoustic Tuning. This design process refines the drivers even further to improve overall performance balance; you'll discover a new level of depth and quality in your audio that you never knew existed.
And have the following tech specs as well:
Electrical – Max Sensitivity 107dB
Electrical – Nominal Impedance 32 Ohms
Electrical – Total Frequency Response (-12 dB) 10-21 kHz (+/-5 dB)
Electrical Voice Coil – Magnet Weight Yes
Headphone Specs – Included Cables 48 length
Headphone Specs – Input Connections 3.5 mm
Headphone Specs – Style On-ear
Headphone Specs Transducer – Diameter 40mm
Headphone Specs Transducer – Type Active Dynamic Balance
Warranty – Labor Warranty 1 Year
Warranty – Parts Warranty 1 Year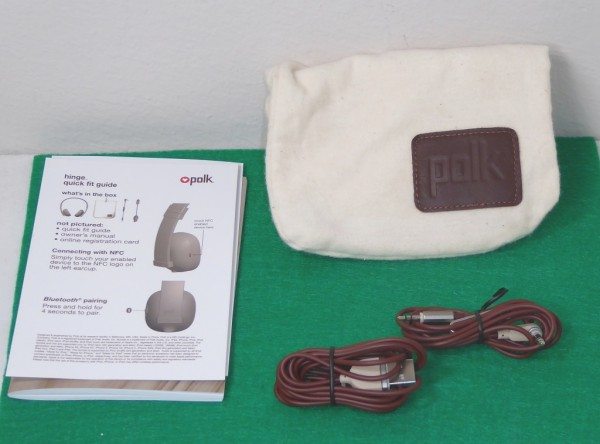 The Polk Hinge Wireless headphones come with the following:
Hinged Wireless Headphones
Micro USB to USB charging cable
Inline control cable (for plugging the headphones into non-Bluetooth devices or when the battery is dead)
User Manual
Protective carrying bag
Various warranty and quick start cards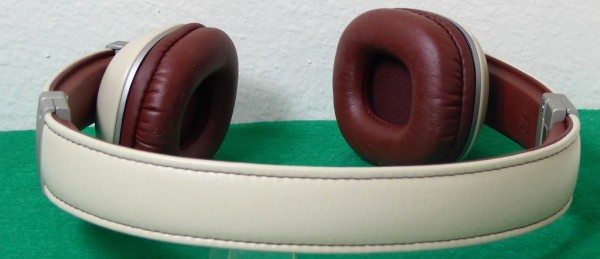 Looking from the top, you can see the leather like material that covers the outside of the headphones headband.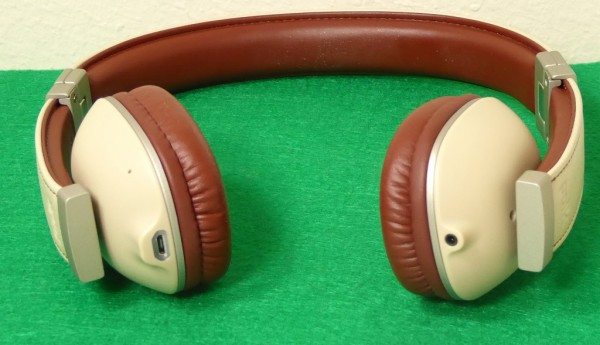 Looking from the bottom of the Polk Hinge Wireless headphones you can see Micro USB charging port on the right headphone and the cable jack for the included in-line control cable. There is a lighted status indicator around the Micro USB charging port. The status indicator is used for Bluetooth syncing, charging and battery level. The underside of the headband and the ear cup covers have the same color leather-like covering. The underside of the headband is padded nicely for comfort. The ear cup padding is soft and comfortable with enough push back to make it easy to wear them for long periods of time.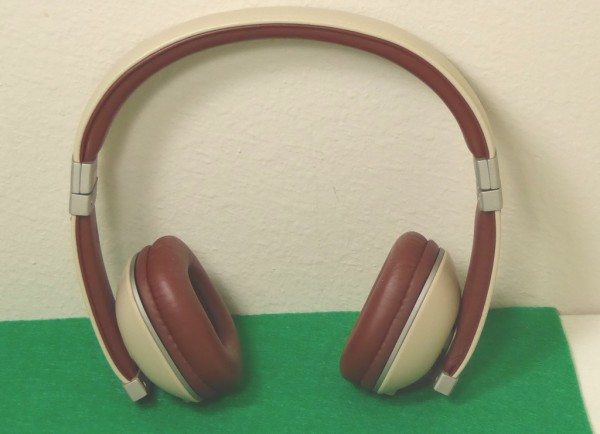 In the front of these headphones, you can see the metal hinge on each side of the headband. On the lower right side of the right ear cup is a small hole, this is the microphone opening. You can also see the under headband cushioning.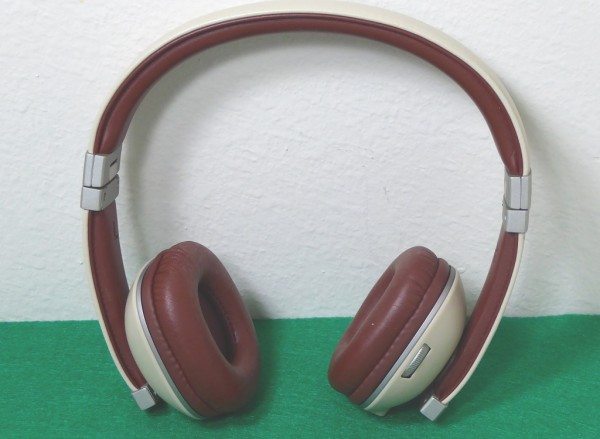 The rear of the Hinge Wireless is where all the action happens when using these headphones. The right ear cup houses the headphone controls. The headphone controls are in the form of a dial (sort of like the turn dials on old radios). This dial does not turn, but does move up and down and pushes in. The left ear cup has the NFC pairing area.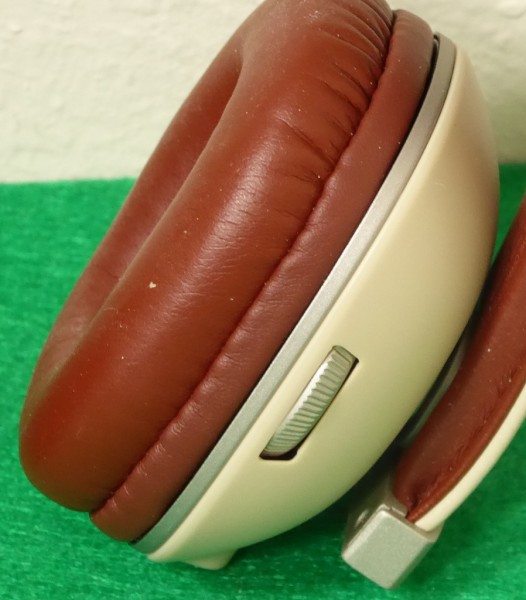 Speaking of the controls on the right side of the headphones, I did some research before I received these headphones and found mixed reviews on this feature. My personal feelings on the control layout are that I like it. On my previous Bluetooth headphone models, you have a series of touch gestures that you must perform to play, pause, change the volume, skip a track or even answer a call. The one switch or dial approach on these headphones give positive feedback so you know what you are doing.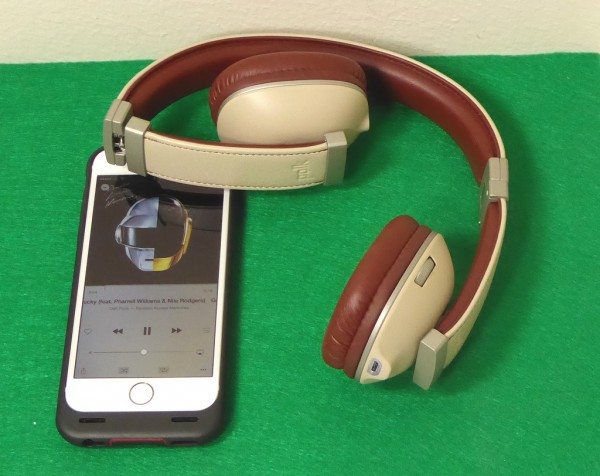 No matter how good or neat the controls are for these headphones the ultimate test is the sound. Polk uses something it calls POET (Polk Optimized Electro-acoustic Tuning) to improve the performance and balance of their products even these headphones. Now, to be honest, I could not tell you if it makes a difference one way or another, but like most products I review I will give Polk the benefit of the doubt, after all, they have been successful for over 40 years. If you have read any of my other headphone/earphone reviews you know that I am not necessarily a fan of overly bass-boosted headphones so I am happy to say these are not bass boosted. I listened to a variety of music, from classical to hip hop to try out these headphones. I would like to say I was surprised about how well these headphones sound, but with Polk's reputation, I would not expect less. Overall of all the Bluetooth headphones, I have tested I must admit that these are the best overall sounding. All my music was clear no matter at what volume levels I listened. If you are a bass junkie I am afraid these headphones won't please you.
So, what's my bottom line here? The Polk Hinge Wireless headphones are my new go to headphones for on the go. These on-ear headphones are comfortable enough for long term wearing, the battery life (listed at 12 hours) is great even though I did not come close to listening to them for 12 hours. The simplified controls make the Hinge Wireless one of the easiest set of headphone to use out of the box. The pairing options, Bluetooth or NFC, offers simple to pair, simple to use usability. Overall, I think Polk did a great job in the design and building of these headphones. At a price of $199.95 from the Polk website, these may not be considered an entry-level offering, but the cost is in line with their competitors. Available in three color combinations, if you are looking for a good set of wireless/Bluetooth headphones then the Polk Hinge Wireless headphones should be at the top of your list.
Update 06/04/17
I am coming up on two years with these headphones and they are still my go to travel partner. They are small and compact enough to fit in my carry on and still hold a great charge for hours of listening. They have also held up well to the wear and tear of traveling. Although the rechargeable batteries are a unique size they have not faltered or lost their ability to recharge.
Source: The sample for this review was provided by Polk. Visit their site for more info and Amazon to order.