We use affiliate links. If you buy something through the links on this page, we may earn a commission at no cost to you. Learn more.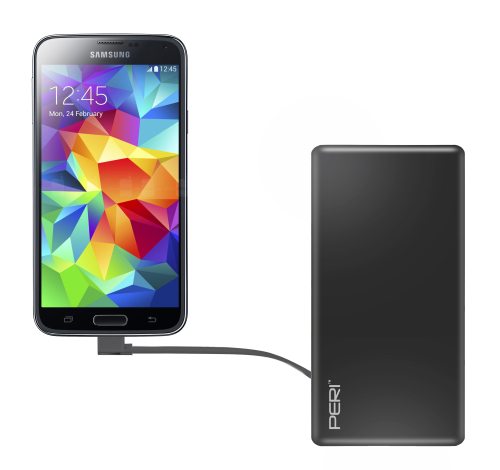 Long gone are the days when your phone would last more than a day on a single charge. As a result, I've found myself becoming increasingly reliant on portable power banks. In the past, I've found pocket-sized power banks don't have the battery capacity to fully recharge my phone while power banks with enough battery capacity to recharge my phone aren't pocket-sized. The PERI GoCharge Ultra Slim aims to be the best of both worlds, pocket-sized with a large battery capacity.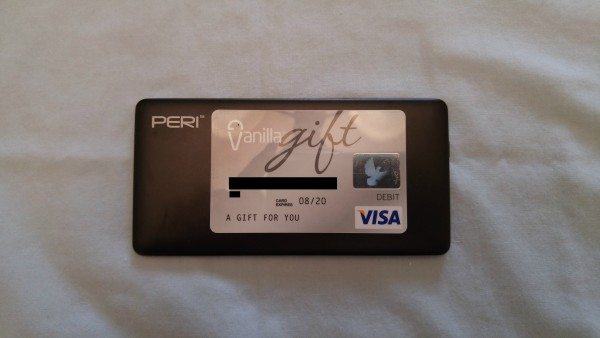 Weighing in at 4.8 ounces and measuring 5.51″ x 2.76″ x 0.2″, the GoCharge is lightweight and compact. It's about 1.5 times wider than a credit card and slightly thicker than a vehicle key. The GoCharge's size allows you to take it and use it on the go. It fit into my pants pocket without causing any discomfort and would fit into any backpack, purse, or similar bag with ease.
Despite its size, the GoCharge has a 3200 milliamp hour (mAh) battery capacity. This should be enough to fully recharge all but the largest phablets. Even if you do have a larger phablet, the GoCharge should get you above a 90% charge.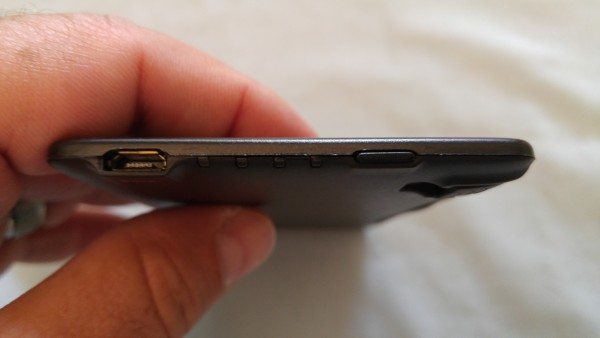 One end of the GoCharge contains a mircoUSB port for charging the device, four LEDS which indicate charge status, and a power button.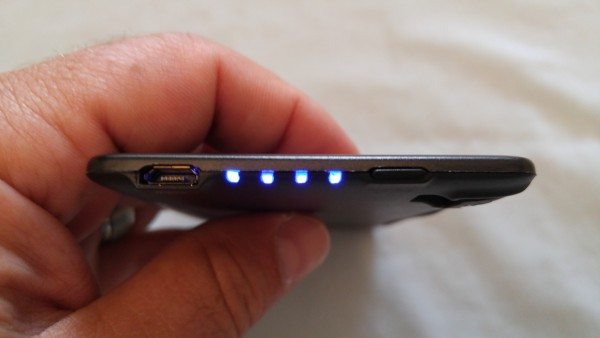 When the device isn't charging, pushing the power button illuminates the LEDS and provides the current charge level.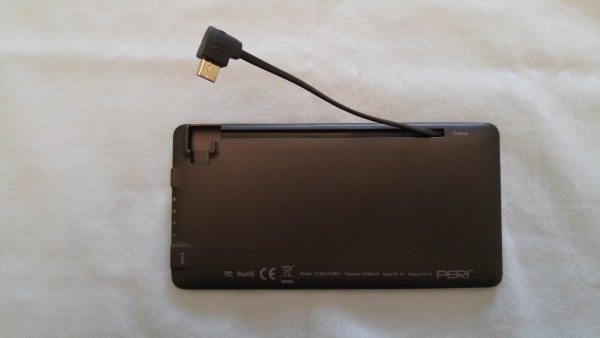 The GoCharge has an integrated charging cord so you need never worry about forgetting your cord at home.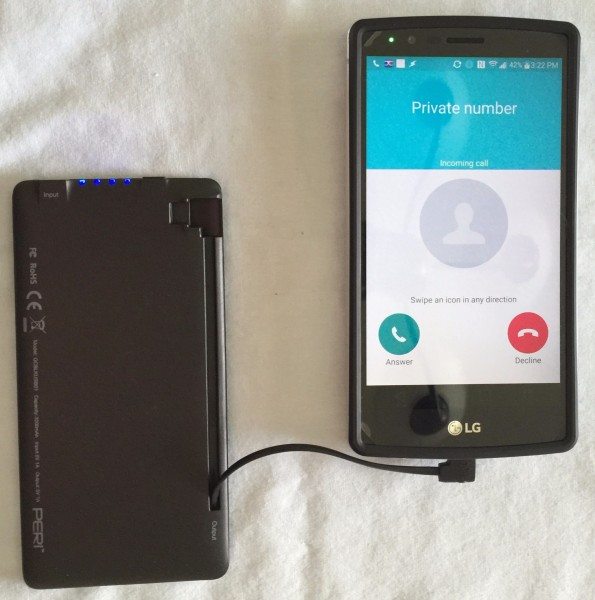 The GoCharge comes pre-charged and ready for use. Charging your phone is easy; you insert the charging cord into your microUSB port and press the power button on the GoCharge.
Recharging the GoCharge is just as simple as charging your device; plug one end of a charging cord into a power source and the other into the GoCharge's microUSB port. Peri claims it will only take 3 hours to fully charge. They were remarkable honest; it took me 2 hours, 58 minutes, and 31 seconds.
Despite its ease, I experienced two minor issues when charging the phone.
First, the GoCharge output is only 1 amp. Many chargers and power banks will provide an output of 2.1 amps. An output of 1 amp leads to longer charging times compared to 2.1 amps.
Second, the length of the cord was an issue. As you can see in the above picture, there isn't a lot of slack when the cord is attached to your phone. It makes it difficult to use the phone while charging it. I found that anytime I was doing anything outside of tethering or checking the time, I had to disconnect the device. This combined with the first issue can be a headache.
Those minor issues aside, the GoCharge is a very good power bank. It provides enough power to fully recharge most phones while remaining small enough to be slipped into your pocket. If you're willing to sacrifice charging speeds for battery capacity and device size, the GoCharge is an excellent choice.
The GoCharge is available with either a microUSB and lightening cable cord; although, the lightning cable model is an extra $10.
Source: The sample for this review was provided by PERI. Please visit their site for more information.
Product Information
Price:
$39.99 for microUSB, $49.99 for lightening cable
Manufacturer:
PERI
Requirements:
Pros:

Lightweight & compact
Built-in charging cord

Cons:

Charging cord not very long
1 amp power output leads to longer charging times