We use affiliate links. If you buy something through the links on this page, we may earn a commission at no cost to you. Learn more.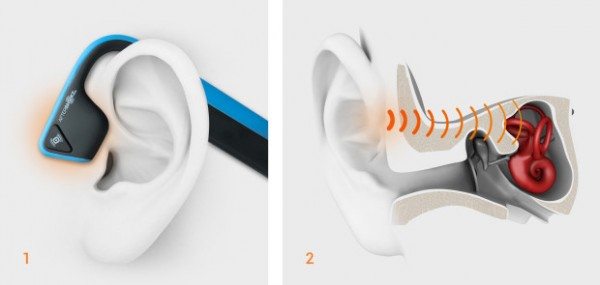 Everyone utilizes headphones at one time or another during their lifetime. Despite that fact, it seems that the general headphone design hasn't changed all that much throughout its history. Sure there have been great advances in technology to improve sound, but for the most part the overall concept remains the same; you place a device in or over your ears to hear the desired sound. The problem is, by placing headphones over your ears, you're blocking out sounds from the rest of the world – sounds which may alert you to potential danger. Aftershokz has designed a pair of headphones which address this problem. 
Instead of covering your ears, the Aftershokz Trekz Titanium headphones rests on your cheeks and transmit sound through bone conduction. This method leaves your ears free to hear your surroundings. Imagine going for a run and being able to listen to music while simultaneously being able to hear any traffic that may be approaching. Perhaps you have a baby at home and want to be able to listen to music while they nap, but still be able to listen for them to cry when they wake.
Aftershokz claims the Trekz Titanium's bone conduction technology delivers premium sound and comfort. Its titanium frame allows the headphones to be light weight, while providing a high level of flexibility. The Trekz Titanium has an IP55 rating, allowing them to be used in the gym or on a run without being damaged by sweat.
To learn about these headphones many other features, visit their IndieGoGo project site. If you're interested, you can purchase a pair for $99; they have an estimated delivery date of January 2016.
Lastly, Aftershokz has provided me with a similar, non-titanium model of their headphones. I'll be providing a review of them in the near future.