We use affiliate links. If you buy something through the links on this page, we may earn a commission at no cost to you. Learn more.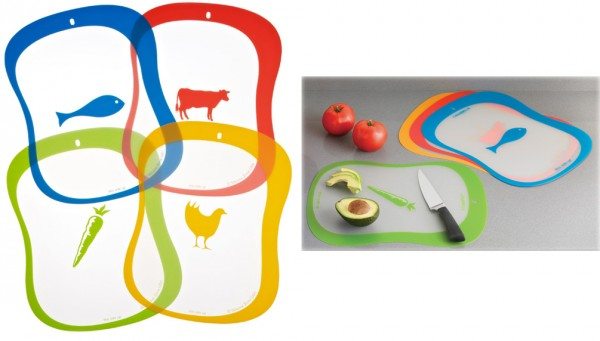 Do you dedicate one cutting board for meat and another for veggies so you don't have to worry about cross-contamination?  I do, but since both my boards look alike except for a small color ring, I have to take a second look to be sure I'm grabbing the correct one.  With the Color-Coded Cutting Mats, you can see at a glance which cutting mat is for which food.  Each 15.25″ X 12″ polypropylene mat is both color-coded and identified with a food icon, so you can see which board is for cutting veggies, and which is for fish, beef, and chicken.  They are flexible, which will help you transfer the cut food into a cooking pan or a bowl.  The mats are top-rack safe in the dishwasher on low-heat, but hand washing is recommended.
A set of four Color-Coded Cutting Mats is $14.99 from The Container Store.