We use affiliate links. If you buy something through the links on this page, we may earn a commission at no cost to you. Learn more.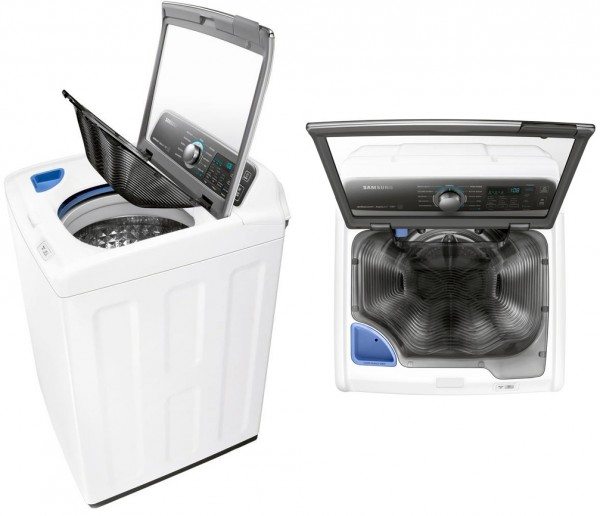 If you have a cramped laundry room or perhaps just have your machines in a closet, you probably don't have room for a utility sink for handwashing delicates or for soaking stains before washing.  The new Samsung activewash™ High-Efficiency Top Loading washer is perfect for these situations because it has a built-in sink.  Of course, the machine has lots of other features to make sure your laundry is clean and stain-free:  a 4.8 cu. ft. stainless steel basket that handles bigger loads; a sanitizing cycle for a cleaner wash ensures the right water temperature and activates NSF-Sanitize cycle for 99.9% bacteria-free laundry; pre-set cycles and automatic water levels that select soil and spin levels to optimize washing performance; a Super Speed normal wash cycle that cuts down washing time to between 36 and 38 minutes without compromising the washing performance; VRT (Vibration Reduction Technology) with special sensors to keep the drum balanced for quiet operation; and fifteen different wash cycles.  The built-in sink has ridges along the sides so you can scrub a stain and pre-soak it.  The water can be dumped from the sink into the machine's drum, and you won't have to carry dripping wet clothes from the sink to the washer.  The sink flips up out of the way for loading and unloading laundry.
You can read Samsung's press release for the Samsung activewash™ High-Efficiency Top Loading washer, and you can order it from Home Depot.  The 4.8 ft3 Samsung activewash™ machine in white is $899 (on sale at a 10% savings through 6/3/15) or a 5.2 ft3 activewashTM in platinum for $1199 (also on sale at a 10% savings through 6/3/15).