We use affiliate links. If you buy something through the links on this page, we may earn a commission at no cost to you. Learn more.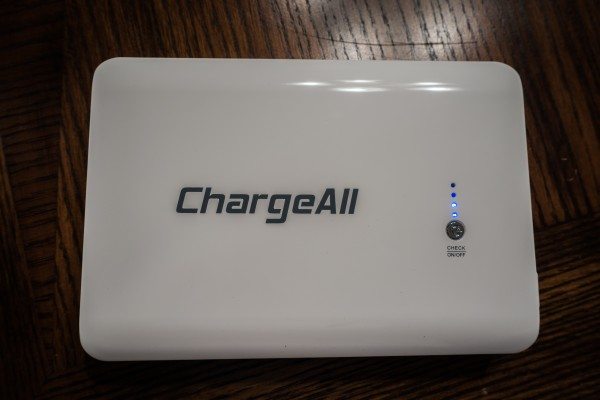 Technology has come a long, long way in the last 10 years but battery technology has lagged behind.  There are limitations to electrochemistry that nanoscale carbon substrates can help boost but until that day we have become accustomed to carrying around spare battery packs for our devices.  With more and more devices sealing their batteries up, portable battery pack chargers have become all the rage.  Whether it's a charge case or a battery brick, portable chargers seem to be here to stay. 
This review took me a long time to write because of how difficult it is to get numbers.  I lost my notes twice while testing devices so I will not be offering hard numbers here.  Instead, I will relate how this backup battery is to use in real terms.  In fact, while evaluating this device, the company changed its name from ChargeAll to ChargeTech.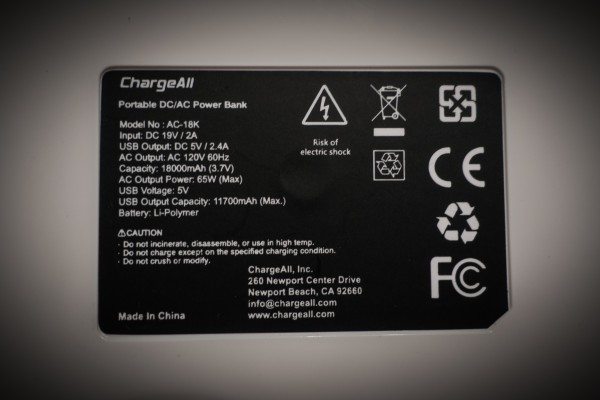 Packing 18,000 mAh of juice, this plastic-encased dynamo measures 5 1/4 inches by 7 1/4 inches by one inch deep.  It weighs in at nearly 2 pounds, a little over when packing the beefy AC adapter that recharges it.  It is going to take up room in your gear and weigh you down a bit but it does get the job done!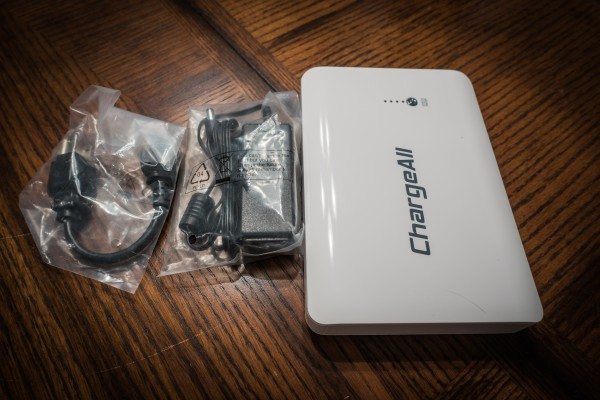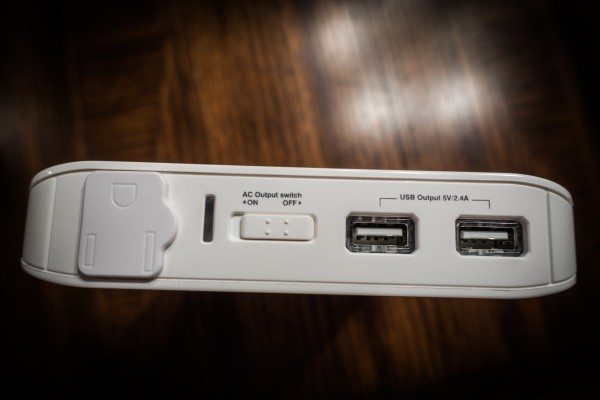 The charger comes with two USB ports which put out more than the 2 amps needed to charge most modern smartphones and tablets.  They are illuminated with a blue LED when active.  You have to press and hold the button on the flat part of the pack to turn these two ports on.  That button is also is used to show how full the pack is.  Four blue LEDs are used to indicate remaining power.  It would be more useful to have a simple LCD percent display.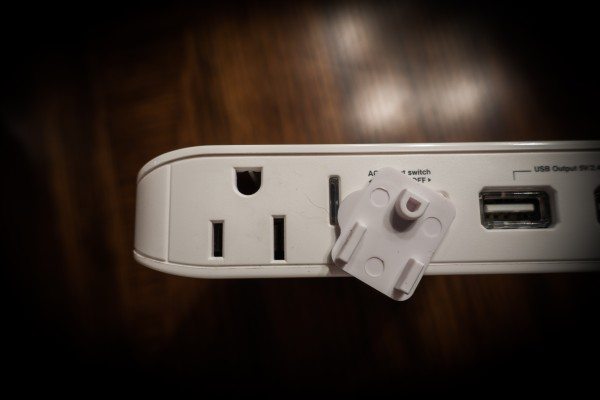 There is also a AC port!  This is activated with a slider switch.  I was able to recharge my MacBook Pro Retina 13 from about 20% to about 80% before the pack dried up.  I would have hoped for one full charge at least…my MacBook's battery is rated as being at about 6200 mAh, according to the Battery Health app.  I've got no problems recharging an iPad Air over USB full with plenty of juice left over when done so there might be an issue with the inverter that was built into this to convert the DC of the battery to AC that you plug into.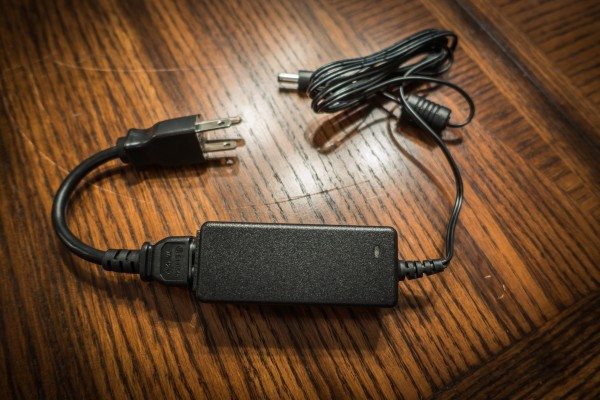 This is no compact AC adapter here.  It will take up bulk in your gear bag!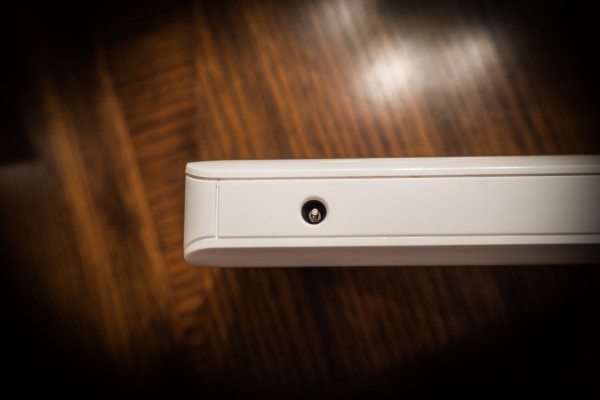 The charge port is easily accessible and does not get in the way of anything else since it is not on the same side as the power out ports.
I just used this pack on a trip to Cape Cod to be the sole charger for my iPhone 6 Plus.  I use my iPhone hard during the day, it typically goes from 100% to 30% by the end of the day.  Using the ChargeTech pack I was able to keep the phone topped off every time I got into the car and there were still two pips showing on the LED indicator when I pulled into my driveway after four days away.  If you wanted this to charge your phone while on a camping trip, it's perfectly suited for that!  It could also be used to recharge camera batteries in a pinch with the handy AC port!
The ChargeTech port took a beating sitting in the front seat of my car…I kept dumping my camera bag on top of it, my dSLR with mount plate on top of it, it slid off the seat at least once and it is still working great with no damage.  It is solidly built.  Now, it's not a compact unit but it really does give you power on the go!  It also holds a charge very nicely…after about a month of sitting around it was still showing 3 out of four LEDs.
The ChargeTech 18000 battery pack costs $299.95 at Amazon.com or at the ChargeTech site.  Is it worth this kind of money?  I've played with Anker chargers that offer a lot of capacity for a fraction of the price.  Of course, they don't offer the AC outlet that this one has but that outlet does not charge nearly as well as the USB ports do.  For an emergency, it could certainly be used but for the cost an LCD display should definitely have been included.
Source: The sample for this review was provided by ChargeTech. Please visit their site for more info or Amazon to purchase.

Product Information
Price:
$299.95
Manufacturer:
ChargeTech
Retailer:
Amazon.com
Pros:

The USB chargers work extremely well
Keeps its charge for a long time
Has a built-in AC outlet
Blue LEDS indicate when USB ports are active

Cons:

AC adapter not very efficient at DC conversion
Four blue LEDs to indicate power level when an LCD percentage indicator would be better
Bulky charger
REALLY expensive