We use affiliate links. If you buy something through the links on this page, we may earn a commission at no cost to you. Learn more.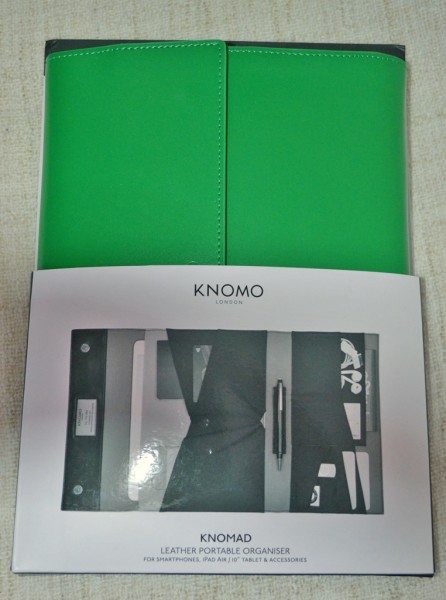 Do you use your tablet at work, carrying it from meeting to meeting or between worksites?  You can carry everything in a large gear bag, but that's probably overkill if you're just walking down the hall to a conference room.  Or if you're flying, you need a compact bag that can fit all your electronic gear, passport, and boarding passes in one easy-to-carry, easy-to-access bag that could slip into a larger carry-on bag when you're ready to board.  You don't always want to carry a huge gear bag, but then you don't want to juggle a tablet, cellphone, papers, and other necessities in your hands, either.  A small case with room for the tablet, phone, and a few other things would be the perfect accessory.  KNOMO has created a gear organizer that can carry all these necessities in a sleek, easy-to-carry package.  The KNOMAD Air Leather Portable Organizer holds your electronic gear and a few other items to get you through a work day or a day's travel.  It's even roomy enough that it could be your only gear bag, if you don't need a laptop.  KNOMO was kind enough to send a KNOMAD Air organizer to The Gadgeteer for a review.  Let's give it a closer look.  
Note:  All images can be clicked for a larger view.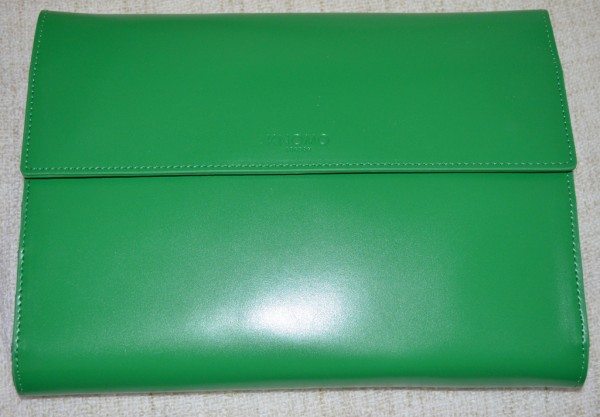 The exterior of the organizer is made of smooth leather with a glossy finish.  The KNOMO logo is embossed on the front flap.  The stitching is color-matched to the leather color, and it is even and straight.
The US website shows the KNOMAD Air is available in Air Force Blue, Black, or Tomato, but the UK website shows the Organizer is also available in Fluro Pink, Clay, and Green, which I received for this review.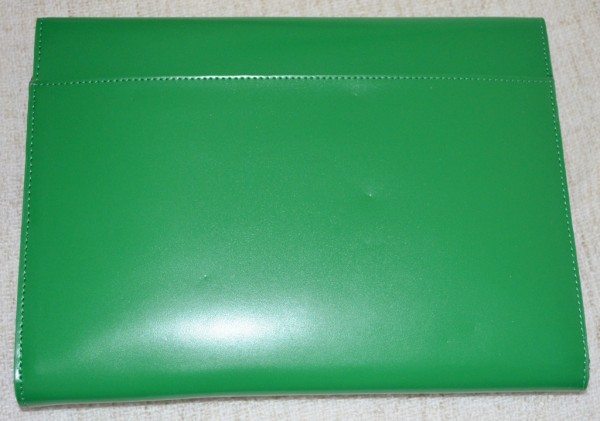 The back of the Organizer has a full-width slip-in pocket to hold folded papers, boarding passes, and the like.
I measured the Organizer at 10.3″ X 7.8″ X 0.8″ thick; it weighs 17.4 ounces on my digital kitchen scale.  It fits a 10″ tablet up to the size of an iPad Air 2.

The KNOMAD is open on the sides.  I prefer a bag with closed sides, so I don't have to worry that a card, pen, or other item could fall out of the bag without me knowing.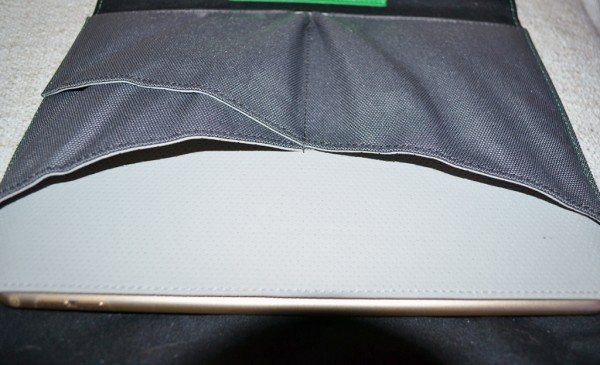 The inside is lined with a black velvety fabric.  Pockets are made of a heavy canvas that feels like a synthetic fabric.  The large, lighter gray area (with the iPad Air 2 behind it in this image) is a perforated suede-like fabric.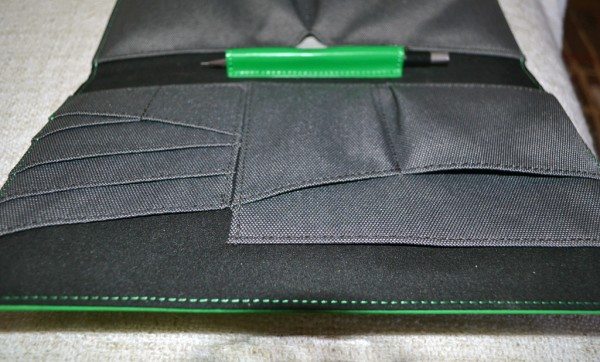 The other end of the bag has multiple pockets made of the canvas material, including three to hold IDs and credit cards, and even smaller ones that can hold SD cards.  There's a leather pen loop at the center of the bag.  You can see a Pentel mechanical pencil stored in the pen loop in the above image.
You'll also notice the green stitching around the outer edges that matches the green leather exterior.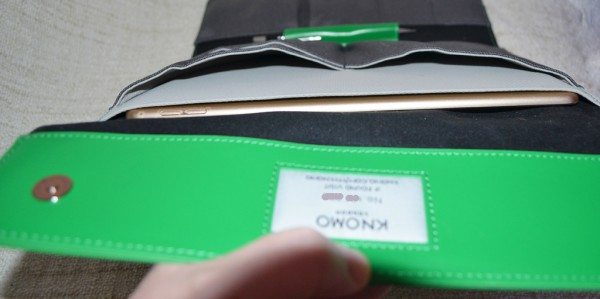 The interior of the front flap has two magnetic snaps; you can see one of them here.  Sewn into the center of the flap is a KNOMO label with a unique ID number and a website  that the finder can use to get your lost KNOMO bag back to you.  All KNOMO bags have this unique identifier that can be used to get a lost bag back to the registered owner.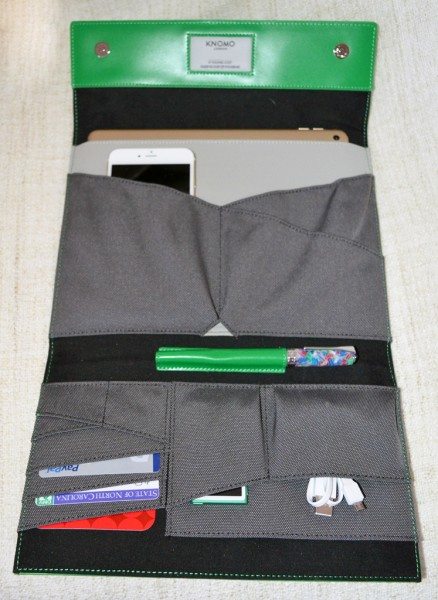 I normally keep my iPad Air 2 in a Smart Cover and a snap-on back cover, but it was too large to fit in the tablet compartment with both on.  I could squeeze it in with only the Smart Cover on, but it wasn't an easy fit.  You'll notice my uncased iPad Air 2 in the iPad slot just under the KNOMO ID label.  (I have it pulled out of the pocket just a bit, so it's easier to see for this picture.)
I normally keep my iPhone 6 Plus in a mophie juice pack battery case, but it was far too big to fit in the phone-sized pocket.  The uncased iPhone 6 Plus fit in the phone pocket without a problem.
You'll notice that the Levenger ballpoint pen I normally carry doesn't fit into the sewn-in pen loop.  You'll need a thinner pen for this loop.  You'll remember the Pentel mechanical pencil in an earlier photo fit well.  You could perhaps go a bit thicker than that, but certainly not as thick as the 0.5″-diameter Levenger True Writer Classic pen shown here.
I easily fit my driver's license and two other cards in the card slots.  You could probably fit a couple of cards per slot.  My iPod nano and a charging cable fit easily in the other big pockets on this end.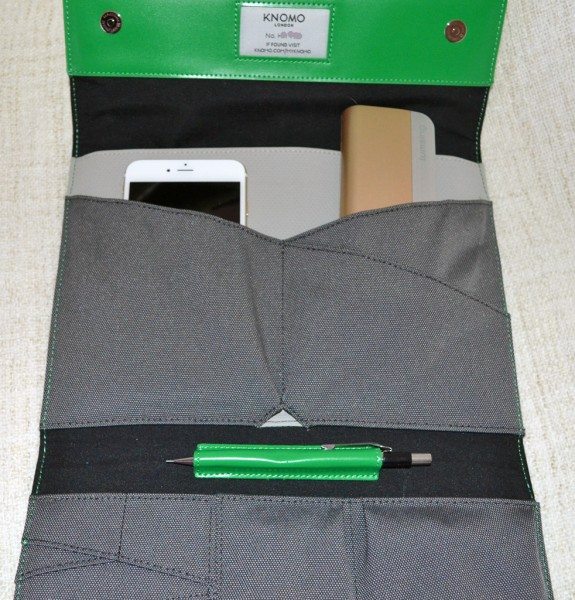 KNOMO sells an optional battery pack that fits in many of their bags.  It has a very slim profile, and it's designed to fit inside the pockets in their bags and organizers.  I didn't receive a KNOMO battery (not included with this bag), so I decided to try the Lumsing battery that I own.  The Lumsing was far too thick and too long to fit in the pocket beside my iPhone.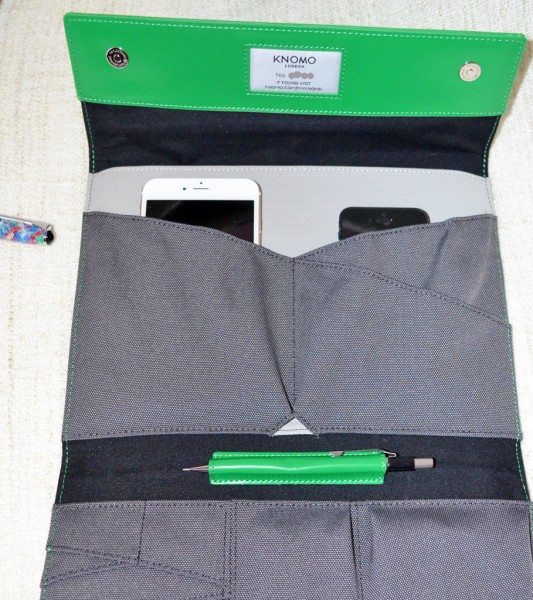 I don't have any other external batteries, so I decided I'd try fitting an old iPhone 5 in that pocket.  The iPhone 5 fit easily and with room to spare.  If you use the KNOMO battery or have another thin battery pack, you can keep it in the pocket beside your phone so you can charge the phone while it's stored in the KNOMAD.
KNOMO says you can also fit a passport inside the Organizer, so it should be the perfect carry-on bag for travel between countries as well as between offices.
When I had the bag loaded as seen above (with the iPhone 5 standing in for a thin battery pack), I could close the bag up with few problems.  I did notice that the magnetic snaps didn't "find" and close themselves as easily as some I've had on other bags.  I often had to fiddle with the snap on the right side of the above image to get it to snap closed.  Once it snapped, it stayed closed.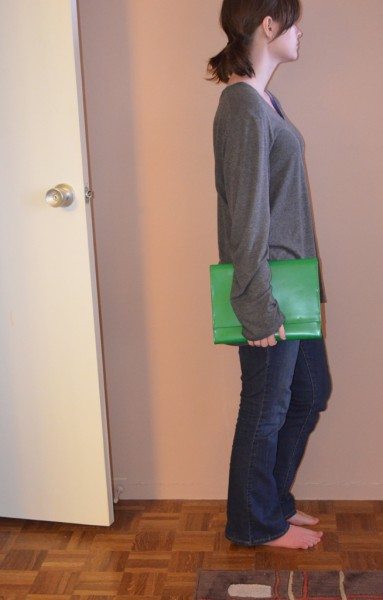 Here's the KNOMAD Air Leather Portable Organizer carried by my 5'2″ daughter.  It's a clutch-style bag, so you'll have to carry it in hand.  There is no way to add a shoulder or cross-body strap to this bag.
The KNOMAD Air Leather Portable Organizer held my iPad Air 2, my iPhone 6 Plus, an iPod nano, and other items, but I did have to remove the bulky cases from both the iPad Air 2 and the iPhone 6 Plus.  It remained sleek and was easy to carry in one hand, even when loaded.  If I had the KNOMO battery pack or another similarly-sized, slim battery pack, I could charge my phone as I carried it in the bag.  It has room inside for your digital travel companions, passport, credit and ID cards, and cables.  The exterior pocket keeps boarding passes or security cards at the ready.  It's a very beautiful, organized travel companion that will work for a journey to another office or "there and back again".
Source: The KNOMAD Air Leather Portable Organizer used in this review was provided by KNOMO.  Please visit their website for more information.

Product Information
Price:
$119.95
Manufacturer:
KNOMO
Retailer:
KNOMO
Pros:

Fits a lot of gear inside
Sleek and beautiful
Optional battery pack lets you charge your phone while it's in the KNOMAD

Cons:

iPad Air 2 and iPhone 6 Plus won't fit without removing bulky cases
Bag has open sides, which may not be a concern for everyone