We use affiliate links. If you buy something through the links on this page, we may earn a commission at no cost to you. Learn more.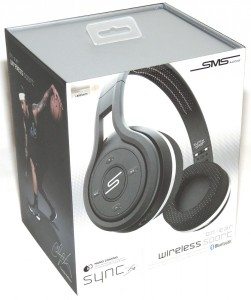 As I have said before, I prefer earbuds, having tried literally dozens of them from stock earbuds to wireless sport headphones to extravagant, handmade monitors and everything in between. I like their small, compact, transportable form-factor for travel, working out, puttering around the house, etc. Be that as it may, it surprises me how many people are wearing larger on- and over-ear headphones (vs earbuds) in the gym lately. I have historically seen those larger form-factors as too big and bulky for working out. The folks at SMS Audio sent me their SYNC by 50 on-ear sport wireless headphones to tryout and see just how they work while sweating to the oldies 😉 .
Note: Images can be clicked to enlarge.

Package Contents:
SMS Audio SYNC by 50 On-Ear Wireless Headphones
microUSB cable
3.5mm auxiliary cable
Hardcase
Microfiber towel
Washable ear-cup covers
When I do my usual cardo workout in the gym, I typically watch a show on my phablet or tablet to pass the time. I have seen many, many tech-devices get thrown from their perch on the treadmill or elliptical due to their owner accidentally catching/yanking the cord of whatever headphones or earbuds they maybe using. Wireless is definitely the way to go and SMS Audio recently released cordless variant of their SYNC by 50's now give you that option.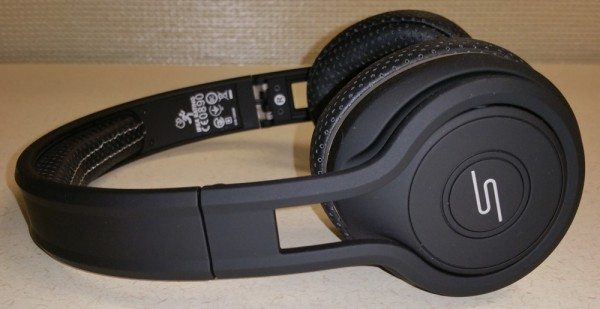 The SMS Audio SYNC by 50 on-ear sport wireless headphones have a 40U rubberized matte black coating that protects it from chips, scratches or smudges. The rubberized surface has a nice look and feel to it and after almost a month of use, shows zero wear.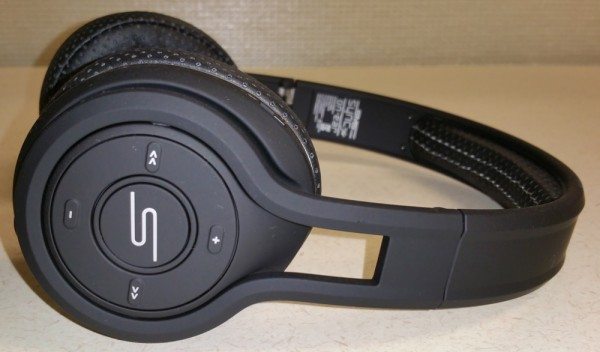 On the exterior of the right ear cup are the controls for play/pause/call answering, volume, and track skip/forward/backward. The controls are easy to use and locate while working out.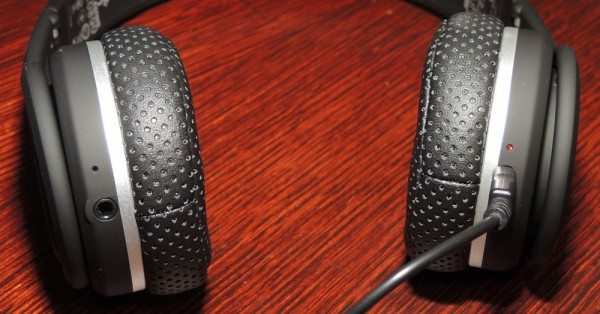 The SYNC by 50 on-ear sport wireless headphones have perforated-leather ear cups and head padding that are made from memory foam cushions making them soft and surprisingly comfortable. You can also use the headphones in wired mode, SMS Audio includes a detachable 3.5mm audio cable with a built-in microphone and remote control. The 3.5mm wired port and microphone are located on the base of the right ear cup. The USB charging port is located on the base of the left ear cup. SMS does not include a charger puck/brick, only a USB charging cable. The red LED indicator light goes out when the headphones are fully charged.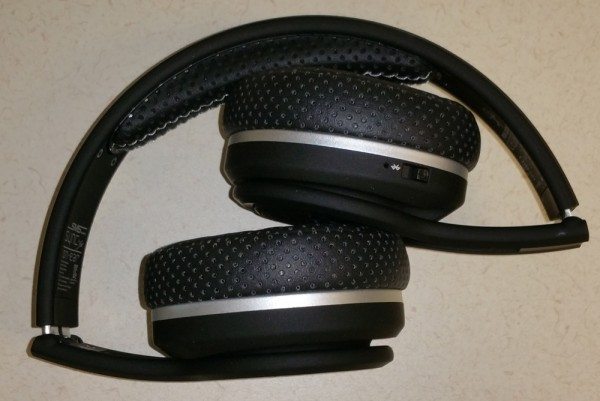 The power/pairing switch is also located on the side of the right ear cup. As you would expect, pairing the headphones with my smartphone (Galaxy Note 4) was a quick and simple process. As you can see, there are hinges on both sides of the headphones enabling them to fold up for better/slimmer transport. The metal hinge mechanism is solid and well constructed.

Even with the ability to fold up, the SMS Audio SYNC by 50 on-ear sport headphones are not small. Here they are pictured with the Jabra Sport ROX wireless earbuds I typically use while working out. The earbuds are lightweight and fit in a pocket of my sports bag where the SYNC headphones and case weigh more than my running gear.
Performance:
The wired and wireless connectivity and sound quality were good for both music, video dialog, and telephone calls. Mids and highs were clear and crisp enough, but the low end was a bit over stated (though it seems like most folks prefer that these days). I listen to a wide variety of music and found it all to be a pleasure to listen to. Video dialog and call quality were very understandable and unmuddled. Though when I turned them up all the way, there was some distortion throughout the three levels.
Battery life was solid. SMS Audio promises 10 hours of battery life and I would say I got that. Though I did not track time precisely, I did get two weeks of fitness (and cleaning the kitchen) use out of them before recharging them. Charging time for the headphones was a couple of hours. 
Bluetooth range went to the other end of the house, through a couple walls before the headphones completely lost the signal. The sound started breaking up after about 20 feet.
Comfort and fit:
As I said, I was pleasantly surprised how comfortable and non-clumbersome these on-ear wireless headphones are. They fit very well and did not move or flop around while I was working out (elliptical, jogging, weightlifting). They hugged the sides of my head with just the right amount of force. They did make my head warmer than my earbuds would but not terribly so. They also got sweaty, but were no worse for the wear. The headphones have a nano-coating that helps them achieve their IPX4 rating, giving them some protection against moisture, sweat, and liquids. That said, after a bit of sweating my wireless sports earbuds would begin to slip/fall out, where as the SYNC headphones stayed rock solid in place.

The SMS Audio SYNC by 50 on-ear sport wireless headphones are available in black, pink, blue, yellow and orange.
Bottom line, I like these wireless headphones and their larger, on-ear form factor. SMS Audio has done a good job creating a comfortable, sport-centric wireless set of headphones. The SMS Audio SYNC by 50 on-ear sport headphones sound good and are engineered to withstand the hot and sweaty life working out in the gym. While I do not see using them on long runs during the hot summer, I will continue to use them indoors while on the elliptical or lifting weights. If you are in the market for a wireless set of on-ear headphones, the SYNC by 50 are definitely worth considering.
Source: The sample for this review was provided by SMS Audio. Please visit their site for more info.
Product Information
Price:
229.95
Manufacturer:
SMS Audio
Pros:

Comfortable, solid fit
Good sound and call quality
Easy to operate controls
Nice construction
Excellent battery life
Detachable cable for wired use
Sweat/moisture resistance

Cons: