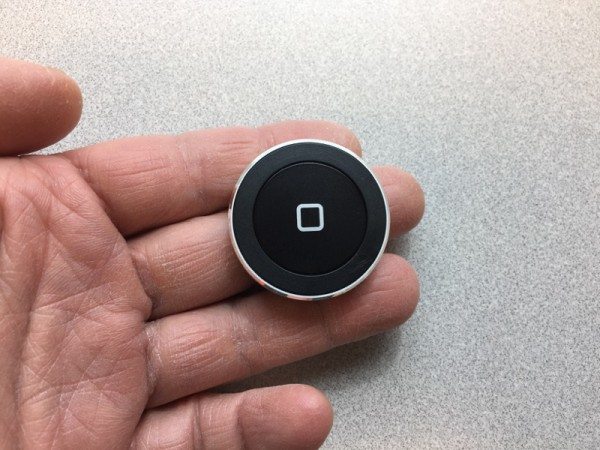 Recently, Julie and I reviewed the iBolt Command Remote, a Bluetooth button that you can control various aspects of your smartphone.  It was okay, but had some shortcomings especially for the iOS version.  Today, I've got the Satechi Bluetooth Button Series (Home Button) to review.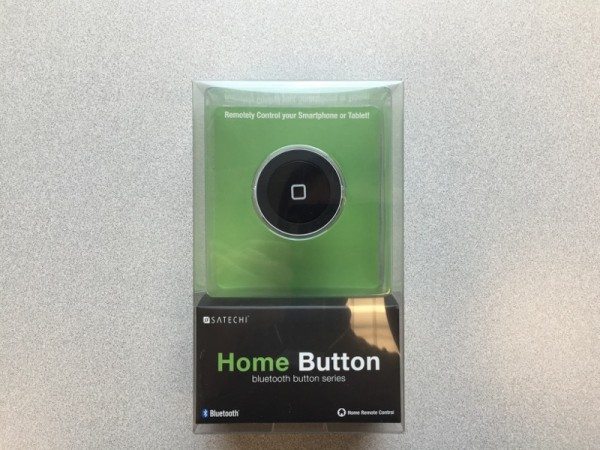 In the box, you get the remote, an adhesive pad, instructions, a lanyard, and an odd-shaped holder that attaches to your steering wheel.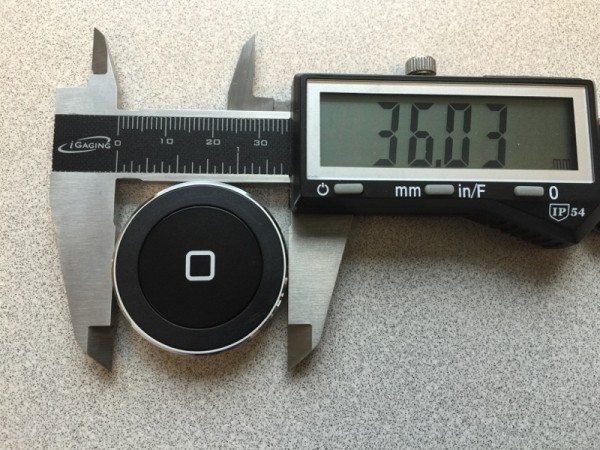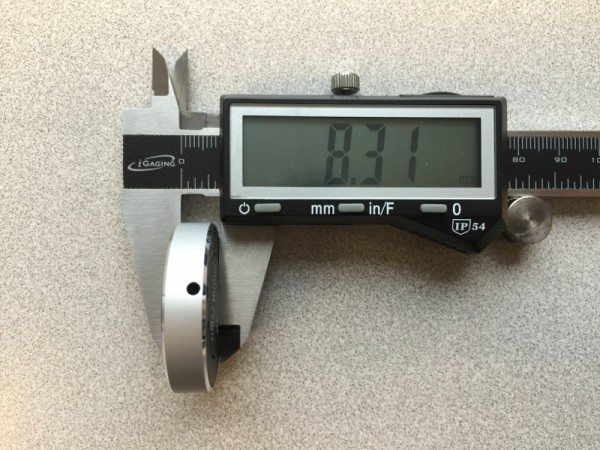 The remote measures about 36mm across and just over 8mm thick.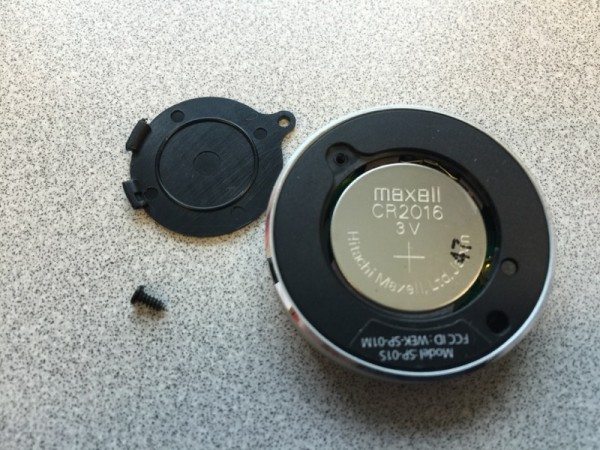 On the back side, you'll find a recessed pairing button, and a single screw that secures the battery cover.  The remote takes one CR2016 battery.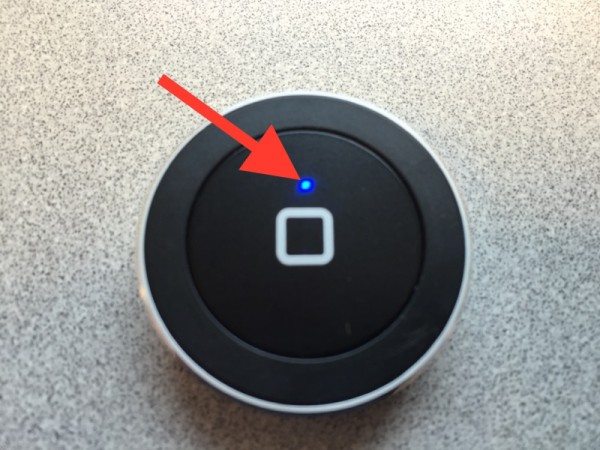 When pairing, a tiny blue LED glows from behind the round button (see red arrow).  Unlike the iBolt Command Remote, no additional apps are required.  On iOS, the button mimics the home button.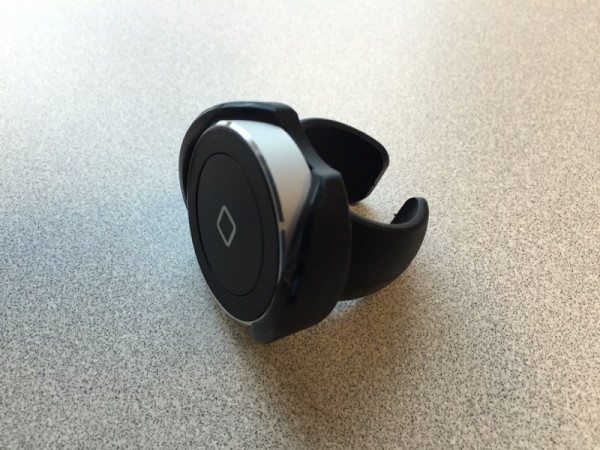 Now, about that funny holder?  The remote snaps right in.  The holder is made of a bendy plastic that flexes a bit.
At rest (non-flexed) the holder measures about 26.5 mm in diameter.  It will accommodate larger diameters due to the bendy material.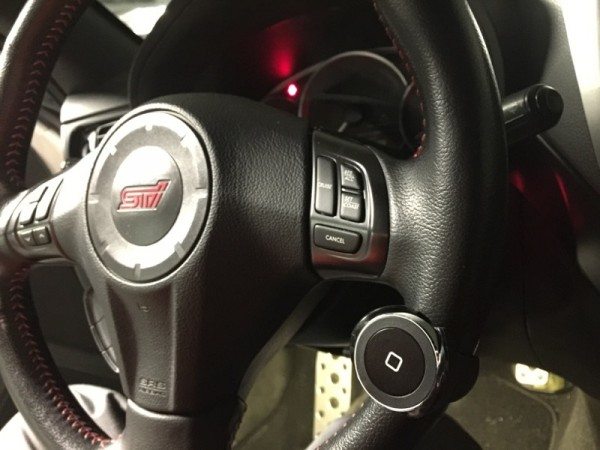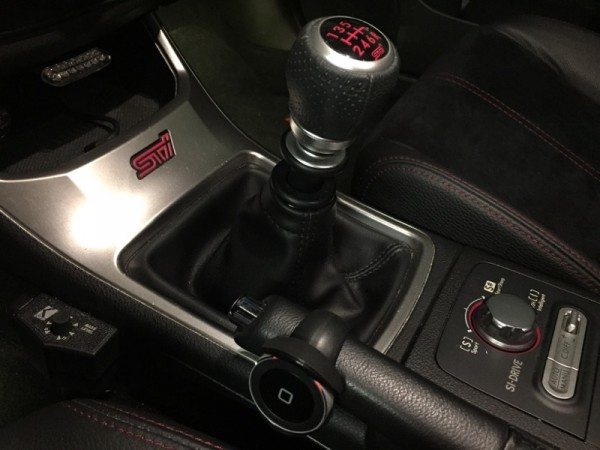 Here's the remote attached to my steering wheel, and my handbrake.  It fit snug in either location.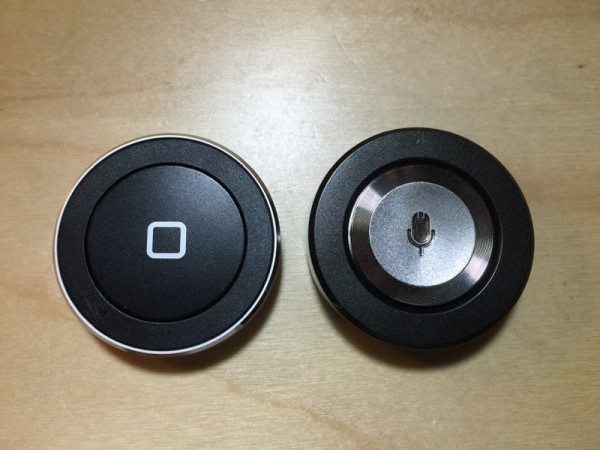 By now, you're probably wondering how the Satechi model (left) holds up against the previously reviewed iBolt Command (right).
Similarities:  For starters, they're nearly exactly the same size.  In fact, the iBolt fits in the steering wheel holder perfectly.  They both take a single button battery.
Differences:  On iOS, the Satechi can only control the "Home" button.  That's it.  The iBolt could control Home, some media functions, or camera shutter… and even more on Android.
The Satechi doesn't require a separate app, and has no power switch.  One blue LED for pairing activity.  The iBolt needs an app for full functionality, and has a sliding power switch.  Plus, the iBolt has a two-color red/green LED for pairing and transmit status… and is even switchable for power savings.
There are two BIG differences that are a bit of a big deal.  If your phone is locked, you have to press the Satechi button TWICE:  Once to "wake", and a second time to launch Siri (for example).  This is subtle but important difference vs. the iBolt, where you have to "wake" it once and ONLY once, to re-establish pairing after you come back into range.  After that, the iBolt copies the Home button perfectly.
Lastly, the Satechi button is a mushy mess.  There's hardly any tactile feedback.  The iBolt gives a satisfying CLICK when you press it.
If you really need a bluetooth remote to activate Siri, you may be best off with the clever steering wheel holder from the Satechi Bluetooth Button Series (Home Button), and the iBolt Command Remote instead.
Source: The sample for this review was provided by Satechi. Please visit http://www.satechi.net for more info or Amazon to order.
Some of our links in posts like this one are affiliate links, which means that we may receive a small commission on purchases at no cost to you.