We use affiliate links. If you buy something through the links on this page, we may earn a commission at no cost to you. Learn more.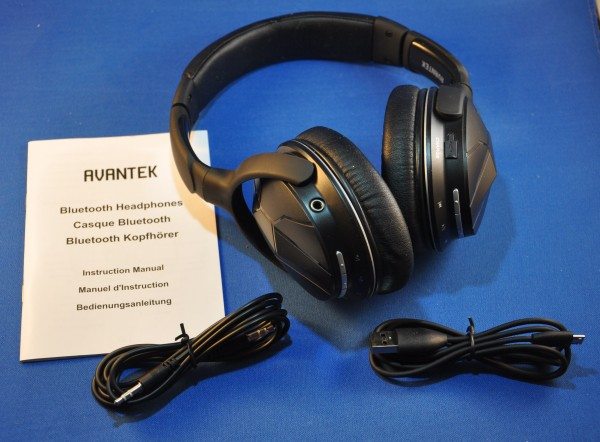 I have a strong preference for over-the-ear headphones, rather than earbuds or on-ear models. I also tend to get so involved in whatever I'm listening to that I tend to walk away from the source without disconnecting. This is not good for cables or lighter music sources that are not attached to my person. So, when Julie offered the team the Bluetooth Avantek headphones, I jumped at the chance, knocking my iPad out of the stand yet again. I hate wires!
Note: Photos may be tapped or clicked for a larger image.
The Avantek Bluetooth Headphones are rechargable via a covered microUSB port with the standard cable included, but can also be used with a 3.5 mm AUX cable (included) without power. With (according to the box) "24 hours of playing time on a single charge," however, why would you need that? I'm not sure, but there may be a time you're away from power, or you have a device that has Bluetooth issues or something. Nice to know these 'phones aren't going to be useless in that case.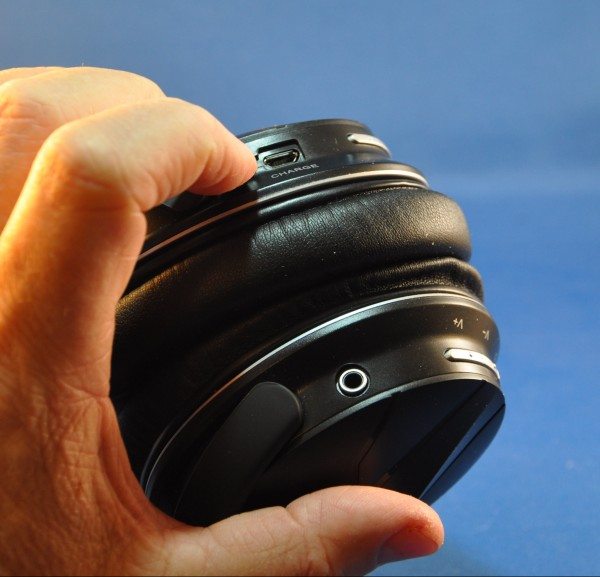 More from the box:
• 40mm neodymium drivers deliver deep bass, clear mids, and crisp highs.
• Bluetooth 4.0 technology enables ultra long wireless working distance: up to 3 m/10 feet
• Plush ear pads gently hug your ears and provide long-lasting comfort
• built-in microphone for hands-free calling
The controls are divided between the two sides: the left side has mic, AUX jack, and power/volume buttons, while the right has the play/pause controls and charge port. The buttons which control these features are a silvery plastic, and there are molded dots on the raise/lower volume and the fast-forward/rewind buttons so that your fingers don't have to wonder which is which.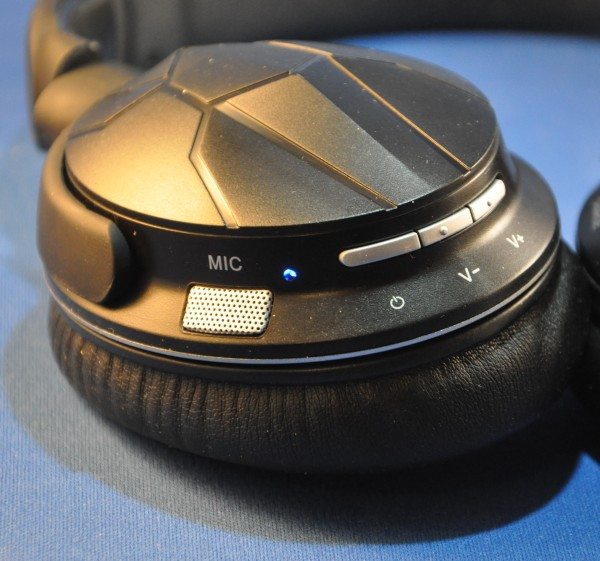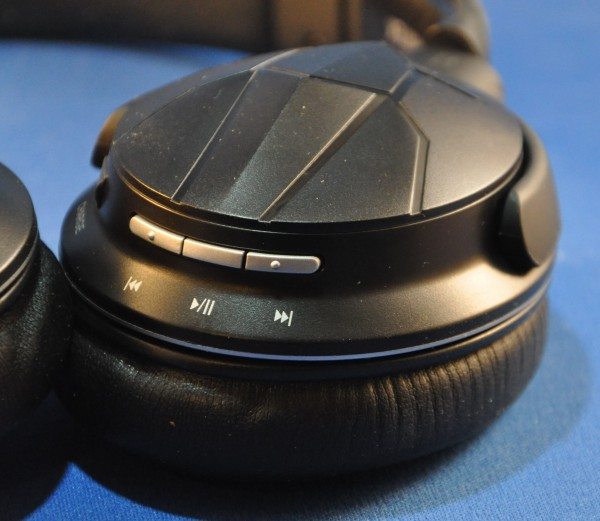 The headband and earcups are nicely padded and covered with a black fake leather. There are no exposed edges or stitching. The seams across the headband are tight and even, and the ends are nicely tucked into the adjustment clutches at either side.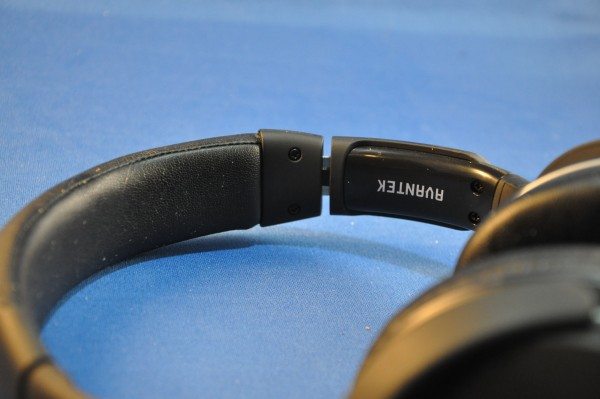 The earcups themselves can be turned to lay flat (they come this way in the box), but can only be twisted the other way about 15°. There is no twisting, reversing, or flashy DJ-style contortions this set of cans will tolerate: You just put them on and listen, then take them off and put them away in the same horse-shoe shape. (These are not going to be a good set for young children to share.)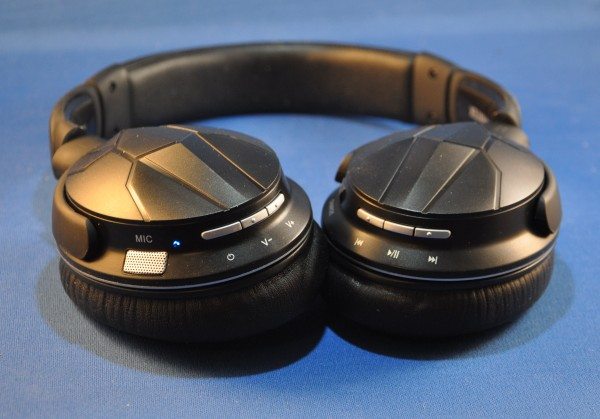 The headphones alone weigh 7.5 oz (measured on a digital kitchen scale) and comfortably fit over my ears, offering a good bit of sound isolation. Once on, you quickly forget they're there, and just enjoy the sound. When music is playing, I feel completely surrounded. Immersive sound is what the headphone experience has always been about for me. As a musician, I want to hear everything: the skritch of a finger across a guitar string, the pianist humming to himself while playing a bluesy melody (part of the charm of artists like Oscar Peterson), the occasional flutter of turned pages of music. This is the true live feel of music, and normally lost to other environmental noises through speakers.
For video, sitting across the room from my computer/monitor/Netflix setup (we don't have a real "TV") while my wife was out of town, it was nice to have the volume up loud enough to hear low dialogue and not disturb my daughter, studying in her room down the hall. And not having to walk over to turn up or down the volume when scenes changed was really great. Playing a late-night tank battle on my iPad meant not having to work around the knob of the headphone cable when using the controls. And, while listening to video podcasts, I could cook, clean up my desk, or change my position easily, without having to worry about pulling over the iPad on it's stand.
The lag associated with Bluetooth devices when you change the distance between playback and source unit is always irritating. It's rarely noticed with music, but video is glaringly obvious. I noticed some lag with some talking head podcasts (much of it from the TWiT network – iPad Today, i5 for the iPhone, Tech News Today), which can be irritating, but much of the time I'm "watching" those, shows, it's only mildly beneficial to have the talking in sync with the sound. It's rarely off by more than half a second, and I usually listen at 1.25X normal speed. Movies and action shows, however, can look like a bad foreign overdub. Pausing long enough to buffer the sound and let it re-sync usually fixes that. I did find that if I had a lot going on, it was better to use the AUX cable, rather than Bluetooth. This made the sound perfectly in sync from all devices.
I also tested the phone capabilities of the unit. Pairing with my iPhone, I called my mom and we chatted for a while, all the time while using my iPad and MacBook. None of the noise from those units disturbed the call, and she never had trouble hearing me. I'll probably start using them instead of the single ear Bluetooth unit I've been using as hands free, since the sound was so much better, and I didn't have to repeat myself.
All in all, I liked these headphones as much or, maybe better than the inCase cans I purchased a few years ago. While the sound is similar and they're both over-the-ear, the added volume buttons, integrated mic, and wireless connection makes quite a lot of difference.
Updates 03/31/16
A year later, and I cannot imagine not having these cans. When I'm in our family room with an iPad and a MacBook, I can watch a podcast on one device and type on the other device, without missing an alert on the "work" machine. How? By connecting to one with a wire, and the other via Bluetooth. So easy! And it blocks out my girl's media and conversation in the next room, where they have dueling sewing machines!
Source: The sample for this review was provided by Avantek. Please visit their site or Amazon to order.
Product Information
Price:
MSRP $130 - current price $60
Manufacturer:
Avantek
Retailer:
Amazon (Avantek has a web store there)
Requirements:
Pros:

Well made
Rechargeable (with good ol' USB!)
Good sound insulation in ear cushions
Can be used wired
Works with phones

Cons: