We use affiliate links. If you buy something through the links on this page, we may earn a commission at no cost to you. Learn more.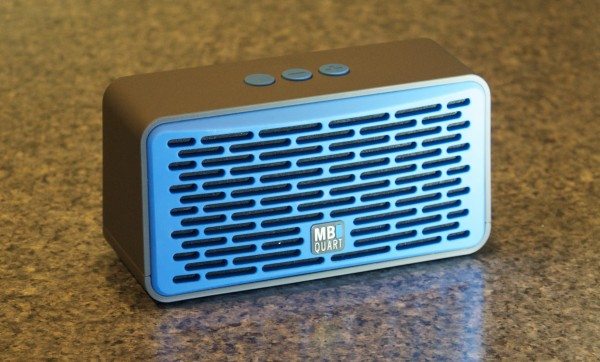 In the continuing expansion of the Bluetooth speaker market, I have noticed a few trends. There are those designed for personal, near-field listening. These boost the sound from your tablet or smartphone enough that you can hear it as a bubble around your person, but those further away hear it as tinny noise. Next, there are those at the far end, which mimic (or actually replace) large, party-space sized areas. You can sit one of these in the middle of a gym and control the sound for everyone. The ever-changing middle is where a lot of manufacturers are aiming, and there's a grey area between the sweet spot of room-filling/low bass, and battery life/small footprint. The QUB from MB Quart aims to fit into this area. I have been testing it for a few weeks now, and am ready to share my results.
Note: Photos may be tapped or clicked for a larger image.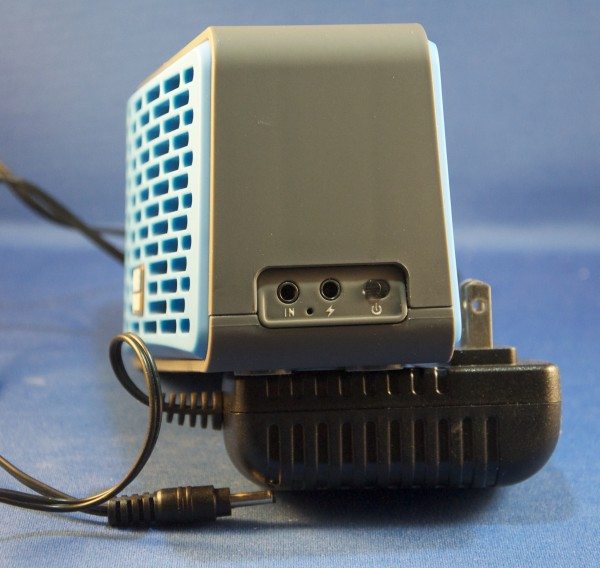 The QUB speaker is brick shaped at just over 6 inches on the long edge. The sides are slightly tapered toward the top, with the bottom being 2.5 inches and the top 2.25 inches over a height of 3 inches. The frame is a soft-finished plastic in a dark charcoal, and the grill is available in either bright red or a medium light blue. (Hey, I live near Duke and UNC Chapel Hill. We know our blues!) On the top are three buttons – two for volume and one that activates the speakerphone or the Bluetooth pairing. There is no button to control playback start/stop/pause or next/previous song through the speaker to your device. The front grill has a small logo in the center bottom. On the right side (to the right facing the front) on the lower side is a control panel with two ports (for input and charging) as well as the on/off switch. (You can connect via AUX cable if your device doesn't have Bluetooth. There is a cable included.) There is also an access pin-hole to manually reset the unit.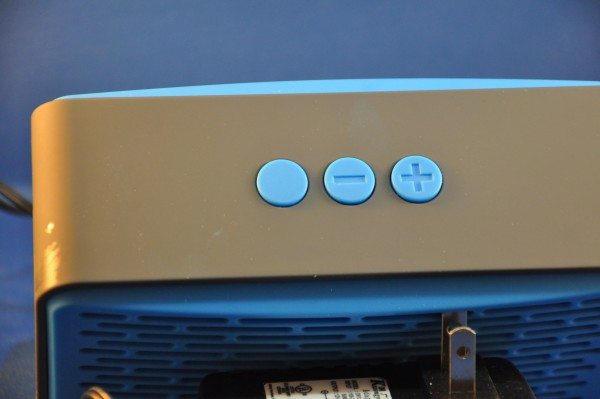 The sound quality was surprisingly balanced for such a small unit. I set it on my family room counter paired with my iPad Air 2 while I read the news and ate breakfast this morning. Right now, Rachel Yamagata is singing "Stick Around" at a fairly loud volume – it's really uncomfortable, even across the room – but the sound, instead of distorting, is delivering clear vocals and decent bass separation. Yes, I can tell it's not a live performance, and there is more separation in the mix when listened to through headphones, but for sharing music with a room full of people, it's perfect. Turned down to a comfortable level, I can hear each instrument in "How Old Are You, my Pretty Little Miss?" from Laurie Lewis and the Right Hands' MerleFest recording. Guitar, fiddle, and banjo are balanced, and come to the fore without being overbearing during solo runs, just as the audio engineer mixed it. I also listened to several hours of podcasts last week, as I did some photography editing, caught up on personal email, and organized my workspace. I had the Quart on my desk, and paired with my iPad and video streaming through Downcast at 1.25X speed. Even with the slight speedup, speech was still clear.
Pairing was easy with my MacBook Pro, iPhone and iPad. It's tough to change between devices with most Bluetooth devices, and this speaker is no different. If you have ever left one source on and tried to use your Bluetooth device on a different source, you'll be well aware of this issue. Either you have to sleep or turn off Bluetooth on the actively paired device, or remove and re-establish connection with the second source. Some devices enable holding two or more devices and allow switching between them, but it's not as common as I'd like.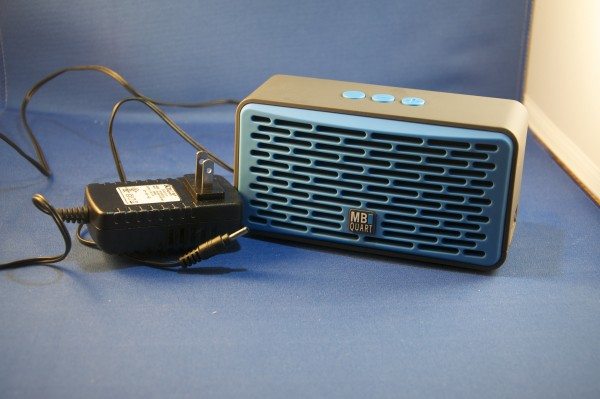 There is the occasional lag issue with some devices. With my MacBookPro connected to a 23″ monitor playing an episode of "Miss Fisher's Murder Mysteries" through Netflix, the voice and video would get out of sync, which really irritates me. This sometimes happens with hard-wired speakers, but it seemed to happen a bit more often with the Bluetooth. It's not a big deal, unless you're watching something that has a lot of action coordinated with background sounds. On a show like "Arrow", I couldn't bear it and plugged in the regular sound system, which instantly cleared up the lag.
The single largest drawback I found with the MB Quart is the charging plug. It is a wall wart with a hard-wired connection to a round adapter. The battery lasts a good while – it's rated at 12 hours, and I was never able to run it down in a normal day – but why, oh why can't manufacturers just use the standard microUSB, rather than the long-in-the-tooth coaxial one? Coax DC chargers can be a wide swath of sizes, voltages, and even polarity. Getting a replacement, or an additional one for a different location is difficult, at best. It really spoils a nice package.
The appearance is pleasing, and, while it's not water-resistant, it's not going to suffer from a mild spill, due to the four "feet" on the bottom that holds it off the surface. At $200 MSRP, it's on par with similar units such as the Beats Pill, the Jambox (original), or other mid-range units.
Source: The MB Quart QUB speaker for this review was provided by MB Quart. Please visit their site for more info.
Product Information
Price:
$199 MSRP
Manufacturer:
MB Quart
Retailer:
Available at retailers and online retailers Amazon, Newegg and others.
Requirements:

Bluetooth or AUX source
US plug for charging

Pros:

Wide range of playback with little distortion
Nice, tight package
Control buttons are easily reached and activated

Cons:

Old-fashioned DC charger
No playback controls, other than volume and speakerphone