We use affiliate links. If you buy something through the links on this page, we may earn a commission at no cost to you. Learn more.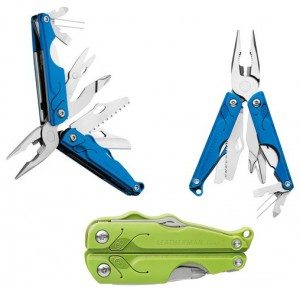 When I was a kid, I loved taking things apart to find the magnets, gears and other cool little components. I even had my own little toolbox which I kept under my bed where I stored tools and parts that I had scavenged. I would have loved a multi-tool in those days. The folks at Leatherman must have realized that kids like to use tools too, because they have a new multi-tool that they have designed just for kids ages 9 and up called the LEAP. The LEAP features 13 tools including pliers, a saw, wire cutters, scissors, a ruler, tweezers, screwdrivers and more. The tools have safety locks and the Glass-filled Nylon handles have been designed to provide a secure grip. The LEAP also ships with a parent-installed knife blade that can be added by Mom or Dad when the child is ready for more responsibility. With a 25 year warranty, the Leatherman LEAP looks like a good starter multi-tool for kids.
The LEAP is available in red, blue or green for $49.95 through Leatherman or for a few dollars less at Amazon.