We use affiliate links. If you buy something through the links on this page, we may earn a commission at no cost to you. Learn more.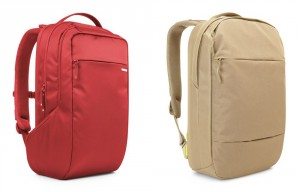 Wear all the bags!  I've always been a fan of Incase backpacks.  I've used one in the past when I used to travel daily on public transportation, and it kept my tech gear protected.  This past month Incase was kind enough to send me their ICON Pack and City Collection Compact backpack along with some extra goodies to review.  Let's take a look at how they held up.
Note: All images can be clicked on to view a larger size.
Incase ICON Pack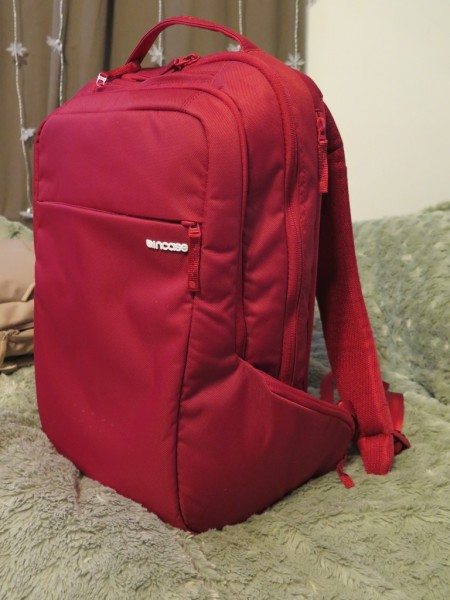 The ICON Pack was sent to me in a nice vibrant red color.  It measures 19in x 13in x 9in.  It's accommodating for a 15in Macbook Pro as well as an iPad and plenty of other items.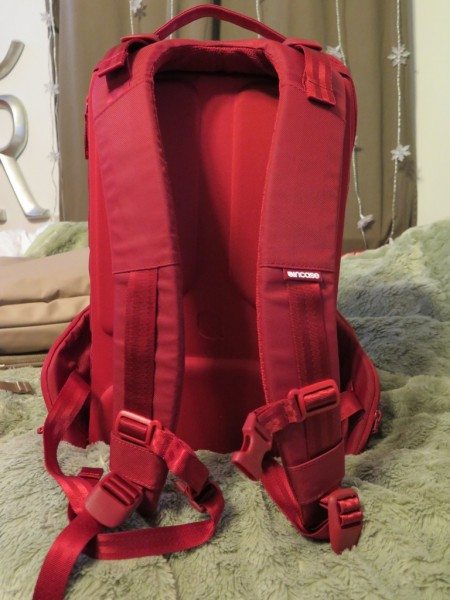 The bag is made of durable 840D nylon.  The back straps are very adjustable, and can wrap around the torso with a buckle.  Great for long walks or a daily commute.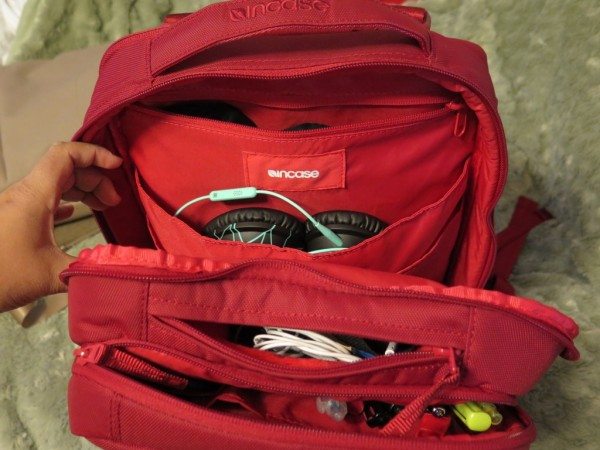 Inside the bag are a ton of smaller compartments. I was able to fit full sized over the ear headphones, cables, notebooks, pens and extra gadgets.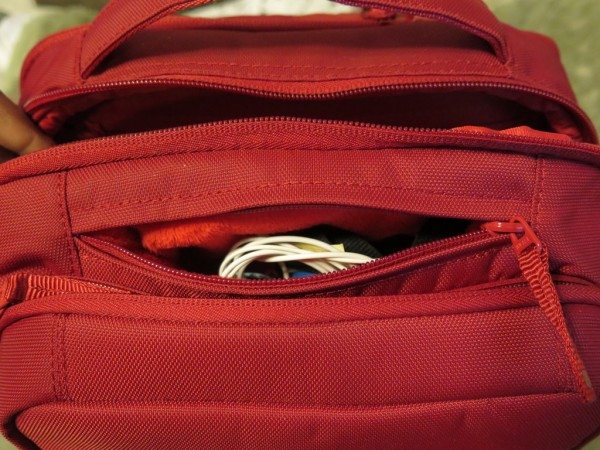 The top has a smaller zipped compartment for keys or cables.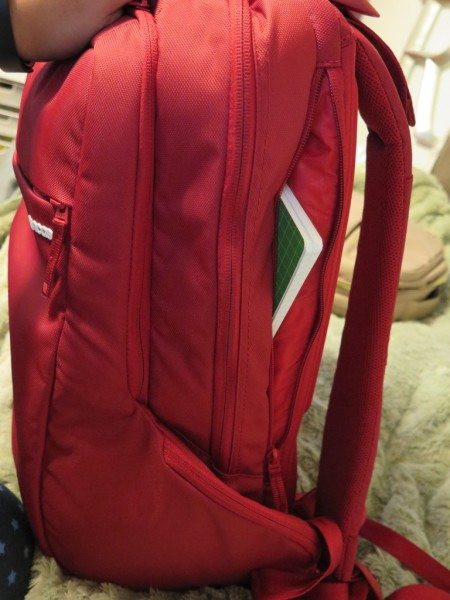 The side of the back near the back has space for an iPad or a notebook.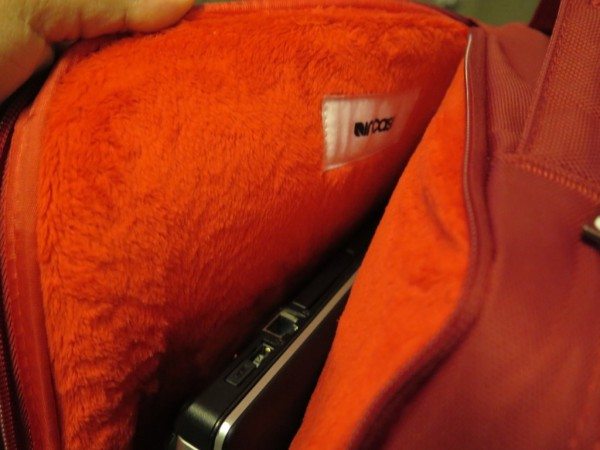 My favorite part of the bag is the soft, fuzzy interior.  It's super lush and protects any laptop or device you put in.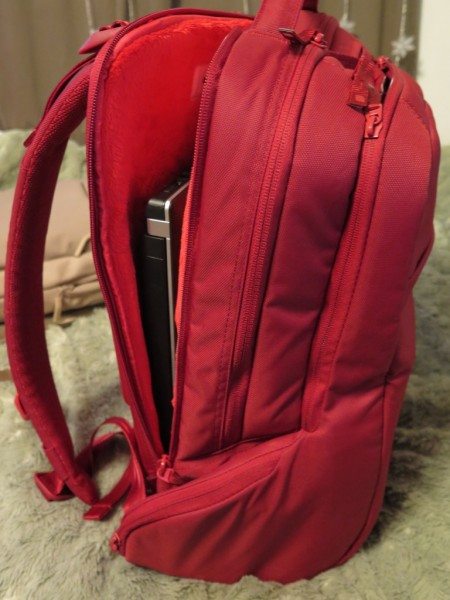 I found the bag to be super big for my 14″ Lenovo laptop.  I think you can easily fit a 17″ notebook in the back pocket!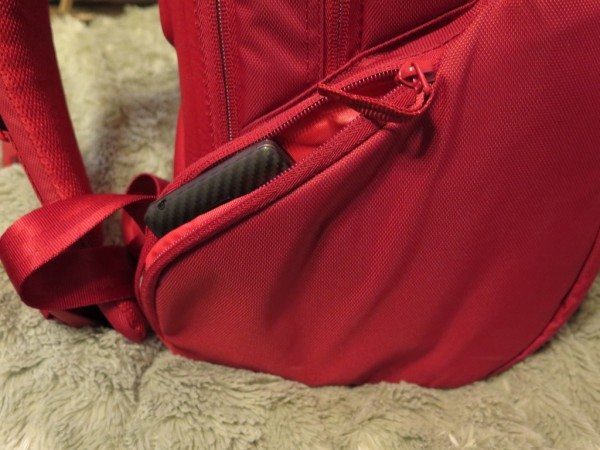 On either side near the hip pocket are more compartments, useful for a mobile phone or wallet. You can buy the ICON Pack for $199.95.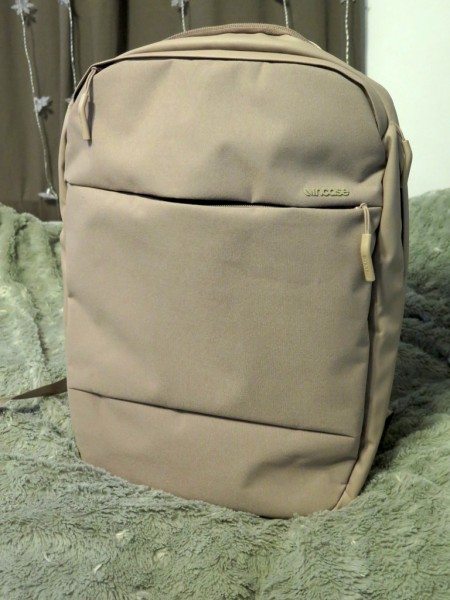 Incase City Collection Compact backpack
The other bag I wore for a while was the Incase City Collection Compact backpack in dark khaki.  This was slightly smaller, but the build quality was just as great.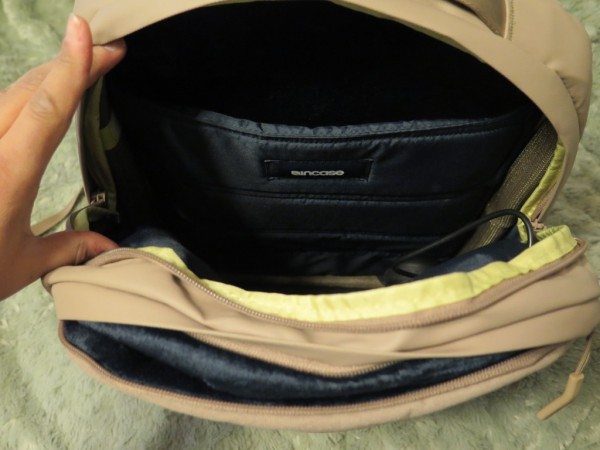 The dimensions are 19in x 14in x 4.75in and it's made of 270 x 500D blended weave polyester.  It's also made to fit a 15in Macbook Pro or similar, and the inside compartments are plentiful.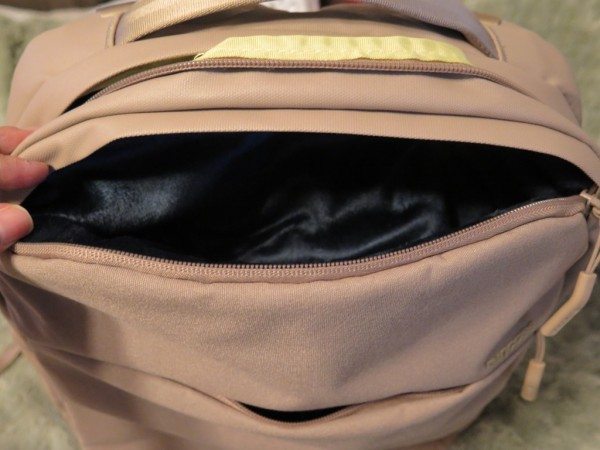 Here's that soft plush interior again that I really love in a dark blue-nearly black color.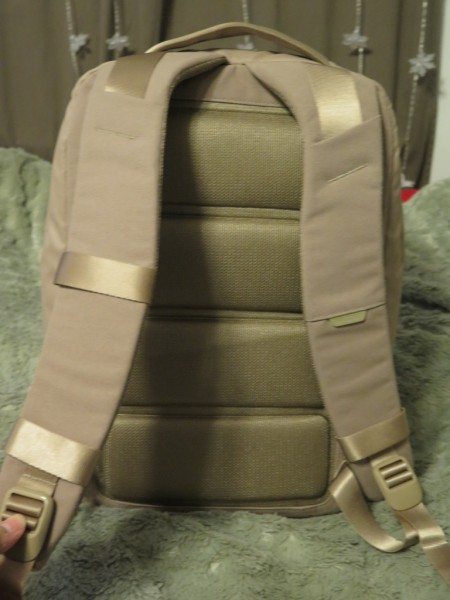 The back straps are super comfortable and adjustable. This didn't come with a strap for the torso, and also didn't have as many buckles to adjust.  Still super sturdy and sat well on my back.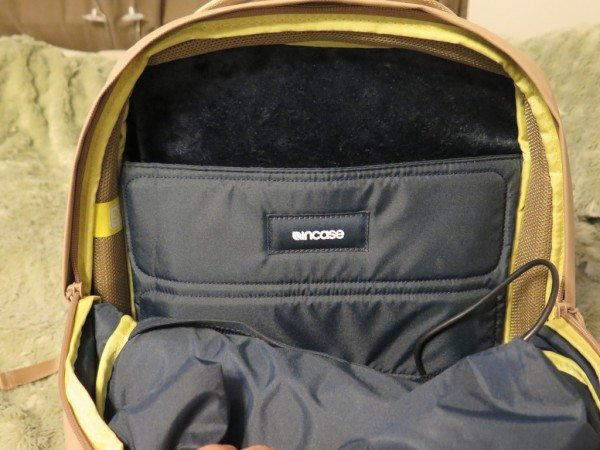 Here's another view of the interior with plush lining and extra pockets.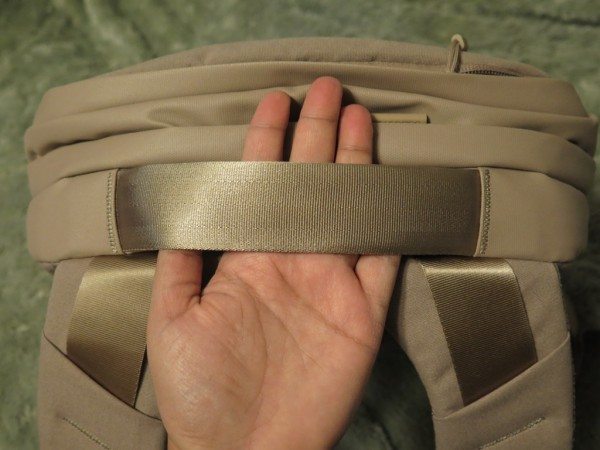 Here's the super durable nylon carry strap.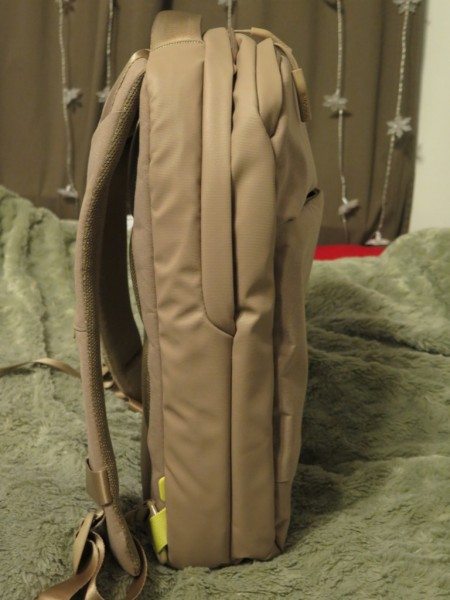 Here's a side view, showing that it's a big thinner than the ICON backpack, sans hip pockets. You can buy the City Backpack for $129.95.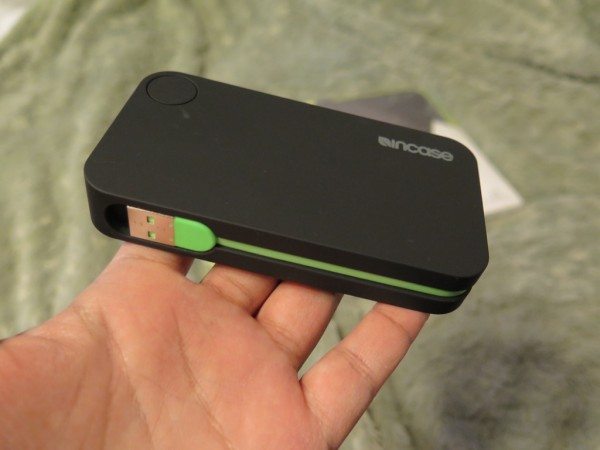 A bonus that was thrown in with the bags is the Portable Power 5400 battery pack. It's a 5,400 mAh battery with dimensions of 7.5in x 4in x 1in and the outside is made of a soft-touch coating.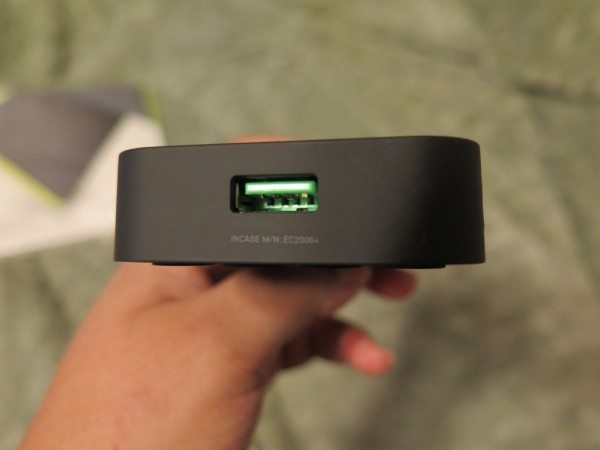 On the far side is a USB 2.1-Amp output for any mobile device, including iPhone, iPad, or Android device.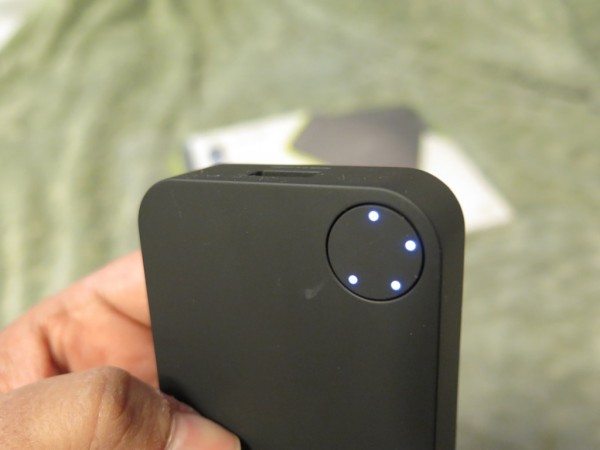 On this side is an LED indicator as to how much charge is left.  I got about one and a half iPhone 6 Plus charges from this little guy.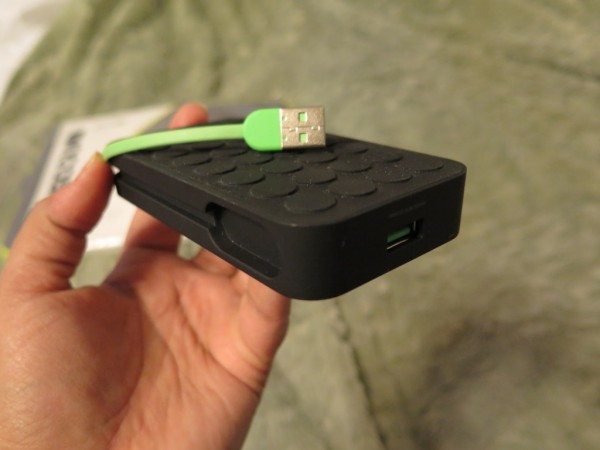 The charging USB port is nicely hidden on the side. Unfortunately the USB cable is super short, so you'd need to use a USB cable extender or plug this into a nearby USB port on a computer to charge it. You can buy the Portable Power 5400 battery pack for $79.95.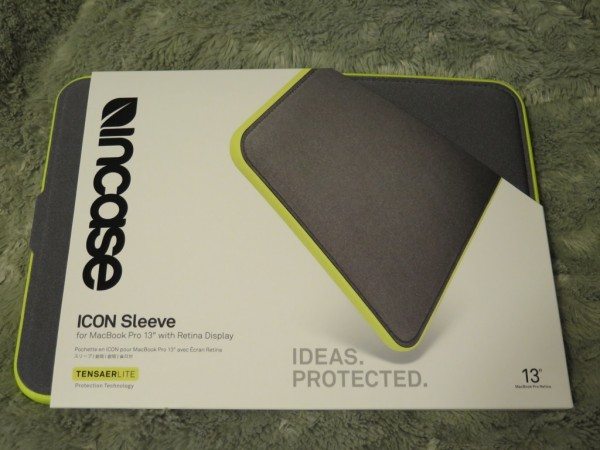 Incase ICON Sleeve
Another surprise I received with my review items was the Incase ICON Sleeve. The dimensions are 16in x 11in x .5in and it's made of Tensaerlite and Neoprene.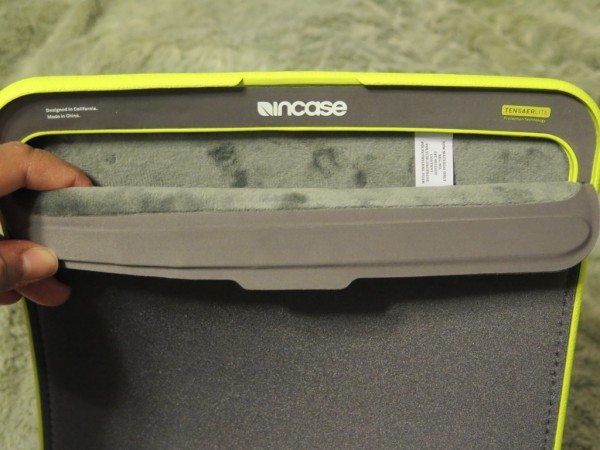 Here's that lovely plush interior again in a nice grey color to match the case.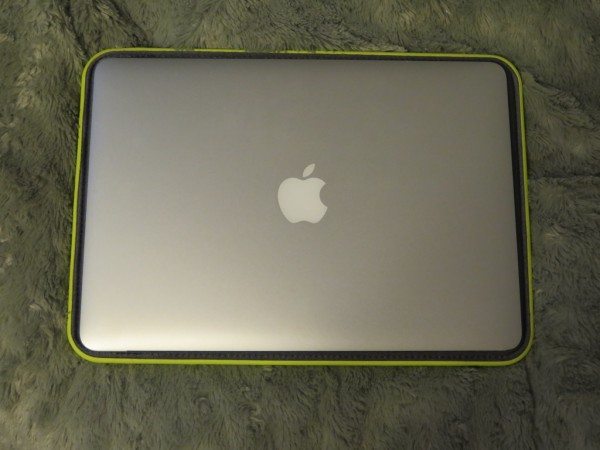 This case is advertised for the 13in Macbook Pro, but since I have the 13in Macbook Air, I figured it would fit so gave it a try.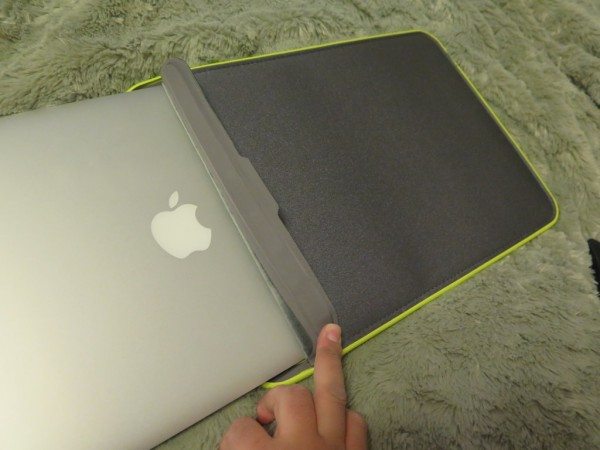 Woops, the fit was so snug that I had trouble pulling the notebook out of the case!  I definitely think it's great protection anyway, since the Neoprene is super thick and cushioned. You can buy the ICON Sleeve for $69.95.
Incase has a great line of bags that have been durable, comfortable, easy to clean, and lasts forever in my opinion.  If you need a roomy bag with extra straps for long commutes, definitely go for the ICON backpack (available in red, grey or black).  My height is 5'4″ and found the bag a bit long for my back, but a taller person would find it a great fit.  I found the City Collection Compact backpack just right even with all my stuff in there. (It's available in black or dark khaki). The look is great for guys or gals at any age.  The simplicity of the colors and designs will look good no matter what you wear, and if you're at work or at school. The excellent quality and craftsmanship make the bags worth every penny!
Updates 08/13/15
I've been using the City Collection backpack since this review. It's so comfortable, can fit all of my tech gear for work, is great when it rains, and I always get compliments regarding the color.
Source: The samples for this review have been provided by Incase. Please visit their website for more info.
Product Information
Price:
$99-$199
Manufacturer:
Incase
Requirements:

Gadgets that need holding

Pros:

comfortable
lightweight
durable
fashionable

Cons: