We use affiliate links. If you buy something through the links on this page, we may earn a commission at no cost to you. Learn more.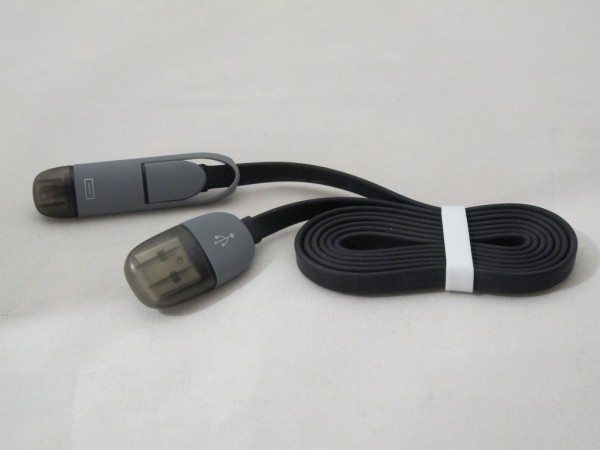 If you're like me, you may have devices that have different power/data connections, the most common being the Apple Lightening connector and the more standard µUSB connector.  In my case I have an iPad mini and a Moto G phone, both of which I carry with me most of the time.  This means I have to also carry along two sets of cables to charge the devices while on the road.  Boxwave tries to make that easier by combining the two connectors into one cable.  Great idea, if it works.
I've purchased multiple aftermarket Lightening cables and all of them malfunctioned either immediately or within a short amount of time.  I recently bought a three pack in assorted colors and none of them worked from the get go.  Two of them provided no power to my mini and one I gave to my daughter for her iPhone actually started smoking at the connector.  I had about given up until I was offered the iDroid cable for review, from Boxwave.
I've known about Boxwave for a long time, having purchased many of their accessories for my Palm devices.  All of those products were quality made and worked for me until I retired my last Palm device.  I felt confident that the iDroid would be a well made and needed accessory for my gadget bag.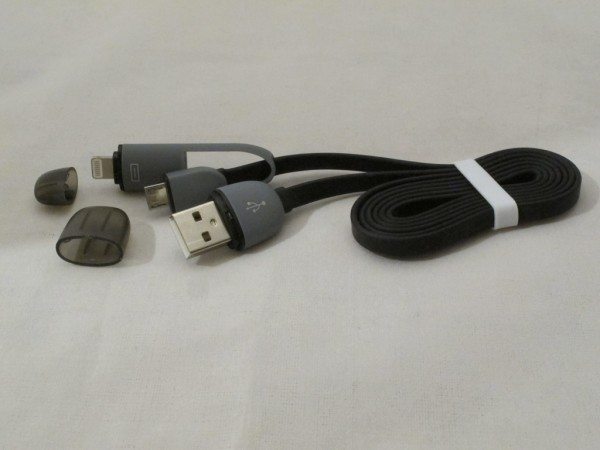 The flat, about 3 ft long cable, has a USB connector on one end and a combination microUSB plus Lightening connector on the other.  When used for an Apple device, the micro USB connector plugs into the back of the Lightening connector, which when not used is held captive on the cable.
When used with my Moto G phone, the cable charged the device and also worked to transfer data to my PC.  However, when I tried to use the cable with my mini, I ran into a problem.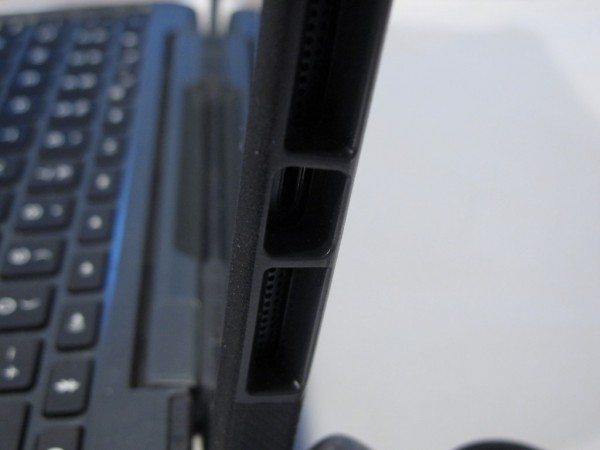 I have outfitted my mini with a Zagg rugged portfolio case.  In the above photo the cutout for the Lightening connector is in the  middle.  I have no problem inserting an Apple supplied cable into the slot, but the iDroid cable is too wide.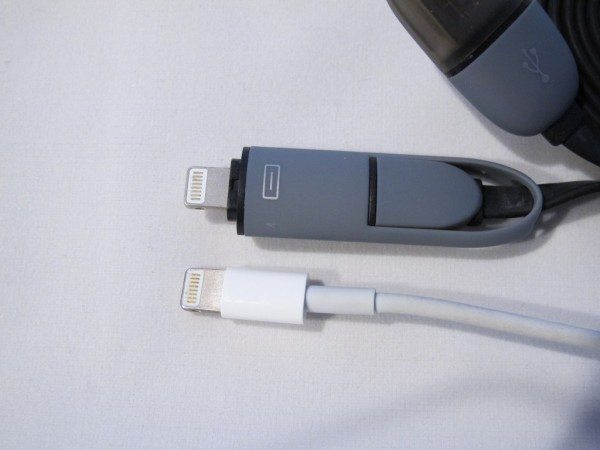 The above illustrates the problem.  The iDroid cable shroud is much wider than the Apple specification cable.  It just won't fit.
I thought I'd check the cable out with my daughter's iPhone 5, but it too has a ruggedized case and the iDroid cable doesn't fit it either.  Not giving up, I tried it on my granddaughter's iPad mini and she too has a heavy-duty case and the iDroid cable doesn't fit.  In all these cases the Apple spec'd cable fits.
Although the iDroid cable isn't the solution to my problem of multiple cables, it may be to yours.  If you are caseless or have a case that has a wide opening for the cable connection, this is a convenient item to have and Boxwave has a special deal for Gadgeteers that is good until 2/19/2015.  The code is IDROIDGADGETEER and can be used to get $10 off the online price, bringing the total to $9.95 +shipping at this link.
Source: The sample for this review was provided by Boxwave. For more information, visit http://www.boxwave.com.

Product Information
Price:
$9.95 with special code
Manufacturer:
Boxwave
Requirements:

Device with Lightening or microUSB connector

Pros:

Single cable for multiple connectors
Lightweight

Cons:

Doesn't work with some aftermarket cases