We use affiliate links. If you buy something through the links on this page, we may earn a commission at no cost to you. Learn more.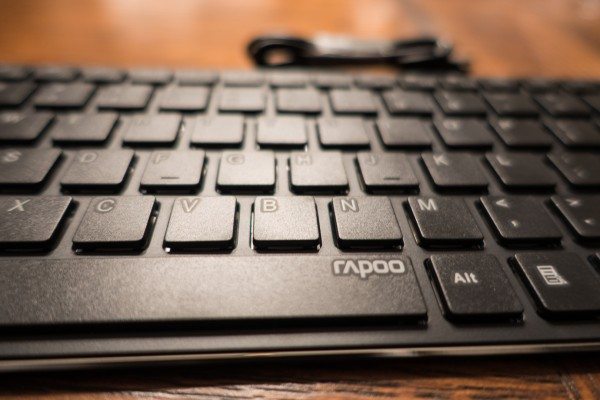 The proliferation of gadgets without keyboards has been explosive over the last few years, as have the options for keyboards to increase productivity.  The Surface and Surface Pro series, the numerous Windows, Android and iOS tablets…all of them call for a keyboard to really maximize productivity with these devices.  Rapoo generously sent us a sample of their E6700 Bluetooth Keyboard and Trackpad to test, so let's have at it!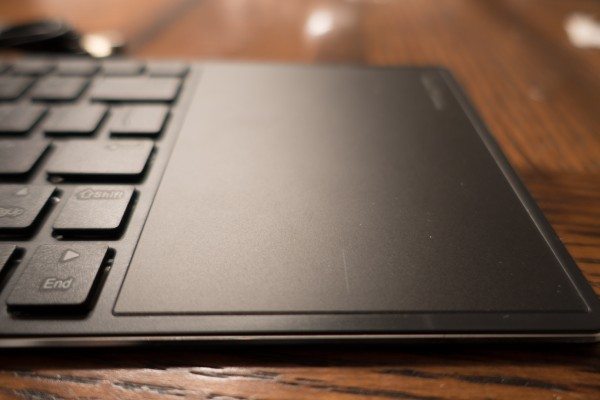 I have used a number of Bluetooth keyboards but never one with a built-in trackpad so I was very keen to try it out.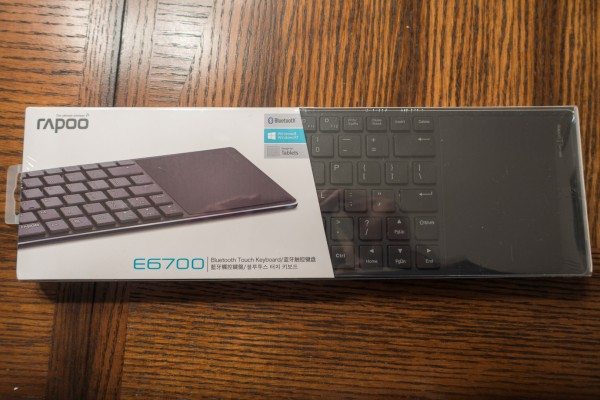 The packaging is solid, your usual cardboard with plastic covering affair. Opening the box revealed the keyboard, a USB micro charge cable and the instructions, which were basically just images showing you how to turn it on and pair it.  Short story is, there's a power switch, you turn it on, press the pair button and then do what one normally does to pair a bluetooth keyboard.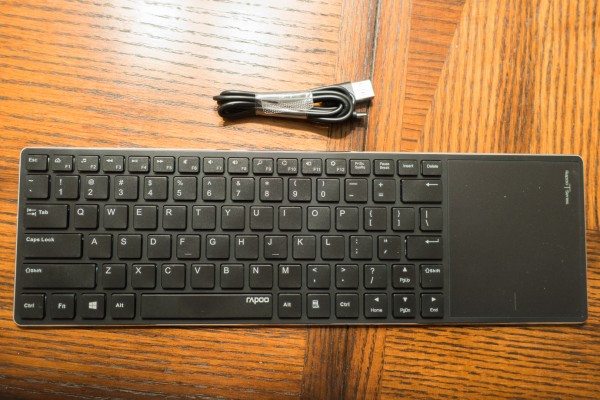 Pairing was effortless with the devices I tried it with.  There was an iPad, my Lenovo Yoga 2 11 and my MacBook Pro Retina.  All of them paired immediately with the keyboard.  Score one!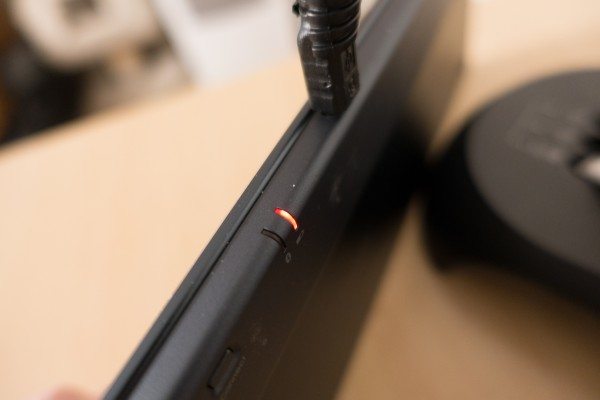 Typing on the keyboard was interesting.  The size and key pitch was similar to the Fujitsu P1XXX convertibles I owned years back.  My fingers must be getting more fumbly, however.  I can type without a problem on my regular keyboard (a full-sized Logitech solar keyboard) but this thing just stymies my fingers.  Plus it has an annoying habit of doubling characters as you type.  Lots of "ee" for example.
Here are samples of typing with the three different devices, as is with no corrections.  iPad Air first: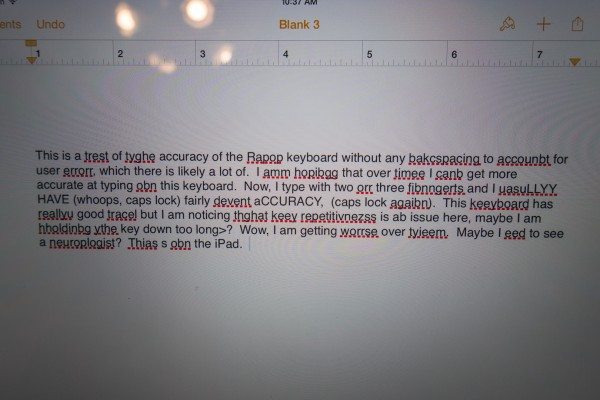 Less than stellar on the iPad.  OK, let's try the Lenovo Yoga 2 11.  Samples from the Rapoo keyboard are on top, from the Yoga 2 11's less-than-stellar keyboard are on the bottom.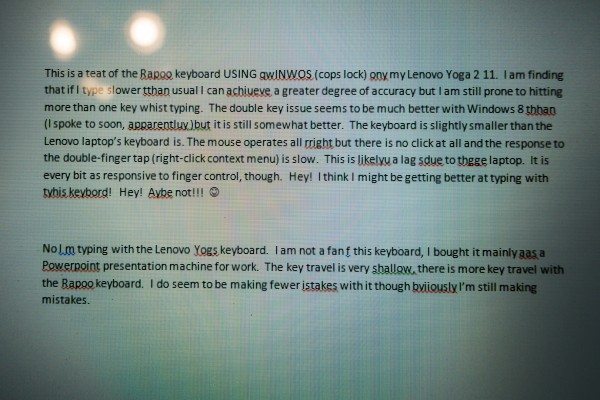 The Yoga 2 keyboard is, in a word, terrible.  I bought it to use as a cheap and small machine for doing Powerpoints in my chemistry classes and I use it for little more than that.  That being said, it does not suffer from the same character doubling that seems to plague this Rapoo device, though this problem was not as evident on the Windows 8 machine as it was on the iPad.
The only snag I hit was when connecting it with the MacBook.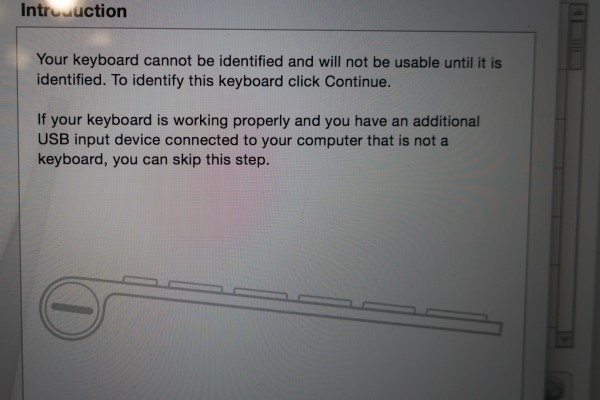 So I went through the process of keypress recognition and got this: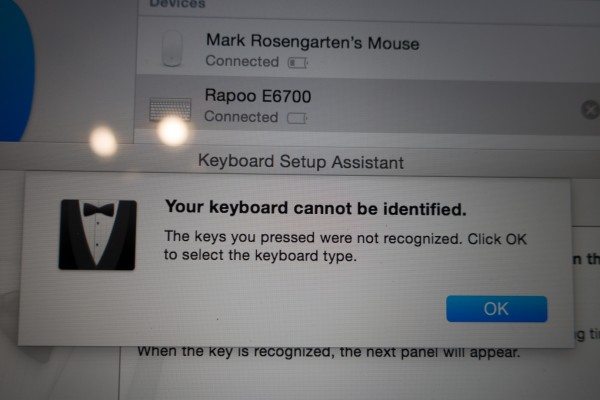 So I manually selected US and was in business.  Here are the samples typed on the MacBook: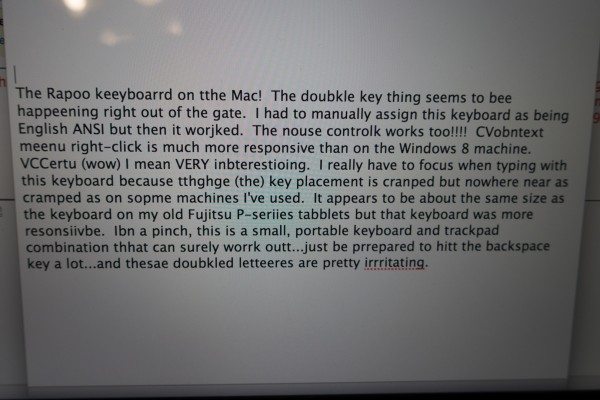 The double character problem is really awful here.
To get an idea of how big this thing is, I compare it with the size of my full-sized keyboard: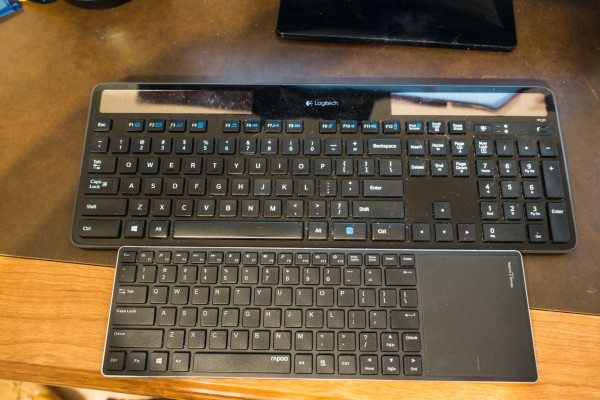 With my MacBook Pro: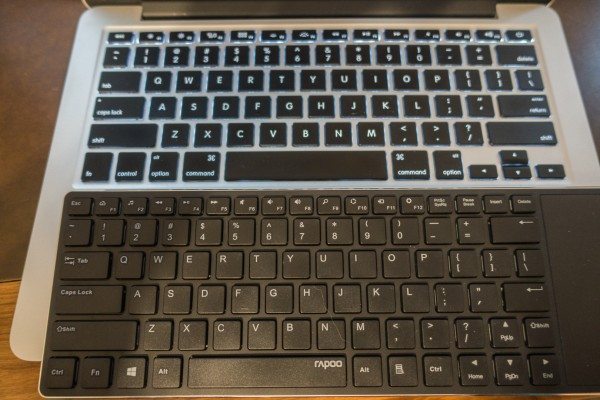 And with the iPad: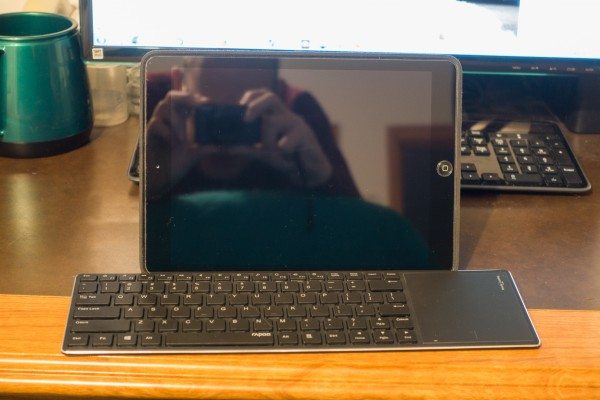 The Rapoo website shows that this keyboard is available in black or white surface with a black, white, red, blue or yellow undercarriage.  It is made of aluminum and the keys are scissor-type in design.  It has a built-in rechargeable lithium-ion battery but no estimates of battery life are made.  It measures 13″ long, 4″ wide and 3/16″ thick, except where the battery is along the back of the unit to keep it propped up at an angle, where it is about half an inch thick.  It can be tossed into pretty much any gear bag without a second thought, it's very lightweight and has a very quality fit and finish to it.  If it weren't for the character doubling issues, I would enthusiastically recommend it, especially for someone with smaller and nimbler hands than mine.  I was unable to test it with an Android device but I have no reason to think it's going to be any different there.
Available at Walmart for $35 in various colors, more information can be found at Rapoo's own site.
Source: The sample for this review was kindly provided by Rapoo. Please visit their information page for more info and other products that they offer.

Product Information
Price:
$35
Manufacturer:
Rapoo
Retailer:
Walmart.com
Requirements:
Pros:

Is built really well
Keys have a decent amount of travel
Has a large touchpad built right in
Pairs easily
Compact form makes it an obvious choice to travel with

Cons:

Sausage fingers like the reviewers' need not apply
Strange character doubling problem that seems to be worse with Mac and iOS than with Windows 8