We use affiliate links. If you buy something through the links on this page, we may earn a commission at no cost to you. Learn more.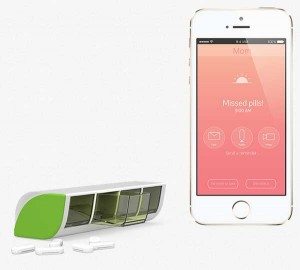 Medicine won't do its job unless you take it when you're supposed to take it. If you or a loved one is prone to forgetting to take medications, the Liif pillbox looks like a useful gadget that will remind you and alert caregivers when doses are missed. The Liif comes in two versions. One with four pill chambers and one with seven chambers. The idea is that the smaller one is useful for people who take meds throughout the day, and the larger one is for people that take meds throughout the week. The Liif is powered by a CR2032 battery and features NFC and Bluetooth connectivity which pairs with an app on your smartphone that will provide reminders and notifications.
Liif can be pre-ordered now for $44.99 – $54.99 depending on the capacity. For people who don't have a smartphone, a special hub is available for $89.99 that connects to WiFi or Ethernet and talks to the Liif pillboxes. Liif will ship this spring.