We use affiliate links. If you buy something through the links on this page, we may earn a commission at no cost to you. Learn more.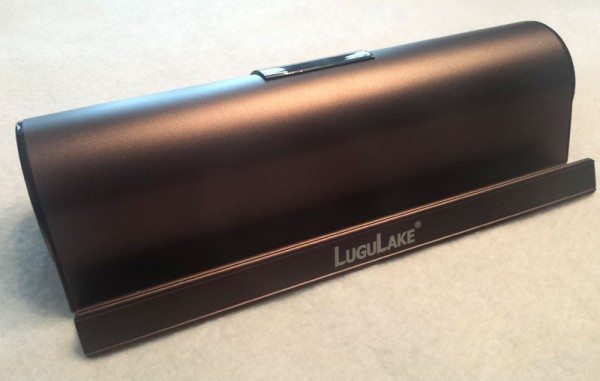 If you are looking for gift ideas for that music lover for Christmas, or any occasion for that matter, you have no shortage of choices in the Bluetooth speaker department.  They are everywhere, even in gas stations.  We have a half dozen in my house of all shapes and sizes, and I have reviewed numerous ones here on the Gadgeteer.  I love these things because smartphones and tablets in general have crappy speakers, so Bluetooth speakers enable you to enjoy your music and most are portable enough to carry with you.  But when I saw the $37.99 LuguLake BT-10 portable Bluetooth wireless speaker stand (hereinafter referred to as the LuguLake), I immediately saw a solution to a common problem that we all have.
The thing that you'll notice immediately about the LuguLake is the built-in stand on the front of the device.  The stand enables you set your phone, tablet, mp3 player, etc, into the front of the speaker to prop it up nicely.  Even tablets as large as 10 inches fit nicely either portrait or landscape without toppling over.  Here is a closer shot of the stand from the side.  As you can see, it is slightly angled up so that your device leans back at a angle that is better for viewing.  What you'll also notice is that there isn't any sort of padding or cushioning material in the bottom of the stand.  I can't imagine that this would cause your device to get scratched in any way, but it is worth mentioning.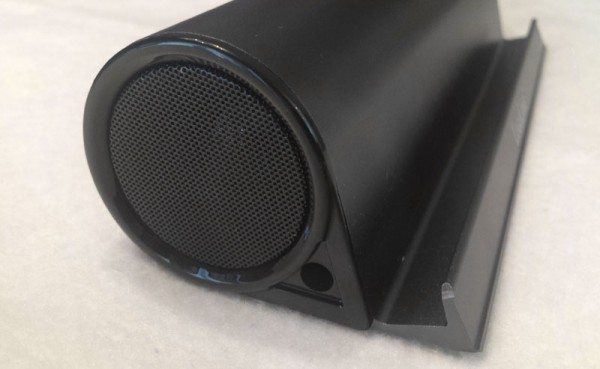 In the picture above you can see that the speakers are on each end of the LuguLake, which makes sense because you wouldn't want the sound to be blocked by your device sitting in the stand.  Here are a couple of pictures of my Nexus 7 (with a cover on it) and a cellphone sitting in the stand.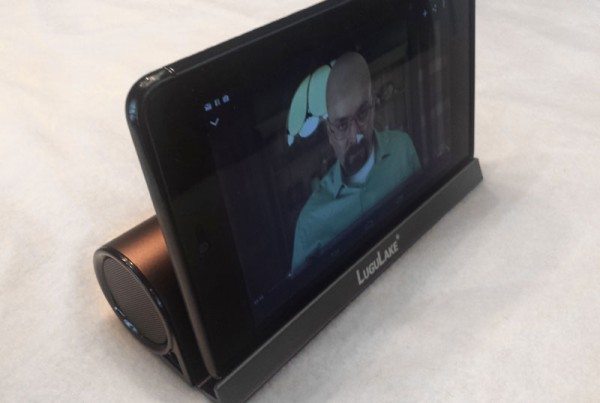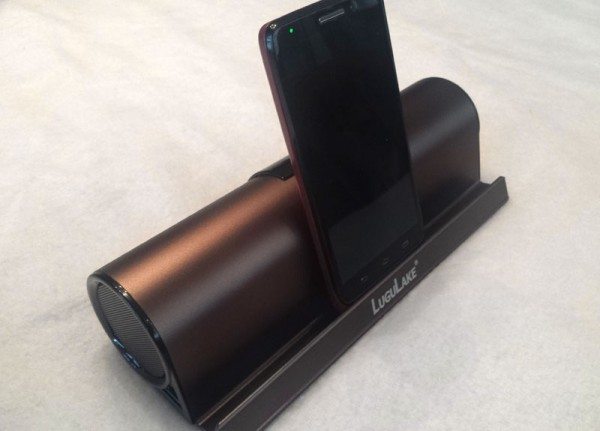 Here are the specs and compatibility information for the LuguLake, from the manufacturer:
Bluetooth version: Bluetooth 3.0 + EDR
Support Bluetooth protocol: HSP,HFP,A2DP, profile
Effective wireless distance: 10m (different for environmental factors and the connection to the Bluetooth devices)
Frequency range: 2.4G – 2.480GHZ
Transmitted power: 4dB
Db: >75dB
USB charging voltage: DC 5V
Operating voltage: 3.7V
Product specification: 8 inches wide, 3.1 inches deep, 1.7 inches tall
weight: .7 lbs.
Device Compatibility:
– Smartphones: Apple iPhone 4, 4S, 5, 5S / Nokia Lumia 920 , 820 , 620 / HTC One , First , Droid DNA , 8X , One X , EVO / LG Google Nexus 4, Nexus 7 new 2013 / Droid RAZR HD , MAXX HD , M , Photon Q , Atrix HD / Samsung Galaxy S4 , S3 , S2 , Note 2 & 1 / BlackBerry Z10 , Q10 etc.
– Tablets: Google Nexus 7 , 10 / Nook HD / Acer Iconia / Samsung Galaxy Tab 2 & 1 , Note 10.1 / Microsoft Surface RT , Pro / Asus Vivo Tab RT , Transformer Pad / Apple iPad , iPad mini / Blackberry Playbook / Coby Kyros
– All MP3 players, CD players, Laptops, Computer, Android tablets and Other Audio Devices with a 3.5mm audio socket
Packet Contents:
– 1 X LuguLake Bluetooth Speaker Stand
– 1 X USB Power Cable
– 1 X 3.5mm Audio Cable
– 1 X Specification
– 1 X Gift Packaging Box
Performance
The battery is only 1,000 mAh so you won't get more than around 10 hrs of playback on Bluetooth.  The louder you play your music, then obviously the fewer hours of playback you'll get.  I consistently get around 8 hrs of playback, which I wish was more honestly.  But the convenience of the built-in stand is the main reason why someone would want this device I think.  You can use the included 3.5mm cable to plug directly with the speaker instead of using Bluetooth and I found that I got a little more playback time when I did that, but not a significant amount.  On the bottom of the LuguLake you'll see some non-slip pads which work really well to keep the LuguLake in place wherever you sit it.
The sound is very good with the LuguLake.  The base tones aren't as strong as you get with some other speakers, but I liked the overall sound.   There isn't a volume button on the LuguLake, so you use the volume controls on your device.  That actually is a good thing to me because it means less buttons to fool with.  And speaking of buttons, here is a picture of the buttons and ports on the back of the LuguLake: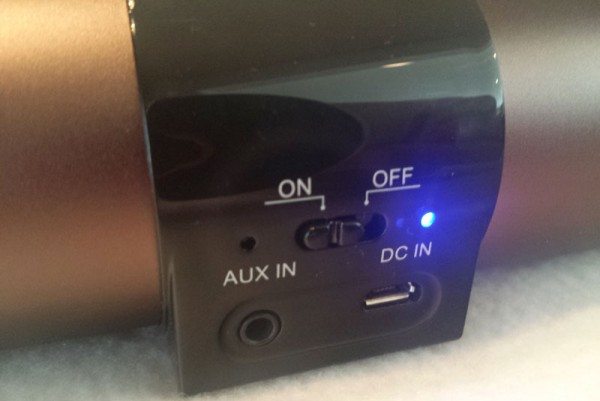 When you turn on the LuguLake it immediately goes into Bluetooth pairing mode, which is nice.  I was able to connect the first time with all my devices. You get voice prompts when in pairing mode to let you know that you connected successfully, and when the battery is almost dead you'll hear a prompt every 20 seconds so you know it is time to charge.  The instruction booklet that came with the LuguLake states that you shouldn't use the device while it is charging because 'it affects the built-in battery life'.  It does work while charging, but I imagine what they are saying is that the battery may never charge if you play it while it is charging.
Bottom line
I like the LuguLake because of the built-in speaker stand.  With all my other speakers I have to lay the phone on the table or keep it in my pocket, so having the stand there is just a really nice convenience and I think you'll like it too.  I wish the battery was bigger so that I could go several days without charging it, and if you spring for the new LuguLake II you'll get a 5,000 mAh battery and the ability to charge your cellphone/tablet at the same time.  But the LuguLake II costs about $60, so the LuguLake's $37.99 price will be just right for most people and makes this an easy choice for that music lover in your life.  I highly recommend this product.
The sample for this review was provided by LuguLake. Please visit http://www.lugulake.us/ for more info.

Product Information
Price:
$37.99
Manufacturer:
LuguLake
Pros:

Solid construction
Excellent built-in stand
Easy to pair and use

Cons:

Small battery size
No cushioning material in stand
Can't use it while charging