We use affiliate links. If you buy something through the links on this page, we may earn a commission at no cost to you. Learn more.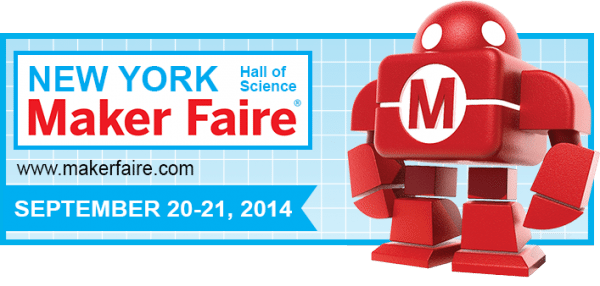 Every year since 2011, my boyfriend and I enjoy going to Maker Faire in Queens, NY.  Maker Faire is a large family friendly, creative, tech-influenced event that is held in multiple cities around the US and globally.  We love to see the inventions and projects from hobbyists, hackers, and students. This year, I thought I would post a few photos from the event to share with my fellow gadgeteer readers!Note: Images can be clicked on to view a larger size.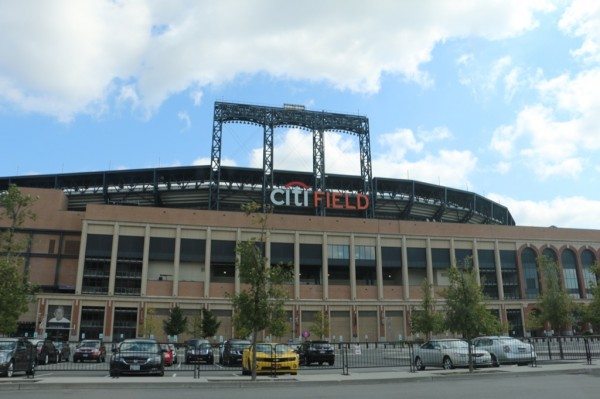 On our way to Citi Field, where we park our car and take a school bus over to the New York Hall of Science area.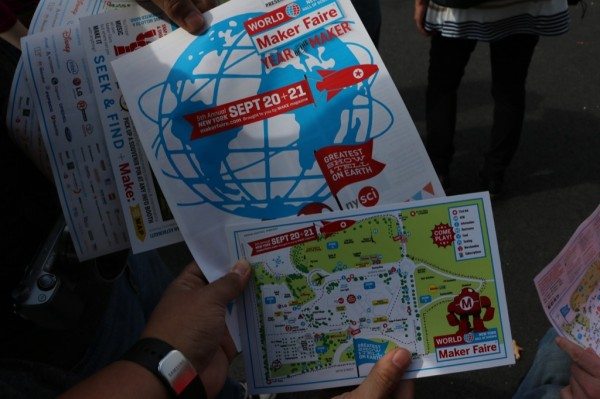 Schedule and map ready!  Also available was a Maker Faire app for those who prefer the digital experience.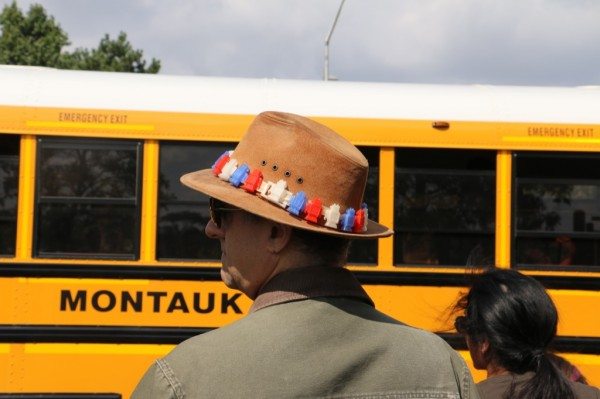 I see someone has come prepared…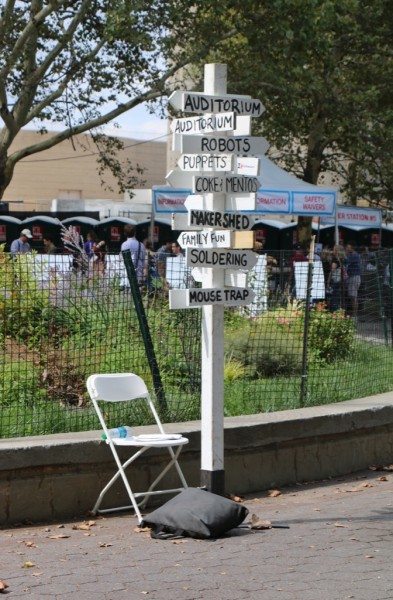 Where to first?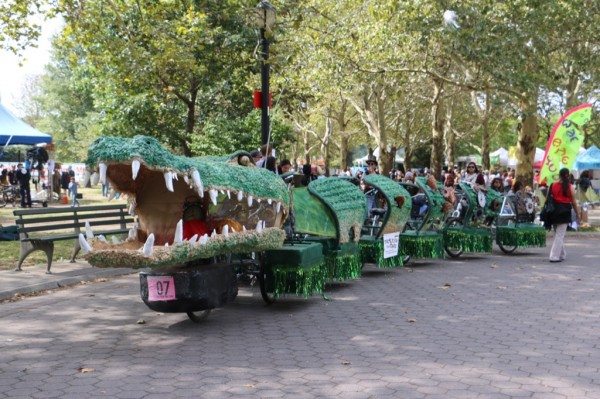 I like to call this, the Awesome Alligator, which rode around the faire – powered by steam-punkers pedaling a big tandem bike.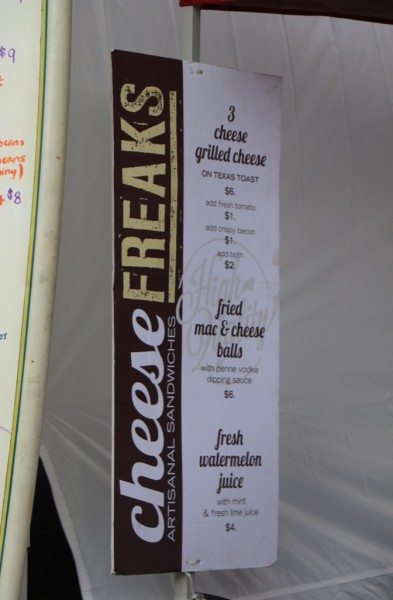 Time for some noms!  Mmmm cheese…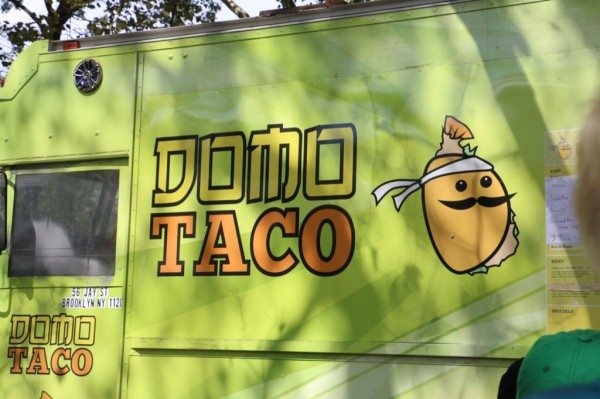 We ended up buying some awesome asian fusion tacos from the Domo Taco truck.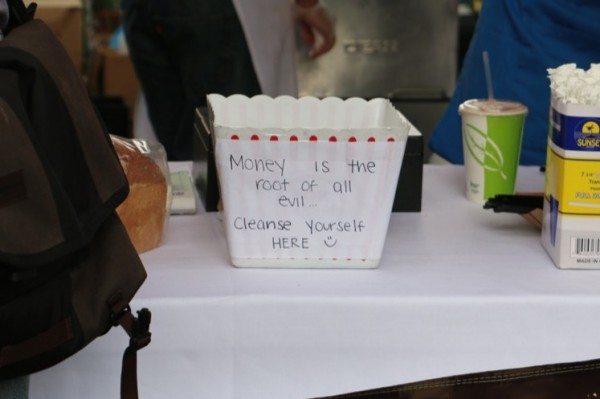 A clever tip bucket.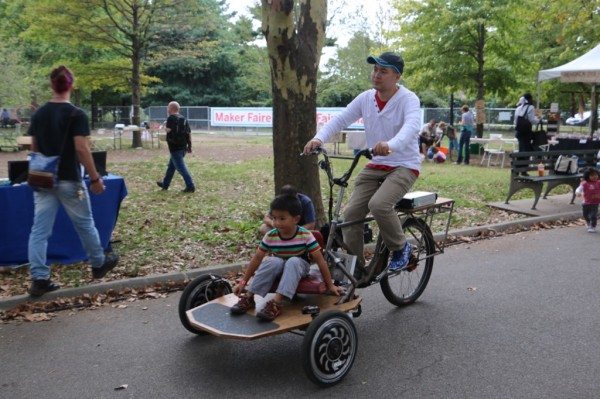 Excellent, I see a father came prepared with this tricycle hack!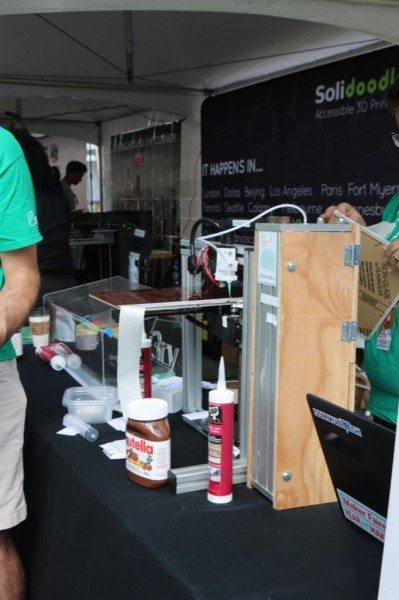 A 3D printer using Nutella or chocolate? Yes please!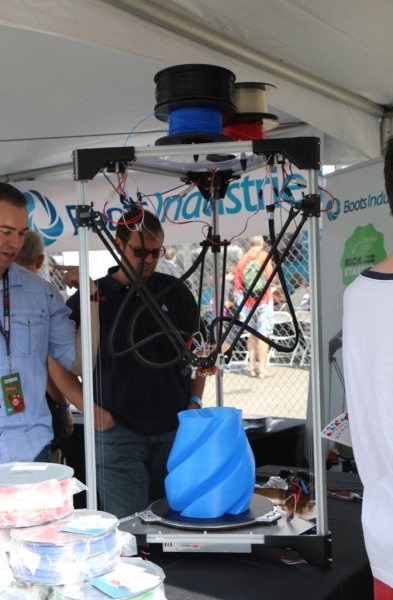 A huge delta printer.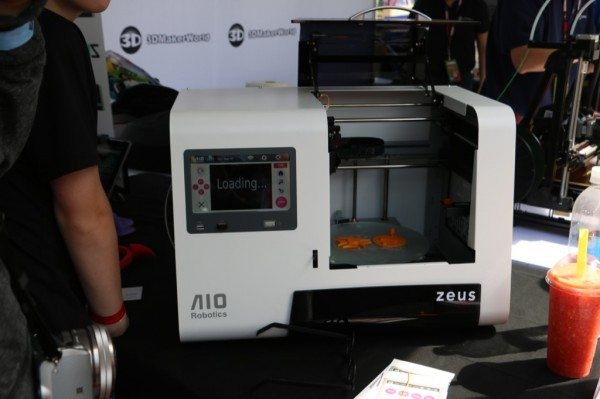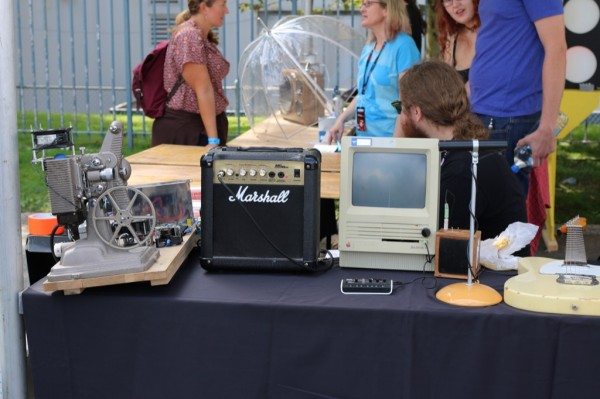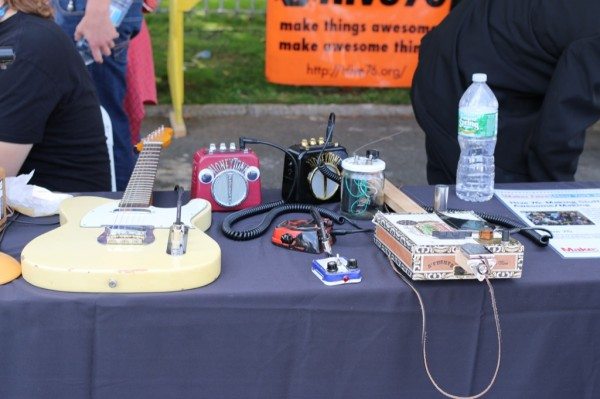 We saw some fun musical hacks…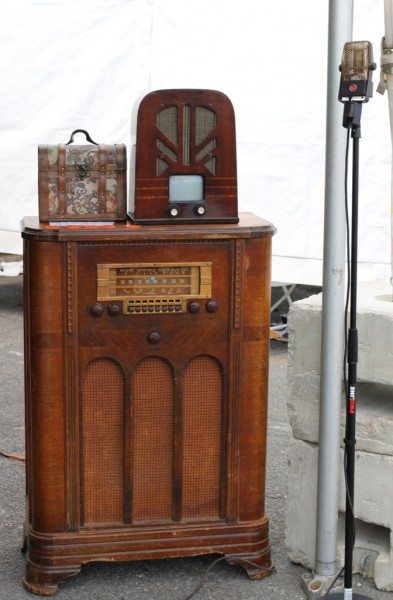 I'm loving this vintage radio and microphone!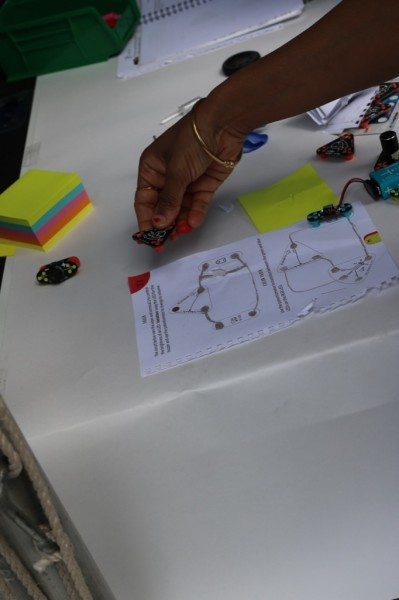 This is quite cool, a pen that squeezes out conductive ink so you can sketch out some electronic diagrams on paper.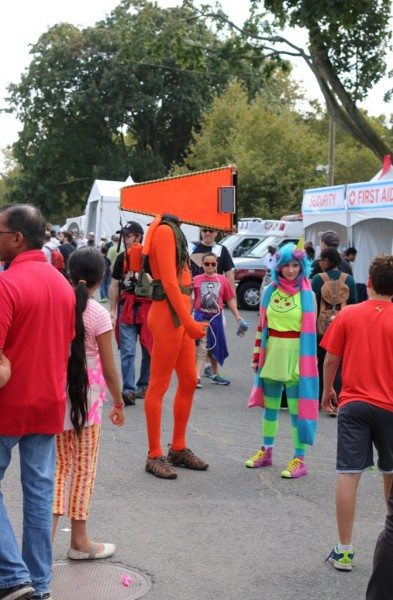 We saw plenty of funky costumes.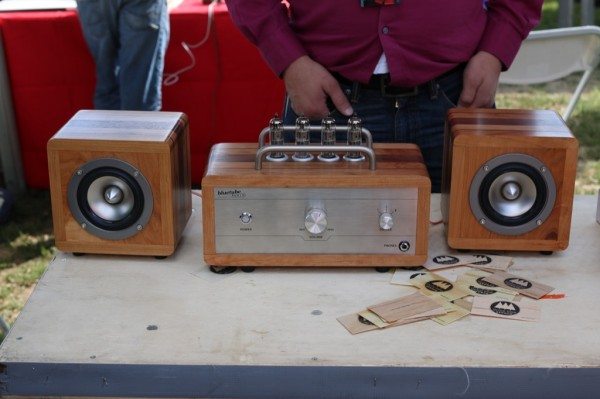 Nixie tube radio.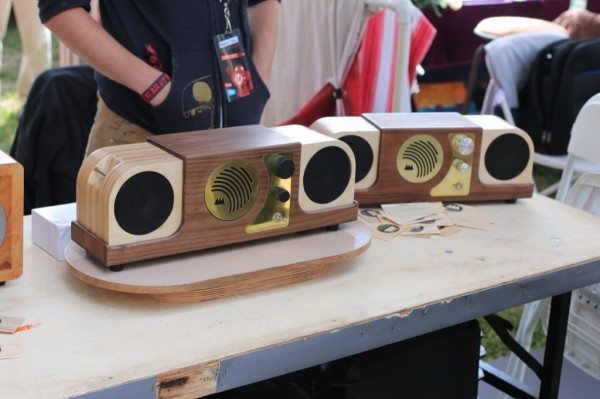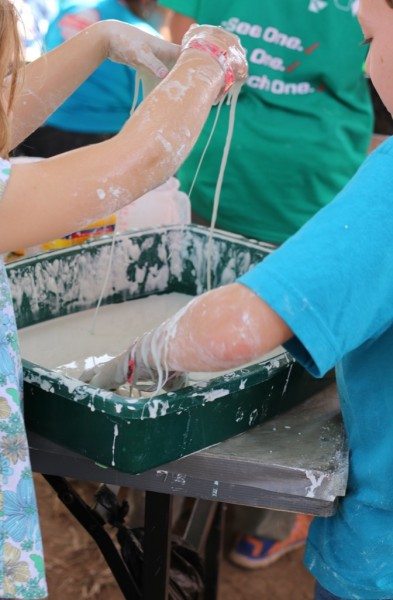 Kids were playing with this cool putty-like material that got firm when formed into a ball, then became liquid again when left alone.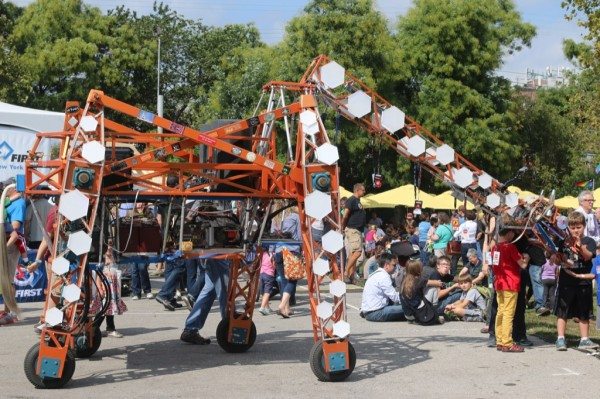 I will call this, a hack-a-saur.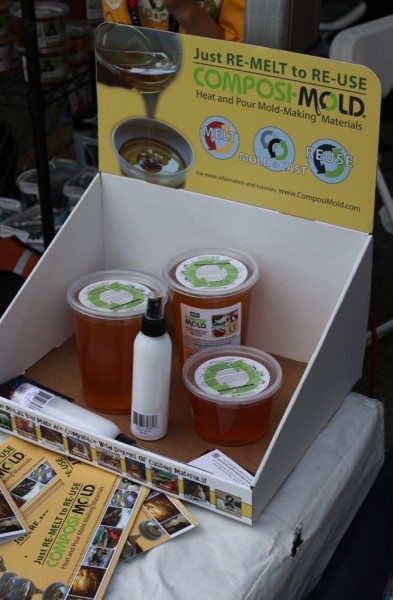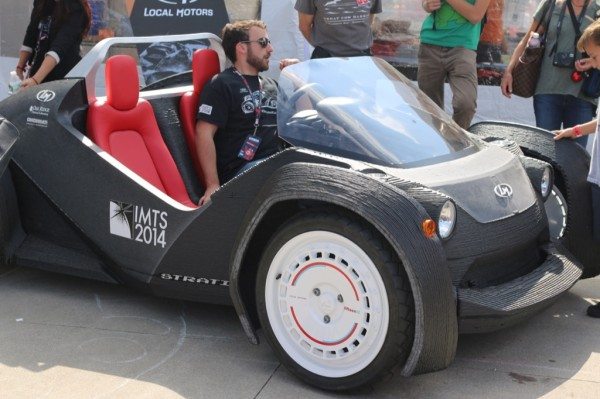 The first 3D printed car!  This would be convenient to do errands in the city (as long as no one hits you!).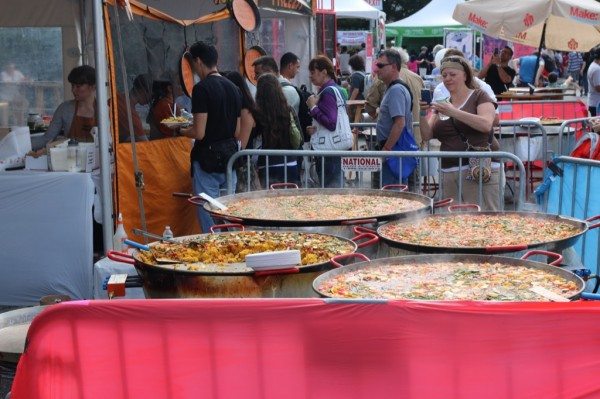 Mmm, more food; huge paella dishes!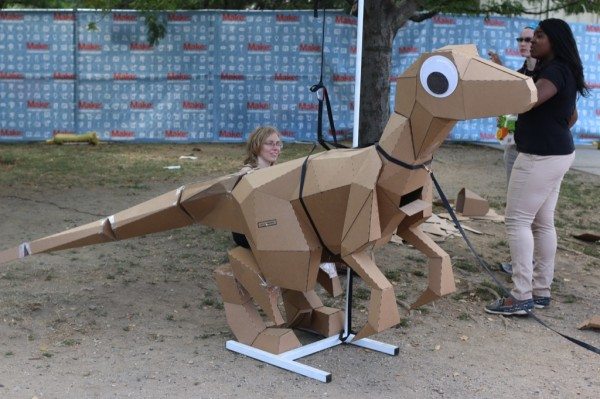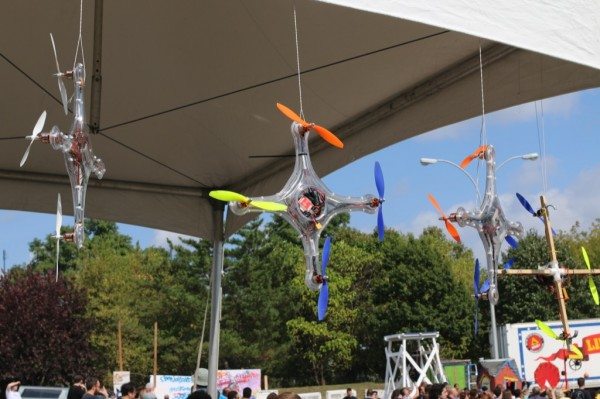 Quadcopters on display.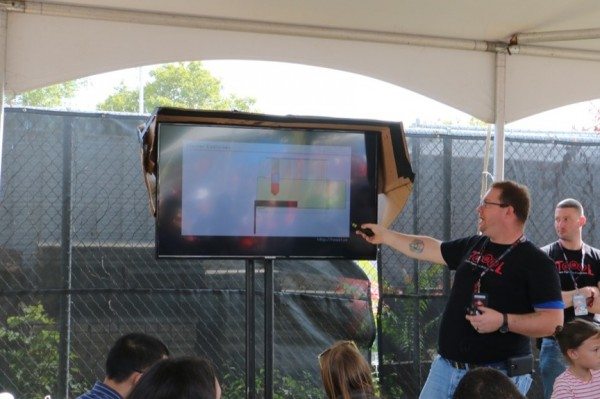 The people at Toool were showing how to pick locks.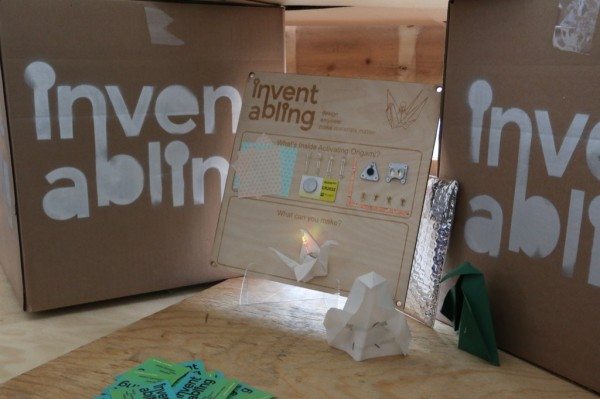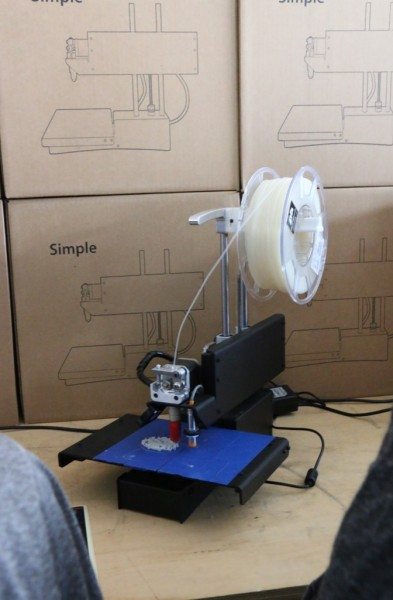 Printerbot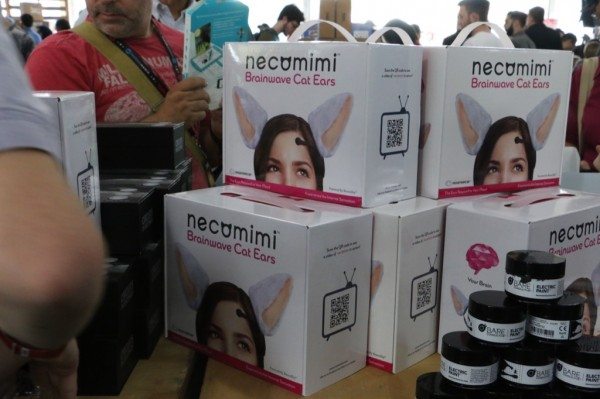 Necomimi ears that I totally want to buy, but resisted. They move depending your brainwaves.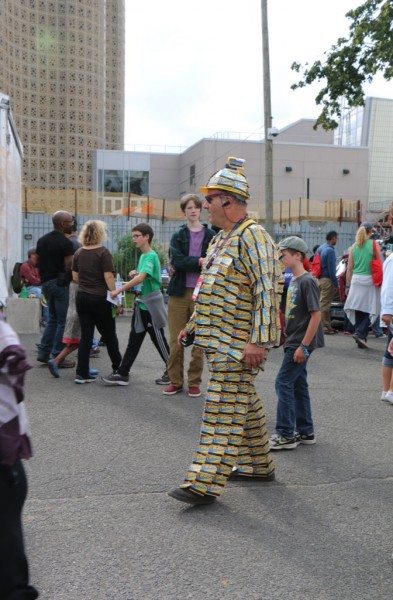 It wouldn't be New York Maker Faire without Metrocard man!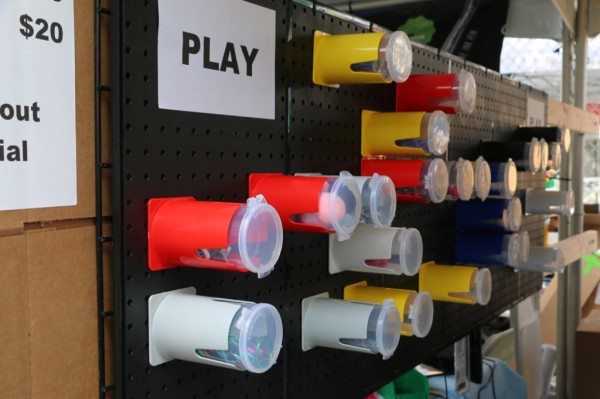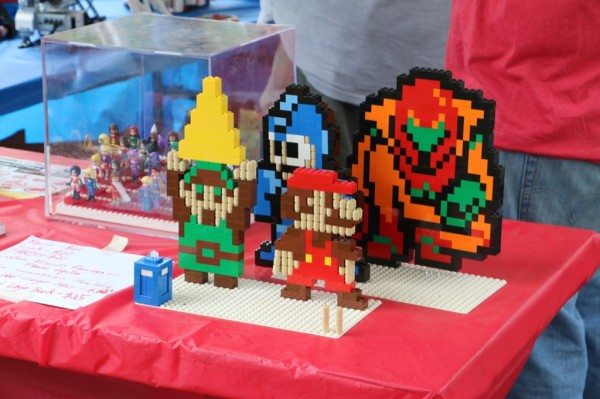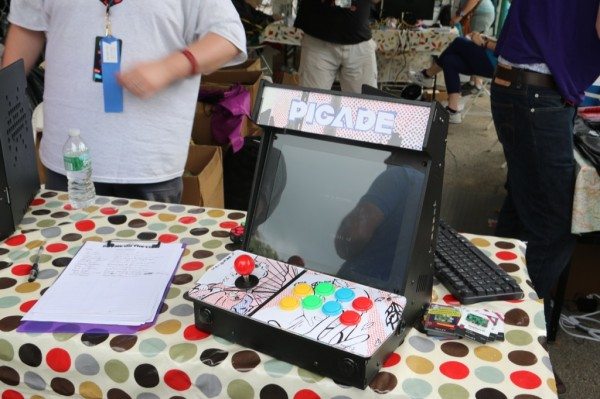 Saving my favorite for last; Raspberry Pi mods!  I want to make a picade one day.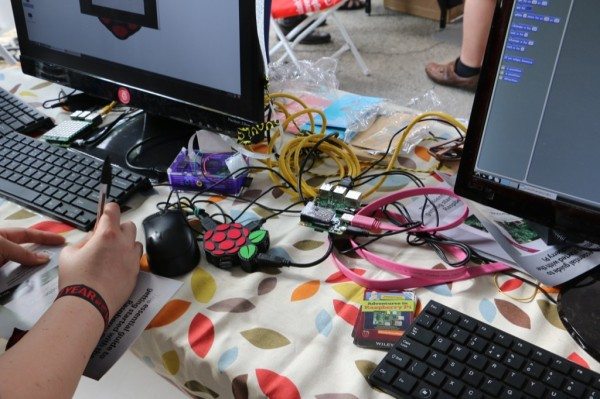 Hi, Mark Rosengarten here.  I also made the pilgrimage down to this epic event.  My goal was less to take product pictures and more to try art photography with a new camera.  Here are some of the sights that filled my eyes with wonder.
First we have a shark that has been 3D printed.  This year there were more independent makers of 3D printers than in years past.  Most of my photos are of amazing objects that have been printed in plastic.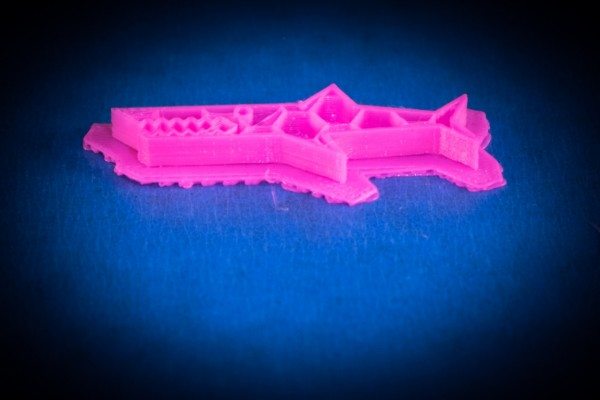 Here is a balcony that is part of an entire little town square that was set up in the Museum of Science.  Yes, this is also 3D printed.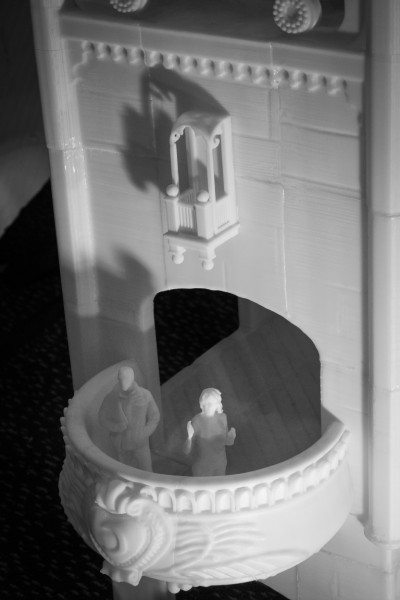 No need to pay for a plane ticket and vacation in Paris to see the Eiffel Tower!  For about the same price, you can buy a 3D printer and make your own!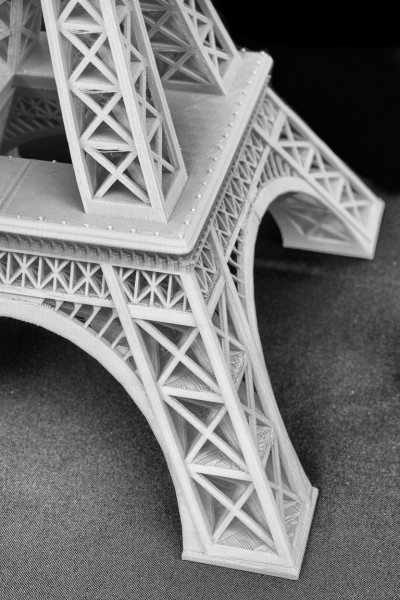 This is a human analogue designed for a purpose that I completely missed because I was engrossed in getting it in frame.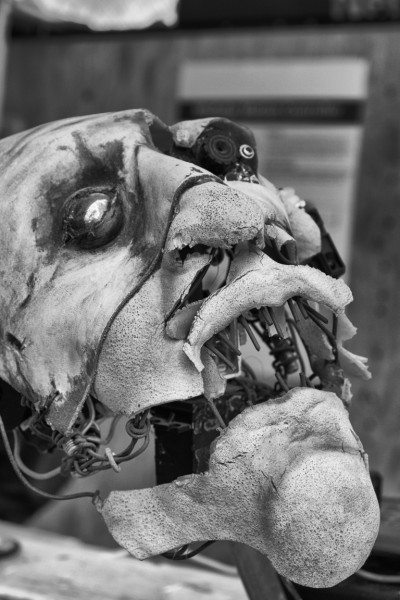 Something pretty from the Intel pavilion.  It changed colors gradually over time.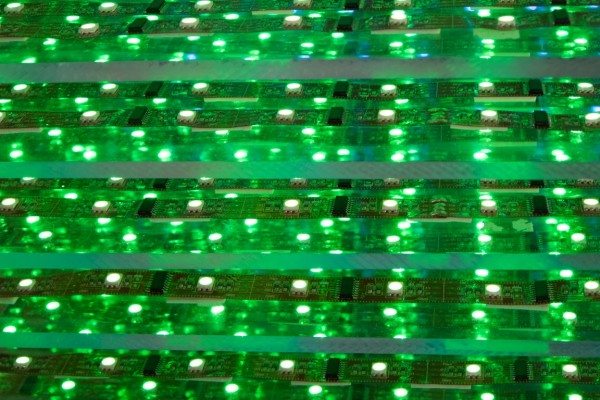 I was pleased to see this epic mechanical dancing lobster and fish show!  Each one is hooked up via MIDI!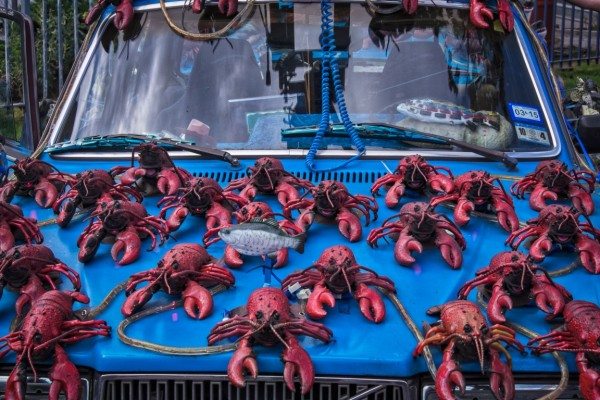 Odd place to meet a Mars rover.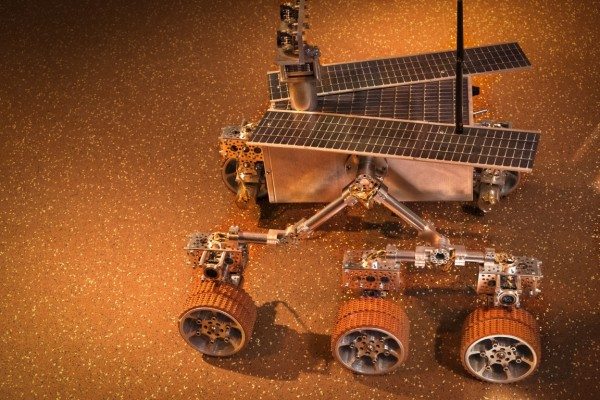 One of a series of robots lined up inside the museum.  These were very artsy robots!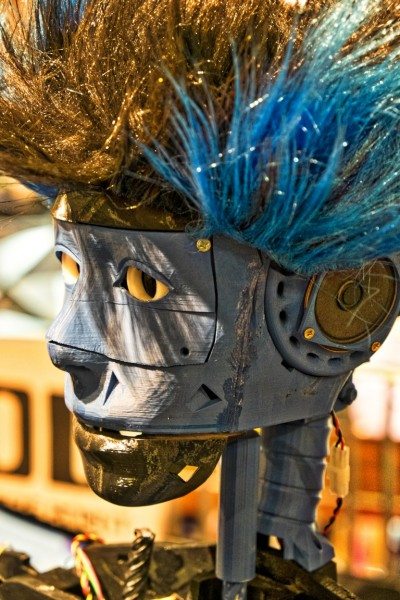 A close-up of part of the mechanism of the full-size Mousetrap that is on display every year!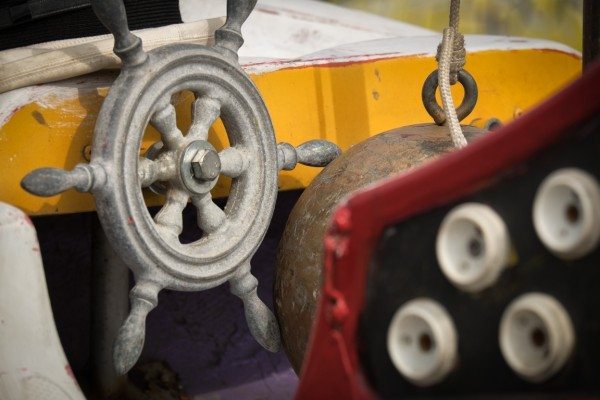 As amazing as new tech is, there's something to be said for old tech.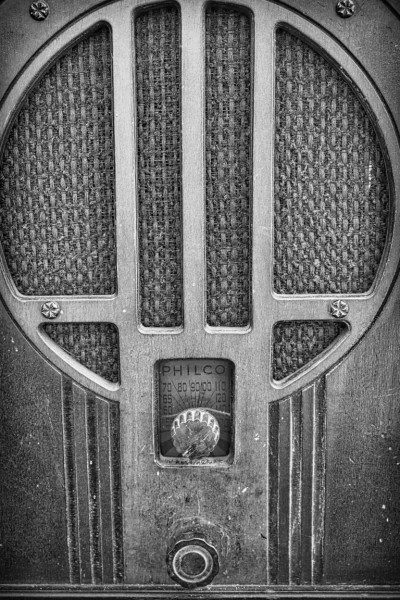 My dad and I buy 3D printed doodads for our N-scale model train layout from a company called Shapeways.  Here is an example of what one can do with 3D printing these days.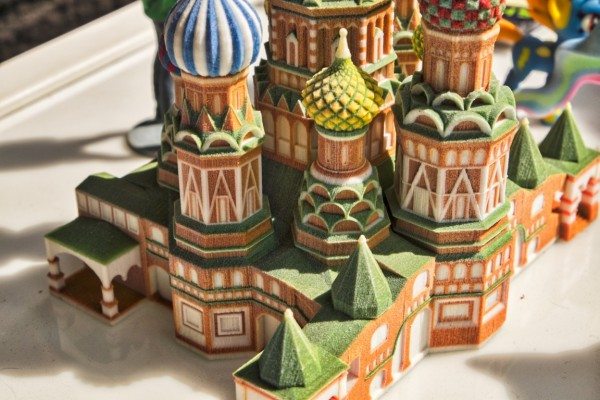 And no trip would be complete without a TARDIS that disappears from one box and reappears in another across the booth.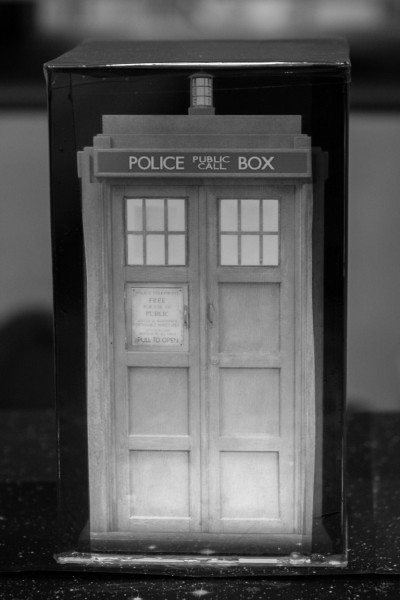 Three heads are better than one!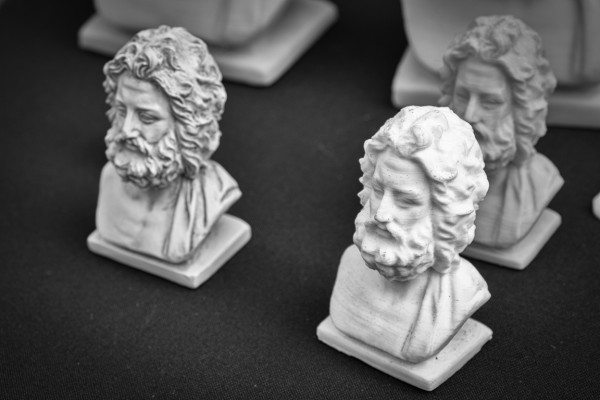 As an environmental statement, here is a tree constructed with bottle caps and bottles.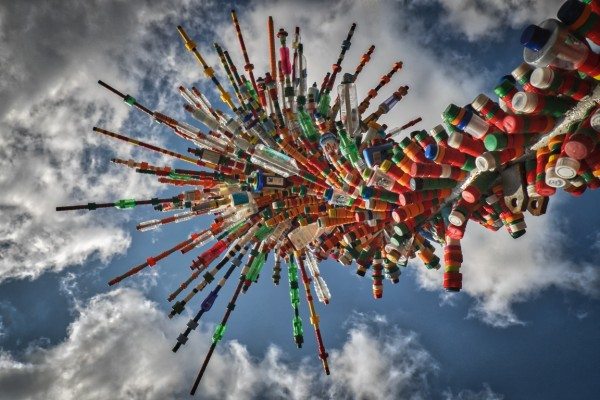 Little do the passengers in this modern marvel know what modern marvels are taking place beneath them.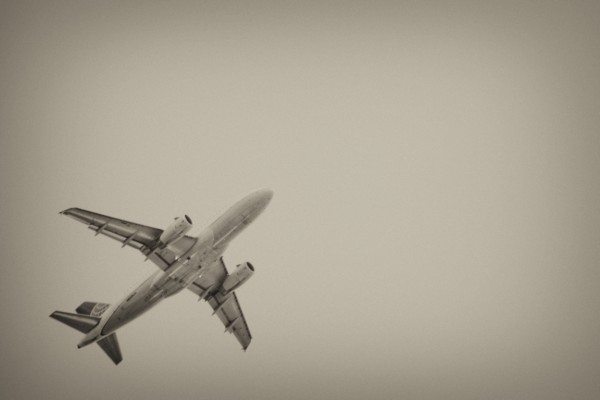 Those were only a few of the photos from this fun filled day!  I couldn't capture all the awesome things on display, but next year I'll do my best.  Have you visited a Maker Faire near you?  You can find one on the Maker Map.  There are faires and mini faires all round the globe with more on the way.  Check it out and see what inspires you!