We use affiliate links. If you buy something through the links on this page, we may earn a commission at no cost to you. Learn more.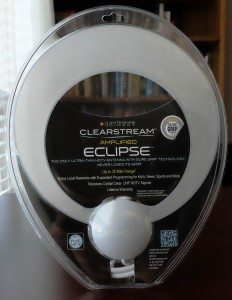 We lost our internet connection for about 24 hours recently. After each of us wandered around aimlessly wondering what to do, we finally found some other things to occupy our time – you know, fun things like cleaning the house, playing board games, and being chased by angry wasps whose nest we had just sprayed in the entryway of our home. The Internet Catastrophe of '14  also gave me plenty of quality time to try out the new Antennas Direct ClearStream Eclipse HD Amplified Antenna which was offered to the Gadgeteer for review.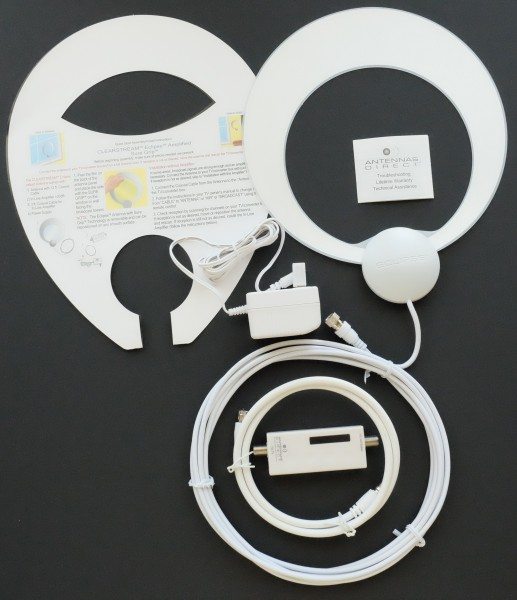 Package Contents:
ClearStream Eclipse Antenna (35 mile range) with 12 feet of coaxial cable
In-line Amplifier +20dB
3 ft. Coaxial Cable for the In- line Amplifier
Power Supply
Quick Start Assembly/Install Instructions
Troubleshooting/Lifetime Warranty/Technical Assistance Sheet
Design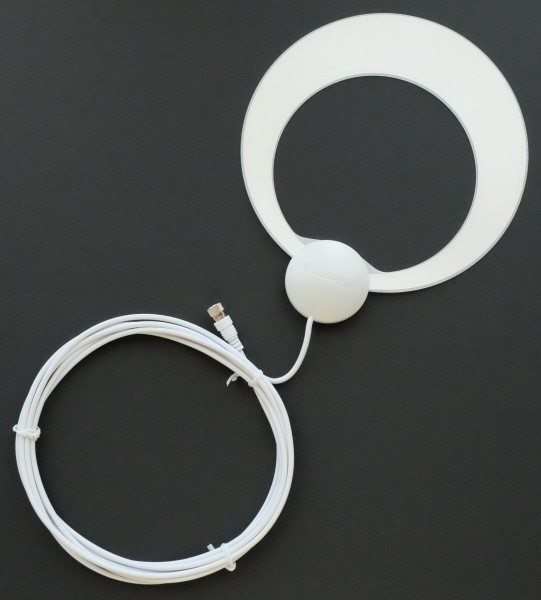 The ClearStream Eclipse antenna is simple in design and somewhat flimsy. It is coated in shiny white plastic and has 12 feet of coaxial cable.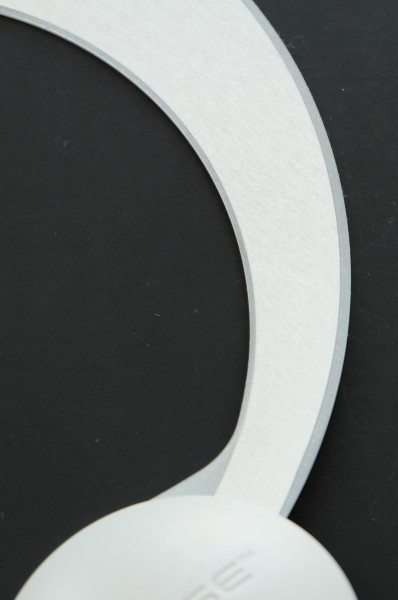 It is difficult to tell from the photo but even though the front side of the antenna is smooth, it has a silvery-white, lightly textured appearance.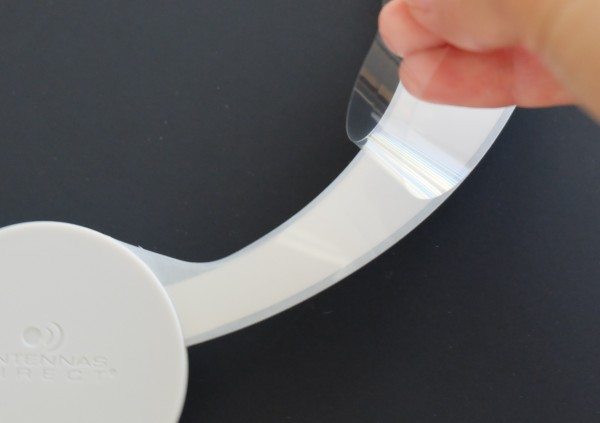 The back of the antenna is coated with an adhesive or what Antennas Direct calls Sure Grip. Once an optimal position has been found using tape, you then peel off the clear plastic film to apply the antenna to the desired surface. The antenna is removable and may be repositioned as needed. If the Sure Grip side of the antenna has any debris on it when repositioning, it may be rinsed off with clean water to improve adhesion. This is a nice feature.
Setup

Setup of the ClearStream Eclipse was a snap. The antenna, the three foot coaxial cable, and the power supply were connected to the amplifier. When the amplifier is plugged into an outlet, a blue LED illuminates.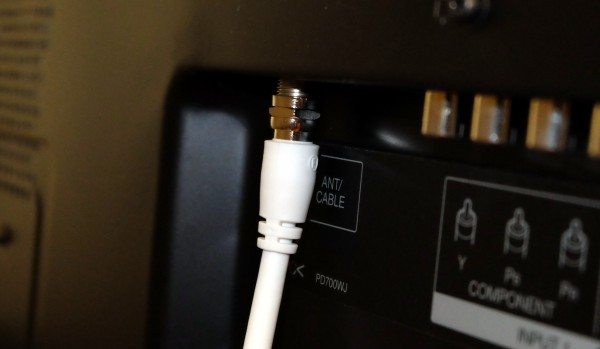 Next, the coaxial cable was connected to our TV. I then performed a channel scan.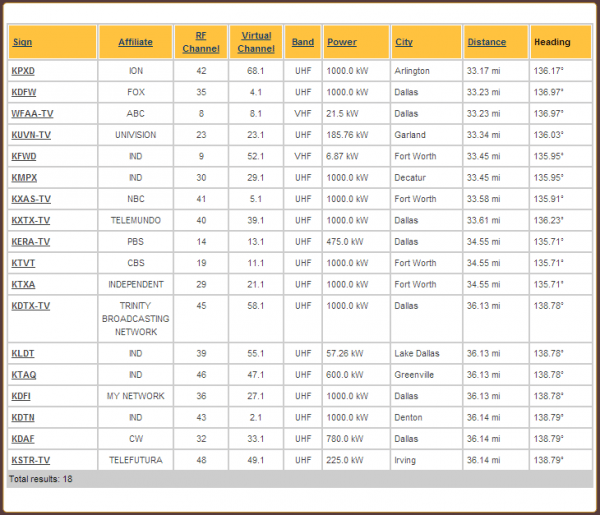 This is a list of the TV stations in our area according to AntennaPoint.com. From this information you can see that most of our TV stations are approximately 30-36 miles away from us.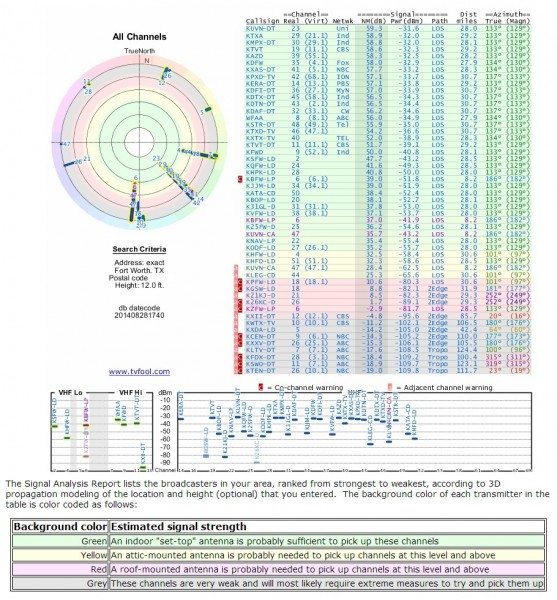 When I used TVFool.com, I entered our exact location and was able to more accurately determine just how far the TV broadcast towers were. From this data, it appears that most of the stations are about 28-30 miles away from us. The ClearStream Eclipse antenna has a range of up to 35 miles and should be able to detect those stations.
After determining the location and distance of the towers, I wanted to obtain a complete list of available channels to determine if the antenna would adequately pick up those channels. I found our list of 51 channels using the website TV Set Free.
Use
I first tried using the ClearStream Eclipse in our family room/den. I quickly found that finding an optimal position for the antenna was a huge challenge due to two TV stations that would not come in very well – ABC and NBC. I tried just about every inch of the room (as far as the cable length would let me) and still had difficulty with those two channels. At this point, feeling frustrated, I decided to try using it with our TV located in the living room.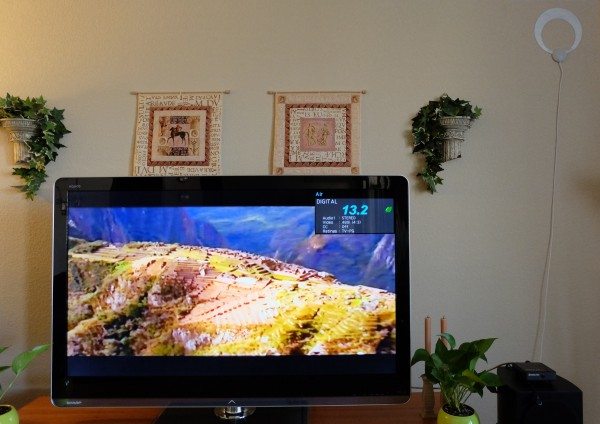 In the living room, I placed the antenna where our other HD antenna was placed and voila – success, even with ABC and NBC!
We live in a single family home in a crowded subdivision where the houses are very close together. The terrain of the Dallas Fort Worth area is relatively flat. All these factors affect channel reception. Even within our house there are differences in reception. As I used my internet "free" time (and many other days as well) checking the channels for reception quality, I found that almost every channel came in clearly except for 52.1 (one of two VHF stations in the DFW area) which is an independent station that I do not watch. I did have to move the cable around a bit to place it in just the right place on the floor behind our entertainment center to reduce pixelation on a couple of the channels. The above is a shot of one of our PBS stations that was difficult to tune in when using a non amplified rabbit ears style antenna. Our ABC station (another difficult station to tune in and also the other VHF station in DFW) also came in beautifully. Only a couple of the channels had some pixelation and a few independent stations had reduced resolution.
We haven't had much rain in our area lately, but on one stormy morning, I was able to determine that all of the channels still came in clearly and without pixelation. I also obtained the same results on an overcast day.
I was also curious to see how the antenna would perform without the amplifier. To do this, it was necessary to disconnect the amplifier from the antenna and connect the antenna directly into the TV. Without the amplifier, the only channel that had difficulty coming in was ABC.
Final Thoughts
After a week and a half of use, I found that the Antennas Direct ClearStream Eclipse HD Amplified Antenna performed very well for me when used in the living room. After finding an optimal position for the antenna, it received every channel except for one independent station that I never watch (52.1) and did not require me to reposition it. Just the thought of never having to adjust the antenna makes me smile. Even though I had difficulty in our den with this antenna, it was only with a couple of channels (albeit very important channels to me – ABC and NBC). This just goes to show that the performance of an antenna is determined by its surroundings and that it is possible to obtain very different results even within a home.
The price of the ClearStream Eclipse surprises me because I have an RCA Multi-directional HD Amplified Antenna that has a 60 mile range and costs the same as the Eclipse ($69.99). The Eclipse may be somewhat more attractive and has the Sure Grip feature, however, I received slightly better results from the RCA (it works better in the den than the Eclipse did). Considering all these factors, I would obviously go with the RCA.
Update 01/01/15
I've used the ClearStream Eclipse antenna for three months and it still works well but if you move the coax cable at all, it effects the reception on a few of the key channels that I watch. I still recommend the antenna, just don't mess with it once you've found your ideal location.
Update 07/13/16
I still use this antenna and for the most part it works well. There are a couple of channels that are tricky to tune in, but after moving the antenna cord around, we are usually successful in getting a clear picture.
Source: The ClearStream Eclipse HD Amplified Antenna was provided by Antennas Direct, Inc. It has a lifetime warranty and is available through Antennas Direct for $69.99.
Product Information
Price:
$69.99
Manufacturer:
Antennas Direct
Requirements:

HDTV or digital converter box

Pros:

Great reception
Attractive design
Sure Grip feature is nice

Cons:

Fairly expensive for a 35 mile range antenna
You need an indoor antenna for each of your HDTVs
Unattractive cable hanging on the wall